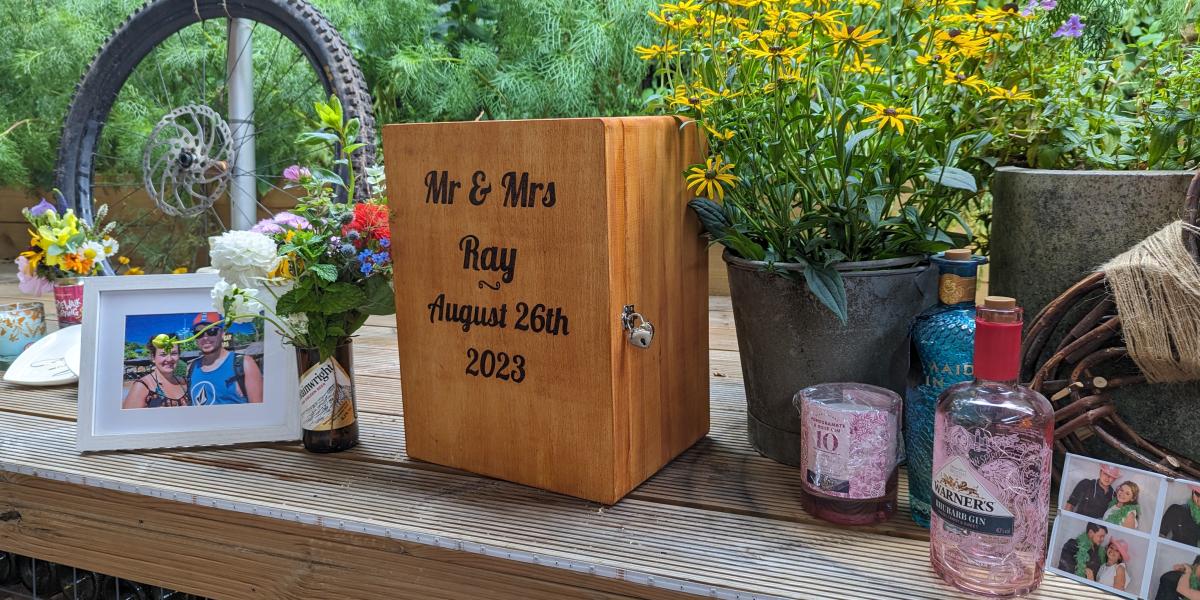 I first started chatting with this cool couple way back in summer 2021, and as we eased ourselves out of the pandemic, wedding plans were taking shape for Jess and Kieron.
They had a beautiful little boy and wanted him to be a part of their day, so wheels were set in motion to create a personal and fun celebration.  Over the 24 months that followed, we chatted, we sculpted their ceremony words, and we met at their home a few times and I got to see their amazing garden being transformed.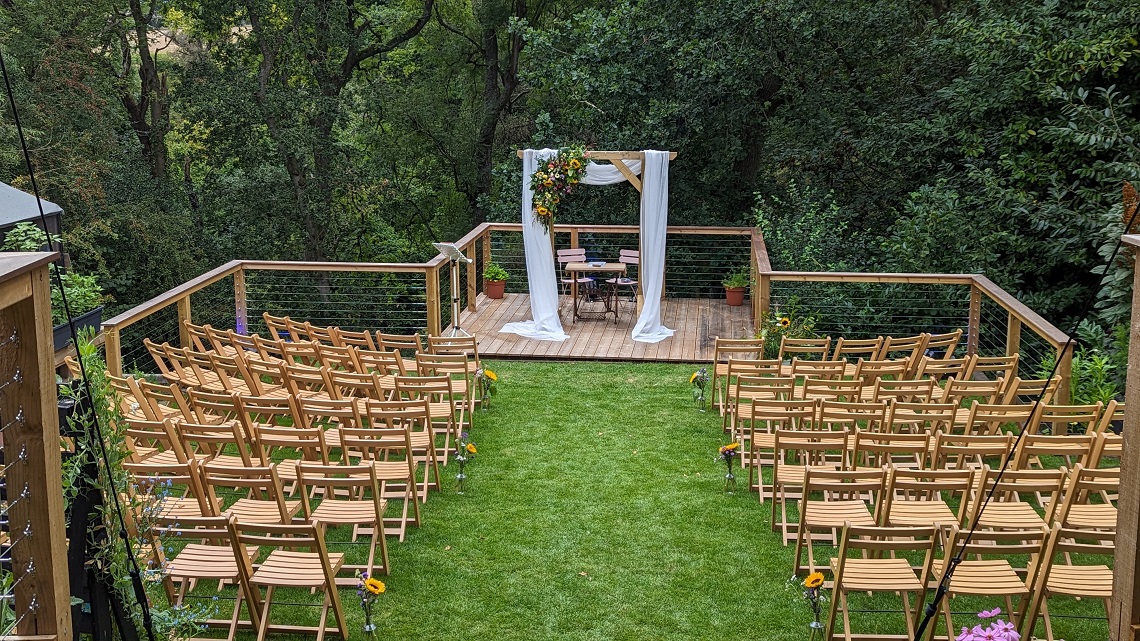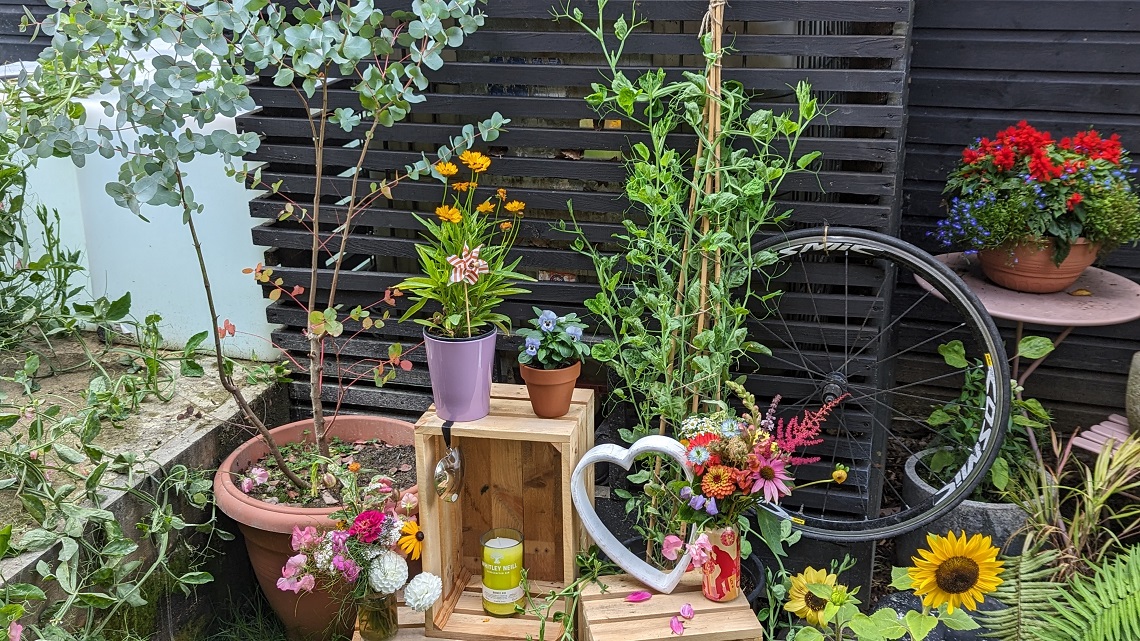 There were some incredible efforts from the couple's family, with the groom and the bride's father undertaking a large portion of the work themselves.  Jess is a creative type, and had a vision for their day, and her mum helped her to pull together the planting and the displays on the day.  
When I arrived I was blown away.  Quite simply put, they had taken their property which is on a substantial plot from a gorgeous home to a phenomenal wedding venue for the day. Everything was thought about, from signage, lighting, personal decorative touches, to thoughtful gifts.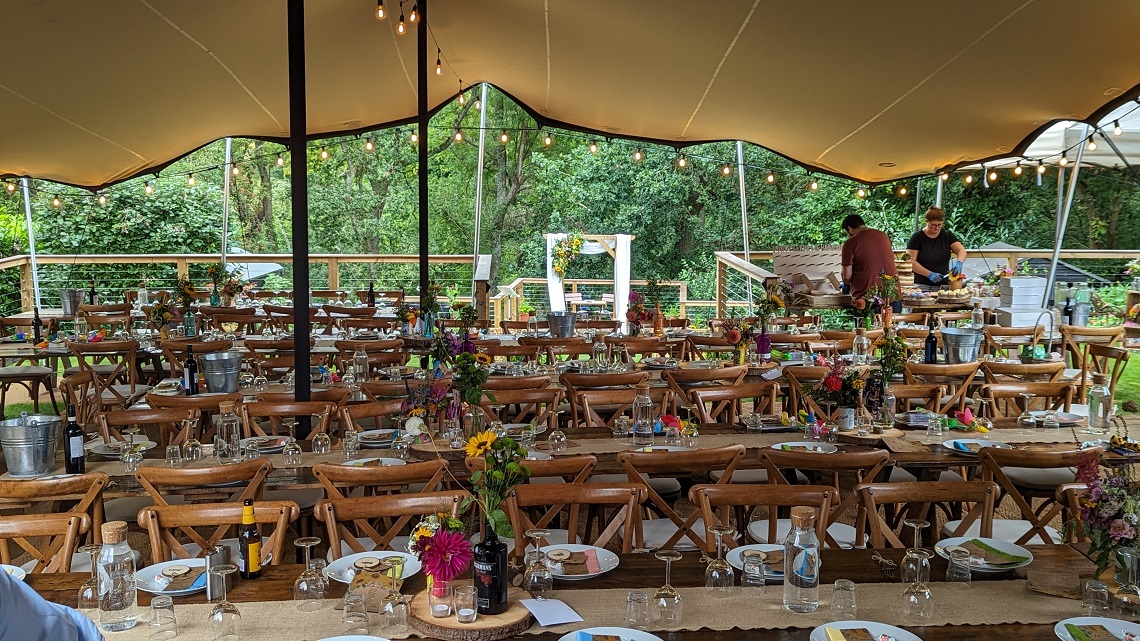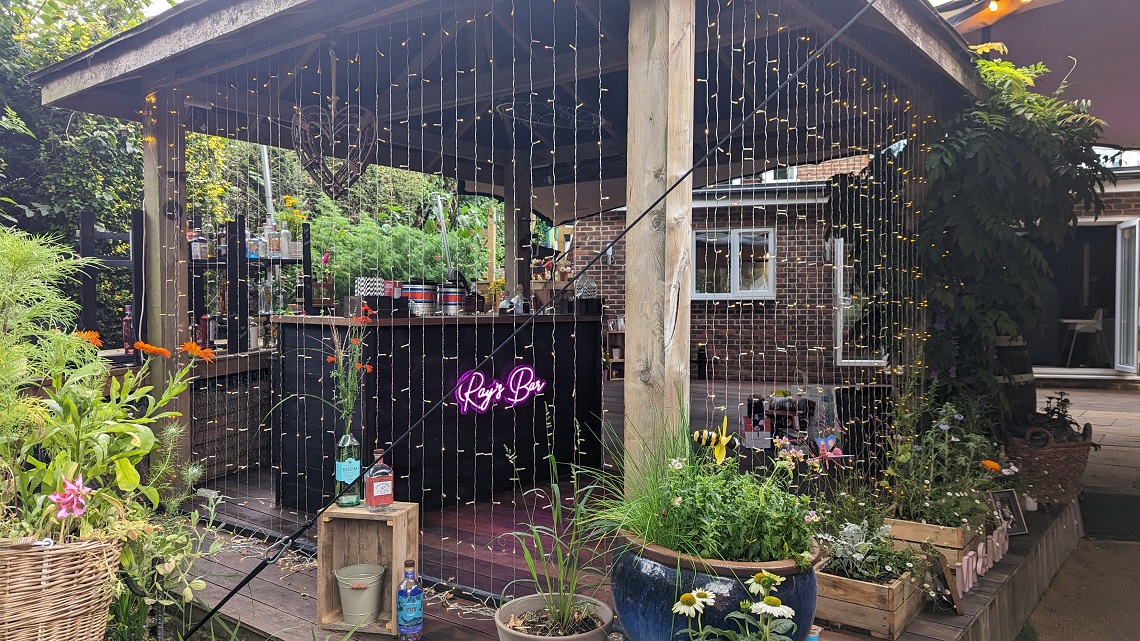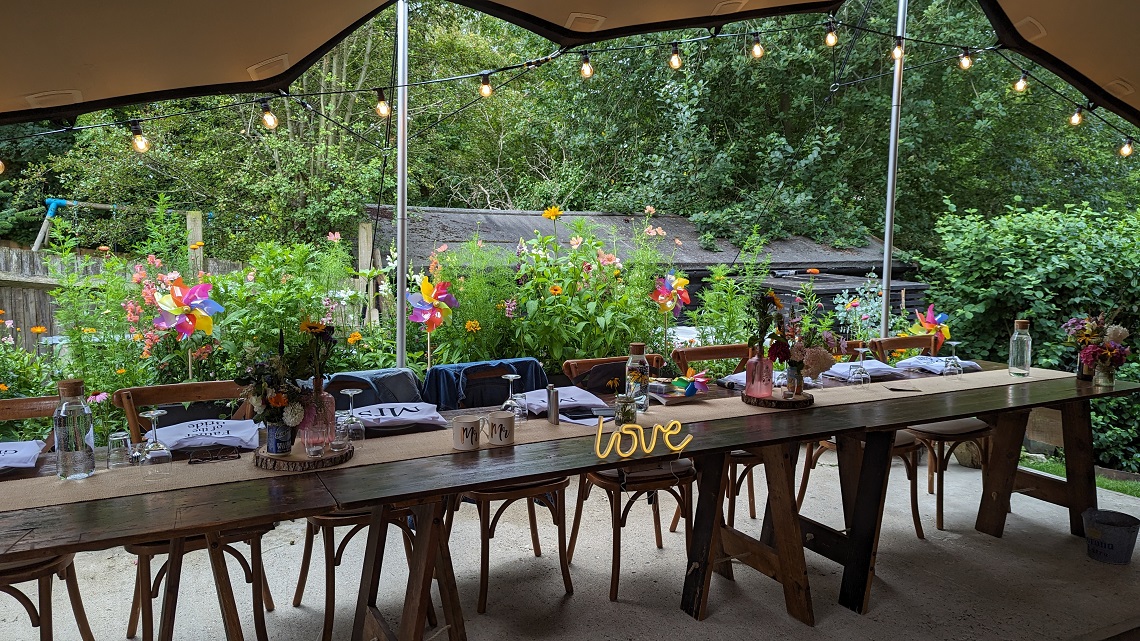 Their garden is tiered, and on the top level was their patio, now home to a very impressive bar and the dance floor area for their reception.  The middle section was filled with seating for over 100 guests, and both this and the top section were beautifully nestled under stretch tents with lighting and looked amazing.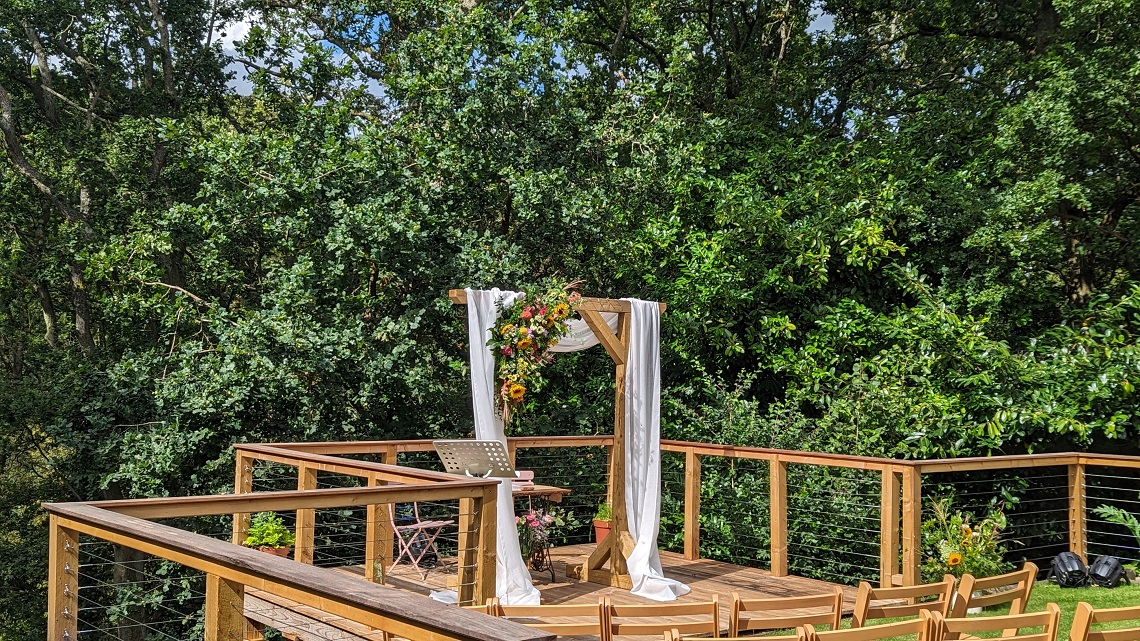 The bottom section was home to the ceremony setting, and the lawn was set with chairs in gentle arcs, all facing a purpose-built 'jetty' style space, that edged out over a sheer drop, creating a feeling of floating and being in amongst the trees.  As our more immediate backdrop, the groom had built a ceremony arch, and it was adorned with flowers and swathes of voile, giving a very romantic and ethereal vibe to the space.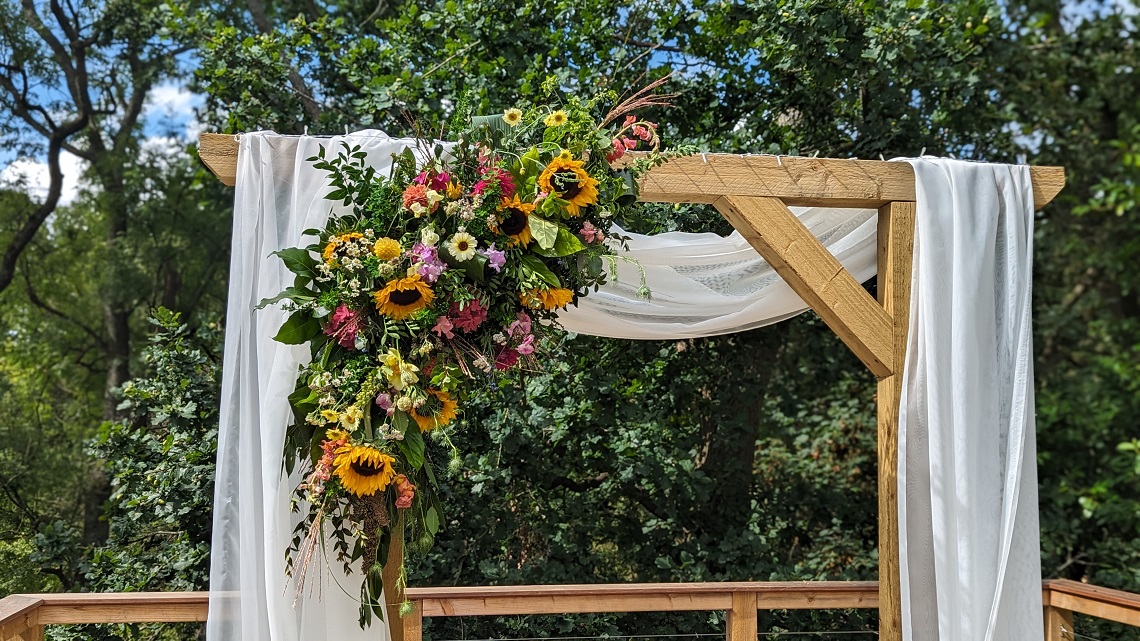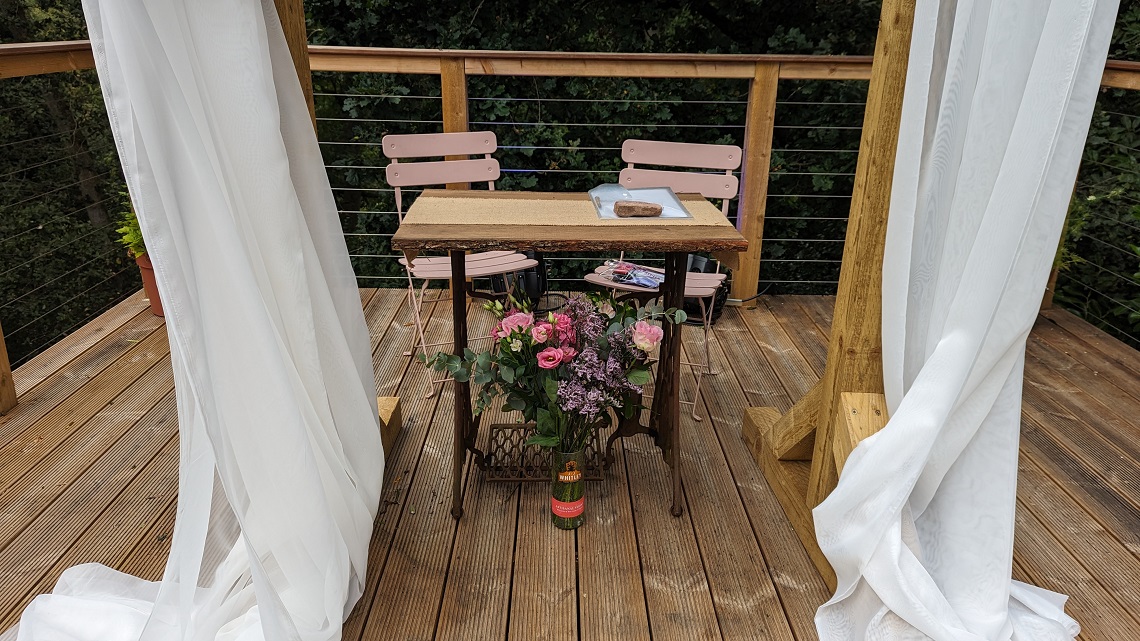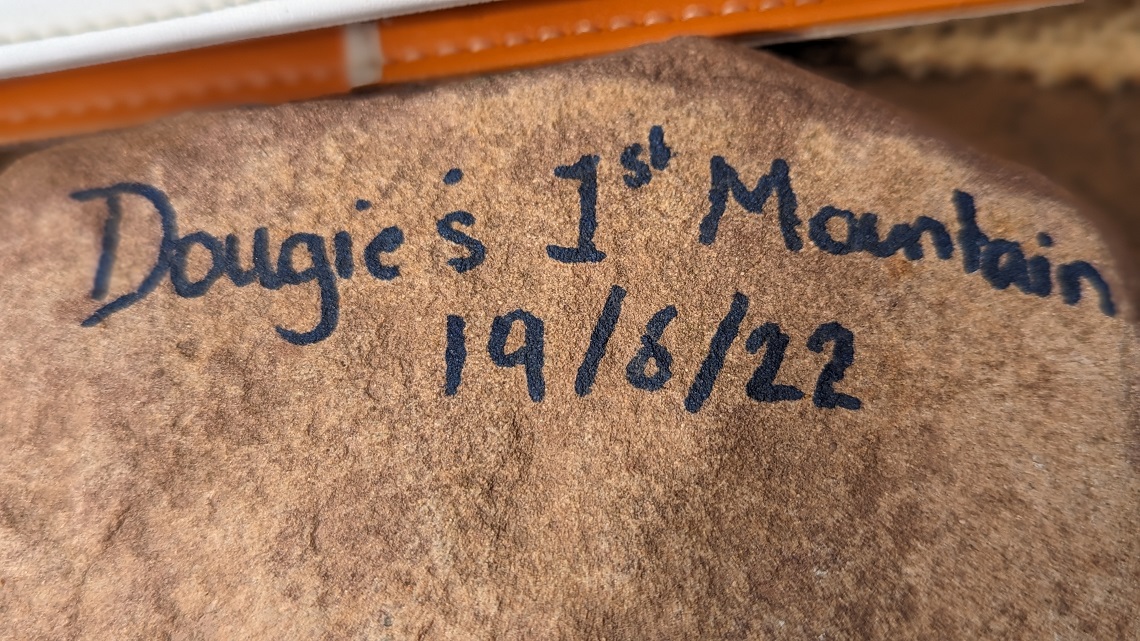 The signing table was the bride's nan's original Singer sewing machine bench, and acting as a paperweight from the certificate and folder, was a rock salvaged from their first mountain trek as a little family.  Personal touches were in abundance at this wedding and I just loved how it all flowed perfectly, and the spaces all worked brilliantly together.  I've seen a lot of professional wedding venues and this was right up there with the best!  They should all be very proud of what they have achieved.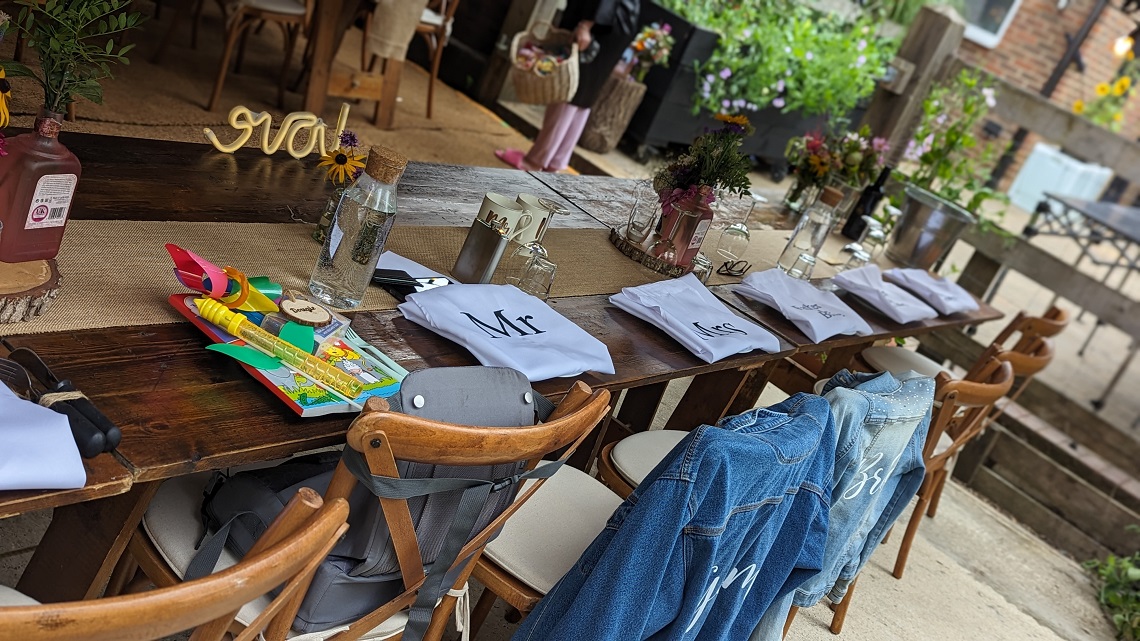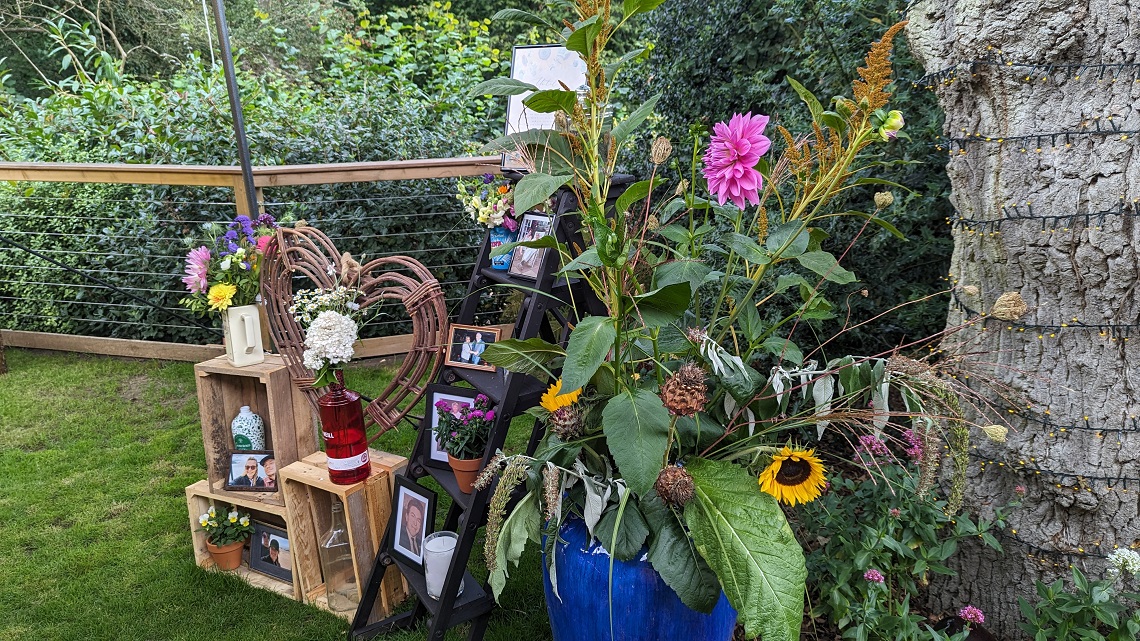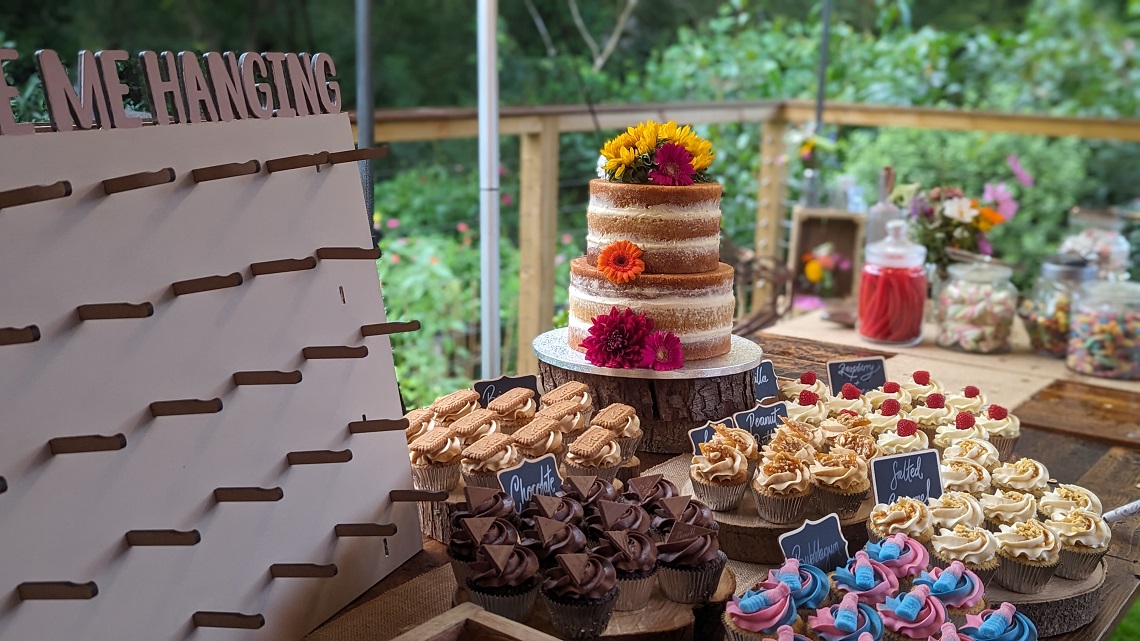 After settling into the space, setting up my things, and checking the weather forecast (rain was due) it looked like we might just have some luck, and the sunshine appeared!  Guests began arriving, I checked in with the groom, his best man and ushers, and the two readers. We had some fun with the guys who were all friends of old and were sharing stories with me and clearly a huge support to the groom.  They were all so helpful, and ready to help the couple in any way they could.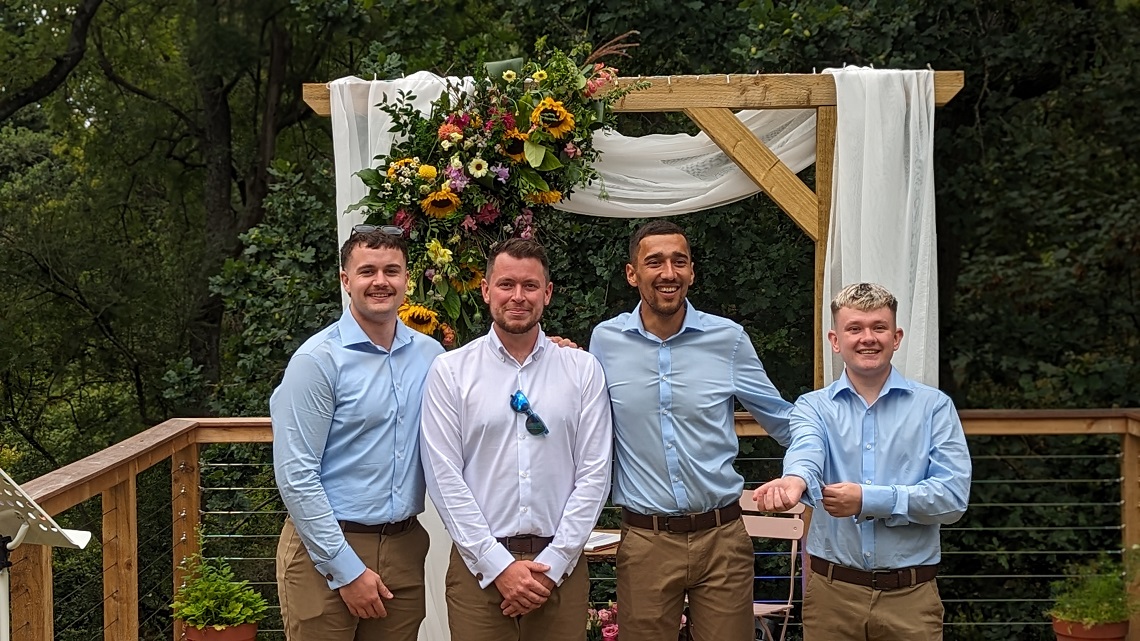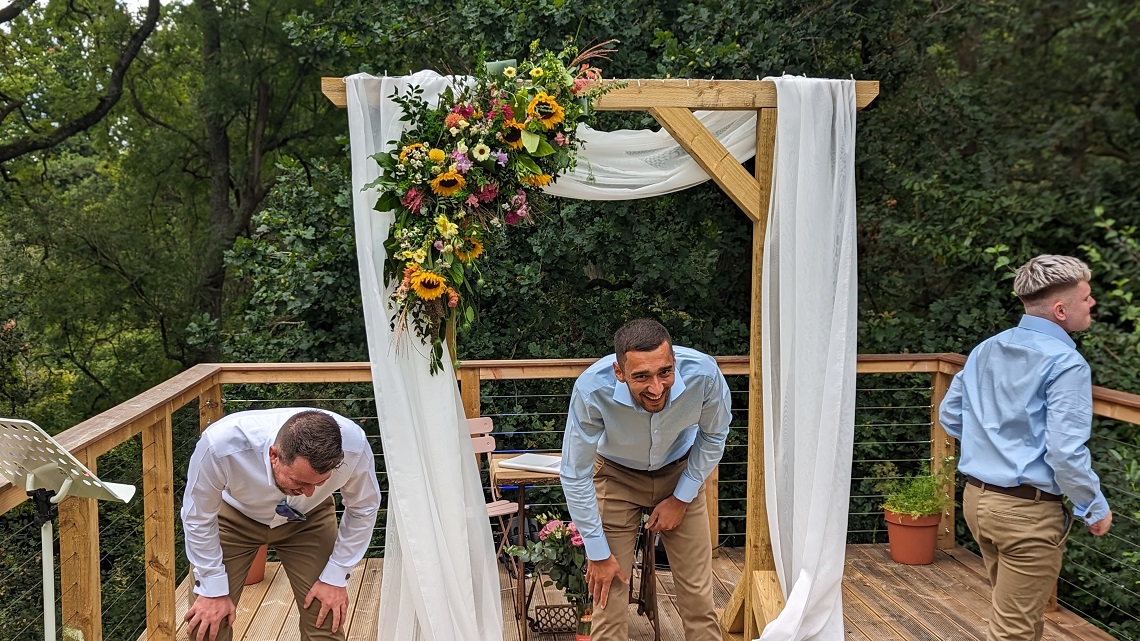 Next was time to pop up and check in with the bridal party, and my oh my, the bride looked beautiful!  Hair and make-up done, she and her maids were relaxed, and enjoying some time before it all began.
With everything in place, we seated guests, and I awaited the cue that the procession was about to begin.  Music began playing, and the first of the flower girls was a little upset, so the best man (her dad) flew to the rescue, scooped her up, placed her flower crown on his head, and began a spectacular journey down the aisle scattering petals as he went.  A huge applause followed, and everyone was eagerly awaiting the rest of the bridal party.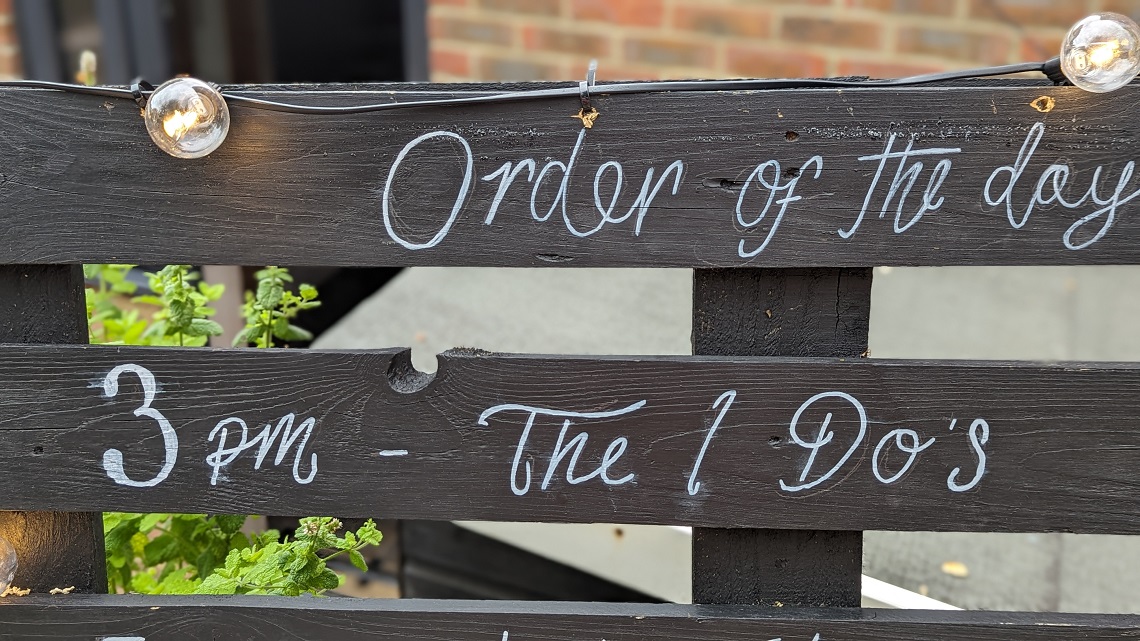 As they came into view, the groom who was facing away, waiting for a nod to turn around, was both excited and nervous.  With all of the lovely maids in position, he turned around to see his lovely lady reaching the top of the aisle with her very proud dad.  As they came down the aisle, the bride stopped to hug her nan, a tender and special moment and then continued towards the front.
With a kiss on the cheek to his daughter, and a shake of the groom's hand, the bride's father moved to his chair, and everyone took their seats.  We had walked through the best standing positions in our previous meeting and so once everyone was settled we turned the couple around so everyone could see them, and it instantly felt more relaxed, and connected.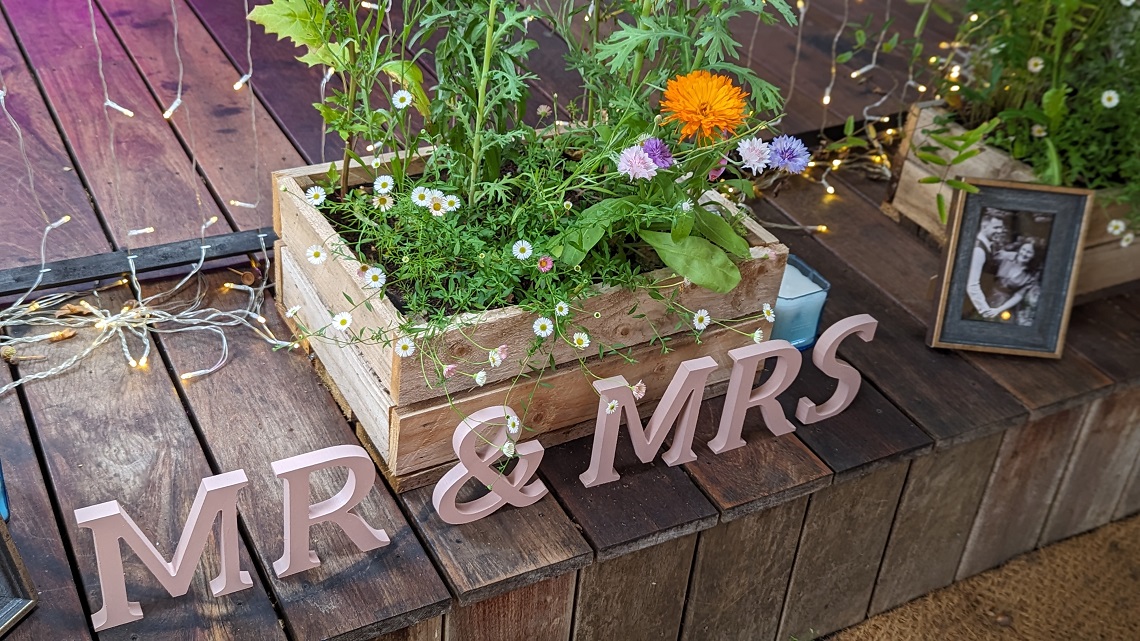 Welcome notes were shared, words about marriage and what it means to our couple were read, and the first guest reading took place, delivered perfectly by the Bride's friend Liv.  Then came the couple's love story, details about how they met, their lives together, creating a family, and their engagement.  The second reading from groomsman Jacob was lovely too, and as we concluded their story, it was time to surprise both mums.  This was such a lovely part of the ceremony and there were tears and hugs, and a lovely photo opportunity too.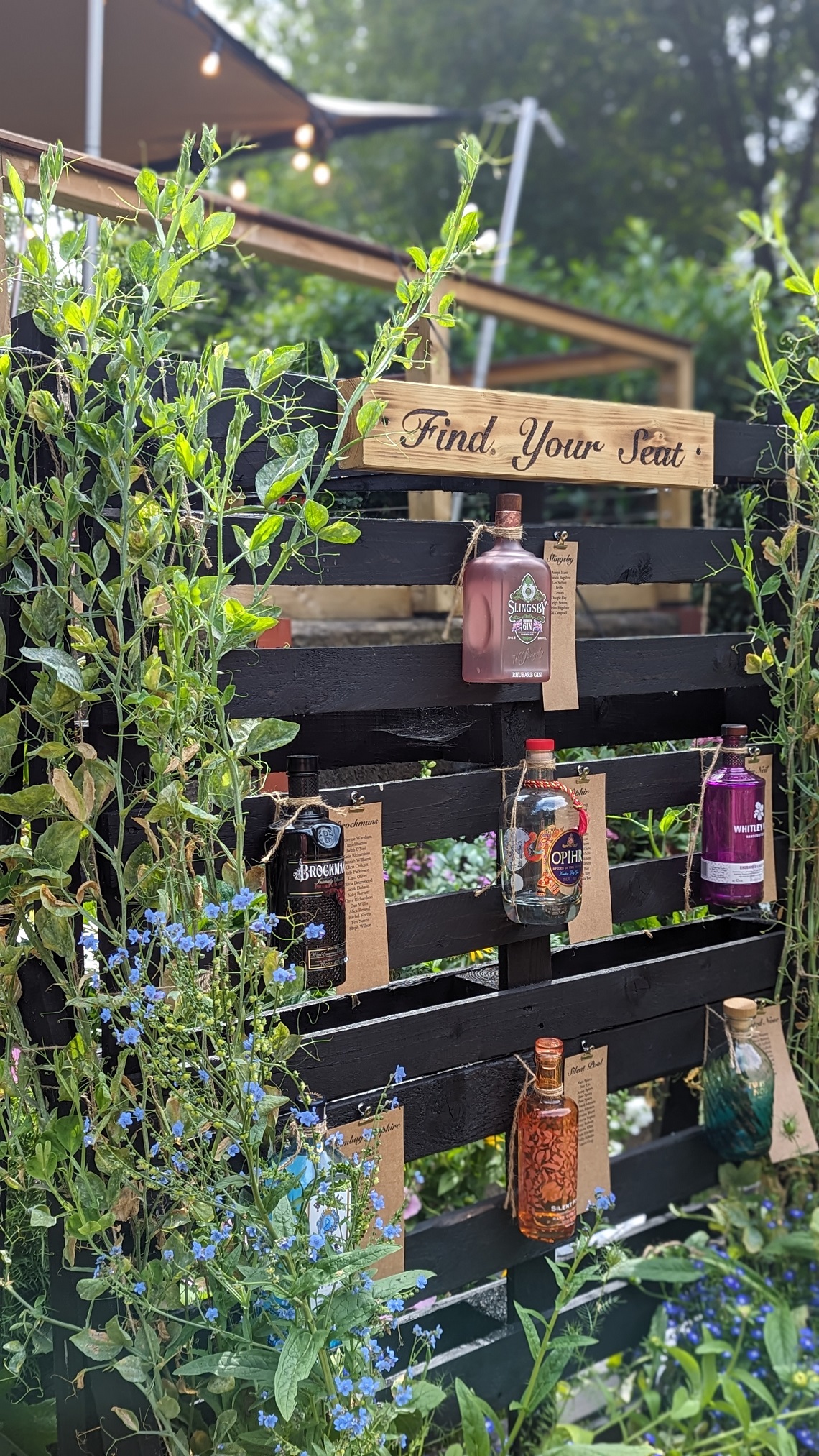 As we moved to the vows, the couple assumed positions in the centre, the laughter subsided and everyone prepared for an emotional moment.  Jess and Kieron first repeated their promises after me, and then shared their own words, both citing lyrics from Pink songs, which had previously been kept secret from one another, so it was lovely to reveal that they had been on the same page all along with their thoughts.
The best man Kai joined us for the ring exchange, along with their little boy Dougie.  He was such a bundle of fun, often coming up to see us during the ceremony, giving his mum a flower to put in his hair, then discarding it to much laughter.  It was a perfect family scene.  The groom's ring was cleverly made from skateboard parts, a big passion of his, so this was lovely to mention and to include as part of their day.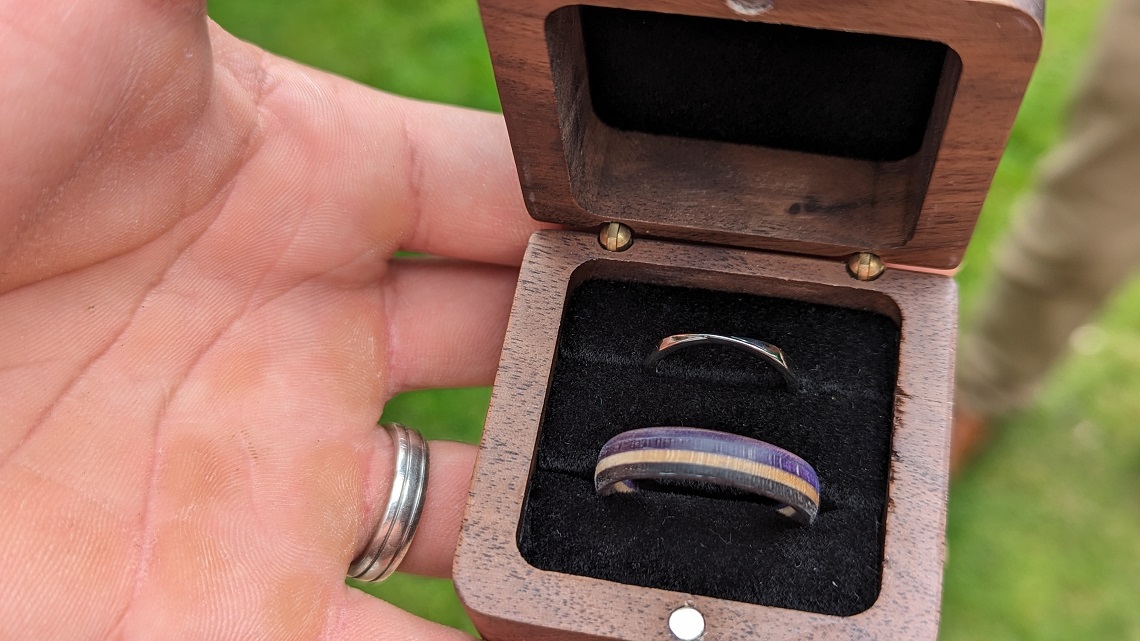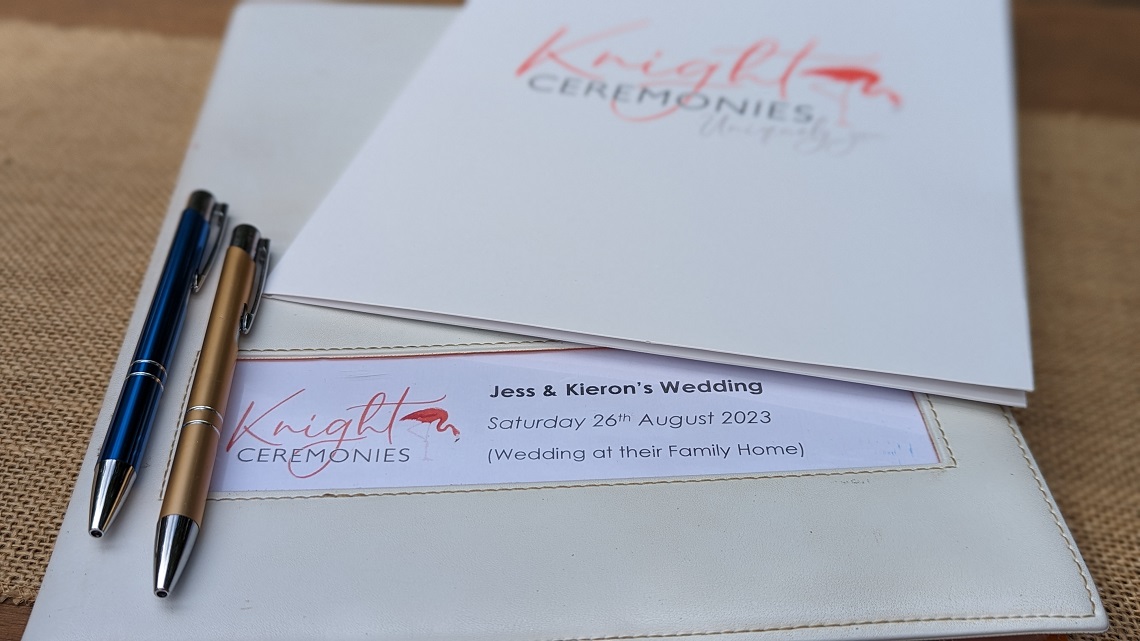 The couple then signed their wedding day certificate with the help of Dougie, the Best Man and Maid of Honour.  Just as we started this final part of the ceremony, the rain came, and we managed to complete this with the help of lots of umbrellas, a brief conclusion and then I presented them back to their loved ones.  They were all delighted and cheers went up and the music filled the air once again.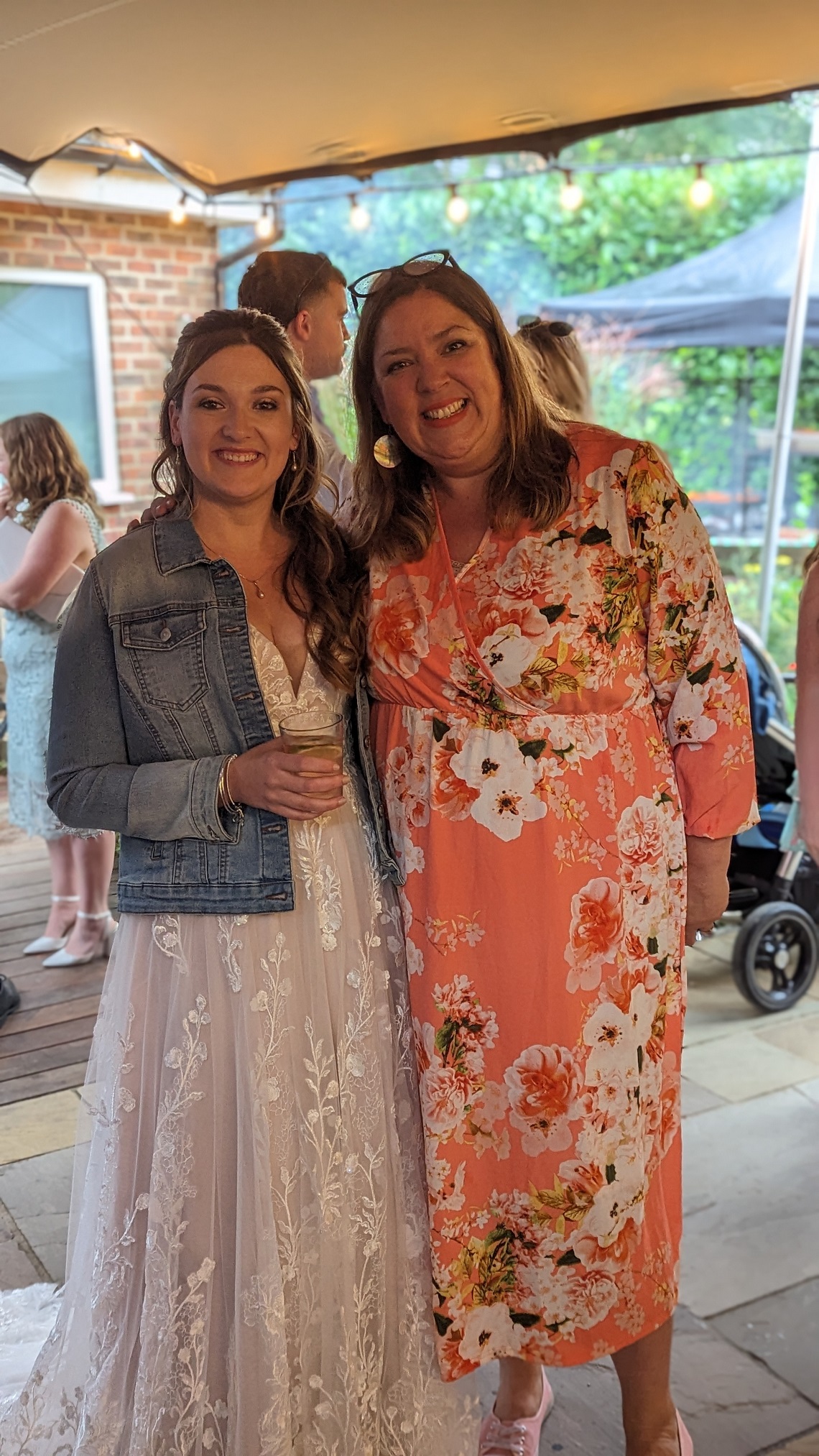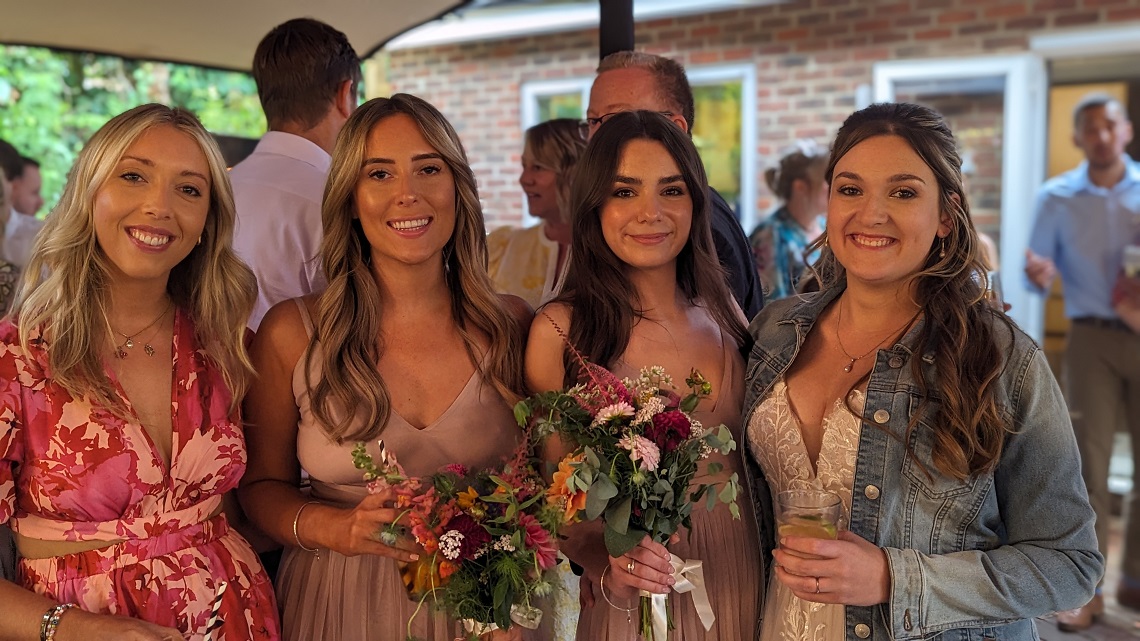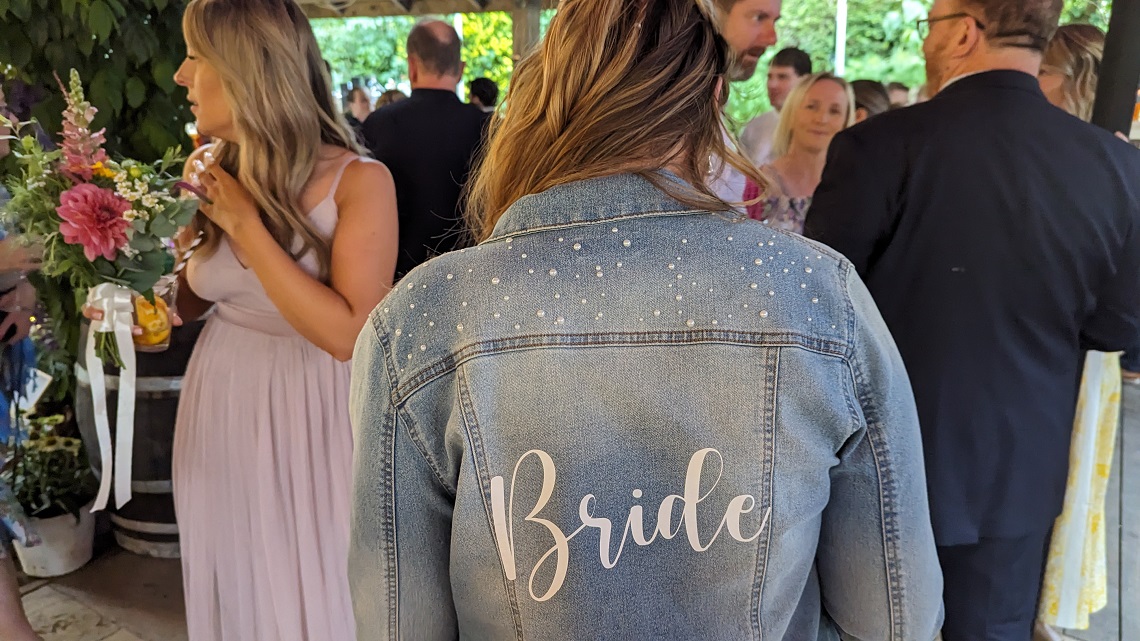 We swapped the drinks reception around a little so everyone could stay dry under the tents, but then in a short gap between downpours, everyone took part in an epic confetti throw before rushing for cover again as the heavens re-opened!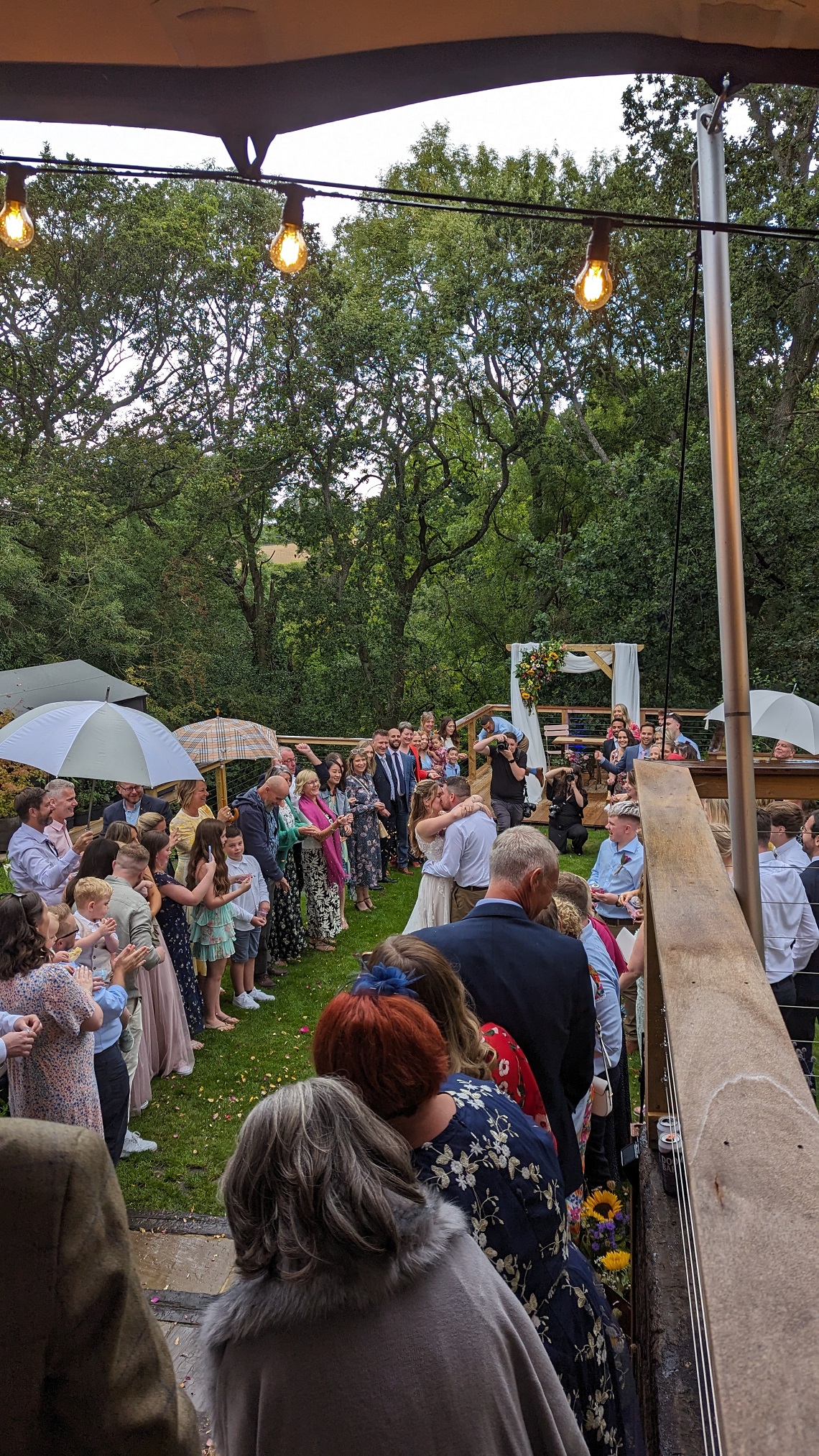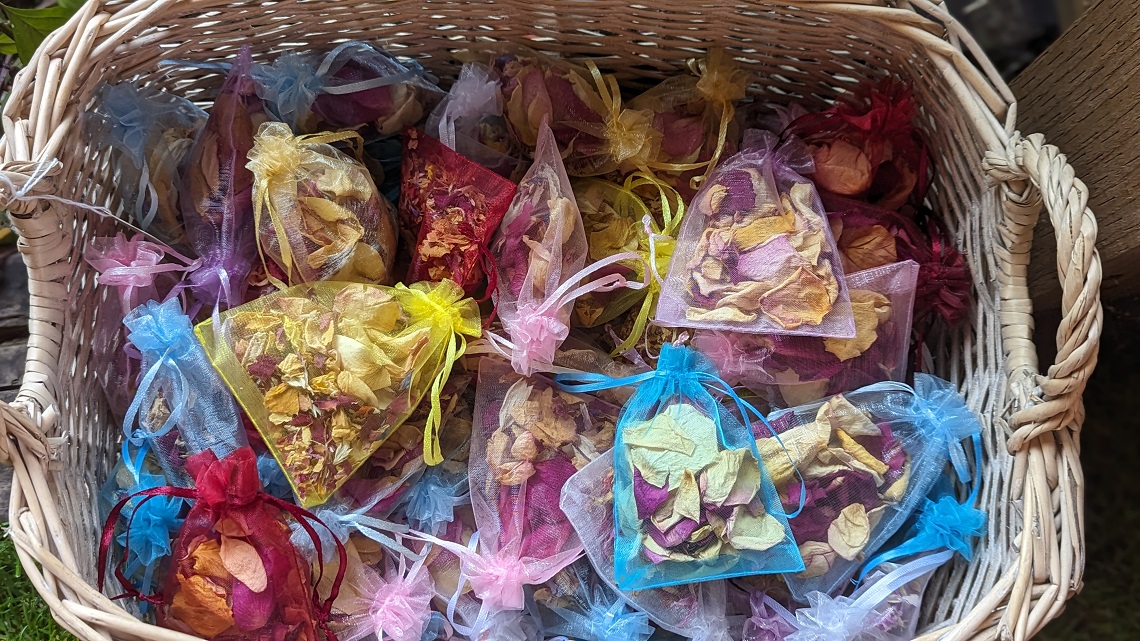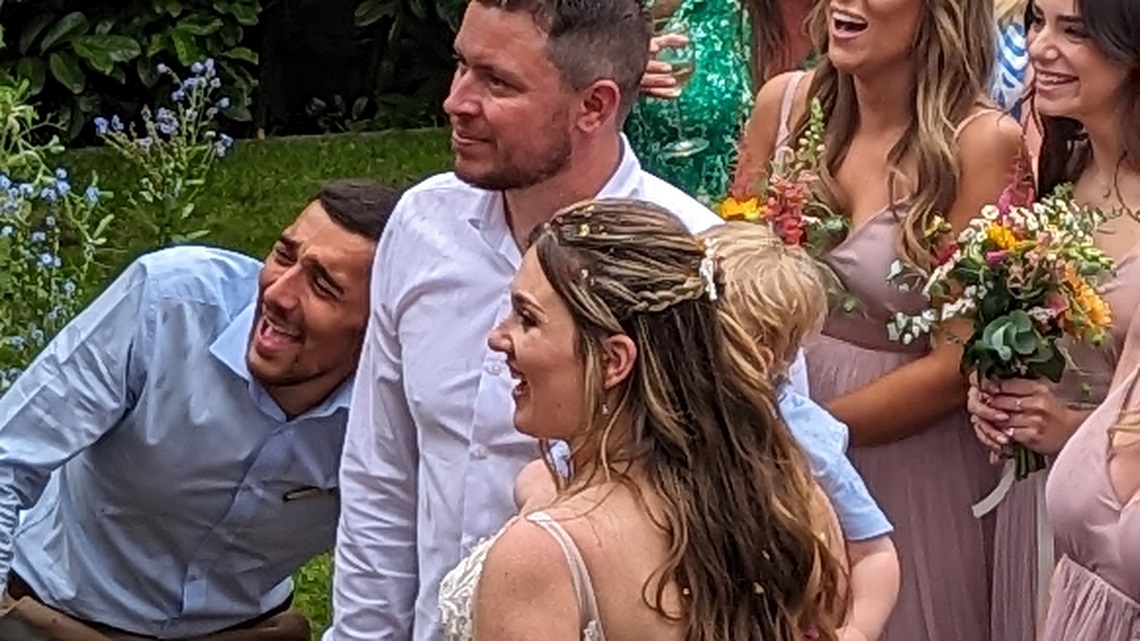 No rain or dark clouds could dampen this day though, and with all of their lovely family and friends, these two relaxed into their celebrations and began chatting and mingling with all of their guests.
As I cleared my things away, said my goodbyes and thanked everyone involved, I left their home with the party in full swing.  Food was cooking, drinks were flowing and smiles were aplenty.  What a great start to their day, and I just know they will have enjoyed the rest of the afternoon and evening too.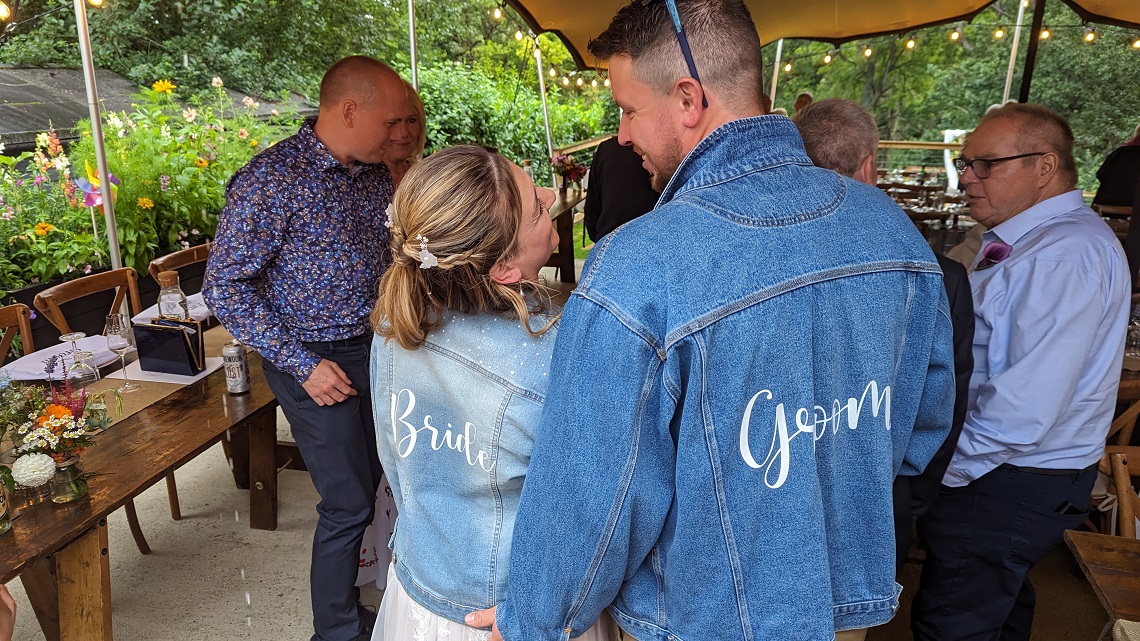 A huge congrats to Mr & Mrs Ray, and a big thank you to their family and friends for making me feel so welcome.  I wish you all a very happy and fun-filled future.
Jenny
x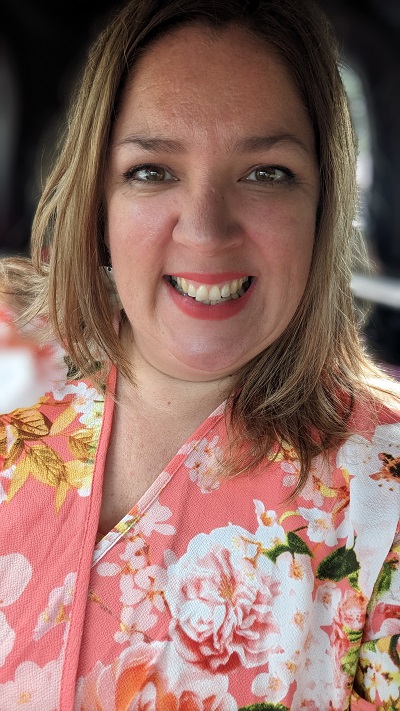 See more about
Surrey
Ceremonies