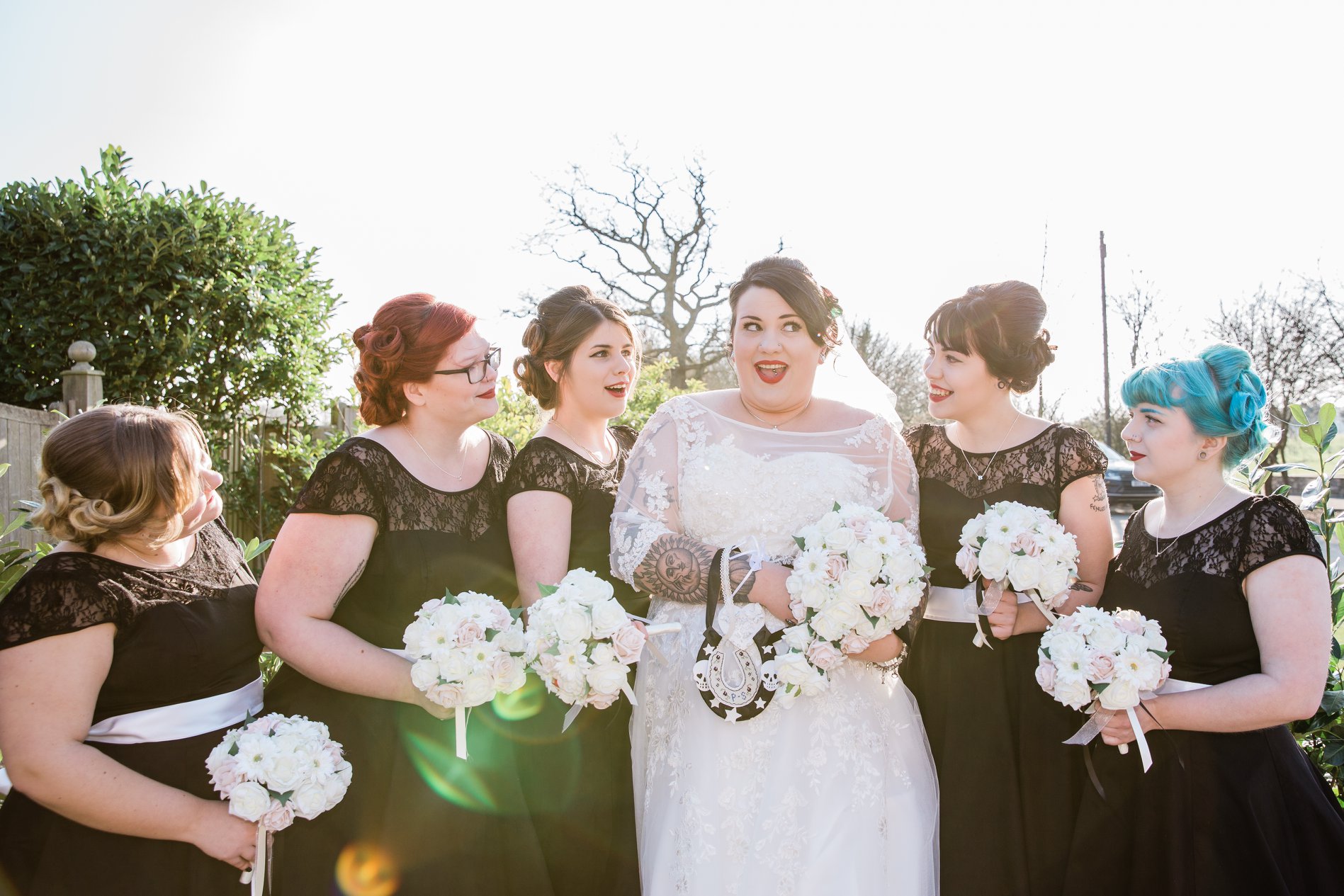 (Cover Image: Skylark Golf Club, image courtesy of Maddie Waters)
So, you have everything booked and have planned things down to the last detail...or have you?
Have you thought about the order of your wedding party for your procession up the aisle? Most brides will assume that they enter first, and while this is absolutely fine, and indeed the "British" way of doing things, it isn't the only option. What do you do if there are cultural elements, family traditions or indeed you are a same-sex couple?
As my couples will know, at my consultations, it's one of the questions I raise as it's often overlooked, but it's crucial that you advise your photographer what you decide, after all they will want to make sure they capture you correctly, and each member of your wedding party too!
You will see debates on all of the wedding forums about this, questions flying back and forth, is it best for one person to make the grand entrance first, or should the bridesmaids or attendants lead, followed by the person(s) getting married? There is no right answer, but let's look at the different ways of doing things to see how best fits with your plans.
Attendants going first
Having your bridesmaids and any page boys or flower girls entering first, allows them to each have their moment, and creates a natural build up to your grand entrance.
It also means that once they reach the front of the aisle and take their positions, the path is completely clear for your arrival, and everybody has an un-obscured view of you (including your partner and photographer!).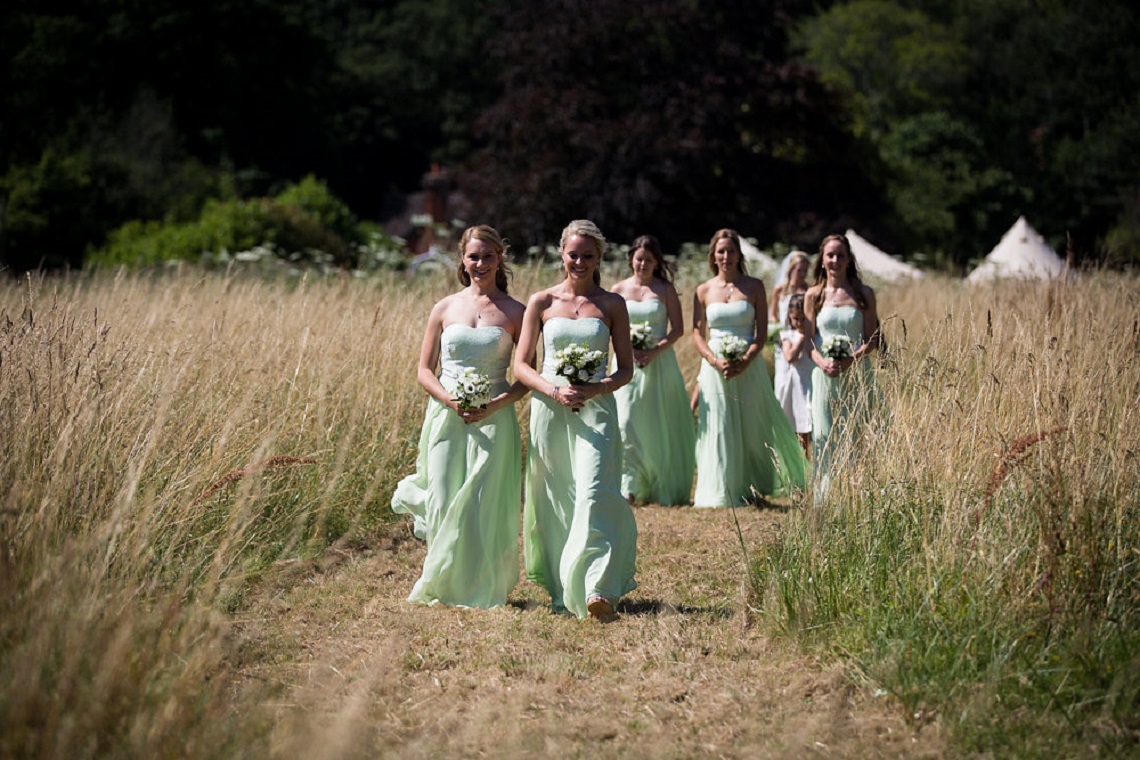 Venue: Blank Canvas Weddings Image: Hermione McCosh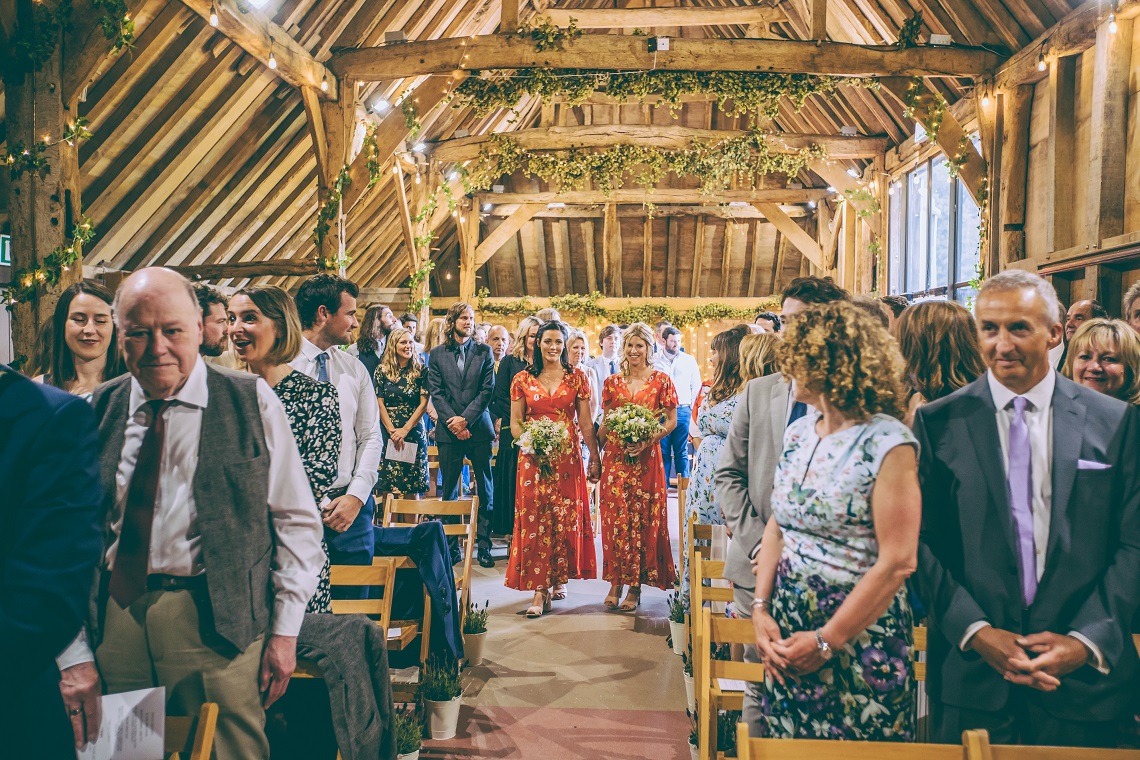 Venue: Gilbert White's House Image: Graham Joy
Attendants following you in
This is often a tricky one, especially where space is limited at the front so do give it some serious thought. It is technically the "British" way of doing things (think Pippa holding Kate's train at her wedding to Prince William), and it can be wonderful, but I must admit I do love the build up to a big entrance, and love seeing the attendants all enjoying their journey down the aisle first!
It is definitely an area to think about and I am proud that it features so highly on our lists in terms of securing details. Our wedding planning background means that we consider these details and we want to get them right for you. Nothing is left to chance.
"The questions that we ask are based on our experience and they are demonstrated in our post-consultation documents too,
which our couples love as it shows that we've understood just what you are looking for."
If you are having this option, just remember that once you reach the front, your wedding party is then a little stuck behind you and your photos will all have others in them and won't be the clear shot of you that can be so emotional.
I just love clear pictures like these!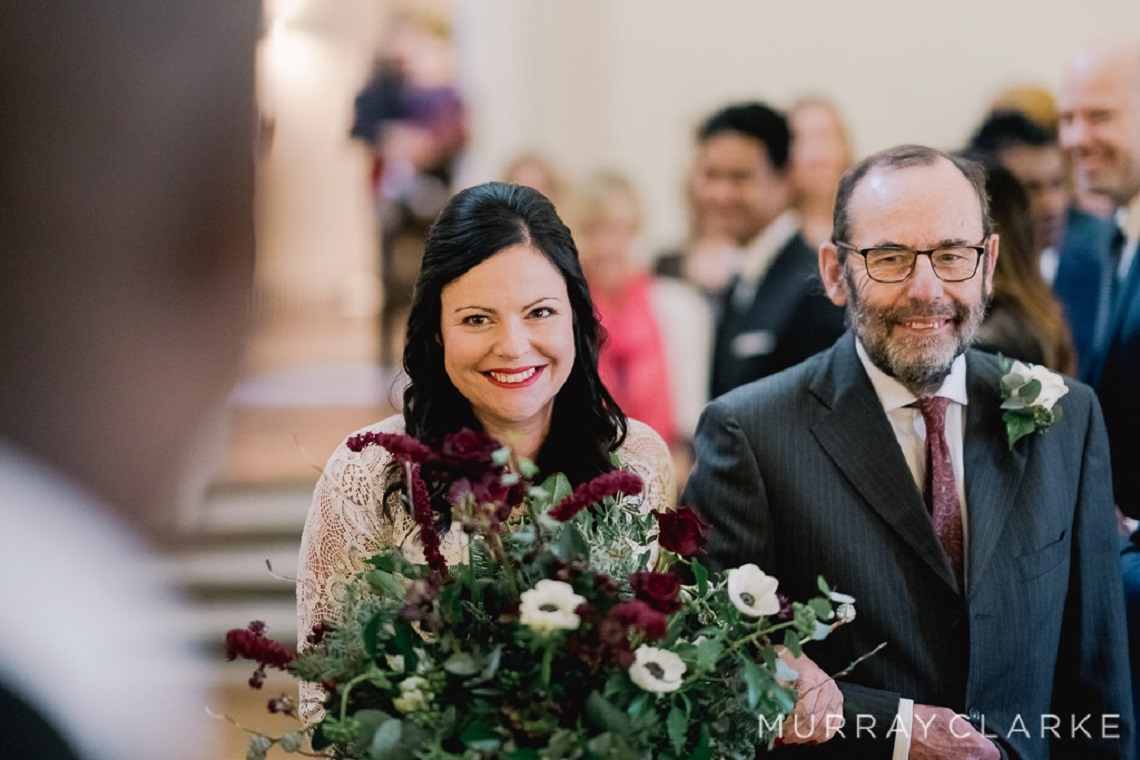 Venue: Farnham Castle Image: Murray Clarke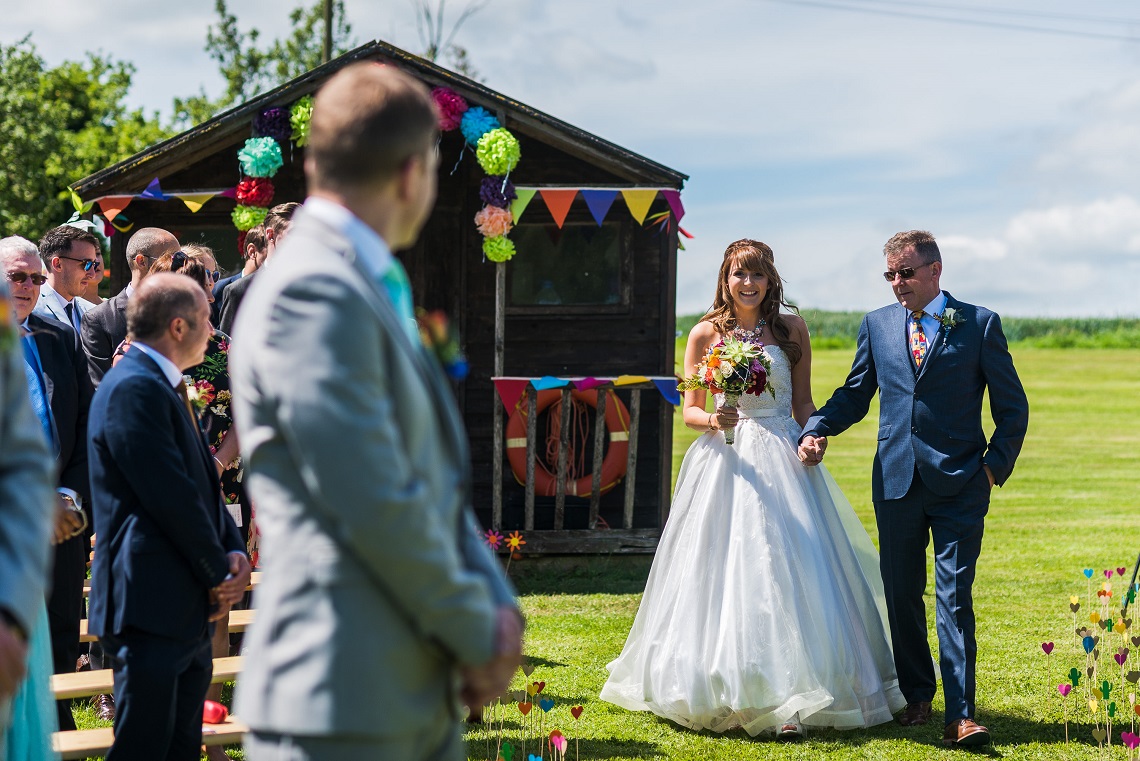 Venue: Newton Park Parn Image: Paul Mockford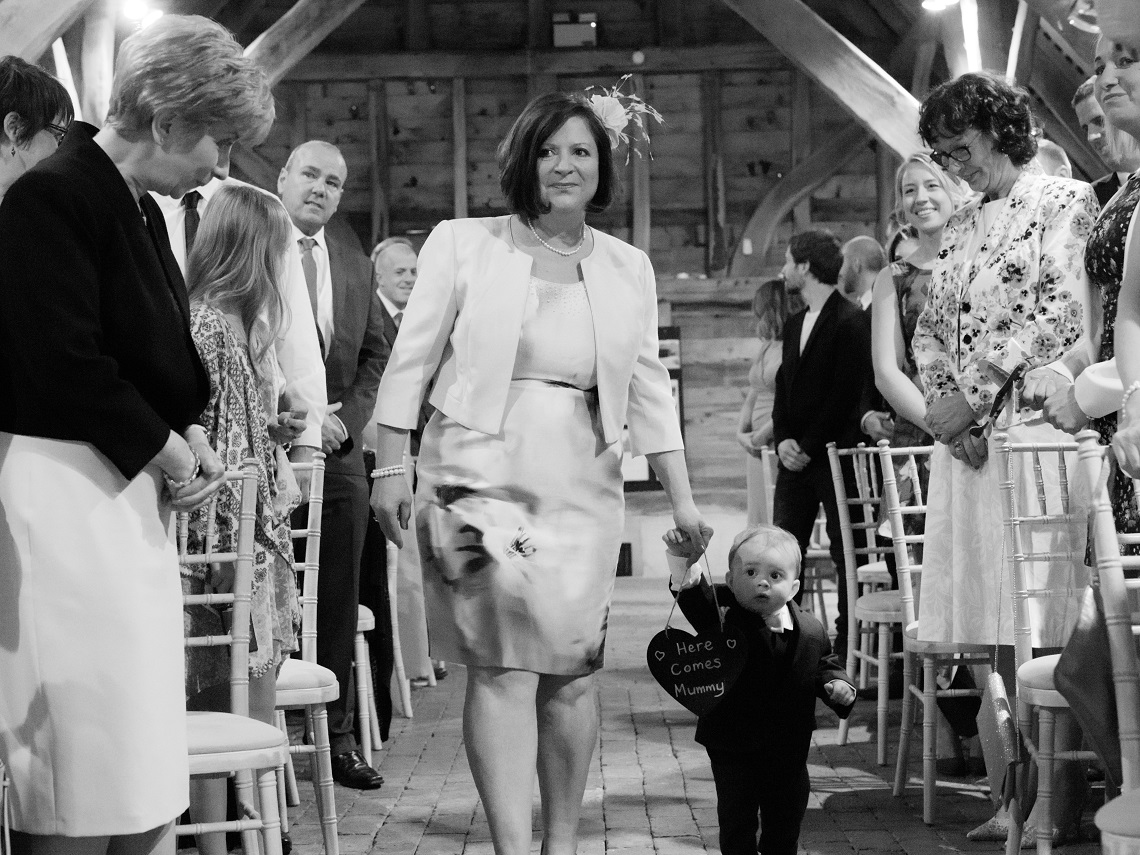 Venue: Gildings Barn Image: Courtesy of the bride and groom.
Going it alone
I have many couples that choose to come in on their own, whether it just be a personal choice, or a family situation that means this is the preferred option, we make sure you are ready for your entrance and we help you to feel as relaxed as possible.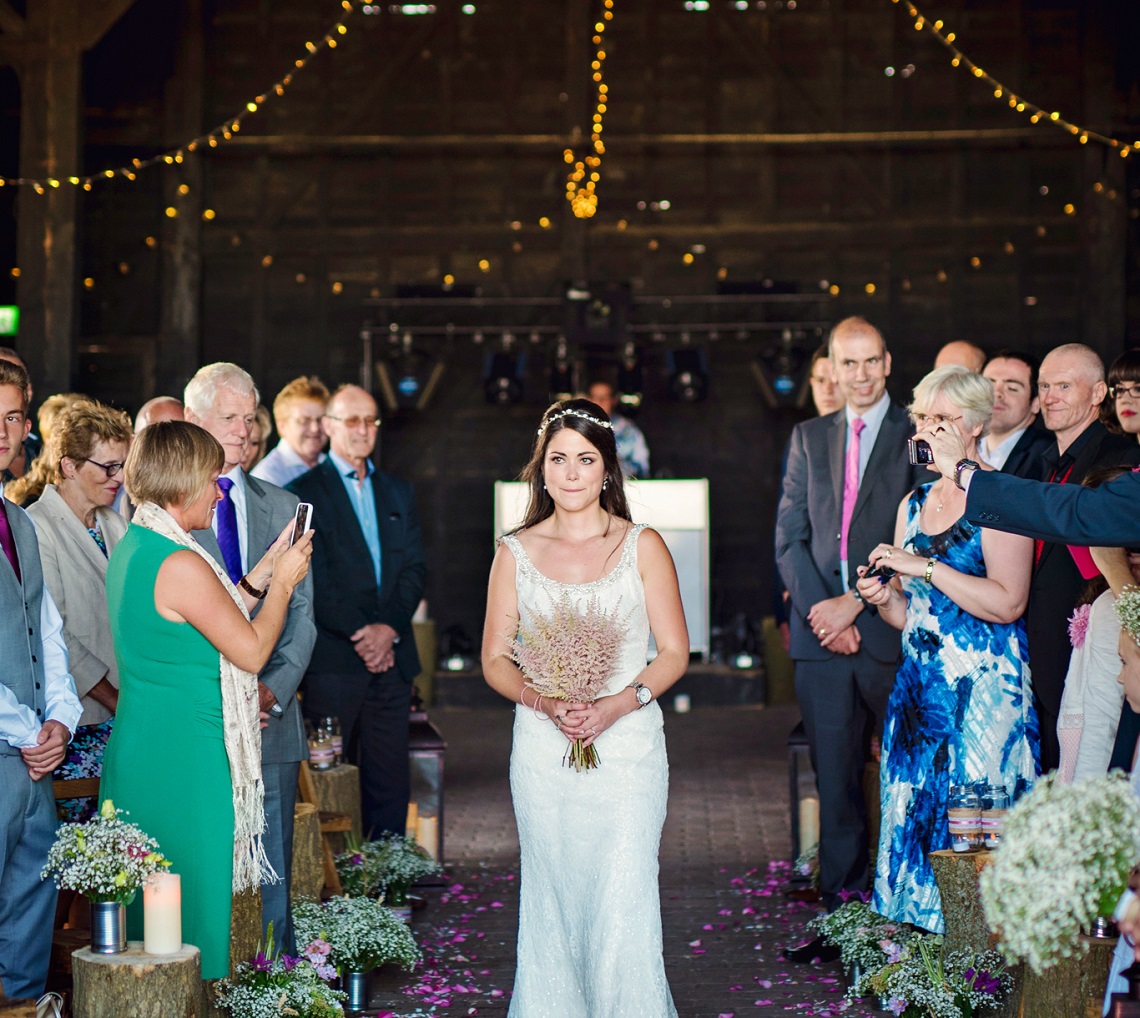 Venue: Elmley Nature Reserve Image: Vicki White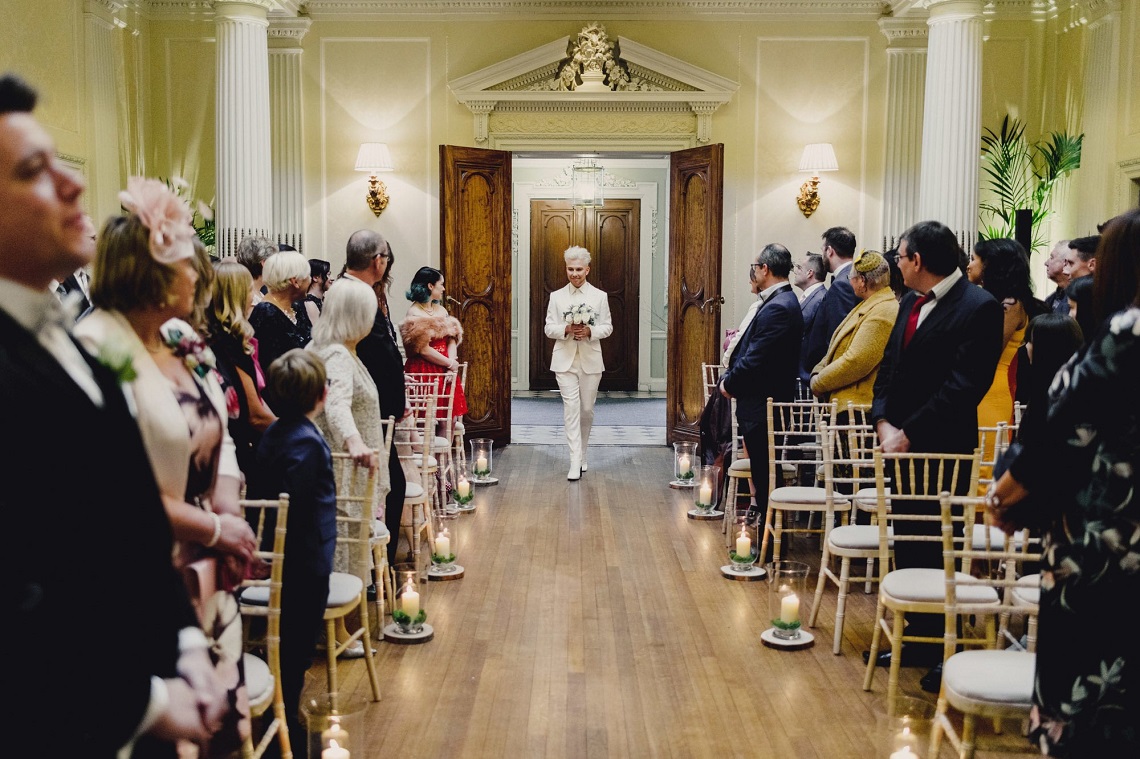 Venue: Hedsor House Image: Miki Studios - Ash Davenport
DID YOU KNOW:
"We love to come out and greet you before you come in, so that you don't just arrive and have to walk in unprepared.
It's a big part of what we do, and taking care of you on the day is where we come into our own!"
It is these moments where we really make a difference and our couples tell us that they loved having the chance to ask questions and even to get a bit of reassurance that all is ok, and we have everything in hand.
We run through things with you, dad (or whoever is coming in with you) and make sure they too feel a little more relaxed and able to enjoy it!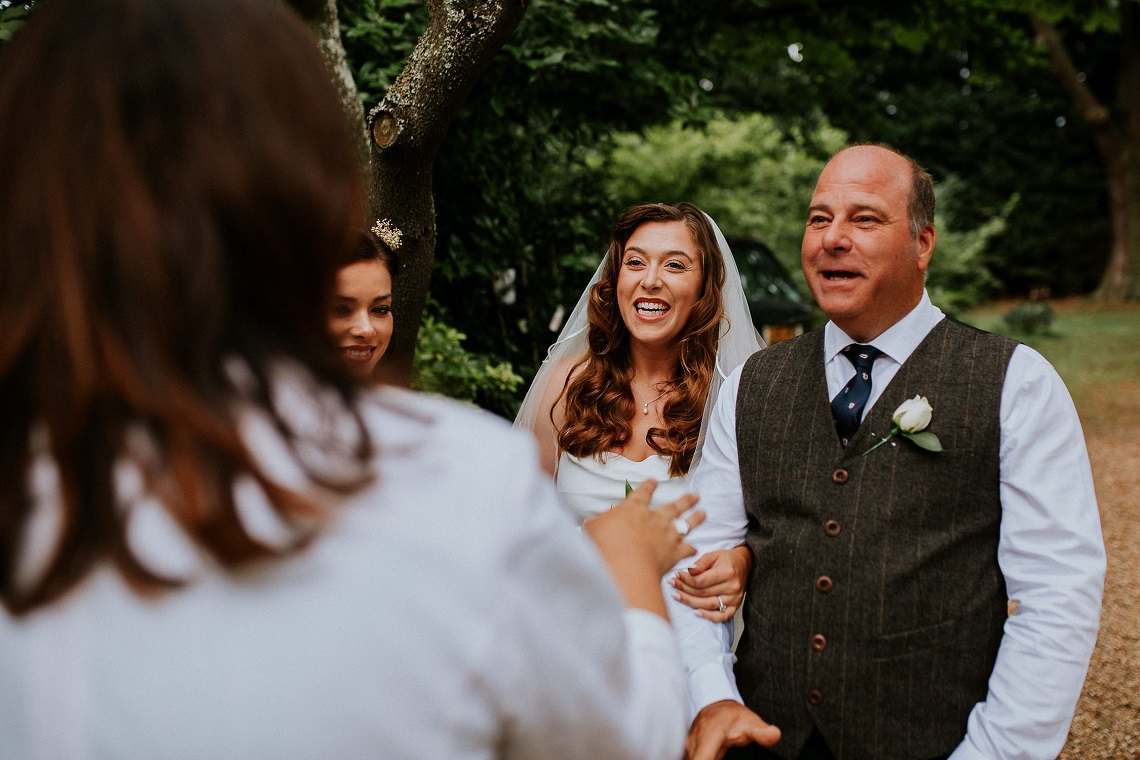 Venue: Little Dower House Image: Photobart
Memories are made in these moments and entering on your own no matter what the situation is, can be an emotionally charged time.
We help you to embrace it and own your entrance!
Arriving together
What about same-sex weddings, how will you choose to make your entrance? At the same time but from different directions and then finally meeting at the front, or indeed one after the other? Who will accompany you? Lots of things to think about. . .but don't worry, we've got you. We've helped many, many couples with this and there are things that we can do to make sure you are as relaxed and ready to enjoy it as possible.
Just look at these two! We loved them and they clearly love eachother.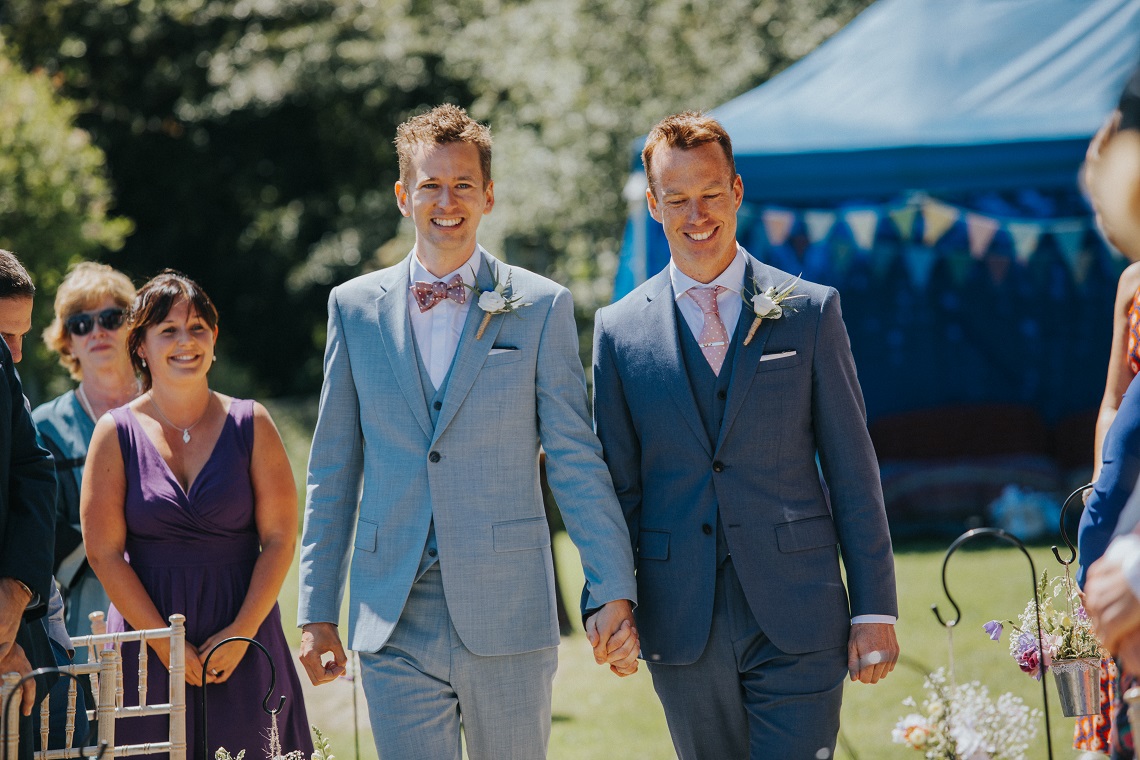 Venue: Gildings Barn Image: Devlin Photos
For more details on same sex weddings and how we have helped lots of couples with their ceremony details, click here for our handy blog.
Accompanied by parents
Many of our couples see the tradition of just dad walking them in as a little outdated, and whilst this does increasingly seem to be the case, it is still very popular at the moment. I personally quite like it, and think that although we don't really see it as dad 'giving us away' it is a nice opportunity to have some special moments with this very special person in your life.
If, like some of my couples, you like the idea of coming in with one or both parents, here are a few pictures of my lovely real weddings where they are doing just that!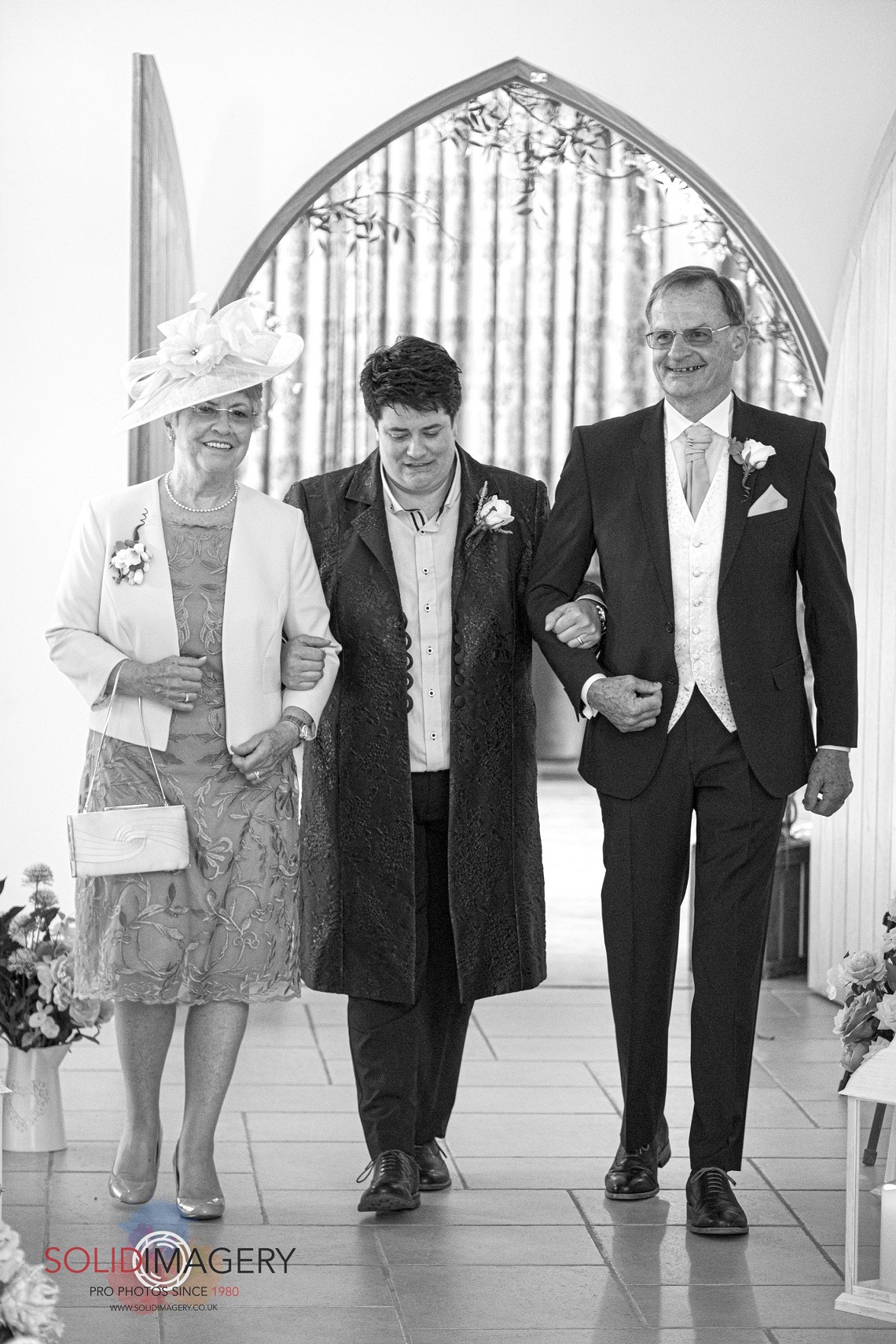 Venue: Rivervale Barn Image: Jon from Solid Imagery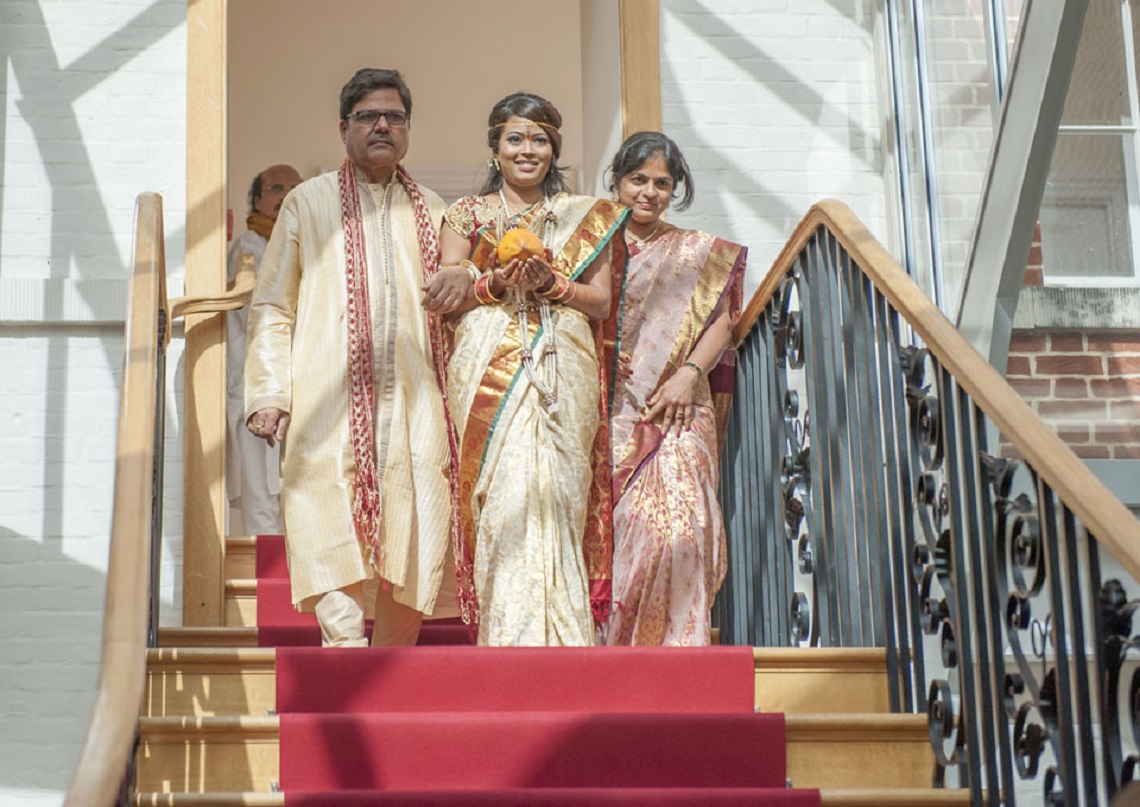 Venue: Botleys Mansion Image: Courtesy of the bride and groom
However you choose to begin your journey towards your partner, make sure that you hold your head high, smile and enjoy every single moment!
We are here for you, and we are exceptional at what we do!
Have a little read of what some of these lovely couples have said about us:
"Jenny calmed my nerves and put all of us at ease. We wouldn't have enjoyed it as much as we did if she hadn't come out to chat to myself and my wedding party. She's one in a million!"
"Just those few minutes at our venue visit where she talked through how it would all flow, made all the difference. I could feel myself relaxing as I understood what was going to happen"
"My mum was so nervous about walking me down the aisle as it isn't something that usually happens in a wedding, but Jenny made her feel super chilled and very excited about it all and she thoroughly enjoyed walking in and accompanying me. I am so grateful Jenny!"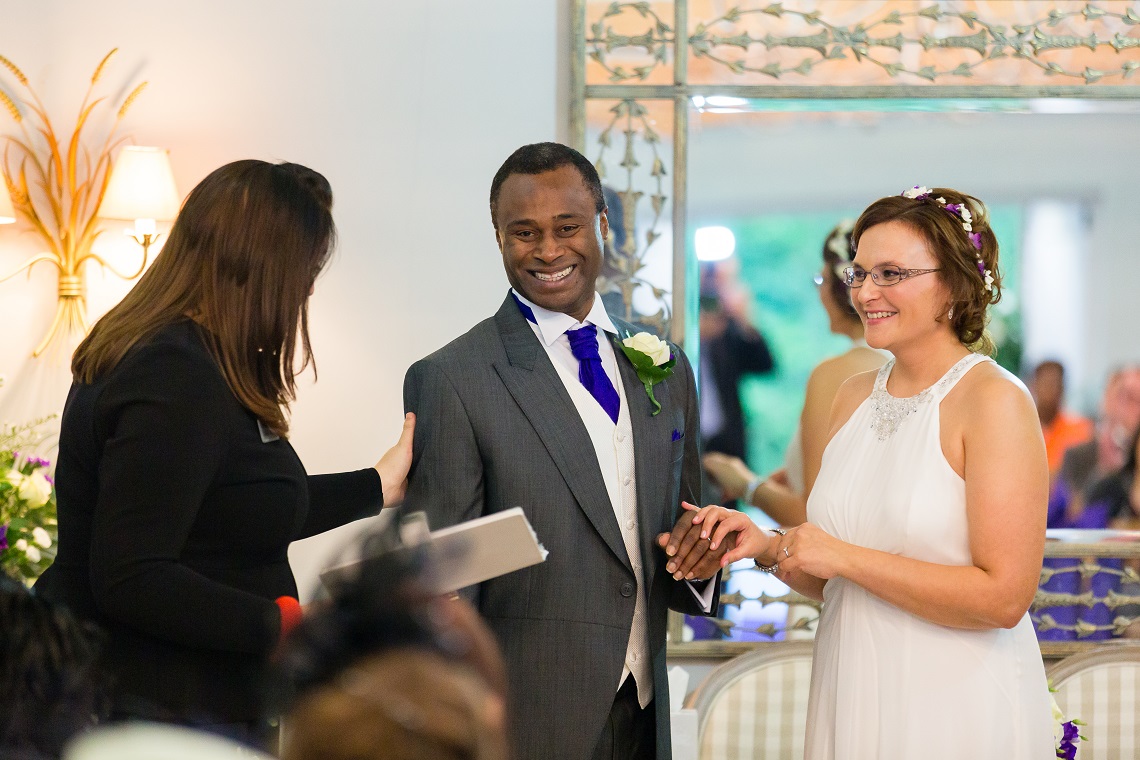 Venue: Oaks Farm Image: Darren Holloway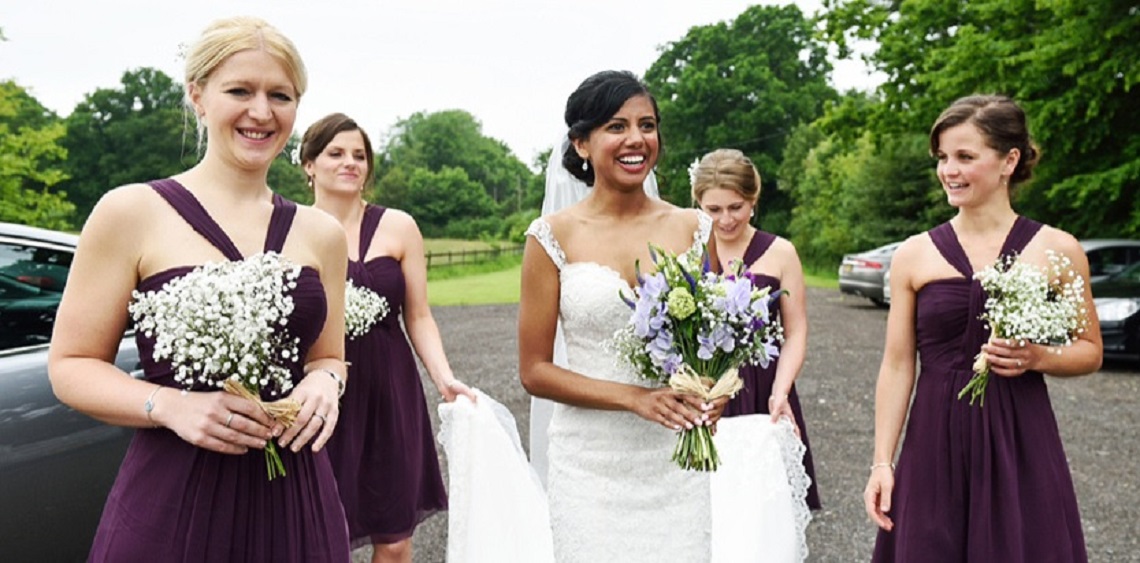 Venue: Gildings Barn Image: The Studio Without Walls
Drop us a line if you'd like to chat through your options.
We love a chat, and we really can help to set out a plan for your big entrance into your ceremony.
Jenny
x
(All images in this blog are of my real wedding ceremonies.)
See more about
Hampshire
Ceremonies