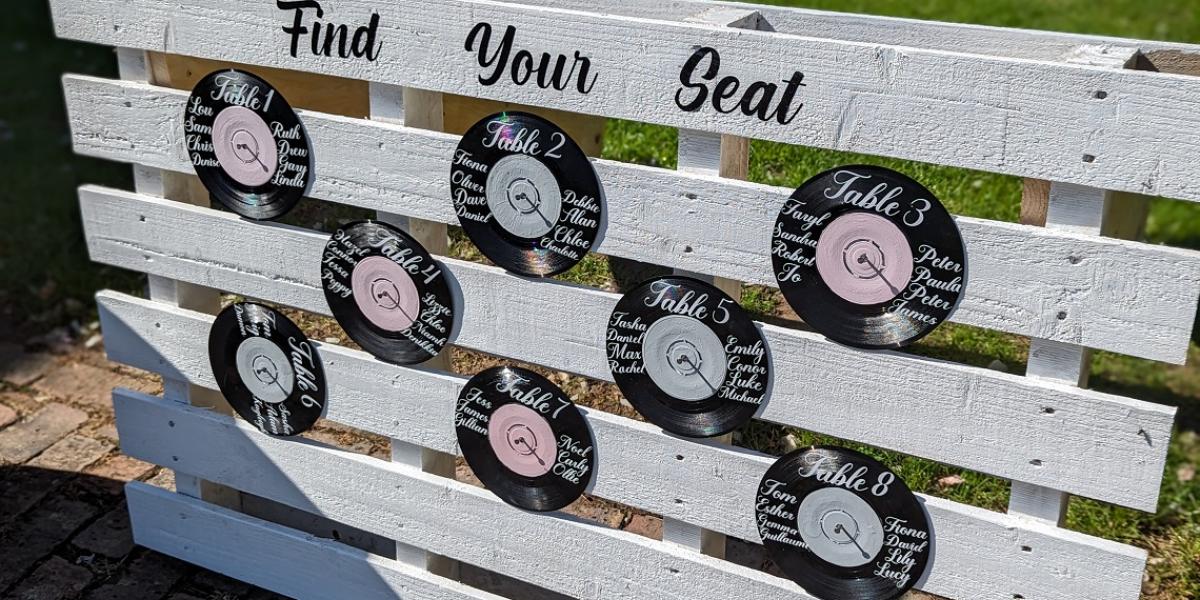 I thoroughly enjoyed working with these two lovely people, and ever since we met back in Autumn 2021, I knew we were going to have a fab day! Both rock music fans (like me!) they planned a special day that celebrated who they are and it was full of lovely details.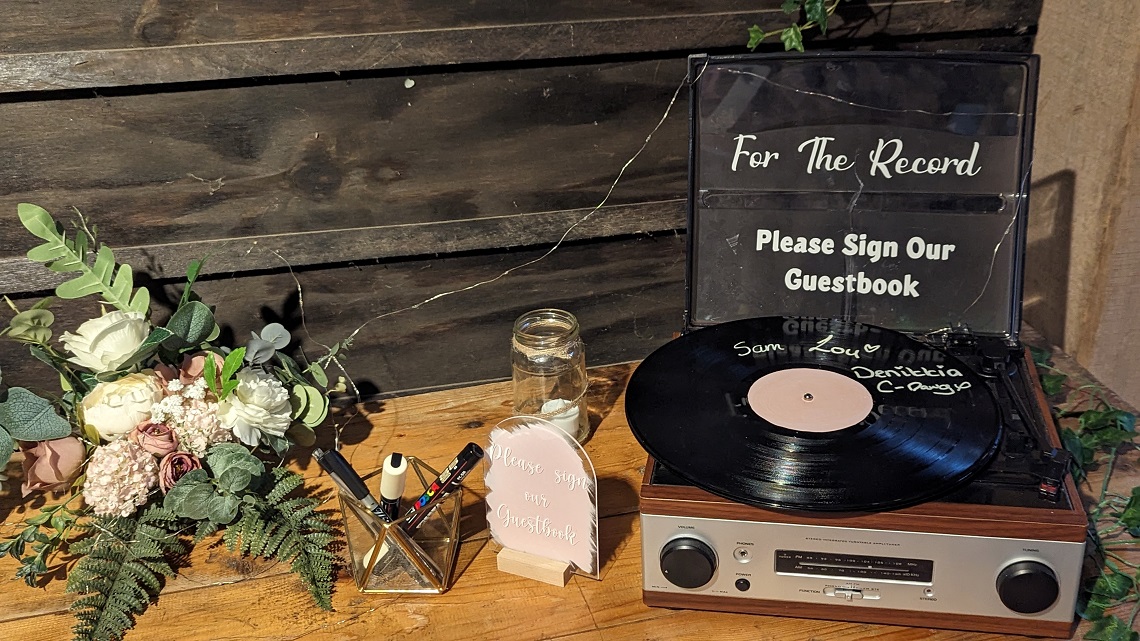 With a very personal and unique ceremony all in place, I arrived on their day to blue skies, and the venue looked gorgeous. Lou and Sam's vision was very much complete and as I got to the barn, the groom and best man were there, and looking very dapper indeed!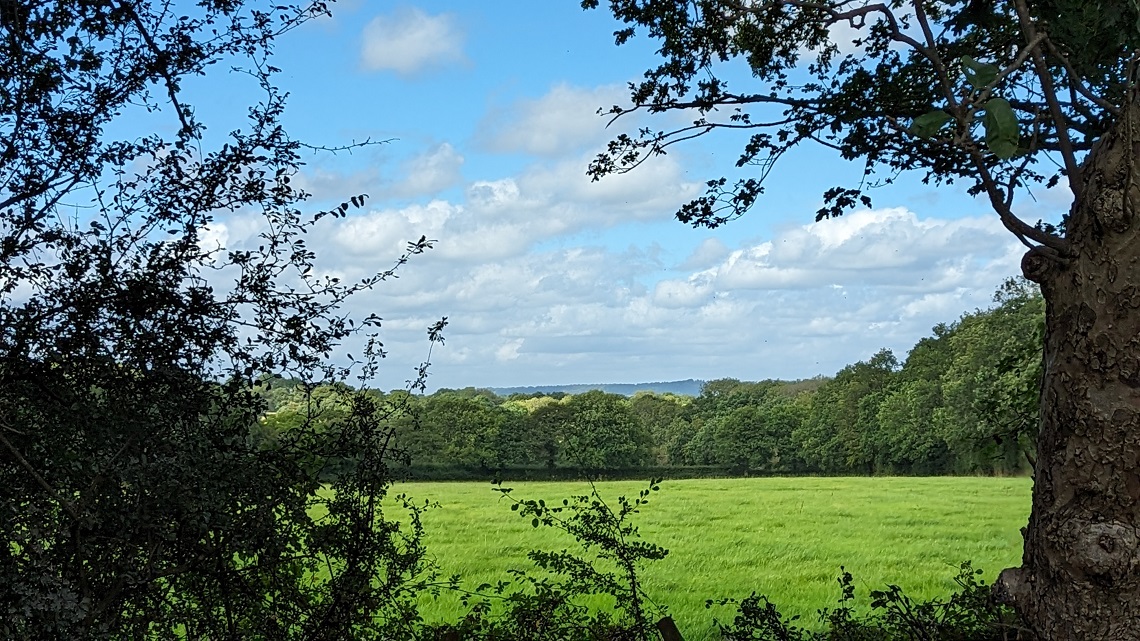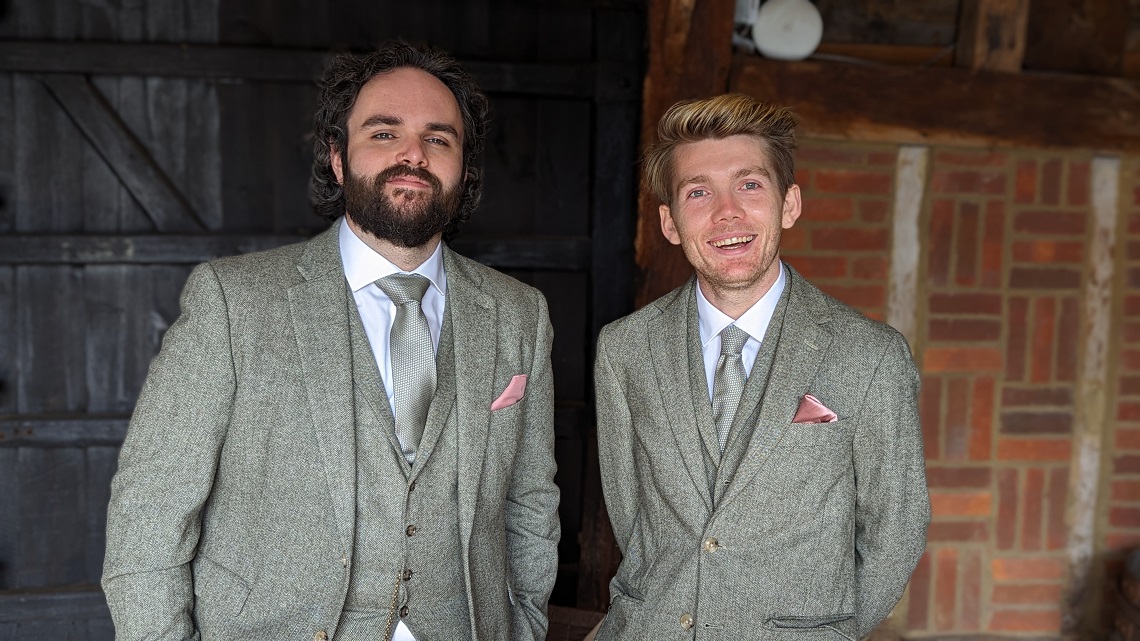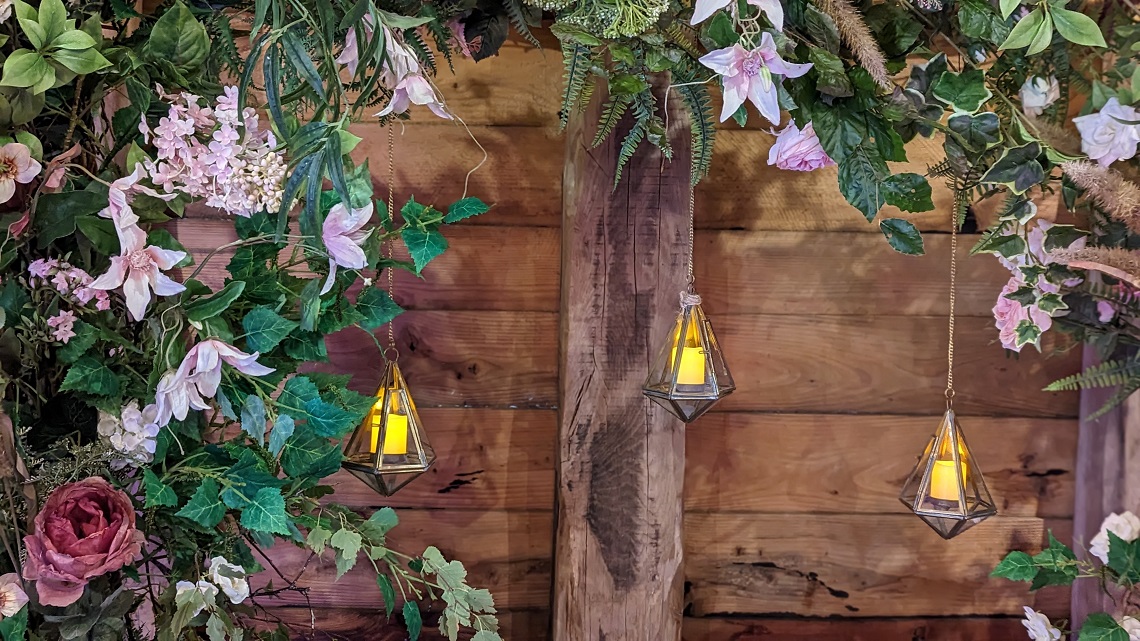 We had a quick chat before I started to set up my things, and then we had a full check-in before guests entered the space. The groom was very nervous and we talked through how to prepare for his speech and what would happen at the start of the ceremony. I am always there to help my couples, and to guide them through it all so that they need not worry about anything.
With everything set and in place, we started to seat guests as the bride had arrived on site early, which was lovely, and everyone was very excited indeed! Housekeeping messages were delivered, and it was time to check in with the bridal party and soothe a few nerves.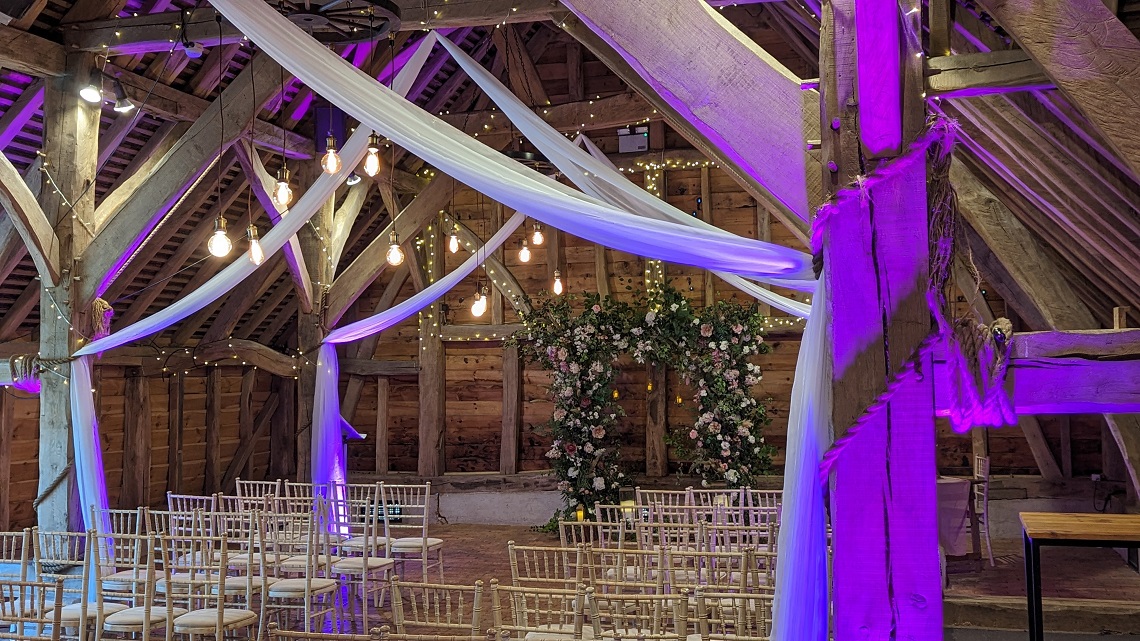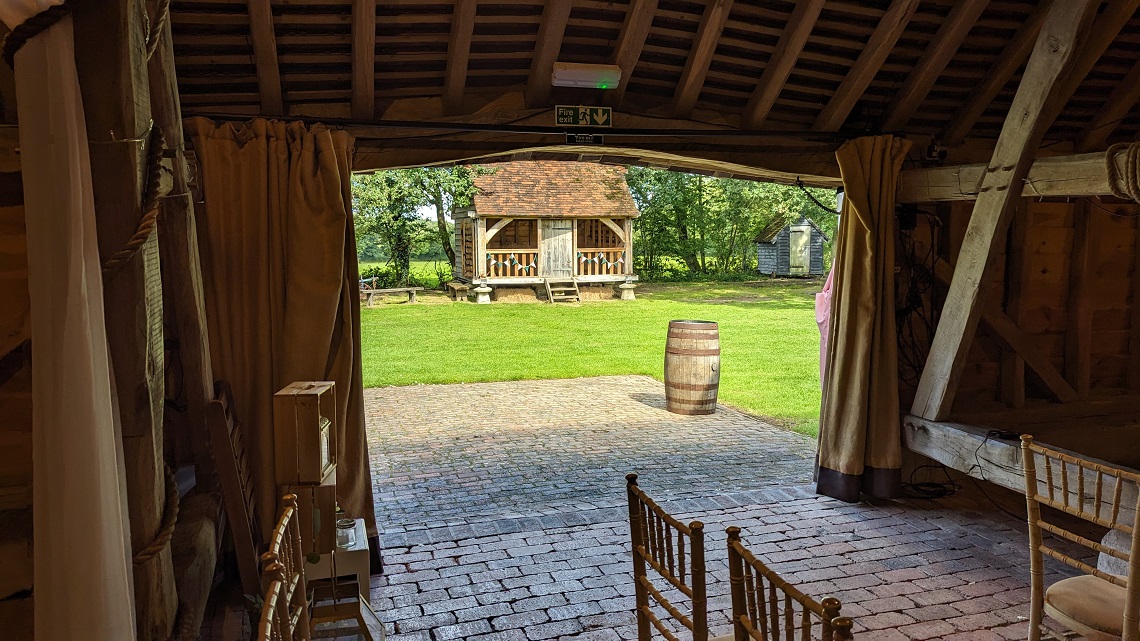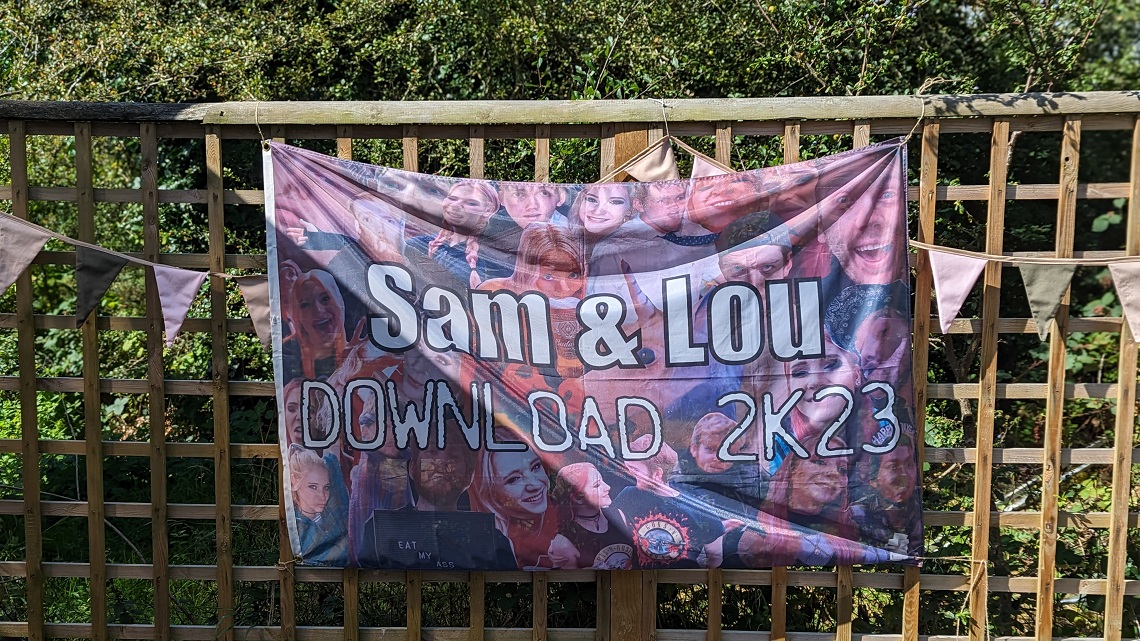 The bride looked absolutely sensational, and her bridesmaids and father were all looking wonderful and very proud and excited to be involved. I returned to the ceremony barn and awaited the cue to begin.  Everyone took to their feet and we watched as the bridesmaids all joined us followed by the bride and her father.
Everyone was then seated, and we moved the couple into position facing their guests. This positioning instantly connects everyone and we set the tone with some relaxed welcoming messages and explained how we were doing things slightly differently today, and outlined a few things that they could expect to witness.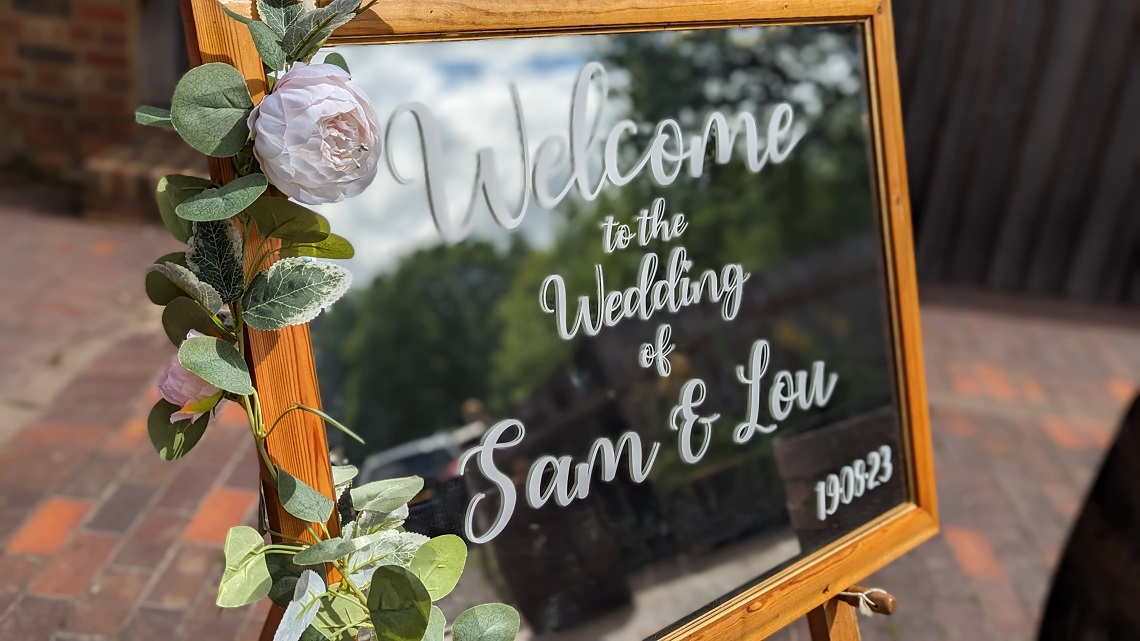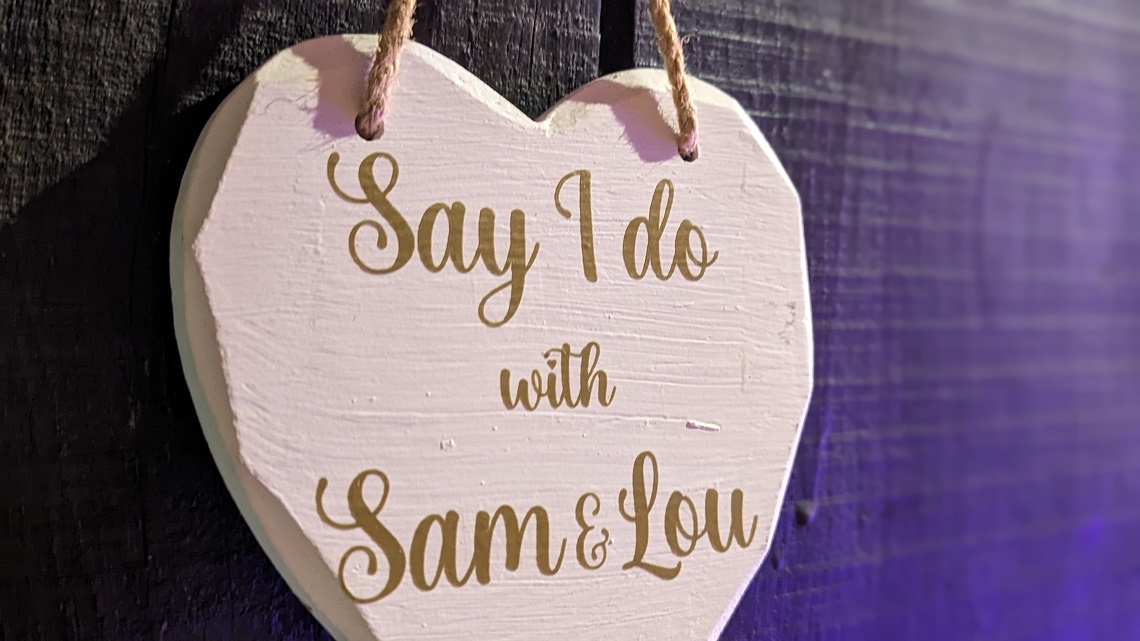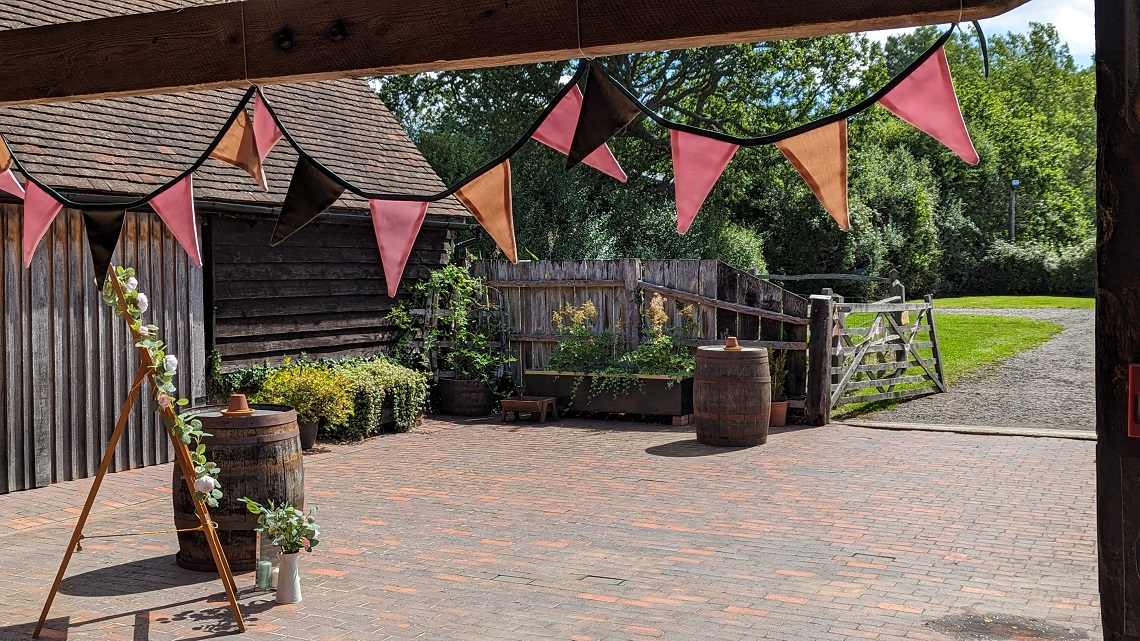 Everyone looked really happy and delighted to be involved, and so once the more formal aspects were completed at the beginning, we had the first of our two readings (both mums were asked to read at the wedding and both did really well!). As we moved towards the middle of their ceremony, I announced that I had written their love story in my trademark format of a poem and it went down a storm!  Full of funny, tender and emotional moments, we took everyone on a journey outlining all of the highlights of the couple's lives, and part way through they all got to be involved, which was a really lovely moment.
" . . . .But what is it that makes these two the perfect pair
It's all about their love, and the things that they share
The people (and pets!), the details are far from hazy
They love family and friends, and their cute rabbit Daisy!
Their passions extend to coffee, rock music and food
I know that they also have a love of tattoos
Lou leaves Sam love notes, but there are a few woes
I know they differ when it comes to films and tv shows!
So here we all are on this very special day
Celebrating their marriage in this unique and memorable way
Lou and Sam together, it was just meant to be
A journey that started at work, back in 2015."
 
We then had our second reading, again read beautifully, and I concluded their story.  The couple had chosen to make some promises, and then share their own words with one another as their vows, but to decide who went first they had two rounds of rock, paper, scissors before Lou won and decided to go first!
There were smiles and laughter aplenty during this ceremony, and as they exchanged their rings with the help of their best man, they shared a kiss to celebrate and the barn filled with cheers again!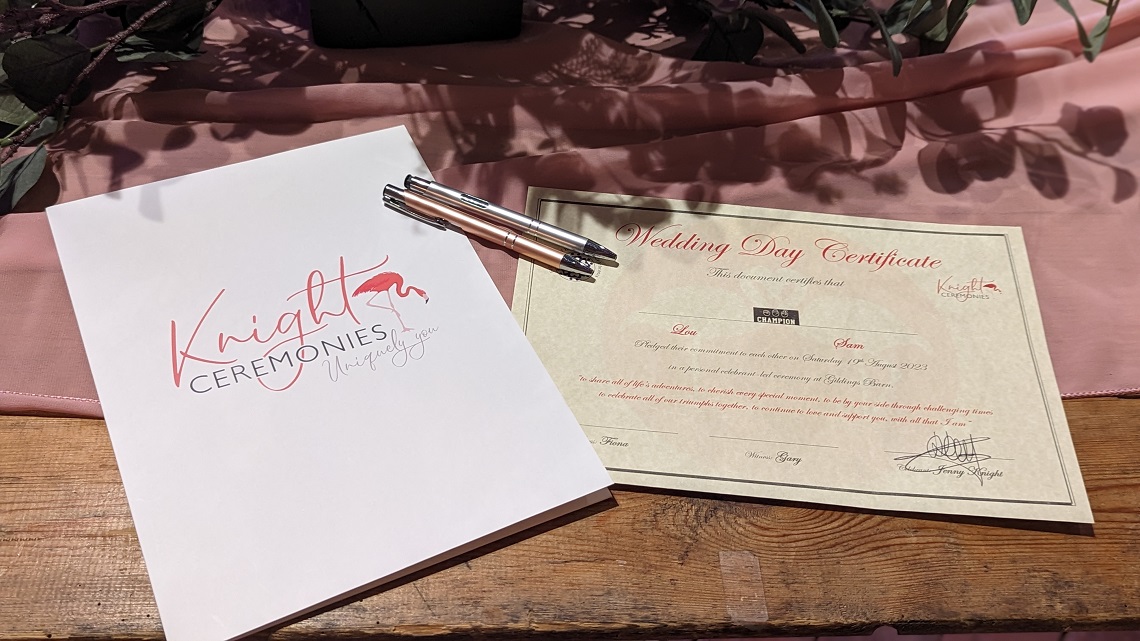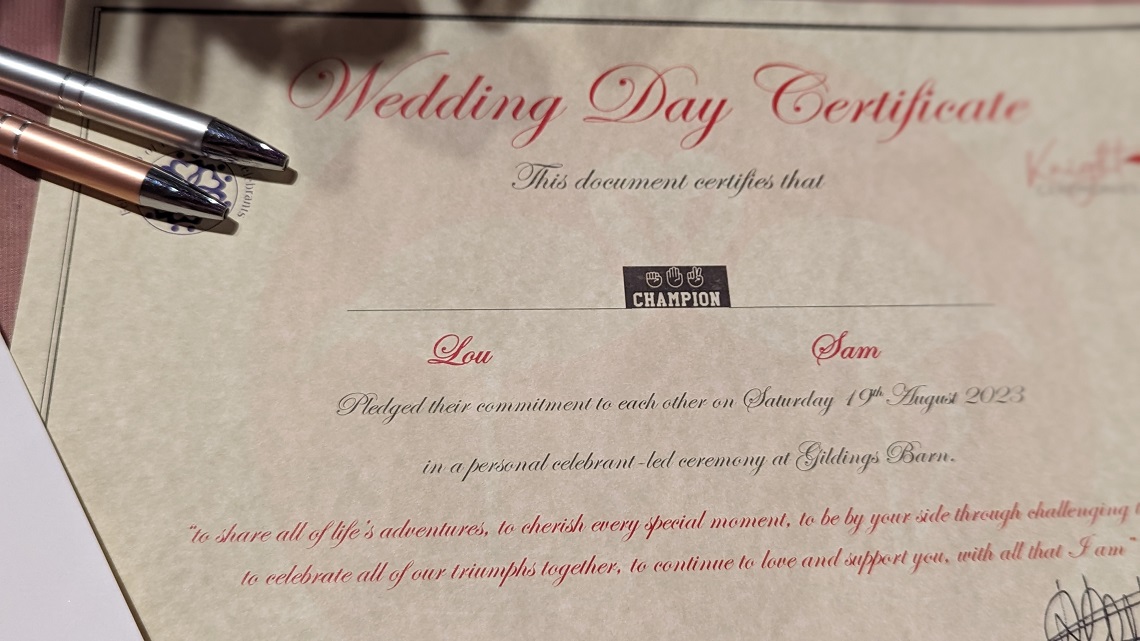 The couple signed their wedding day certificate with the help of the Bride's sister and the Groom's father, and then I presented them back to their guests to much applause.
Their confetti throw was outside and after having a few moments to catch their breath, I re-announced them and confetti rained down on them as their loved ones welcomed them into the gardens at the back of the barn.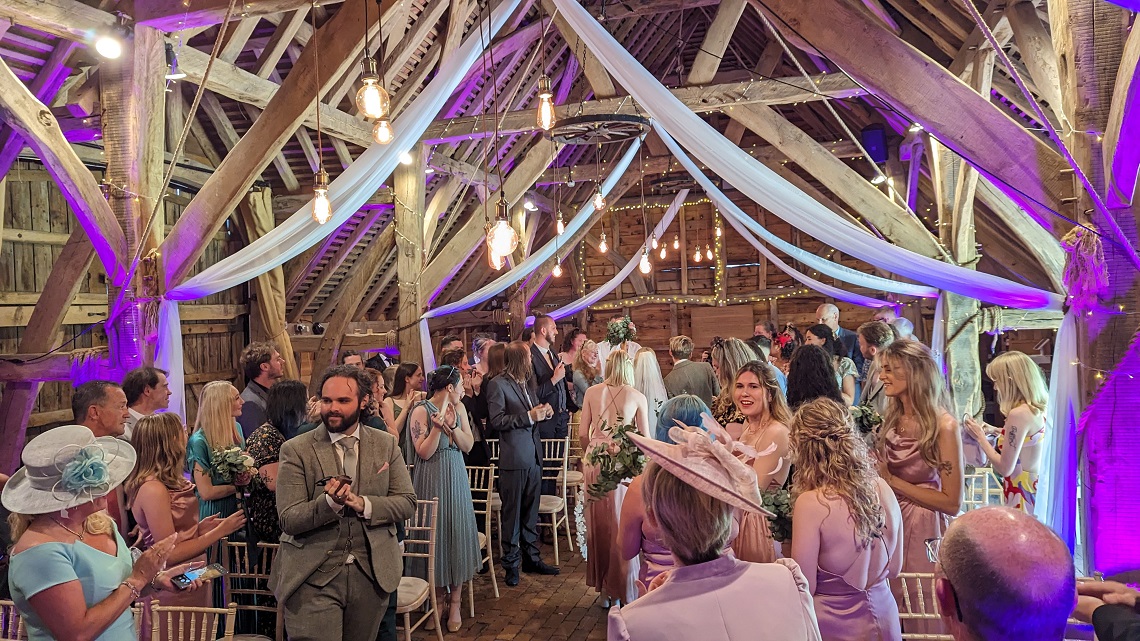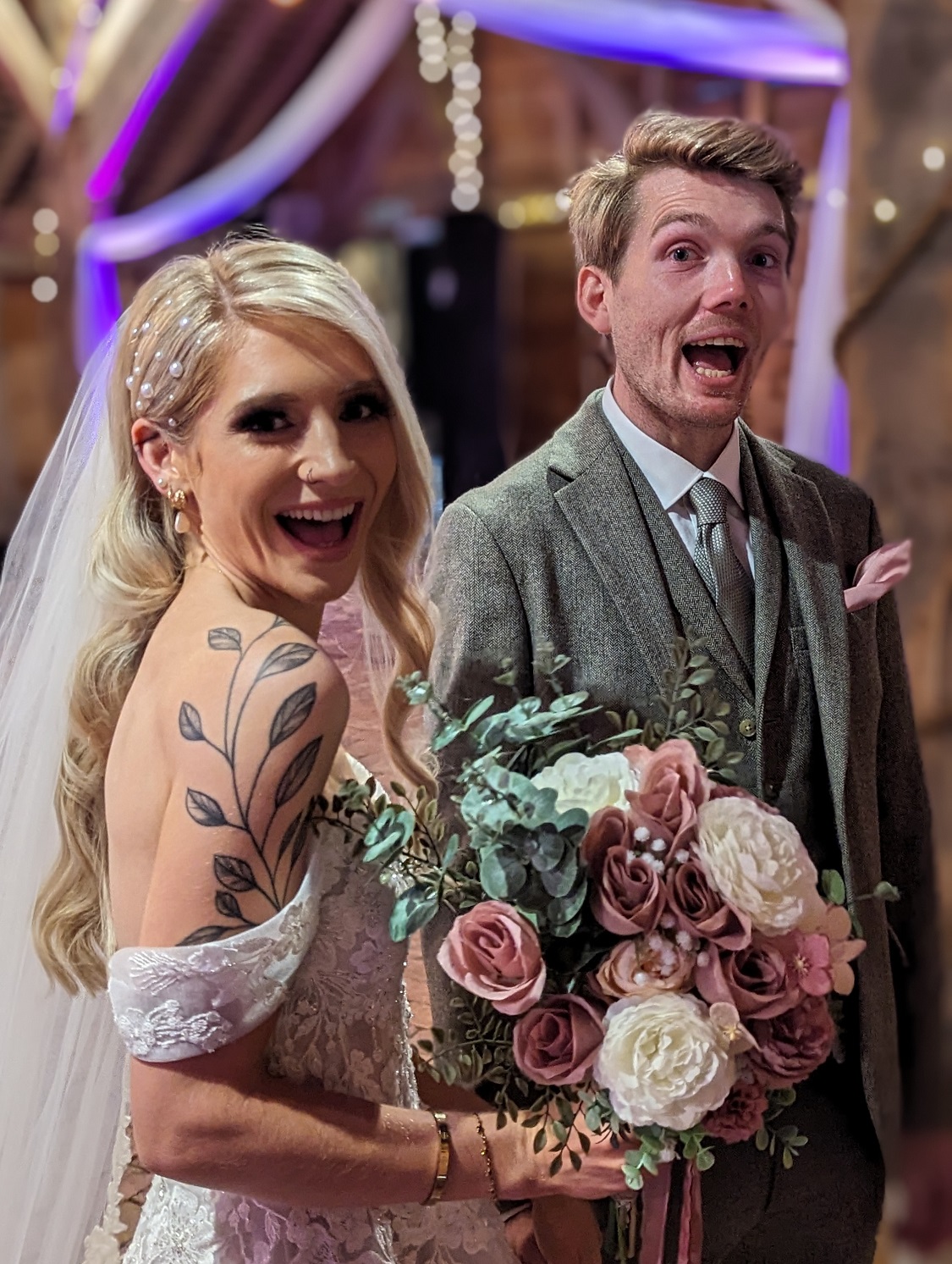 What a wonderful day for two completely amazing people.  Their family and friends were all incredible, so supportive of them, and totally ready to join in and make it a brilliant start to their day.
A huge congrats to Lou and Sam!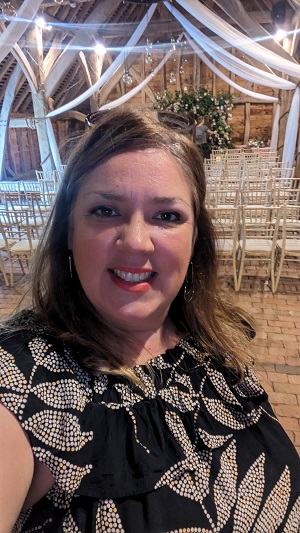 Jenny
x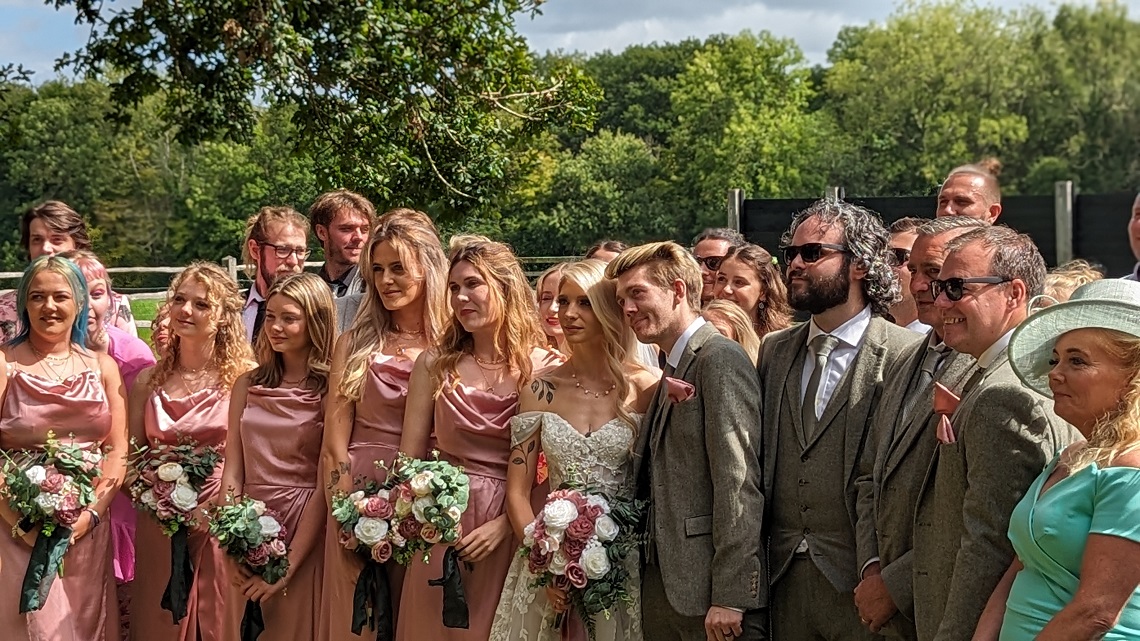 See more about
Surrey
Ceremonies