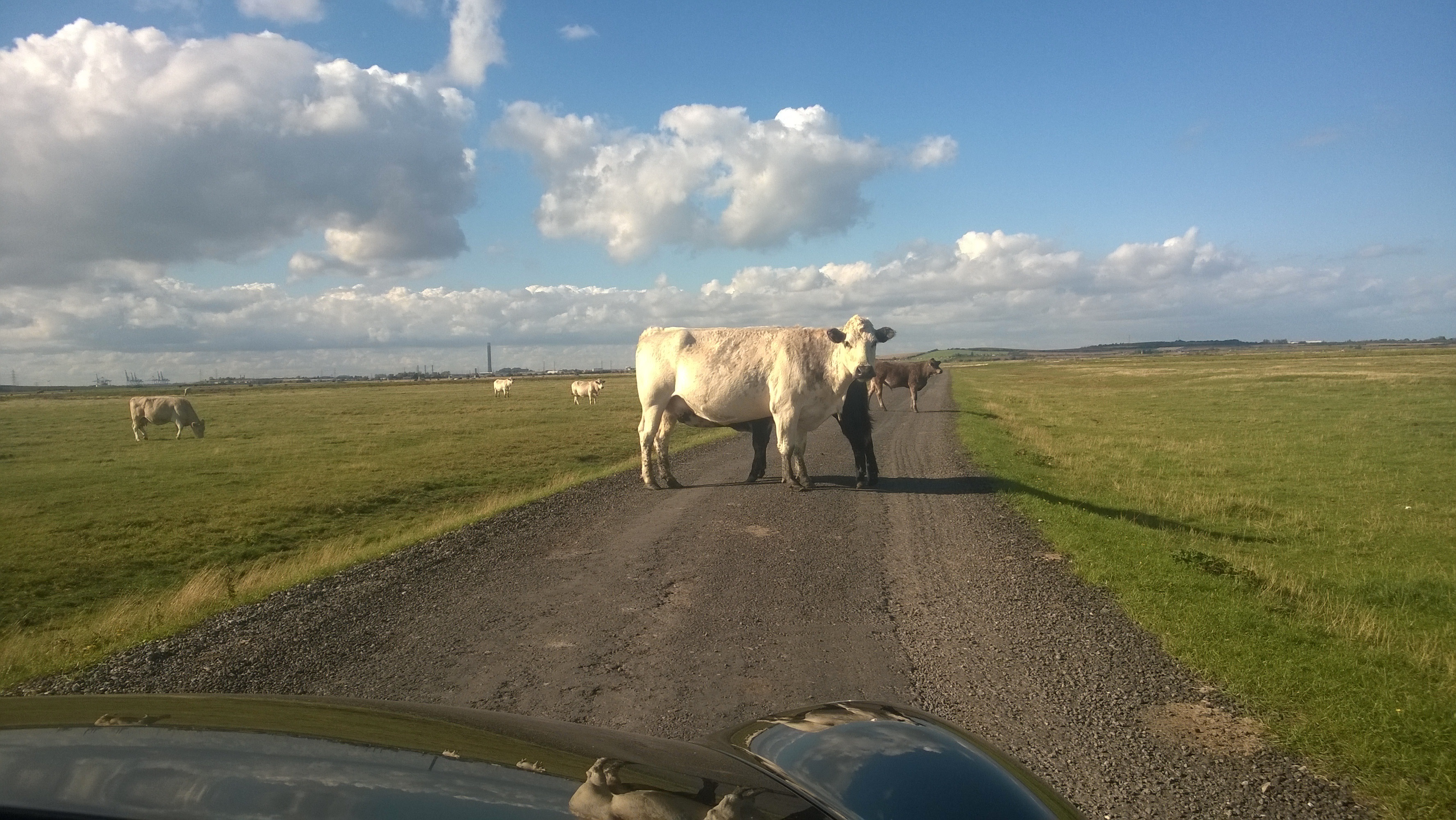 Finally! A sneaky peek behind the curtain at what happens on a wedding day . . .BEFORE you arrive for your ceremony!
This blog provides a rare insight into all of the weird and wonderful things that happen when we arrive at your venue, and I have included LOADS of candid images to show you just how things really look during set up! So, grab a G&T (or your preferred liquid indulgence), and come along for the ride!
The role of a celebrant
The role of a celebrant has often been misunderstood, with inaccurate articles published online about what we do, and we are often overlooked on 'real weddings' blogs!. These are things that are being addressed by savvy planners, venue coordinators and celebrant bloggers (http://www.engagedandready.com/), and couples are beginning to find the information that they need in order to make a decision about the type of officiant they want.
However, it struck me that there is a side to what we do that is rarely spoken about. The extra things that we are involved in, the challenges, and indeed the hilarity and joy behind experiences on the wedding day itself. It is a multi-faceted role and we are AWESOME at getting things organised ready for your arrival so that you are none the wiser!
" . .we loved how Jenny had everything under control so that when we arrived at the venue to walk down the aisle together, we were relaxed and just knew that the ceremony was going to be brilliant! "
No matter what the scene when we arrive, rest assured that we have absolutely got your backs. Below is an image of one of my woodland ceremonies. I arrived and there was equipment everywhere, foliage is strewn all over the place and ladders were propped against trees! The image below this one shows just how fabulously it all came together before the ceremony started.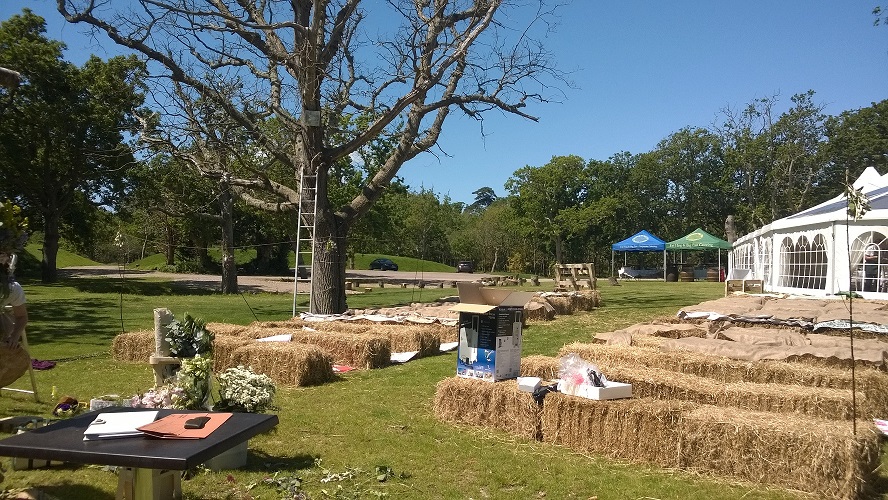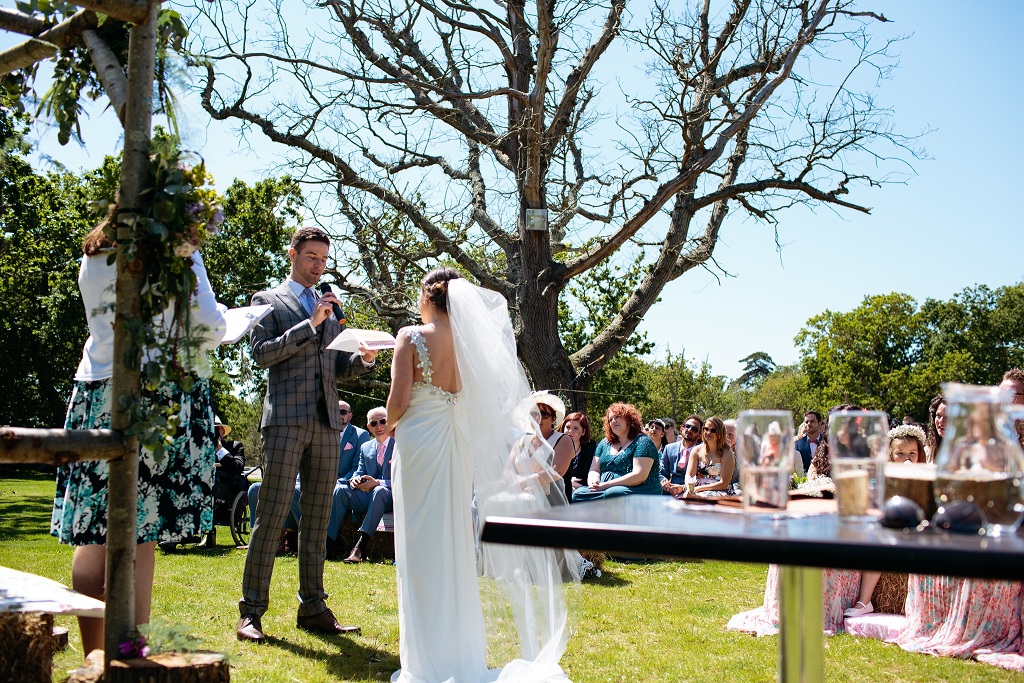 So what does happen at your venue once we arrive?
Well, we generally arrive 60-90 minutes early, so that we can set up any equipment and ceremony related items.
Throughout this blog, you'll see just how much there is to do!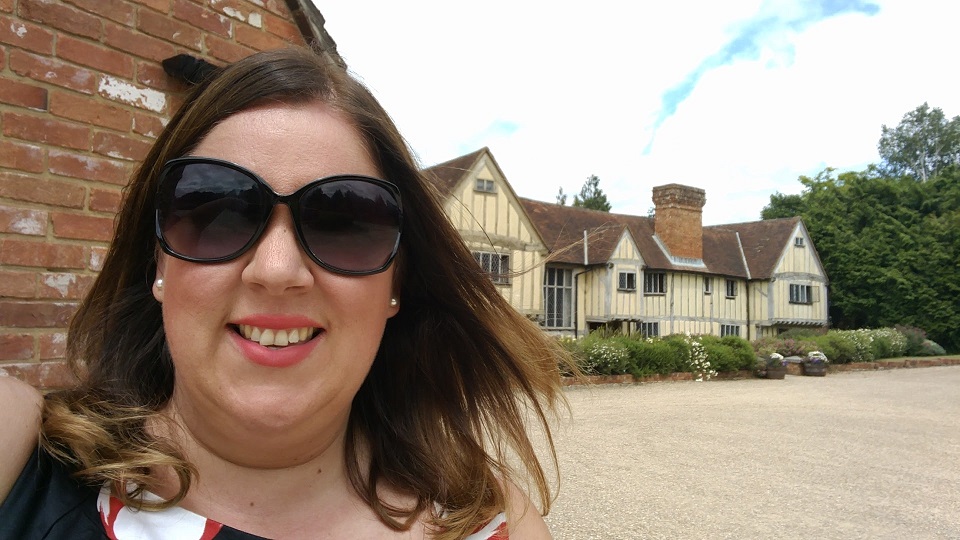 I like being able to sprinkle some of our magic (and our sparkle!) onto your day so that you really don't have to worry about a thing!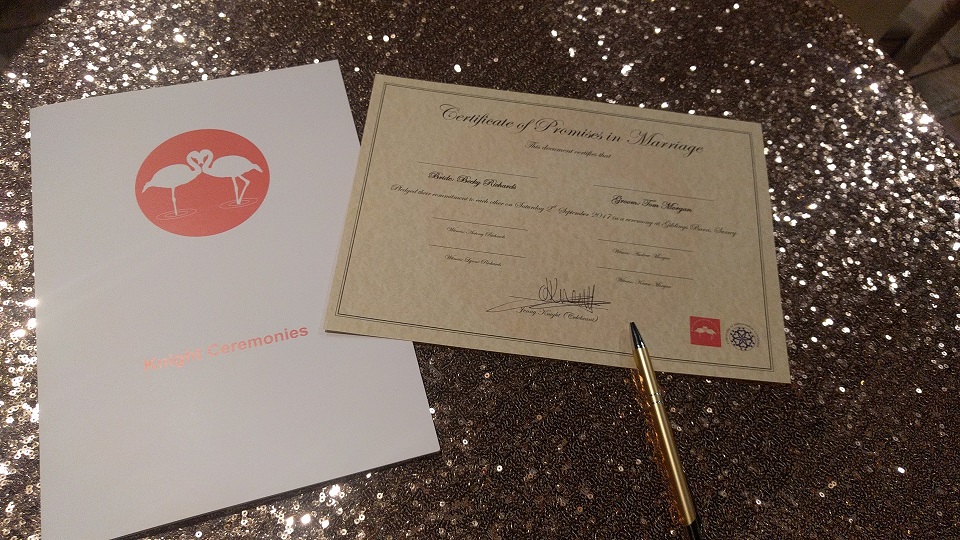 Time to chat with everyone involved
We then have plenty of time to talk to any members of the wedding party that are on site, any readers, musicians, planners and venue staff, and we check that everyone is happy and as relaxed as possible.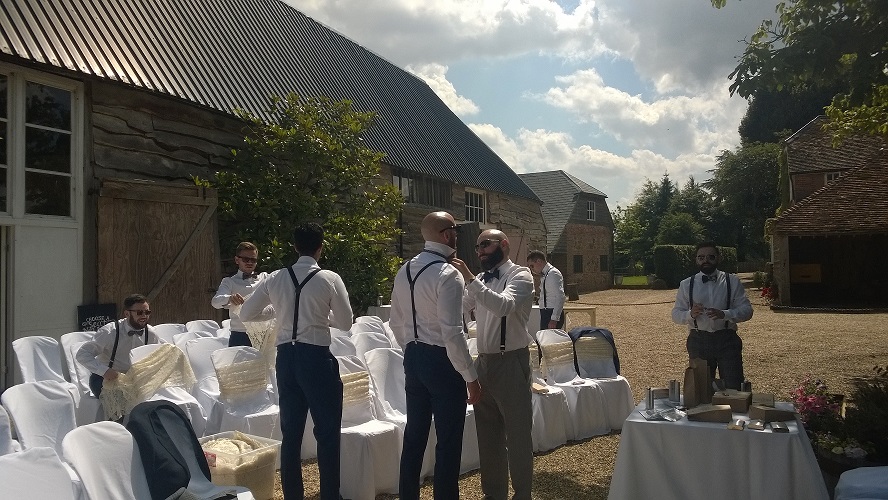 I always chat to those involved in playing live music and run through the music choices and also any cues that they need. Most will be in sync with a ceremony flow and have lots of experience, but sometimes the musician is a family friend and is actually quite nervous!
I never assume anything and think a quick chat and a calming smile makes for a good collaboration on the day, and it soothes any worries too.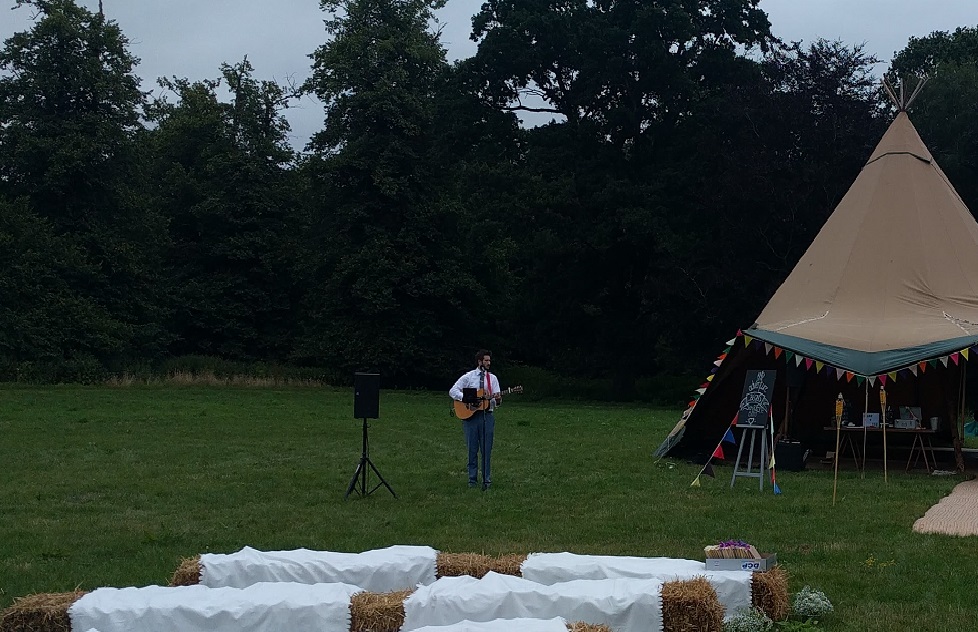 Wet weather plans!
Arriving early also means we have time to check weather predictions again and if things unexpectedly change, we can implement your wet weather plan! I will always discuss this with you in advance so that we are clear on what these are, and indeed to make sure you actually have one!
Here we can see the rain tried to stop play, and whilst the hay bales were abandoned, we took shelter in the drinks tent and made the very best of the space available.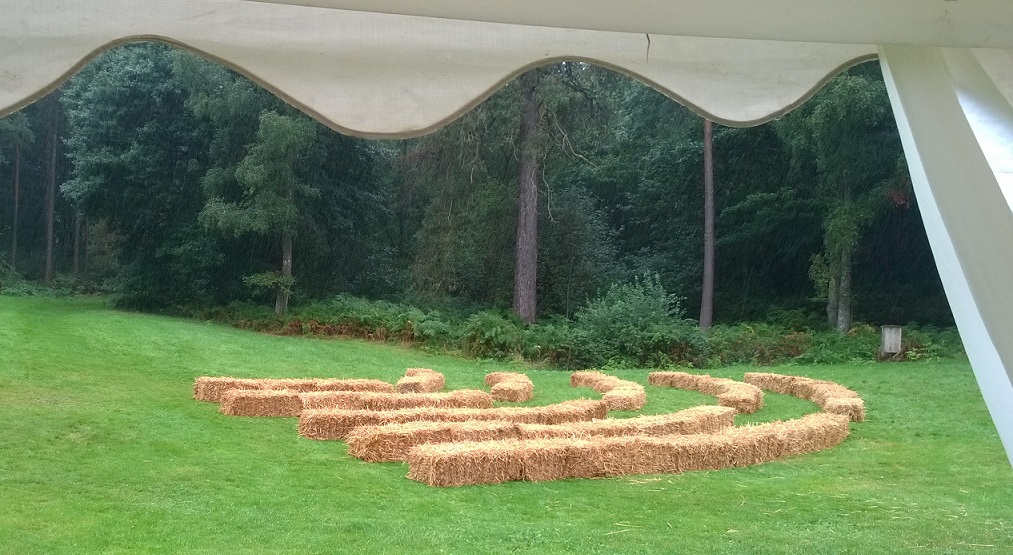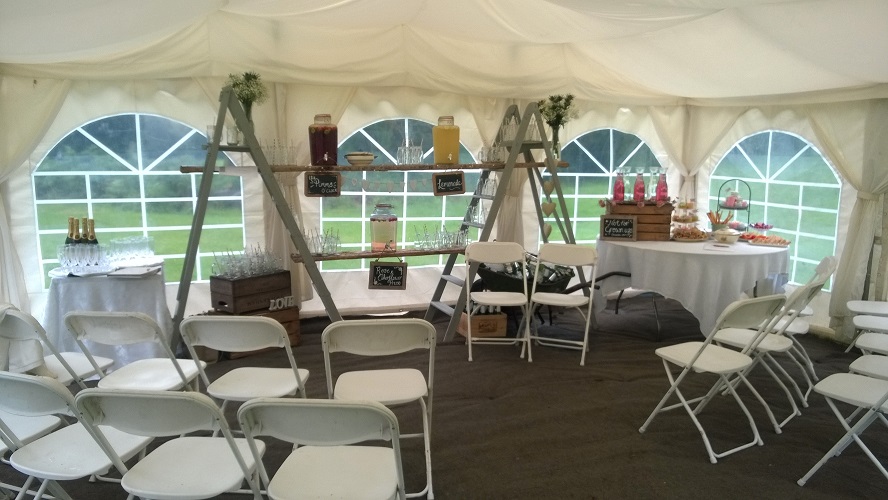 Seating arrangements
One of the first things I then do is to check that the seating is set as per my previous discussions with the couple. If there are venue staff on site and setting up, they will often assume we need things laid out just as a registrar would, but I almost never have a table in between me and my couple (or indeed have their backs to guests), so this has to be adjusted.
Here you can see the chairs are set facing away from guests, but almost all of their guests had flown in from Australia and I knew that they wanted people to see their faces, so I just rolled up my sleeves and the set up was altered to suit their requirements.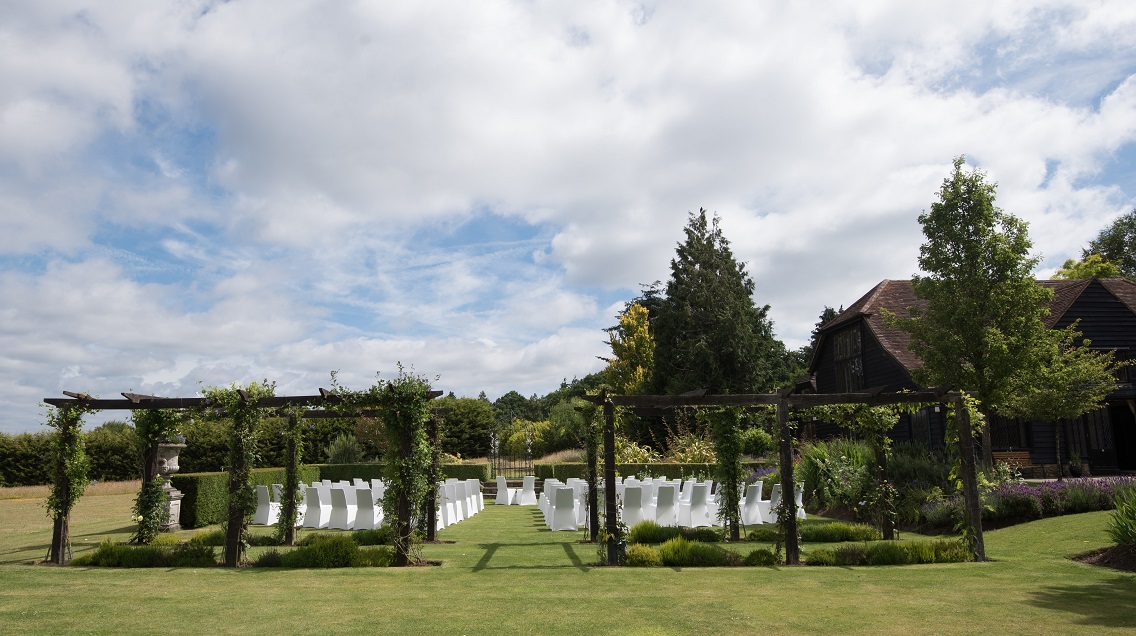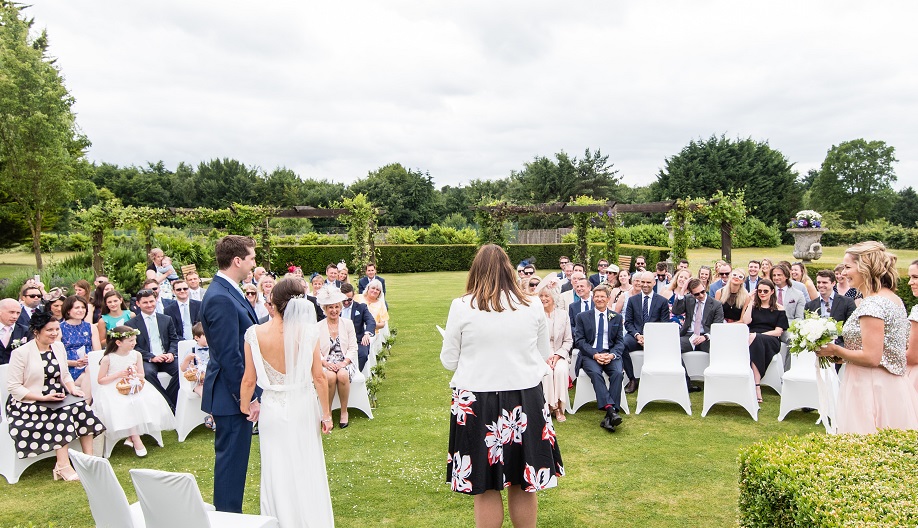 If the location doesn't come with any staff and is a 'dry-hire' venue, then I have found myself arriving to see an empty space, and so I get things moving and have the chairs all positioned to suit the ceremony style.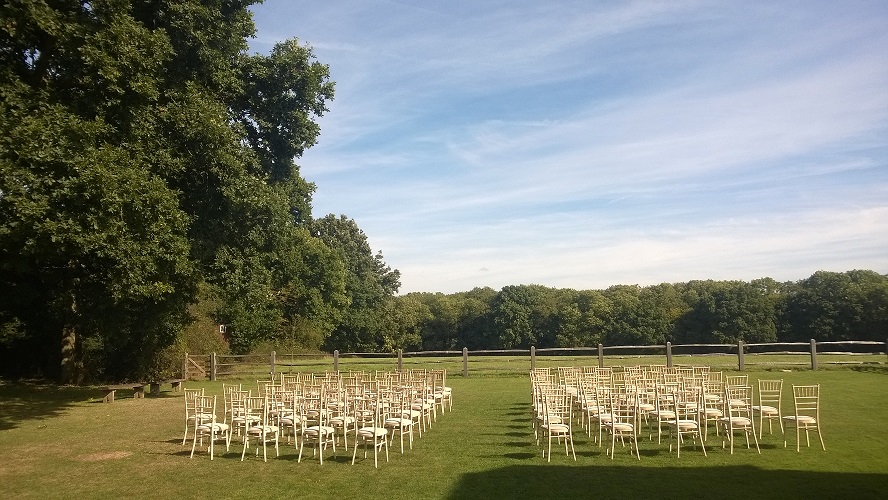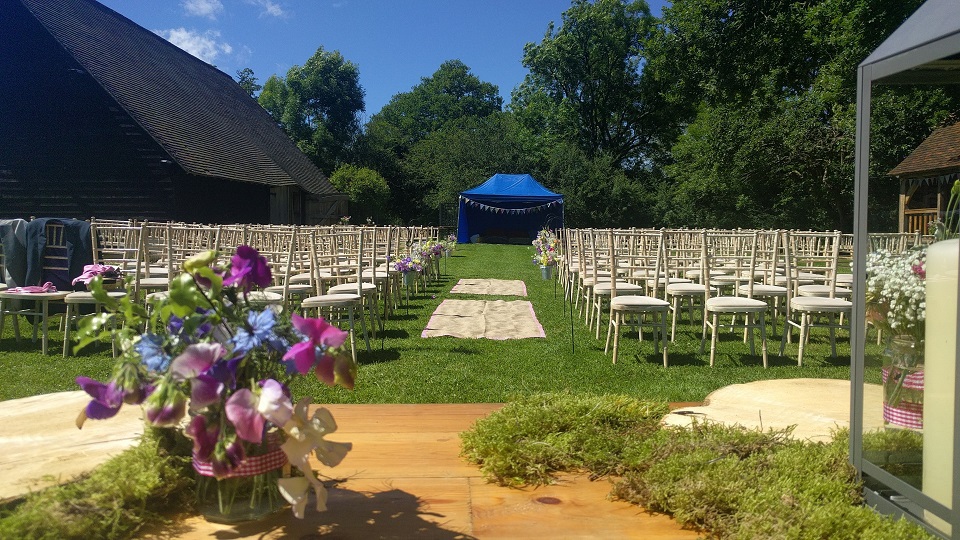 Setting up
We might find ourselves surrounded by other suppliers, all trying to get their elements in place, and other times the set up has taken place the day before - each wedding is different and you never quite know what you will see!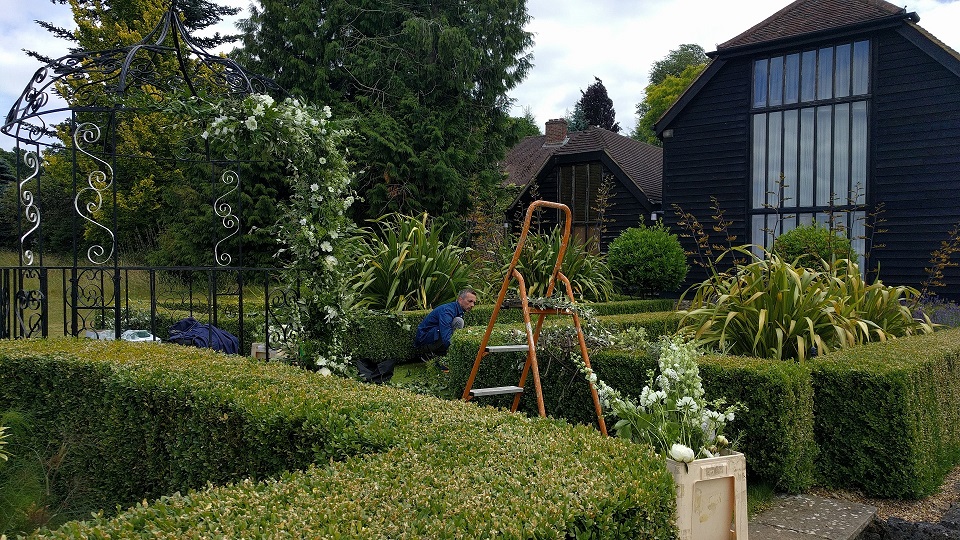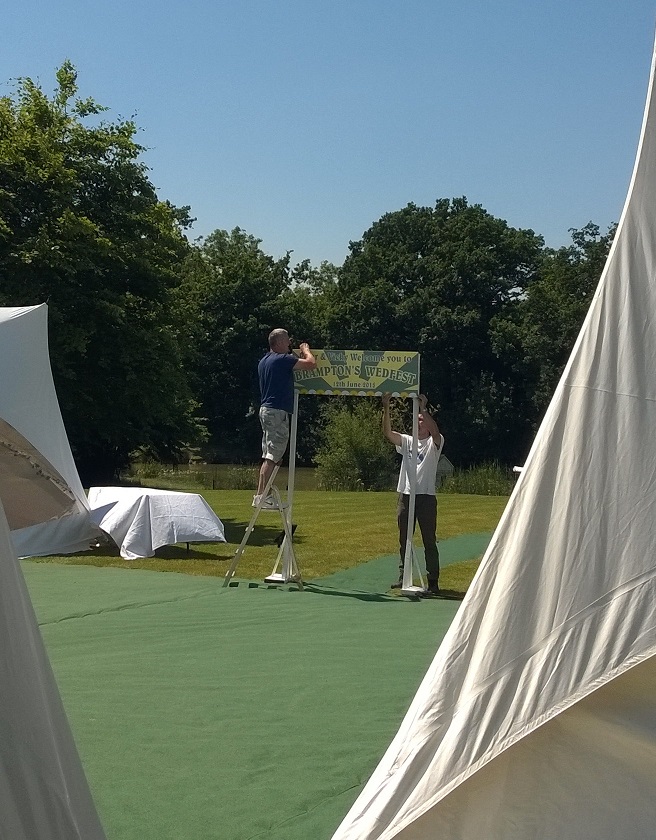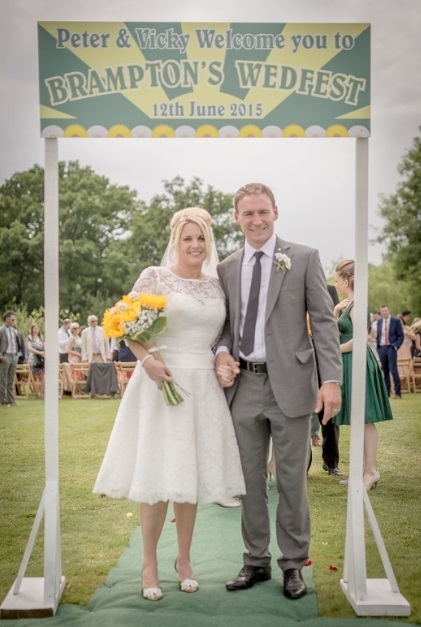 Like the time when cows broke through the fence at an outdoor ceremony in a countryside setting and began eating the hay bale seating arrangement! Panic not, it was all sorted before the ceremony began!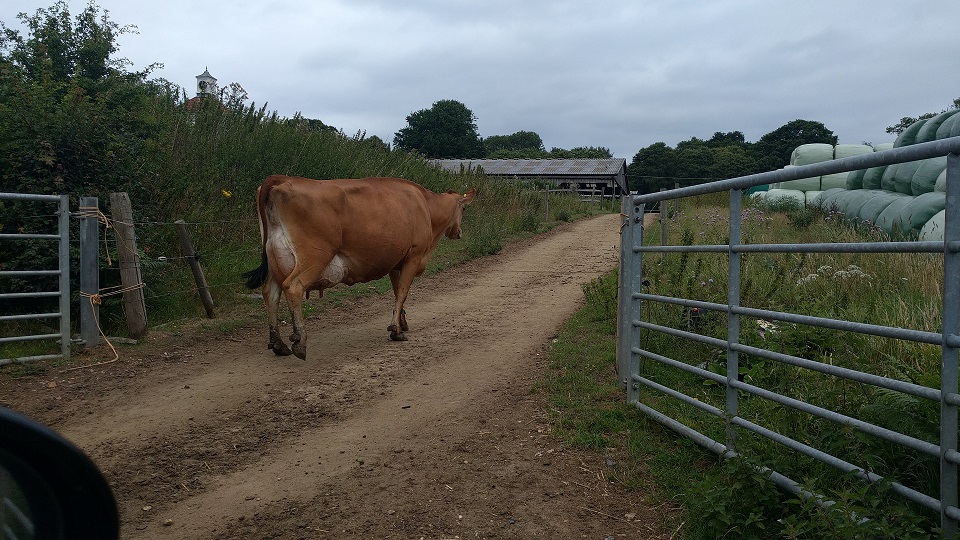 Helping out
The settings that I work in are amazing and so varied, and I am no stranger to conducting ceremonies in a family home or garden. When I arrive I often help them to put up shelter or shade. It is all part of making this a special time for you and it is this involvement that sets us apart from other types of officiant.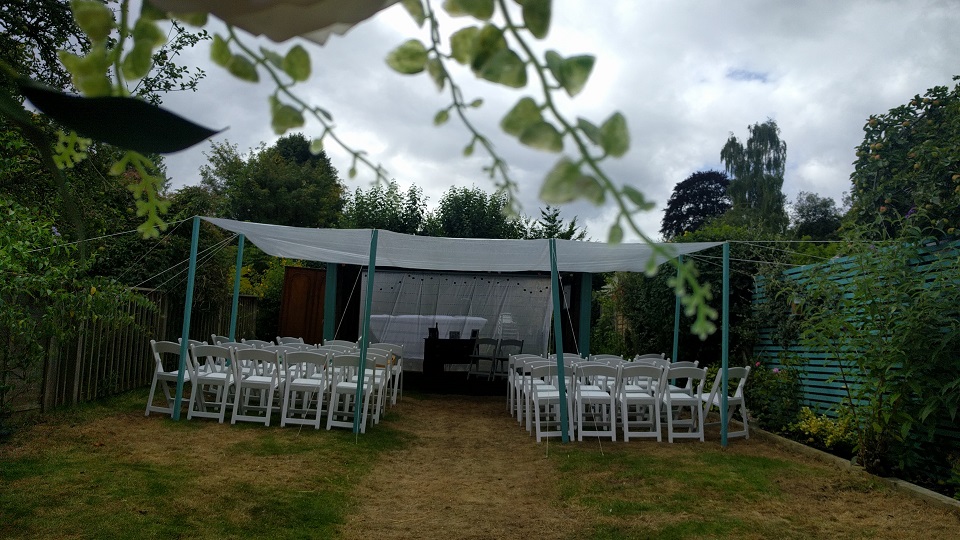 Is there space for everything?
A big thing to double check is that we have enough room for all of the things about to happen. You might be involving family members, having a handfasting, or incorporating a family tradition perhaps.
Making sure the chairs are not too close to the front is key!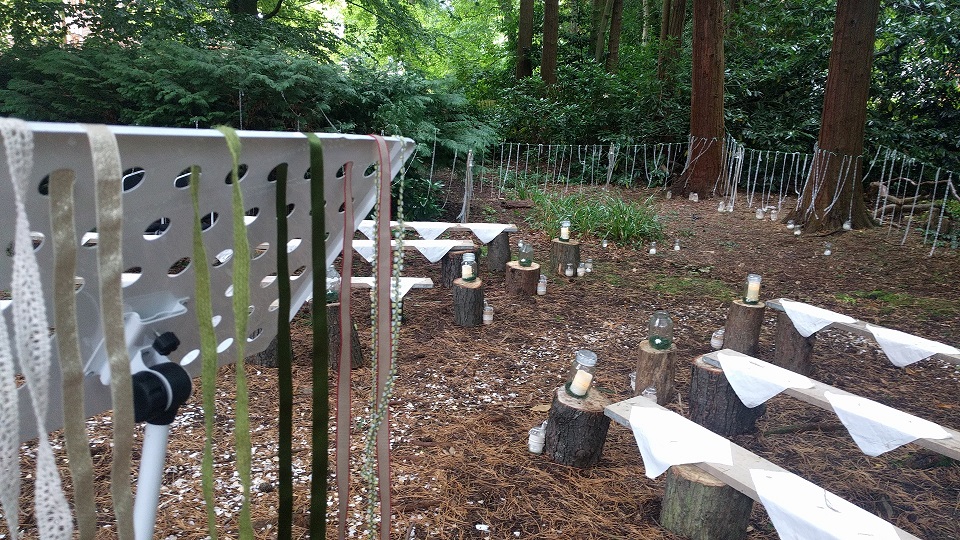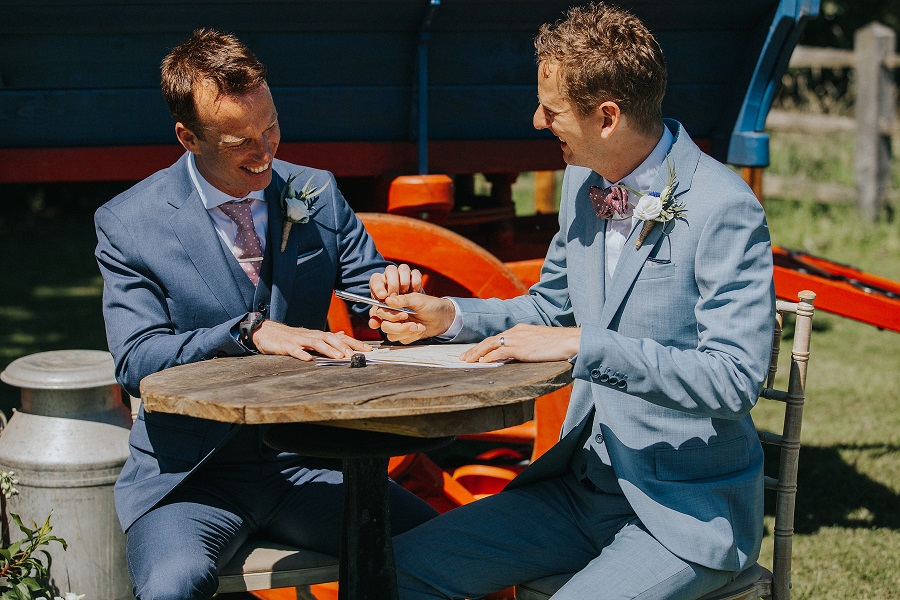 The aisle!
The next thing is to check the aisle width. This can be overlooked, and at first glance, it might seem ok but I like to ensure there is enough room for the person(s) walking down the aisle, and of course to accommodate all styles of dress!
I have seen one couple having to walk back up the aisle at another wedding, where they went one in front of the other as there just wasn't enough room!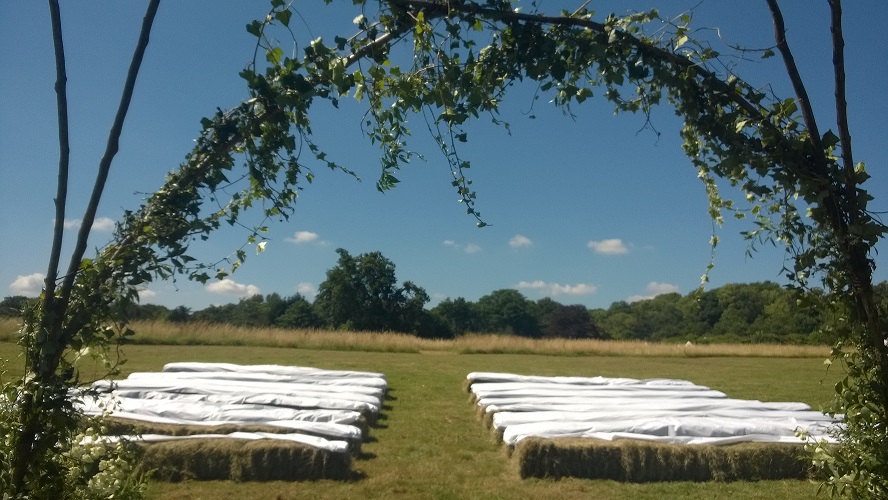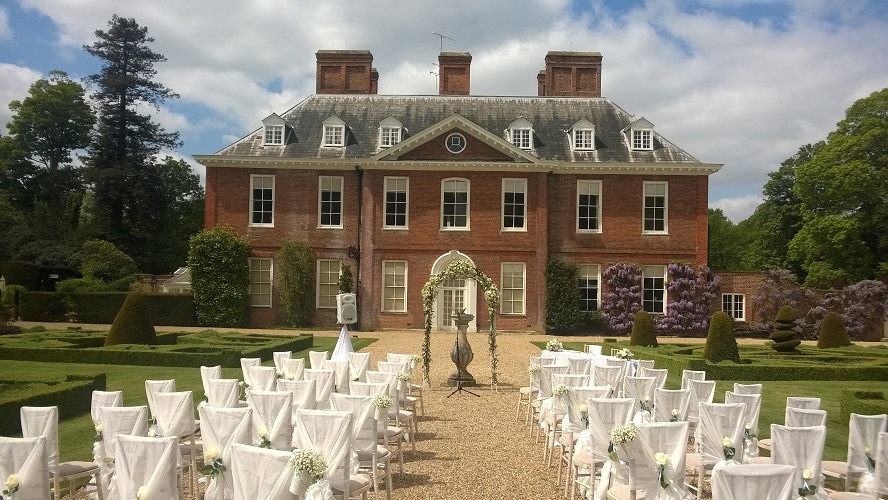 The little details
Having an eye for detail is key in this role. I arrived at one venue and the DJ had set up-lighters around the room in his choice of a 'Halloween' green shade which TOTALLY clashed with the rest of the teal and white décor.
I had this changed to pure white to lift the space and so the couple's colours stood out for the right reasons!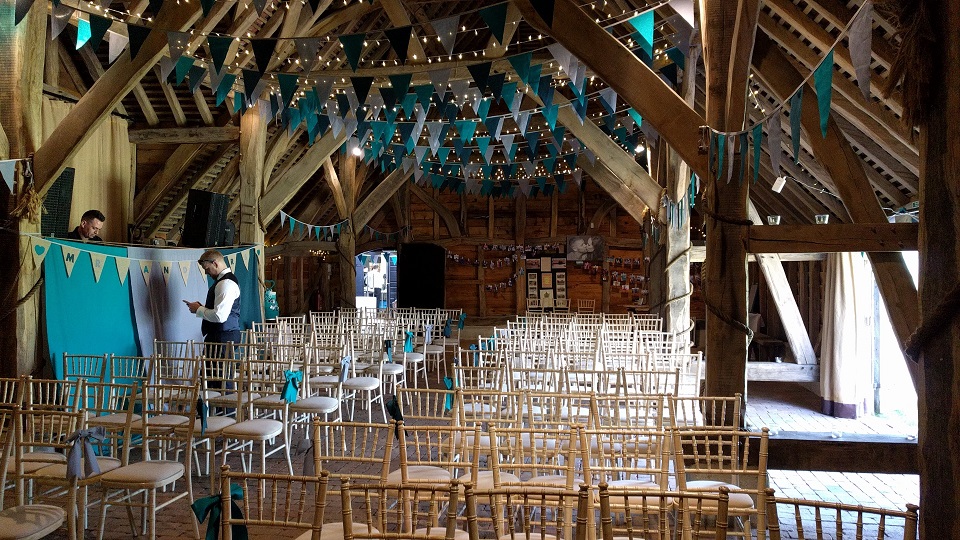 Cues, prompts and positions!
Once the ceremony area is all checked, I seek out those involved in the service and run through things like where they will stand, and when in the ceremony they are coming up to the front to participate. I talk to them about whether they need anything to aid their involvement, like the use of a microphone or music stand.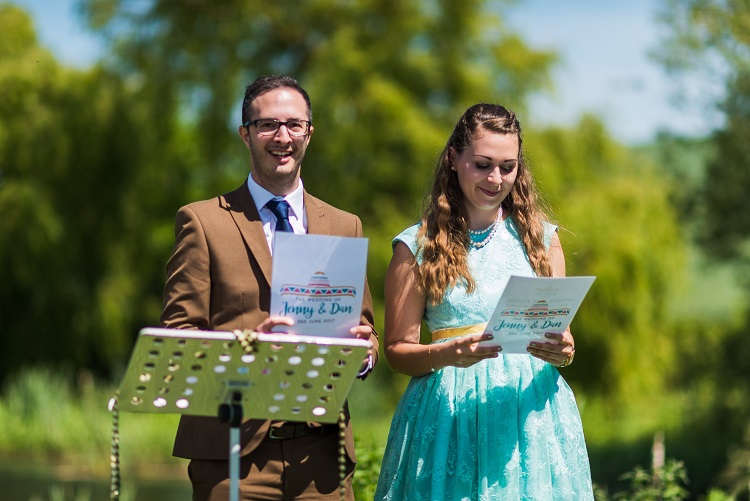 My job is to make sure everyone feels as comfortable as possible, and so running through their positions and how it will flow, keeps them calm and informed.
Time to check in with my couples!
At this stage, if the bride(s)/groom(s) are getting ready on site, then I pop my head in to say hello. I like to check a few last minute details and calm any nerves - having fun with my couples is all part of this job, and it means they feel more relaxed during the build up.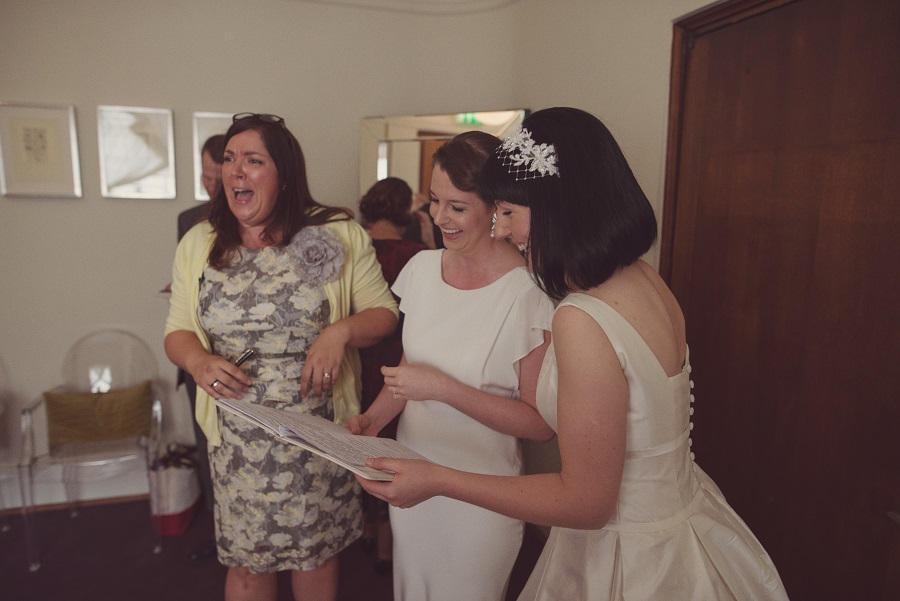 This is also a great opportunity to see if there is anything that they would like me to take back with me. Often buttonholes (boutonniere) are delivered to their room, and so I deliver these to the rest of the wedding party.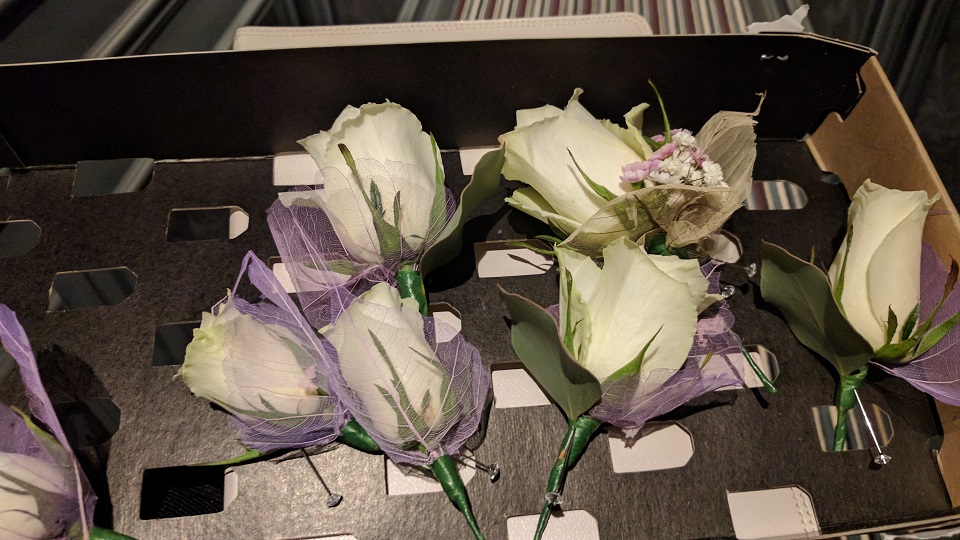 I like to take a quick picture of the ceremony area before I pop to see my couples so that they can see what the set-up looks like and I can make any last minute changes to it if required.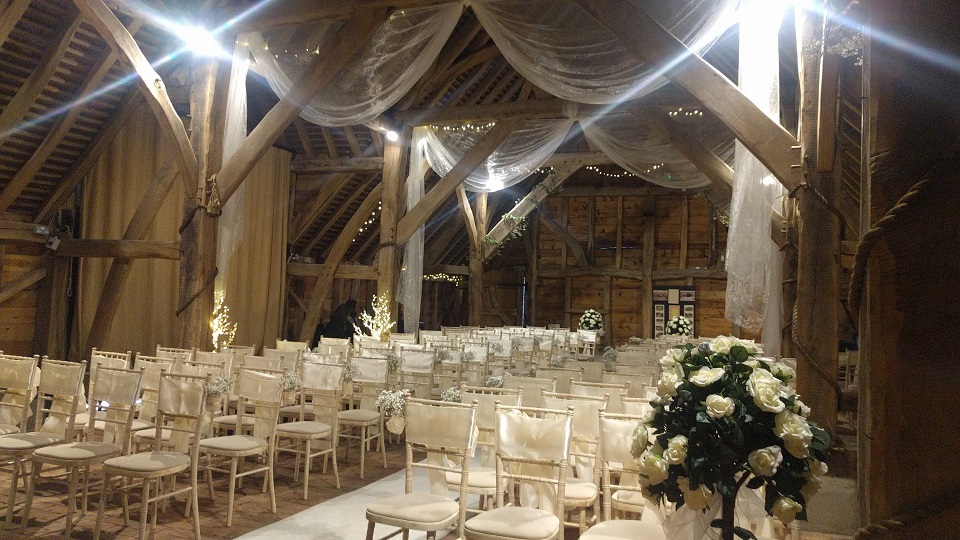 Reassuring your bridesmaids.
If bridesmaids are on site then I will also run through with them which order they are coming in, and where they need to go when they reach the front! I also check that there are chairs available for them to be seated once the ceremony starts.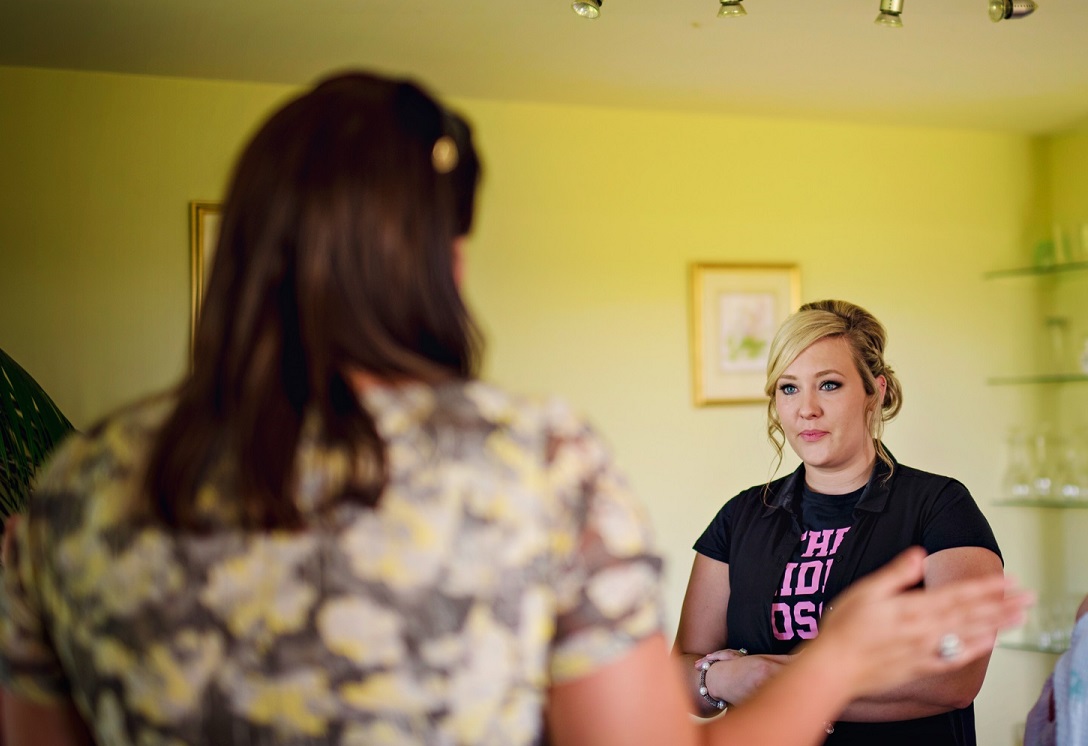 Grooms
If one half of the couple is going to be standing at the front waiting for their partner, I run through positions for their arrival and work out cues in case they want that magical moment where they turn to see their other half coming down the aisle towards them.
It is such a joy to watch and I have one of the best views of this at the front of the ceremony!!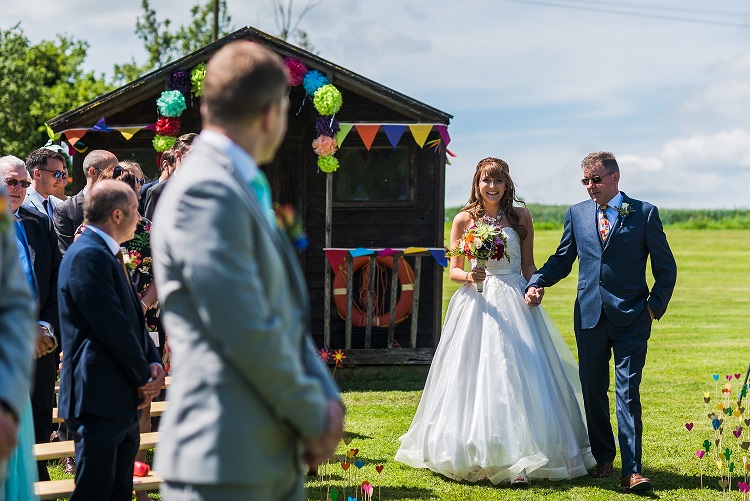 Rings!
If a ring bearer is on site I just do a quick and quiet check that they do indeed have rings and that they know what to do and when during the ring section of the ceremony.
Working out a ring bearer's standing position is important, as they will be in many photographs at this time, and we don't want an unobscured view of the couple.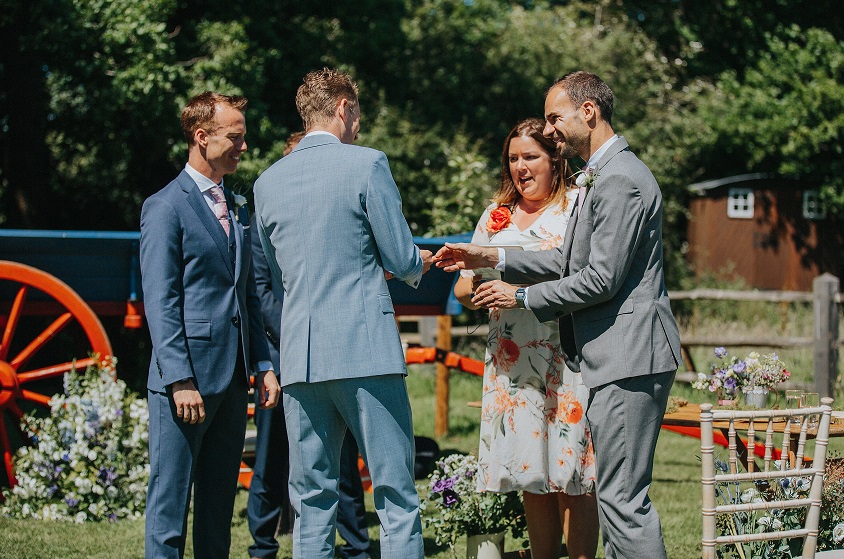 I carry spare wedding rings (in different sizes and colours) just in case the ring bearer has forgotten them and it is too late/too far away to go and retrieve them!
I have had one best man that was so busy attending to other duties that he left the couples rings in his hotel room! Nobody knew as we used my spares for the exchange and he went to collect them during the drinks reception!
Photographers
As per my 'what happens on our journey' blog, I also like to check in with your photographer a few weeks before the wedding, to advise them of your standing positions (if facing guests this often makes their life easier if we are in a small setting and are tight for space at the front for example).
I let them know what else is happening during the ceremony so that they are aware and can be ready to capture all of the special moments for you.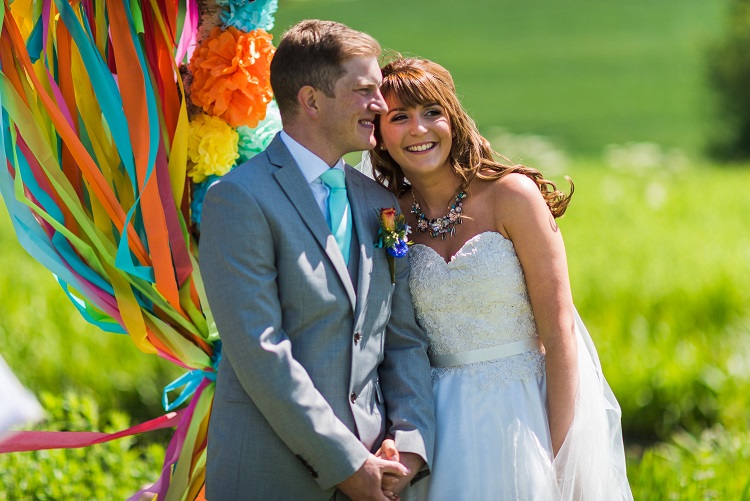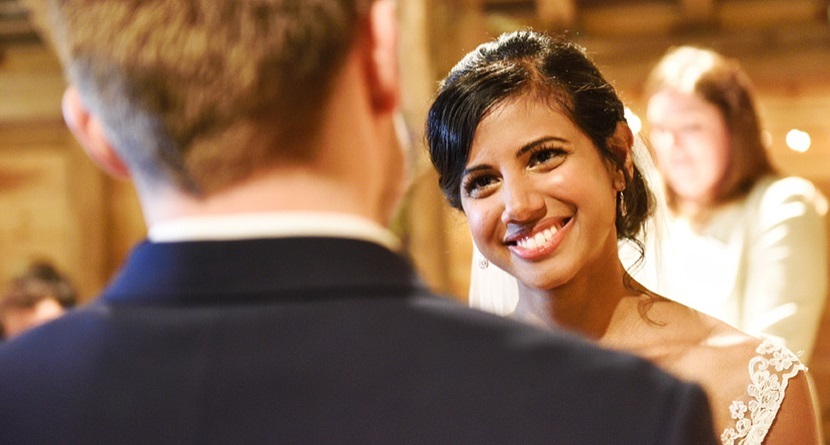 Personal touches - have we got what we need?
I positively encourage personal touches to your ceremony, and I regularly include cultural references, acknowledge family traditions, conduct ancient rituals, and even incorporate new and modern elements, and even a few surprises too!
This makes your ceremony unique to you, and so I ensure that we have all necessary equipment in order to carry this out.
This fab couple of mine below chose to blend a cocktail, and then toasted their guests at the end of their ceremony. Just brilliant!
Ready to greet you!
After all of my pre-ceremony checks are complete, I am sometimes asked to pop out and greet the bridal party if they are not getting ready on site, and this gives me the chance to calm any nerves, reassure them that all is in hand, and also run through the details for their grand entrance!
It is so lovely not to have to rush and to be able to make those arriving at the venue feel reassured despite the inevitable nerves!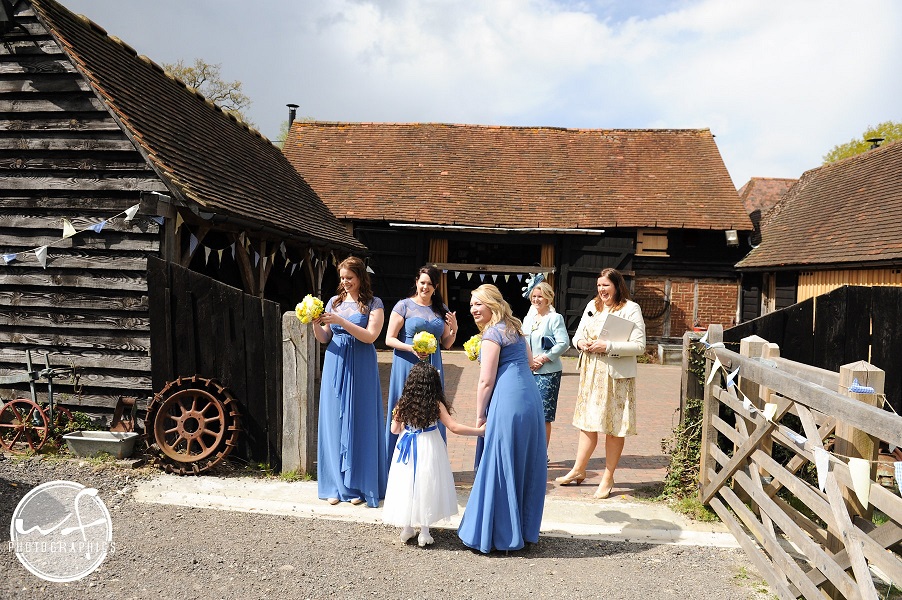 Sometimes I have the great honour of taking the father of the bride over to see his daughter ready for their procession down the aisle. Witnessing this special moment is just wonderful, and I then give them the space to have photos and some time together before they head to the ceremony.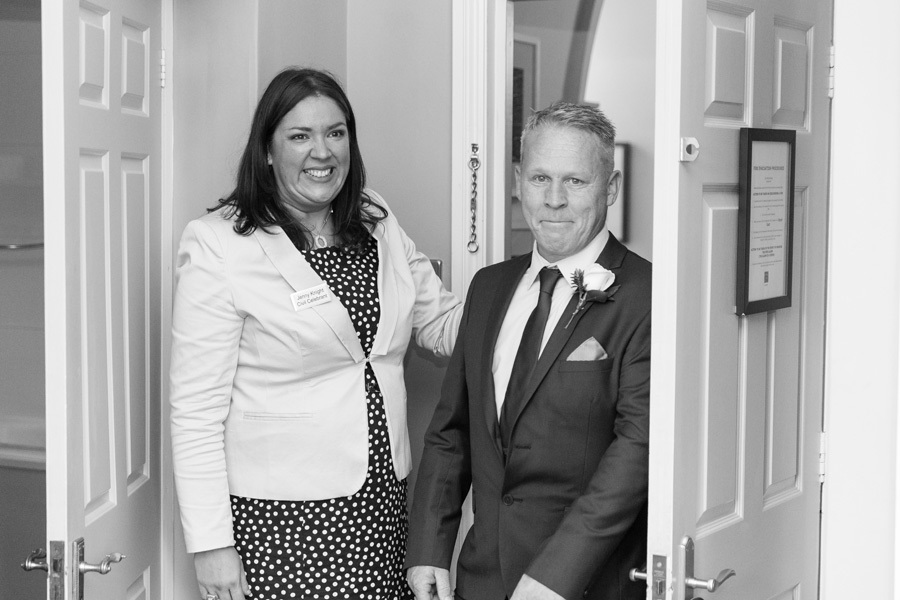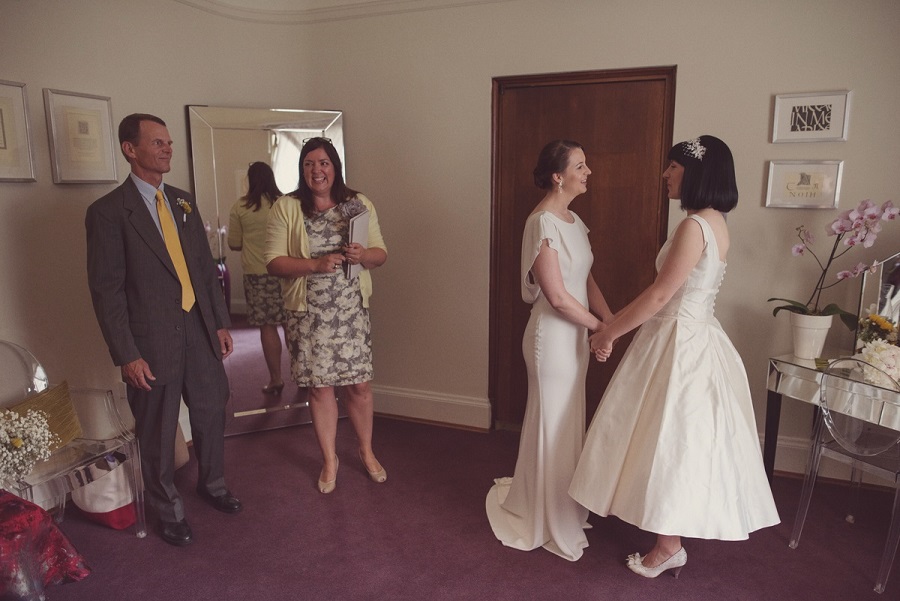 Your guests
It is now time for me to deliver my welcoming words to your guests, and so I ask ushers/groomsmen to begin to get everyone seated. This can take some time, especially with larger numbers so I factor this into the schedule and work with planners and venue staff to ensure we are all set and ready for the bridal party.
Some of your guests will have travelled some distance (often from abroad) and so it is nice to welcome them properly and provide an insight into where they are and why this particular venue was chosen.
It is during this time that your guests will be getting excited, and the atmosphere is buzzing just before you enter!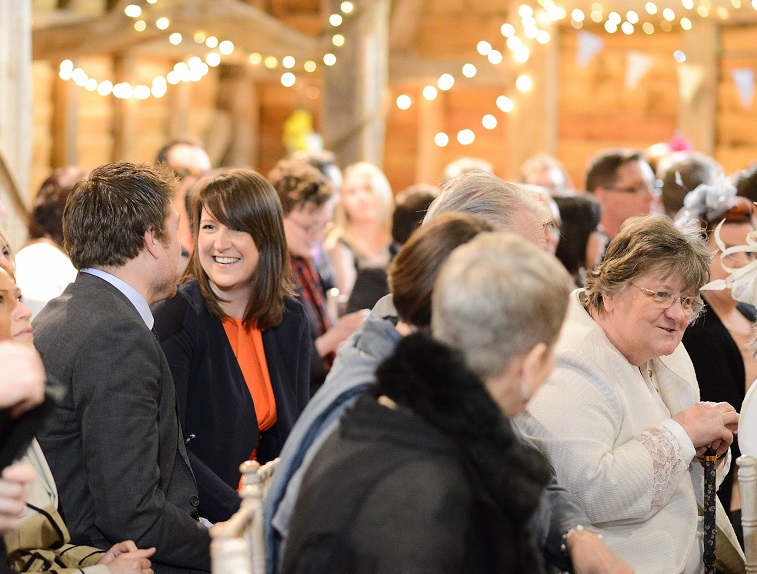 The ceremony begins!!
As soon as I have the nod that we are ready to start, I then invite everyone to be upstanding, and we begin to see all of the ceremony planning come to fruition.
Once my couple is standing together in front of me, I orchestrate everything from seating arrangements, to standing positions, and I take time to ensure they are ok before we begin.
"Jenny made sure we felt calm before she began the ceremony so that we could actually relax and hear the words and enjoy it, rather than feeling overwhelmed. She is a star! . . ."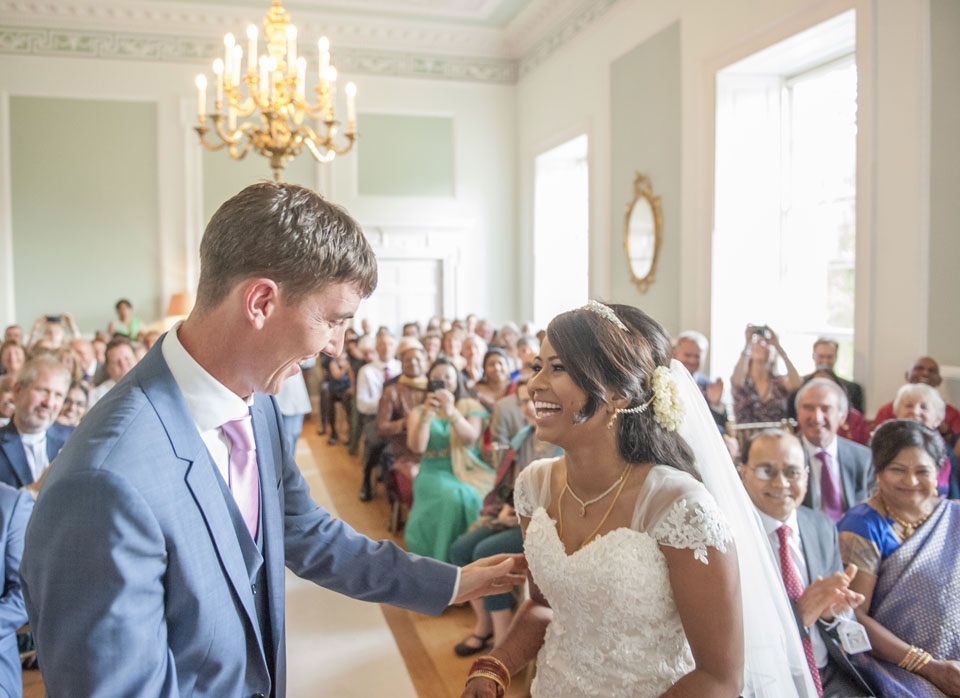 In safe hands
It is often many, many months in the making, with hours and hours of writing, and planning, and then the day itself arrives and there is a hive of activity during the set-up.
All of the preparation ensures a smooth running on the day, and with my background in wedding planning, all of those smaller ceremony details are covered, and you can rest assured you really are in safe hands.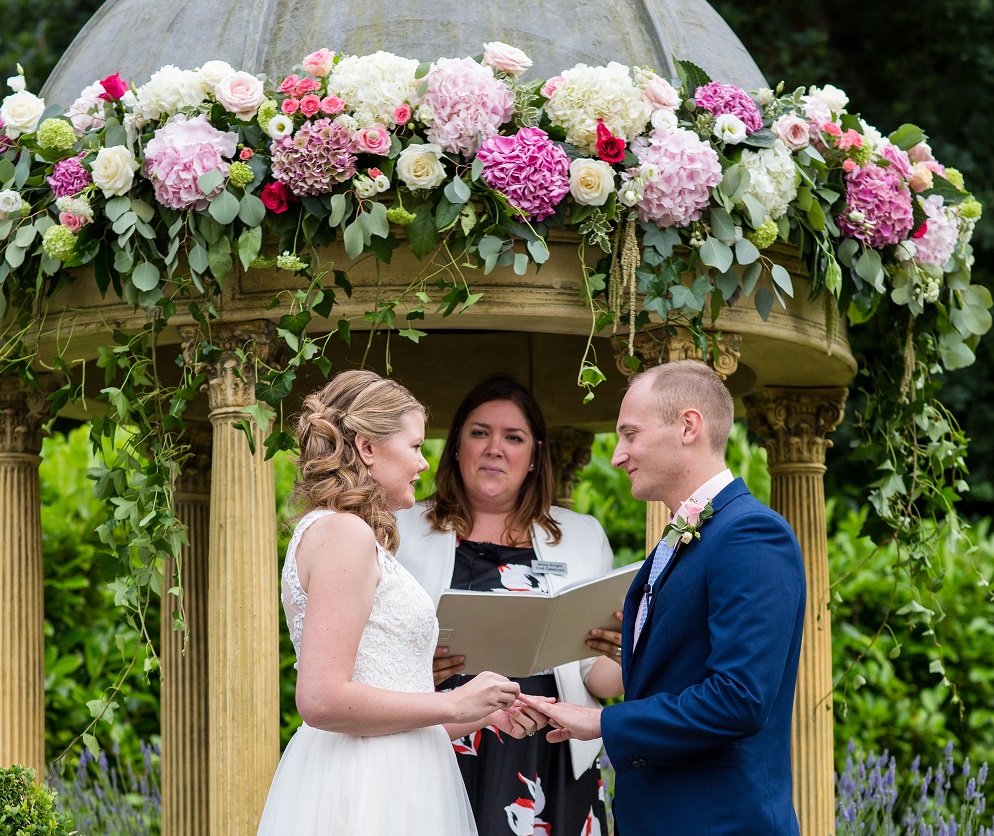 As you can see, it is much more than writing a script. Much, much more than standing and reading. It is time invested in getting to know you and making sure you have fun on your day. I am well reputed for having a calming presence, a relaxed yet very organised and capable manner, and a warm and engaging delivery.
I love what I do, and it is an absolute honour to bring the ceremony words to life on your day!
Contact me here to find out more about my services and how to have a unique celebrant-led wedding.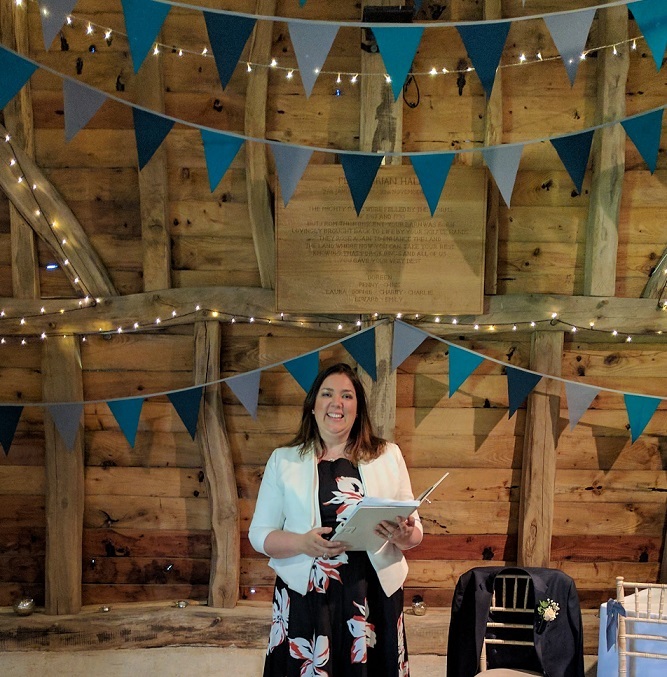 Feeling the love for my amazing photographers:
www.knightceremonies.co.uk (many images were taken during set up)
www.kathrynedwardsphotography.com
www.philippajamesphotography.com
www.thestudiowithoutwalls.co.uk
www.wallflower-photographics.co.uk
www.yasminanne.co.uk/wedding-photography
------------------------------------------------------------------
No match found