What is an Independent Celebrant?
An independent celebrant is an officiant that is skilled and trained to write and conduct your special ceremony, and who is not affiliated to a particular belief or religion (thus making it possible to include any traditions, cultural or religious elements into your day). Your ceremony can be held anywhere, at any time and without restrictions on content or format.
Please see my popular blog post here, on why a celebrant-led ceremony could be for you.
You have to separate your legal signing (think of this as the 'marriage' part of your celebrations), and then your 'wedding' becomes your personal ceremony and reception. As you will have already taken care of the legal signing, you can then choose any location for your wedding, be it a woodland, a beach, a lakeside setting, a roof terrace with spectacular views, or even your own home or gardens.
How fabulous to be able to choose somewhere that holds a special meaning to you both, and for your wedding ceremony to be completely bespoke and all about you!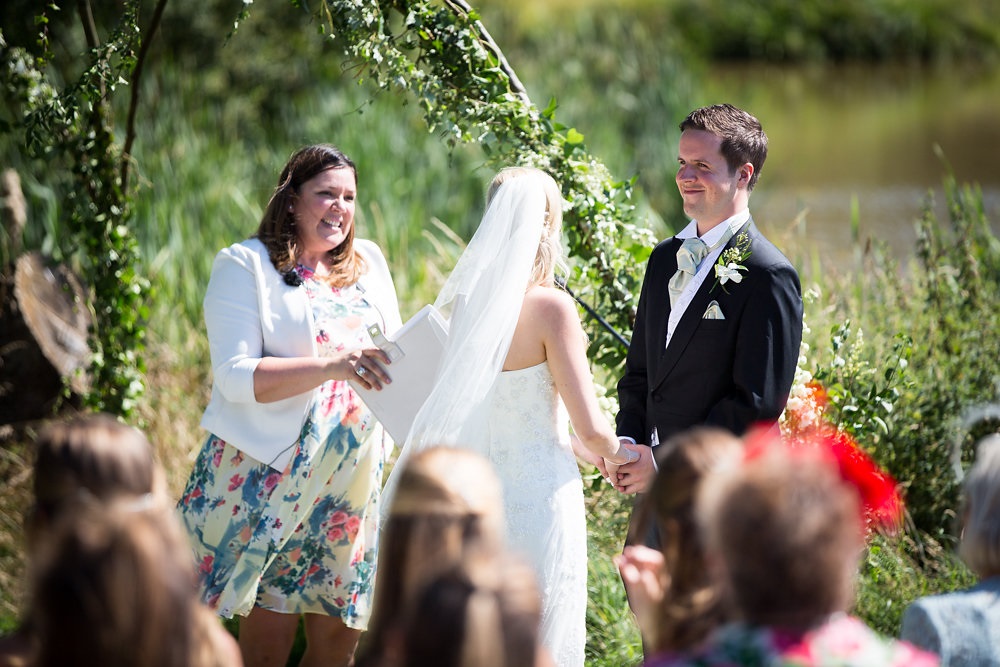 Why would I use a celebrant as opposed to a registrar?
With a celebrant, the world is pretty much your oyster. You can have something truly personal (and memorable!), and in a setting that perfectly suits your style. The location need not be licensed (which opens up thousands of fabulous places to consider), and so saying your vows in an art gallery space, in a secluded seaside cove, or in the middle of the countryside really can happen!
As mentioned above, you will have to pre-register your union, which is the legal part of your partnership, but your actual wedding ceremony day can include as many traditions as you wish, such as walking down an aisle, exchanging of vows, readings, symbolic rituals, or poetry, or how about making it really memorable with a few surprise elements too!
A celebrant will also work outdoors, irrespective of the registration service's restrictions that state a civil ceremony cannot take place outside if the temperature drops below a certain level. Imagine if, on your dry and sunny wedding day, it just happens to be chillier than expected, all of your carefully thought out plans will have to be moved indoors, or cancelled (if there isn't an indoor option)!! I have conducted Autumnal weddings in all manner of outdoor environments, we just adjusted our attire to suit the weather! Of course, you'll need to have a wet weather plan should rain be forecast, but why change plans if it is dry and a perfectly sunny day?!
People will often book me for the following reasons:
They really want a ceremony with personal content and a flexible format, that reflects them as a couple
The setting or space that they have chosen is unlicensed
The venue is available but the registrar is already booked at their preferred time of day
Click here for handy details on your legal signing, and the process behind planning your celebrant-led wedding.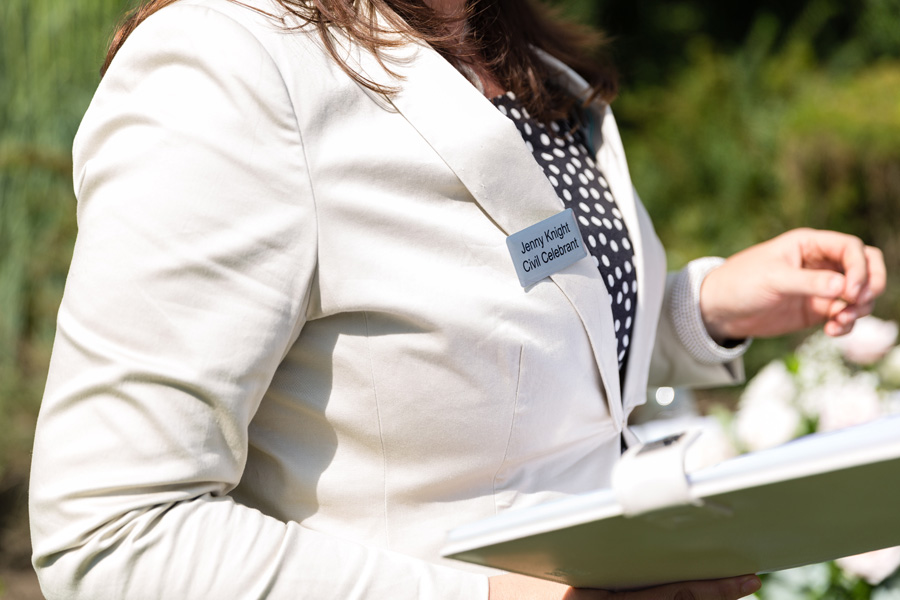 What is involved?
Consultation : Our journey begins at consultation meeting, where I get to know you and how you envisage your celebrations to unfold. I then send you a summary of all that we have discussed, just so that you can see that I have understood your requirements.
Booking Confirmation: Once you have had time to review all of the information, I request a deposit and a signed booking form within 5 days of this, and your date, and my time is now secured for your special day!
Writing: with your booking now confirmed, writing then commences! This is crafted over time and you will have input into the flow of the ceremony and the structure, as well as the wording (that is unique to you). I also liaise with your venue and photographer in advance, to let them know that I am attending on the day, and I advise the photographer of all the personal elements of your service so that they can capture these without any restrictions. Once you have signed off your final script, I do a run through of your ceremony so that I am well rehearsed and ready for your big day.
Check-in: I host a skype check-in with my couples just to discuss final details like whether they would still like to stand in the agreed positions, remain standing throughout or prefer to be seated, timings, and what I will do when I arrive, just so everyone is as relaxed as possible.
On the Day: I arrive early, set up the ceremony area (I come with a fully portable wedding PA system if required), and liaise with musicians, venue contacts, groom and best man, and ensure that everyone knows what is happening. I discuss prompts and signals with the designated person that is letting me know the bride is ready and meet the father of the bride and bridesmaids prior to the ceremony starting, just to ensure they know what to do and when. I then orchestrate and conduct your ceremony, and present you with a folder containing keepsake copies of your certificate, vows and readings.
Fees?
As your celebrant, I provide a bespoke service and my fees can vary depending on the location, type of event and the number of client meetings, but all include the process below.
(These fees apply to all venues and settings within a 10 mile radius. Travel and other associated fees may apply but are agreed with each client on an individual basis.)
Weddings from £695
Vow Renewals from £550 (evenings or weekday)
Vow Renewals on peak weekend dates £600
Baby Naming ceremonies from £350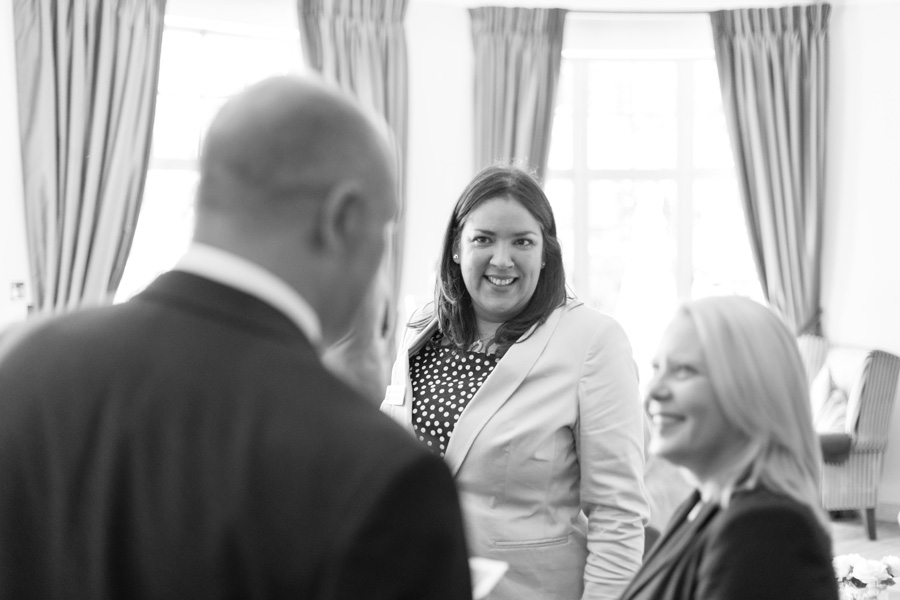 Relax and Enjoy!
As a celebrant with over 20 years in the wedding industry (initially as a wedding planner and now as an established and successful celebrant), you really are in safe hands! I can guide you through the whole fabulous experience, help with any questions that you have regarding the legal side, the flow of your ceremony, the venue, and chat through the logistical side too. I understand all of the little details that need to be in place for your wedding to run smoothly and can identify and rectify any last minute things that might impact your ceremony.
I want you to look back at your ceremony and remember how you felt, and remember all of the fab things that we had written and included. We want to make your ceremony unforgettable!
My couples always comment about how nice it was to be able to run things past me in advance, to have a meeting with the person that will be there on the day, a run through of the script whilst in situ at the venue, and to see a smiling face when they arrive, knowing that I understand them and all of the things that they have planned.
It would be great to get to know you, so if you have any questions or would like a chat, feel free to contact me here .