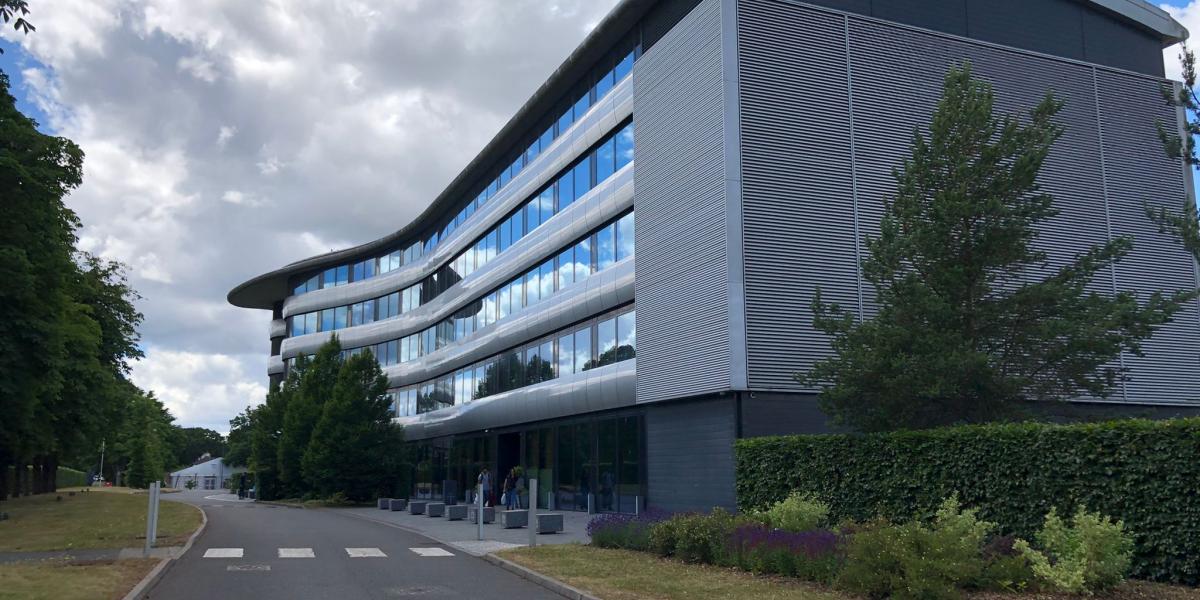 A lovely blog from my team member Louise from her ceremony this weekend.
"I first spoke with Karen and Roger back in February this year when they had decided they would like a vow renewal ceremony having been through and were still going through some challenging health issues. They wanted to reaffirm their commitment to each other, and the marriage vows they had taken 14 years ago in Las Vegas in front of all their families and friends who have been there supporting them over the last 18 months.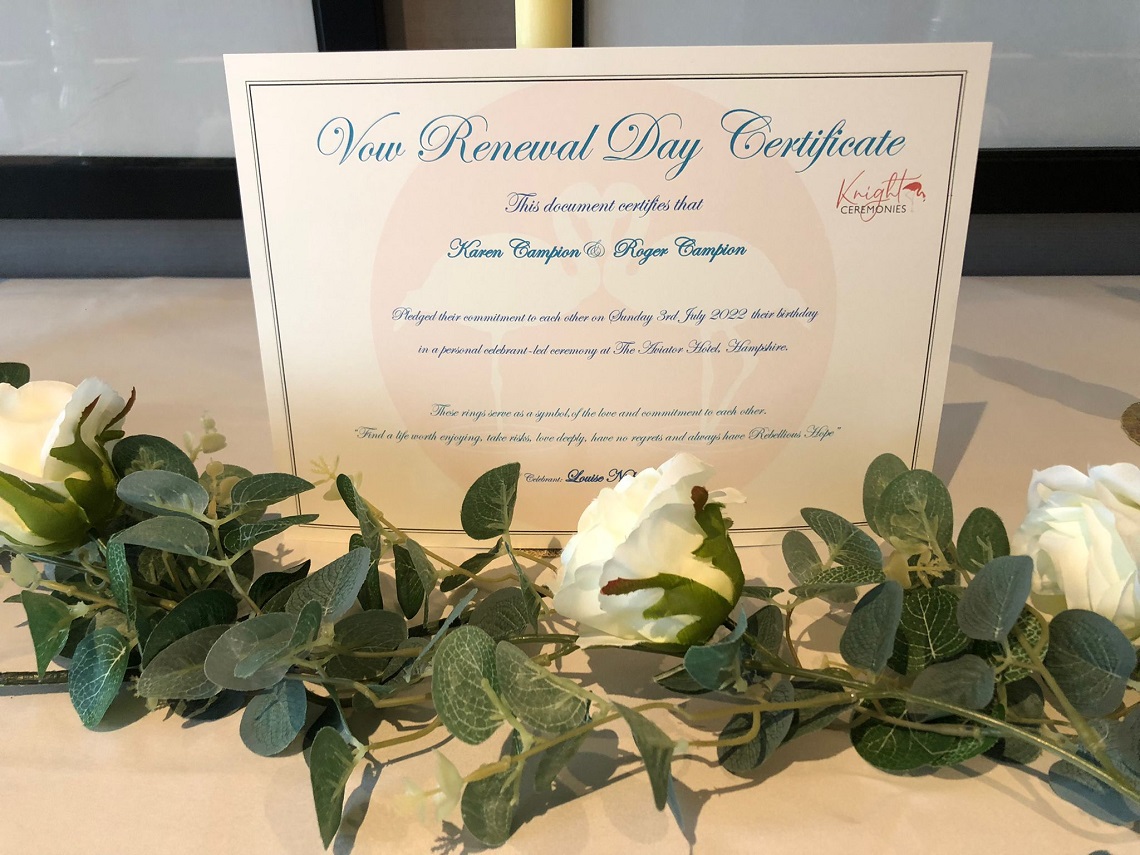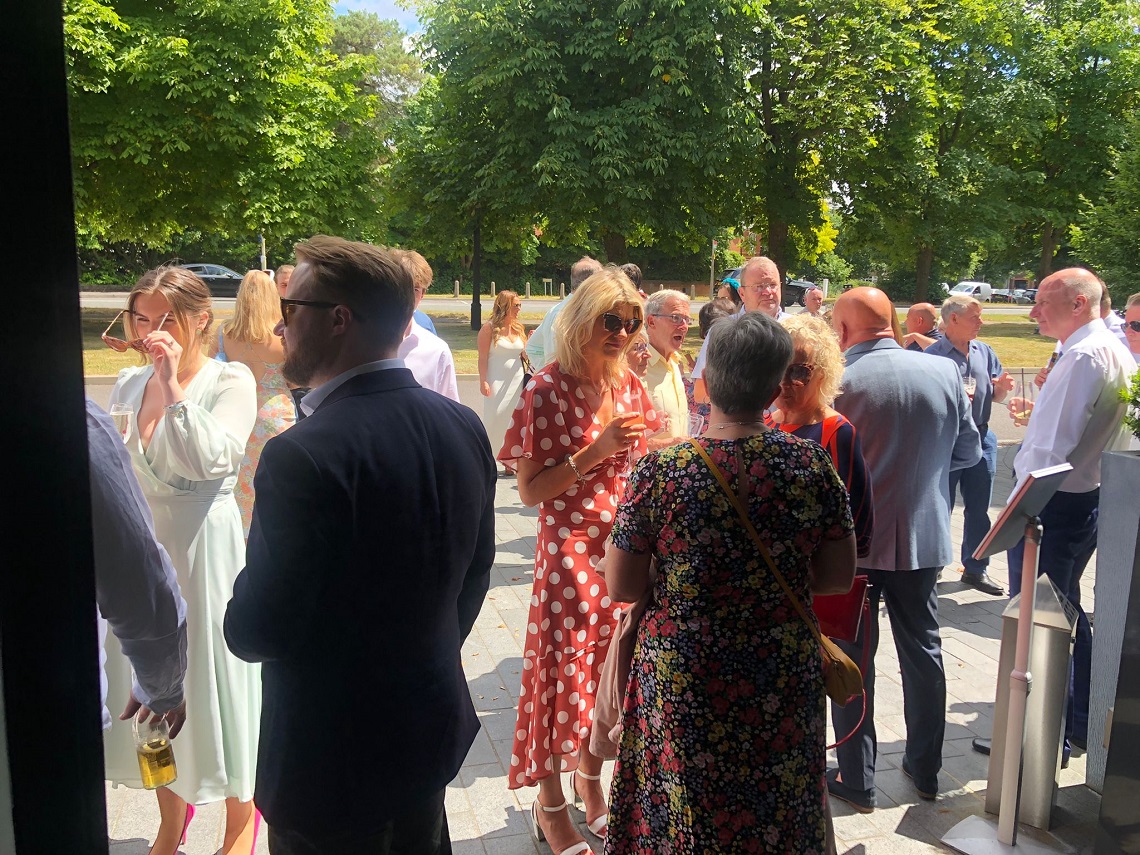 I arrived at The Aviator Hotel in Farnborough an airport-styled hotel overlooking the runways of this private airport, a hotel that holds fond memories for Karen and Roger to a sky that I knew would be making Karen smile. The sky was blue with some clouds and the sun peeking through at times, it was everything she wanted for their special day.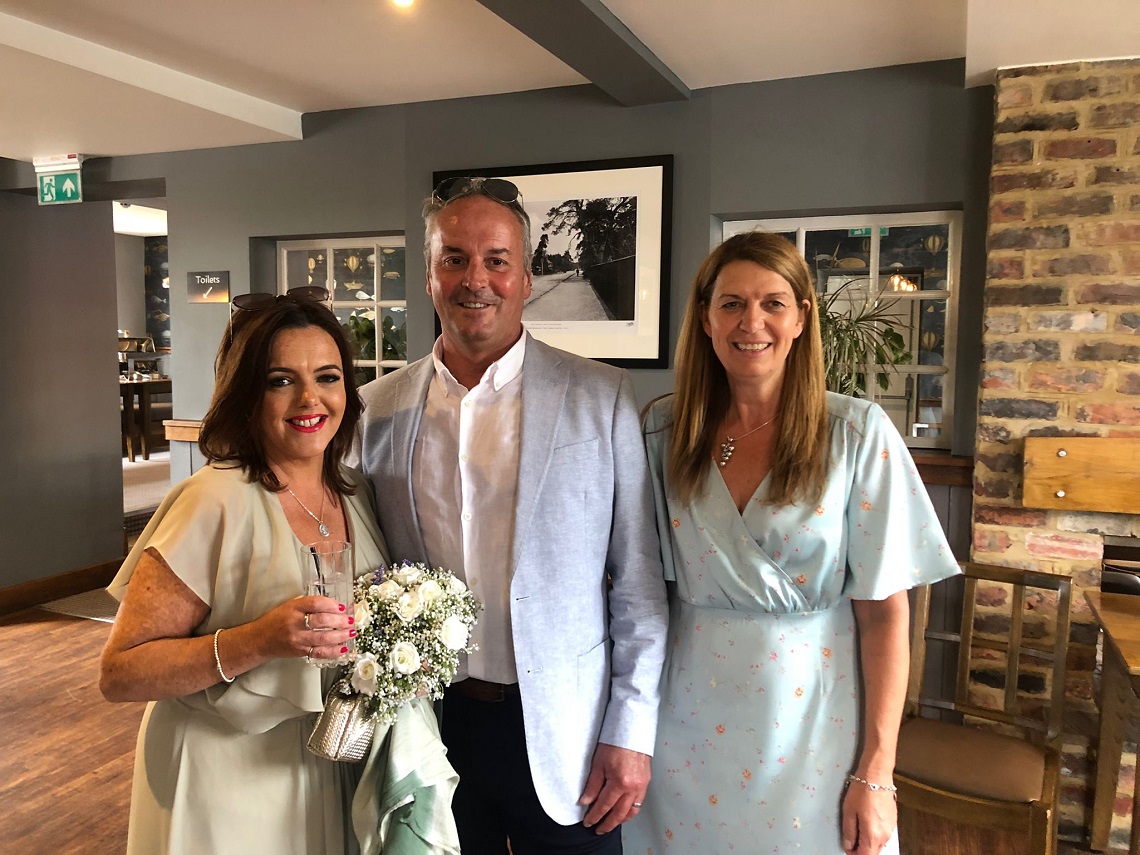 Karen and Roger were in the ceremony room as I arrived and after a quick hello and Happy Birthdays all around, as Karen and Roger had chosen their shared birthdays to have their vow renewal, I set about making a few last-minute changes to the layout and putting some special touches in place. Karen looked stunning in her beautiful dress and Roger was looking very smart as well! They were both excited about the ceremony but were worried there may be a few tears, so boxes of tissues were put to the ready.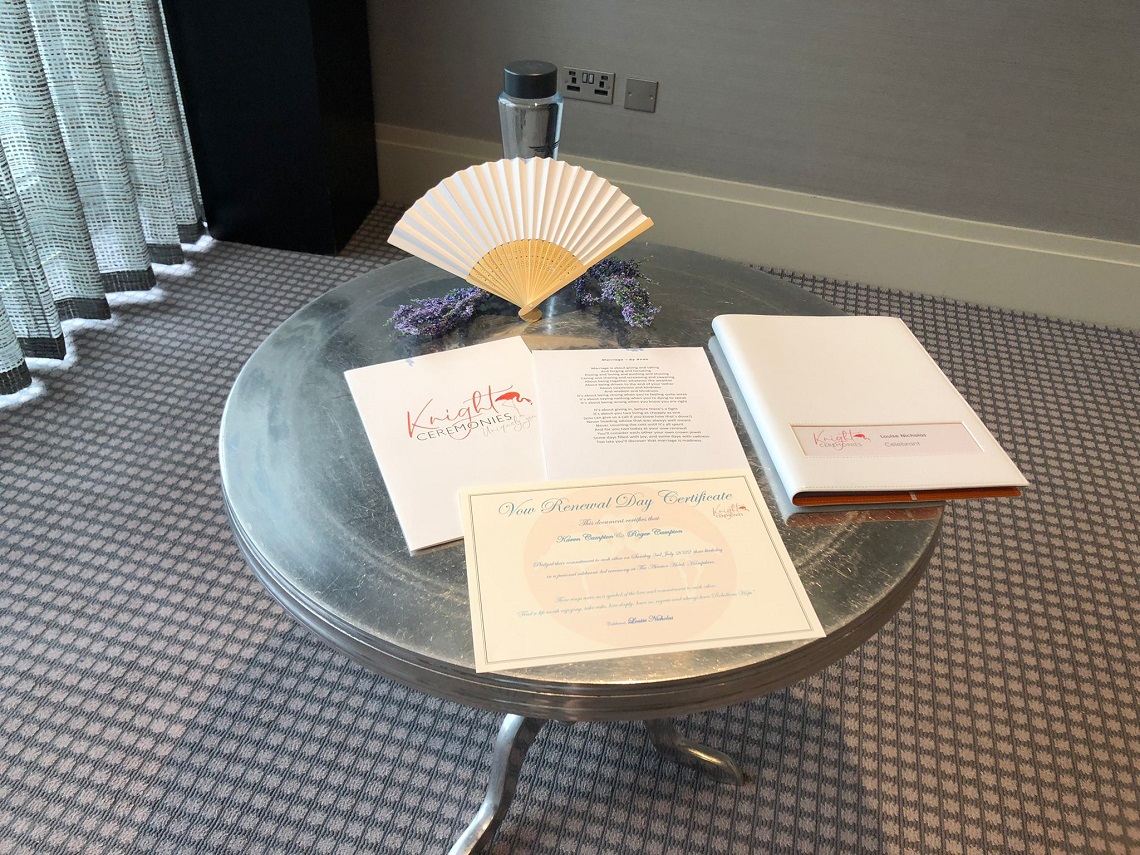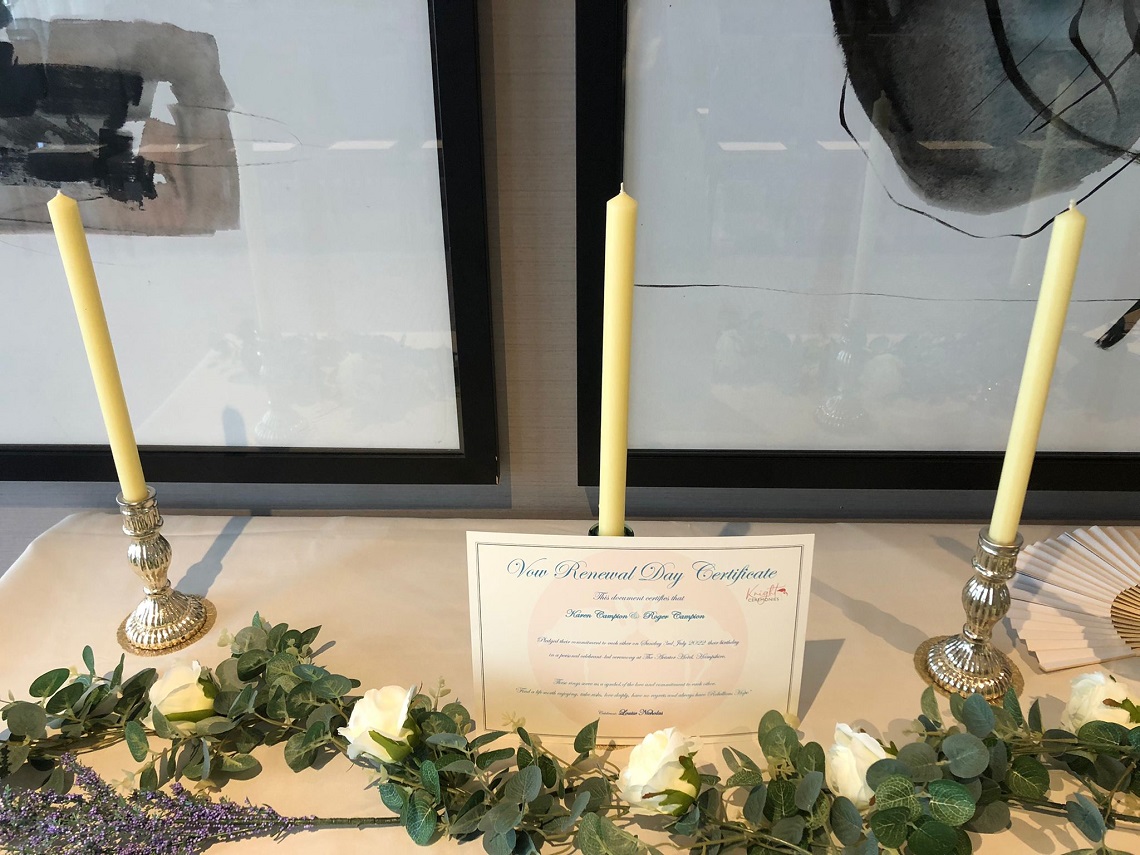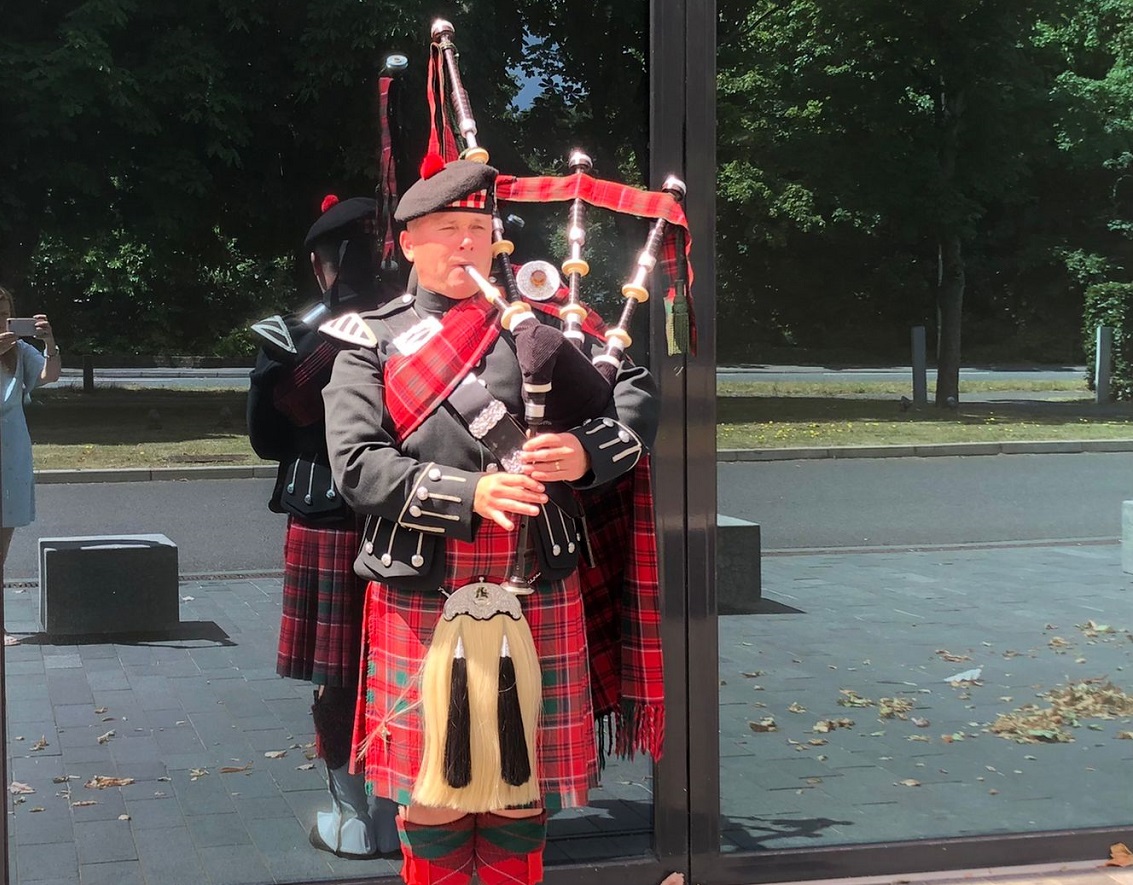 Both were looking forward to their day and introduced me to Jim the Piper who played a pivotal part in the day's proceedings. As I set up to the tunes of the bagpipes and the roar of planes flying overhead, guests started to arrive for the pre-ceremony drinks which many sipped on outside in the lovely sunshine while listening to Jim play his tunes on the bagpipes.
I went around and chatted to Dave, Karen's brother-in-law who was reading a poem, and to Isabella, Roger's niece who was taking photographs, as well as saying hello to Karen and Roger's gang of 5. As I gathered all the guests into the ceremony room, the chatter was loud and everyone was pleased they could bring their drinks through, I ran through some housekeeping and then I went to give the signal to Karen and Roger that we were all ready.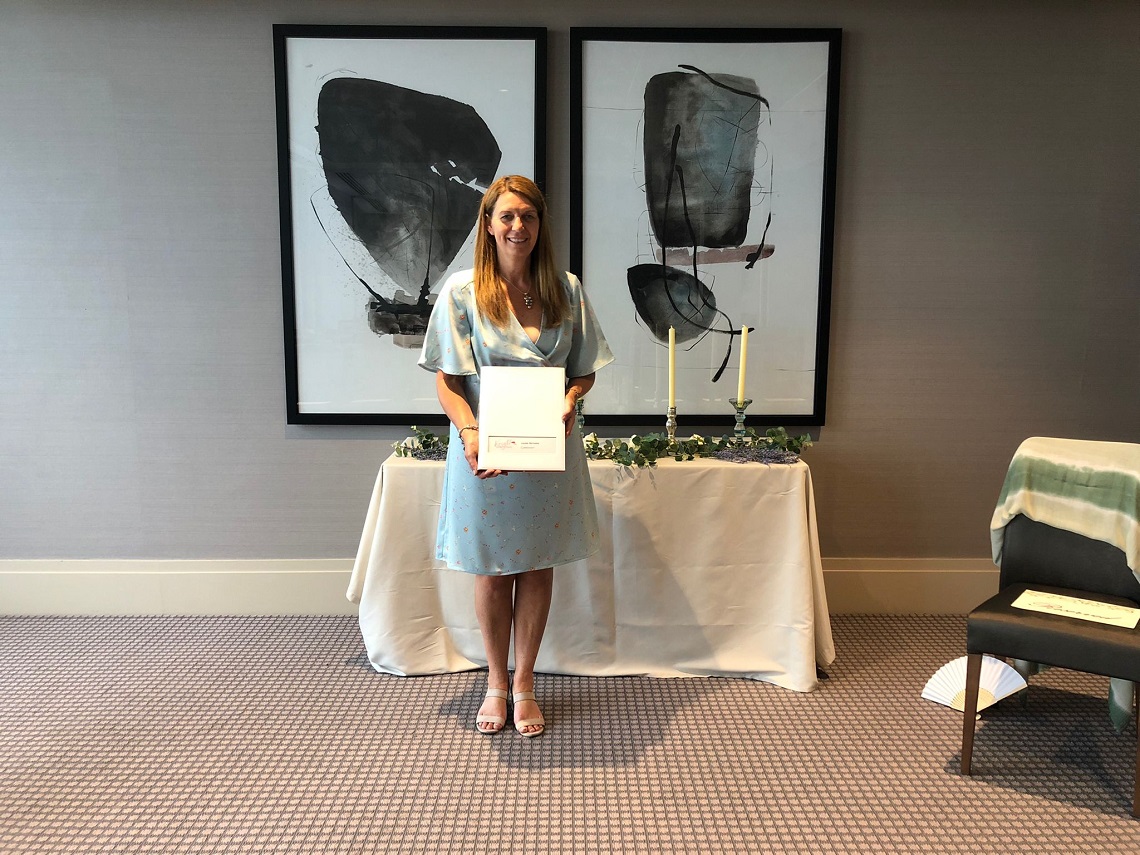 The room went quiet as Jim piped them in to 'The Flower of Scotland' and everyone rose and cheered as Karen and Roger made centre stage. The ceremony was poignant and beautiful, Karen and Roger listened and absorbed all the words and the warmth in the room. There was a little heckling in places from the Hartley Witney football lads and a few tears shed amongst family and friends, but everyone gave them a rousing cheer as they were reaffirmed as husband and wife and Roger got to kiss his bride Karen again.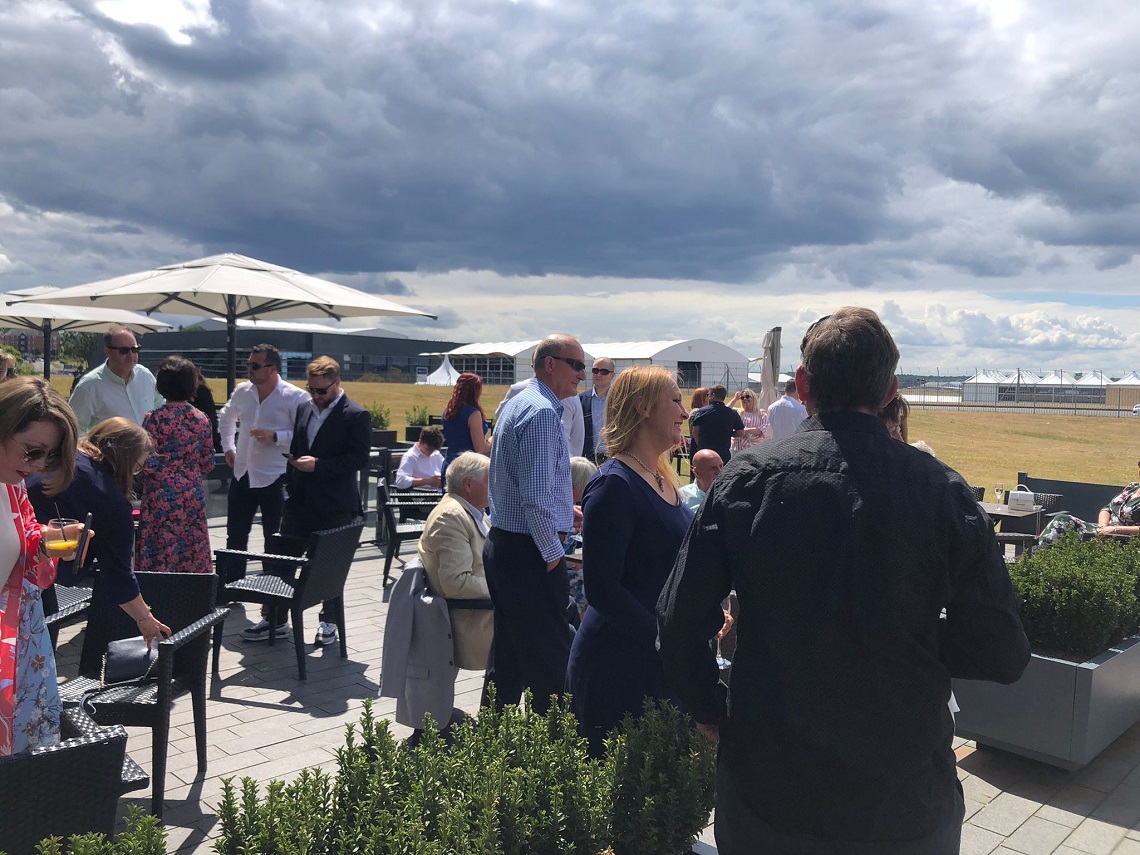 Having originally married Stateside, Jim piped 'Karen and Roger Campion The Second' up the aisle and into the drinks reception overlooking the airport runway. Here as friends and family chatted and caught up Jim carried on piping and had everyone joining in Happy Birthday as the celebrations got into full swing. One of the highlights of the day was this acknowledgment of Karen's Scottish roots and her family many of whom had come down from Scotland to share in the festivities through Jim the piper.
As I gathered all the guests to move on to the second location The Swan, where the music, BBQ, and drinks were going to continue, cars beeped as Karen and Roger walked along the road following Jim the Piper with all their guests following it was truly a sight to behold and was just like The Pied Piper!
The second venue also looking over the prestigious Farnborough Airport was filled with laughter, warmth, and beautiful music sung by Lucy Wroe accompanied by the guitar. The whole setting was magical, friends caught up, drinks were a plenty and the food was wonderful.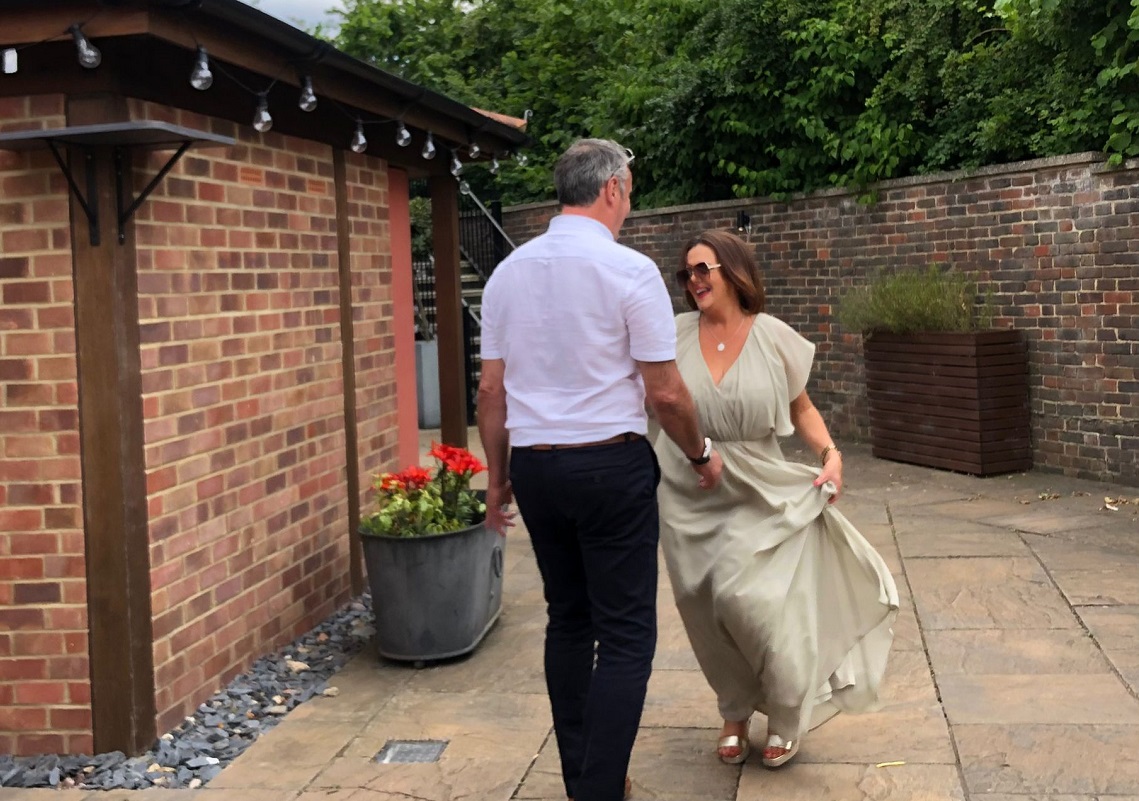 Karen and Roger had their wish of being able to hold the reception outdoors hearing the roar of the planes as they came overhead to cheers from the guests. Karen and Roger danced to the band although Roger did keep escaping!
The afternoon turned into early evening, and I left them after I watched them cut their beautiful cake made out of cheeses and Roger thanked everyone for coming. It was a beautiful day filled with friends and family who cared so much for Karen and Roger, and I know that they will all be there for them no matter what the future holds.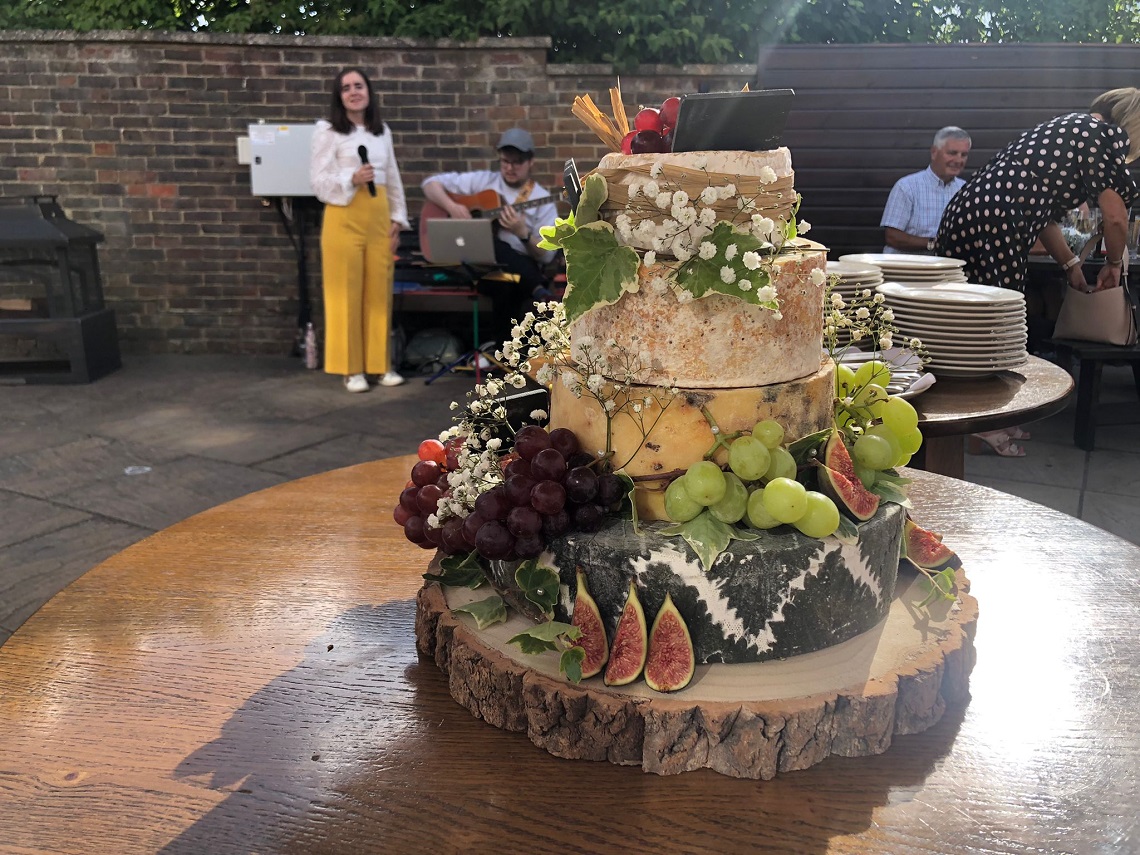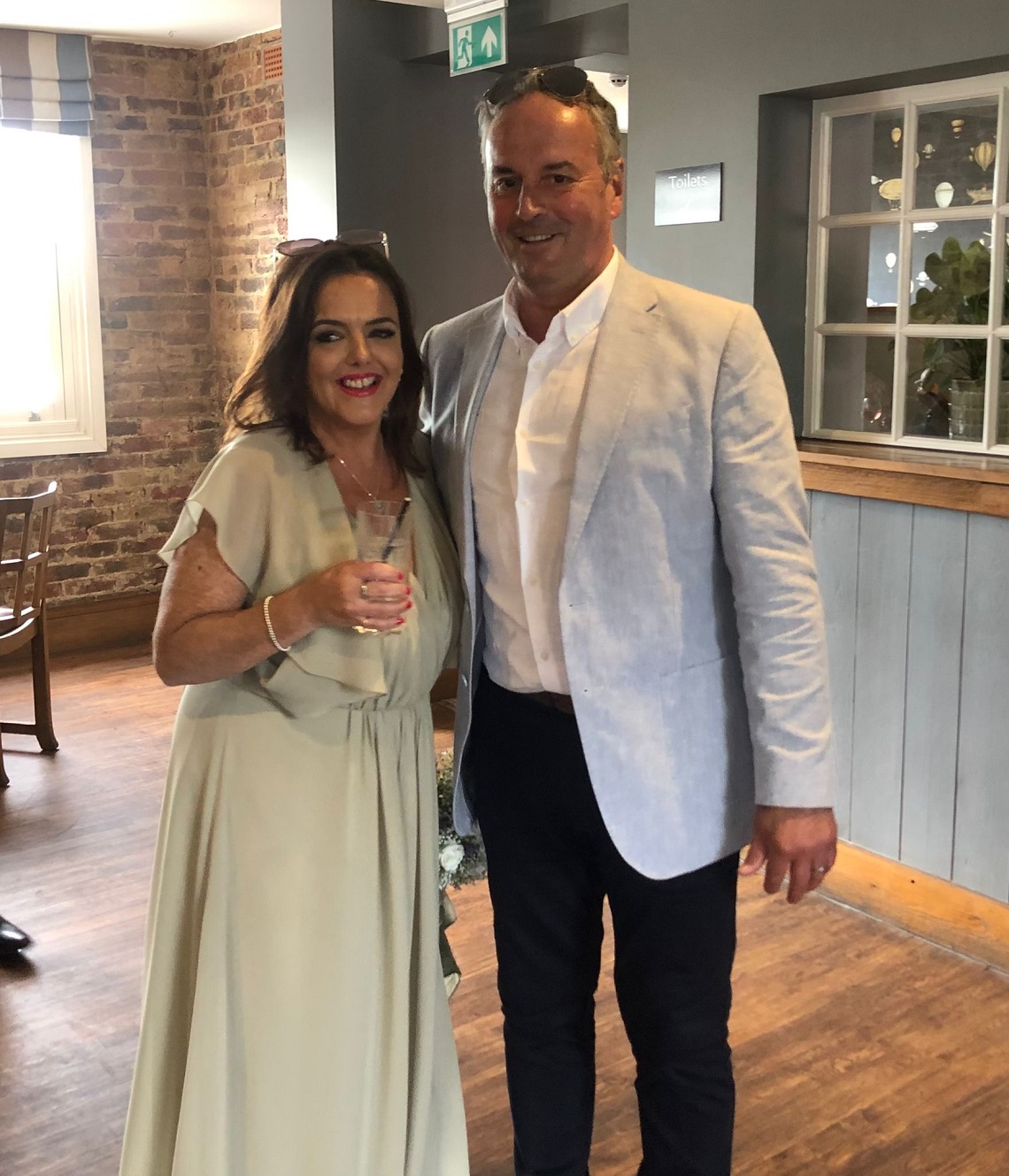 Congratulations to both Karen and Roger, a very special couple, enjoy your mini-moon, and thank you for the honour of conducting your vow renewal ceremony.
Louise x"
--------------------------
Venue: The Aviator
Co ordinator:  Hayley at The Aviator
Photographer: @isabellarcphotography
Vocals: @lucywroemusic
See more about
Hampshire
Ceremonies