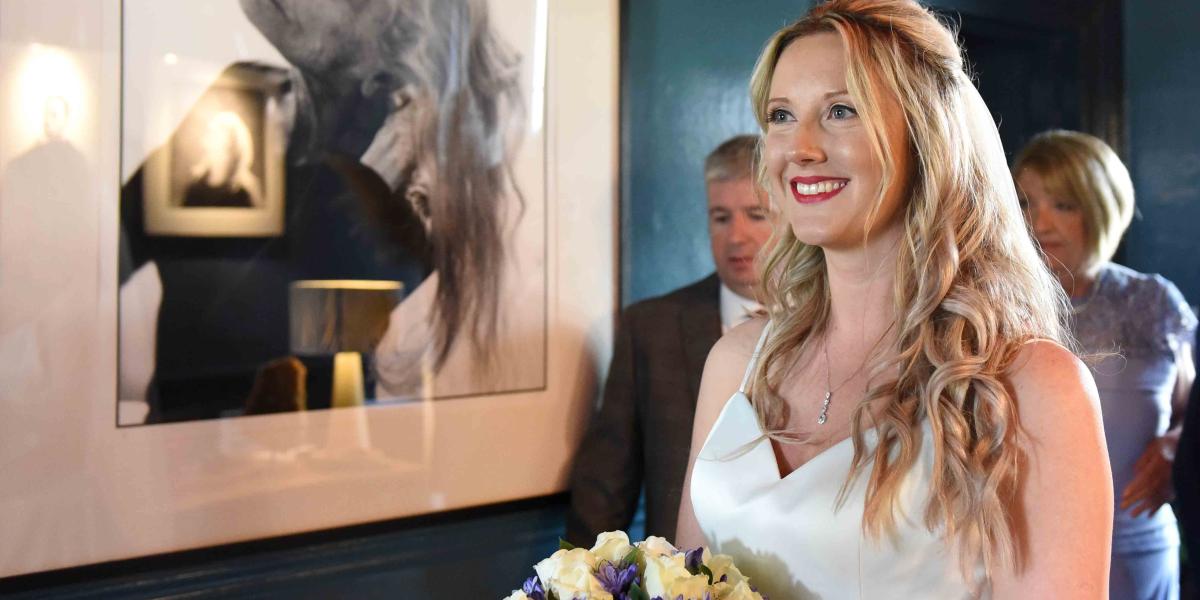 A blog from my associate Tracey from a recent wedding at the gorgeous Bingham Riverhouse.
"I first met Gemma & Mike in March 2021, and I really enjoyed getting to know them both and hearing all about their journey together.  
In our initial meeting, we discussed the style of ceremony that they wanted, and they agreed that they wanted an upbeat, relaxed and fun ceremony where both family and friends could really feel involved in their special day.  And so, we discussed lots of ideas and together we created a wonderful ceremony that everybody thoroughly enjoyed. 
As a Celebrant, I get to meet many wonderful couples, but what struck me about Gemma & Mike was the banter that they had between each other and the mutual respect.  Like many couples, they experienced various challenges along the way, but their strong bond and love for each other was clear from the start that they truly were a match made in heaven.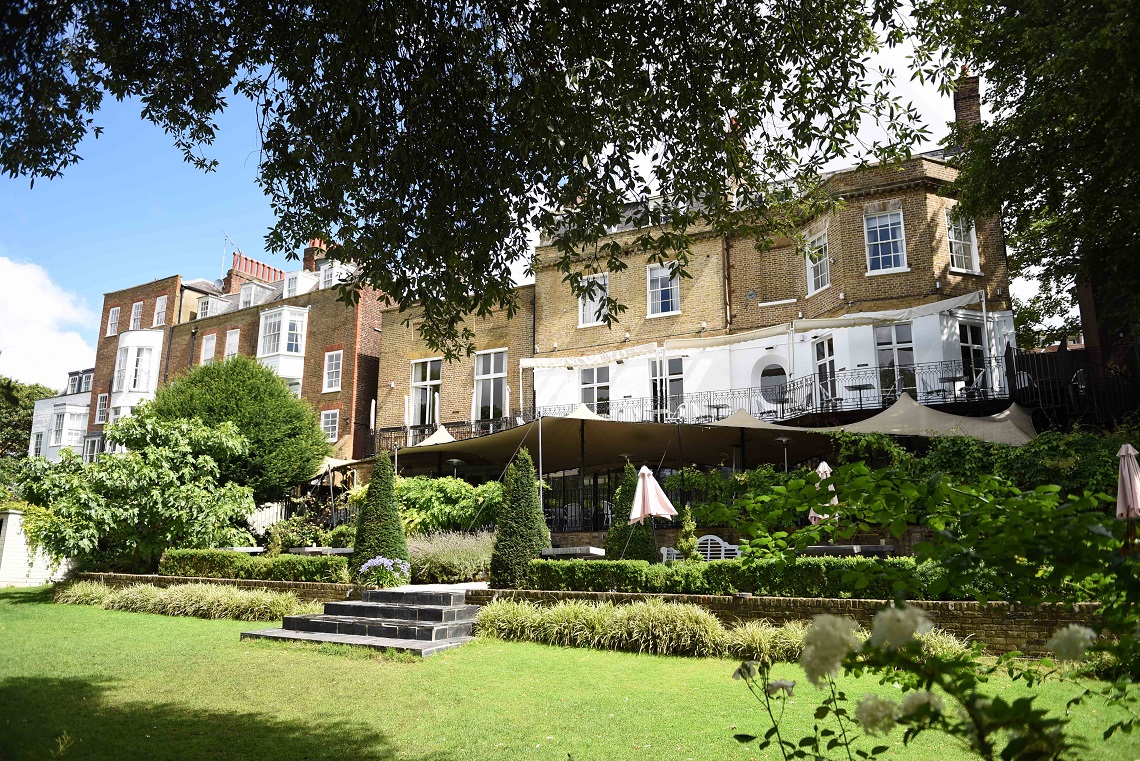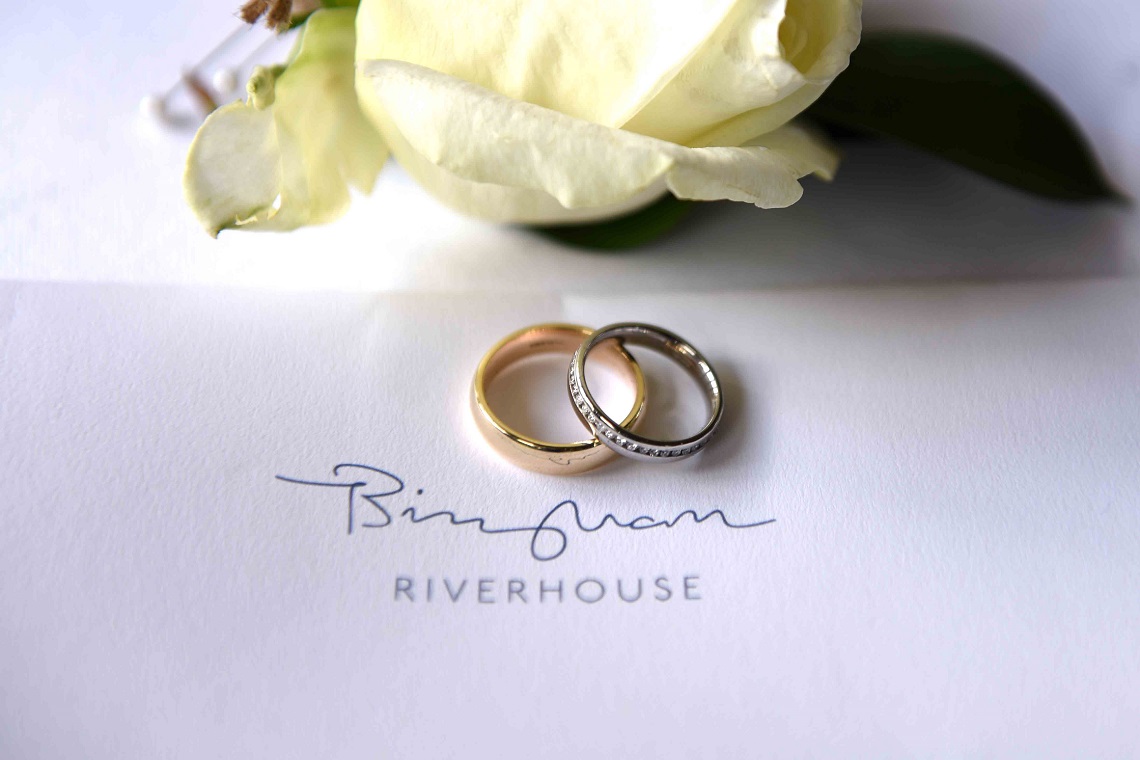 In the days leading up to Gemma & Mike's big day, we enjoyed our last catch up call and waited patiently, keeping our fingers and toes crossed that the weather would be kind to them as the South of England had been experiencing the wettest month on record.
The big day had finally arrived……….
As I left my home, with my ceremony dress all double wrapped and my umbrella at the ready, I made my way onto the very wet and misty M3.  With my window wipers going ten to the dozen, the heavens opened and once again it started to rain…...  But I then smiled to myself because in the distance I could see blue sky and fluffy clouds, and thankfully as I drove towards Richmond the sun continued to shine.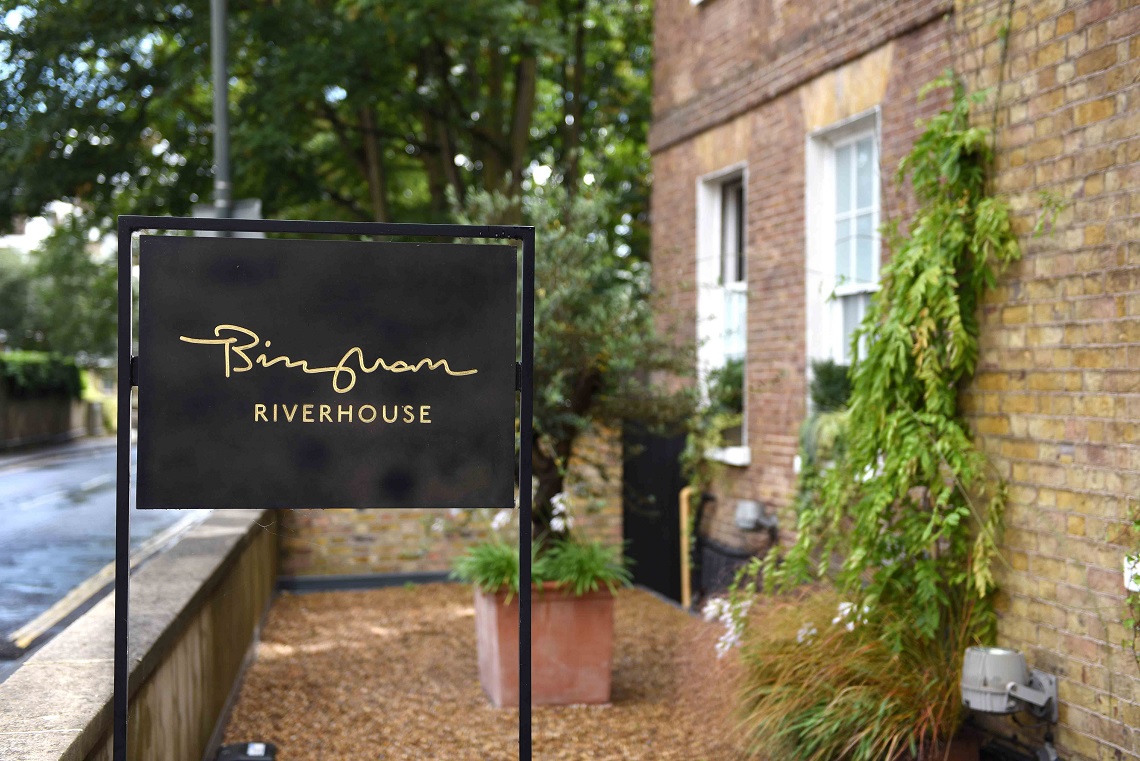 As I approached Richmond Bridge, I could see people happily walking without brollies, and as I looked down families enjoying ice creams and the boats bobbing on the River Thames.
As soon as I arrived at the venue, I thought to myself, I can see exactly why Gemma & Mike had chosen this venue.  The Bingham Riverside Hotel was outstanding!  It had a classic feel about it but at the same time a real nautical boathouse vibe, it was simply sensational.
As I made my way upstairs and was introduced to the very welcoming Emma and her team, I looked in awe at the perfectly laid out room, when I immediately noticed a bespoke wooden arch that had been beautifully decorated and entwined with white scented roses.  It had been carefully crafted by the couple's very dear friends as a wedding present.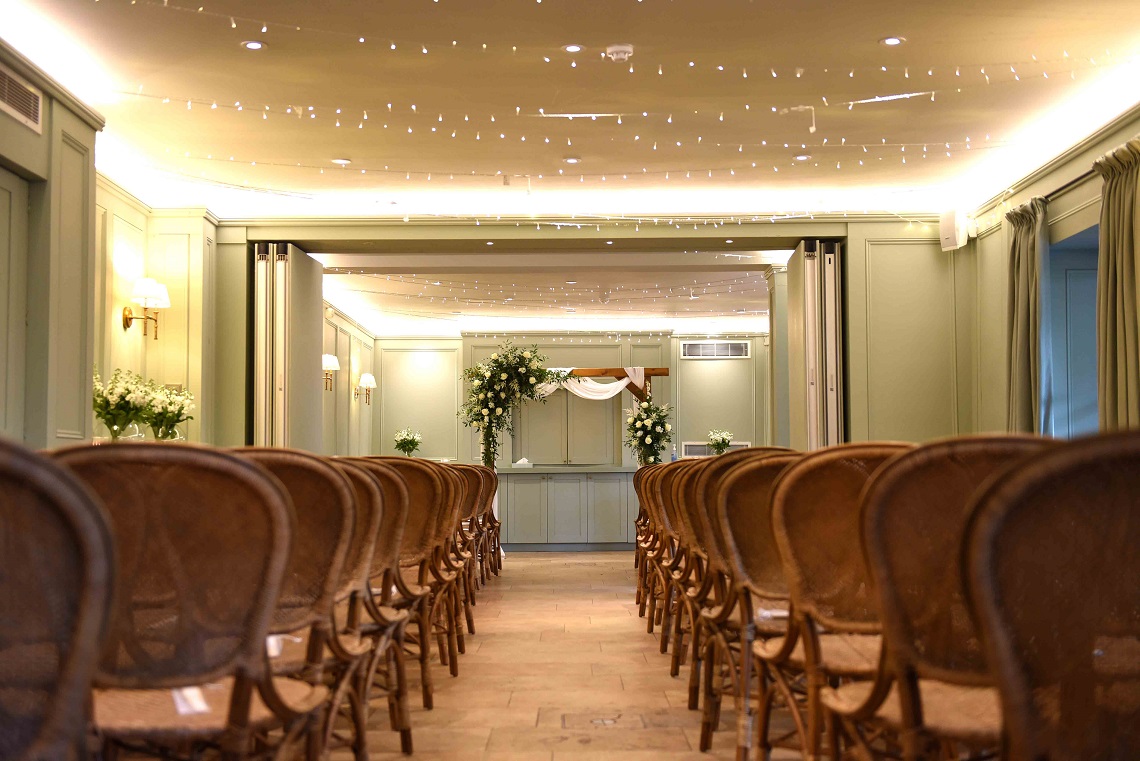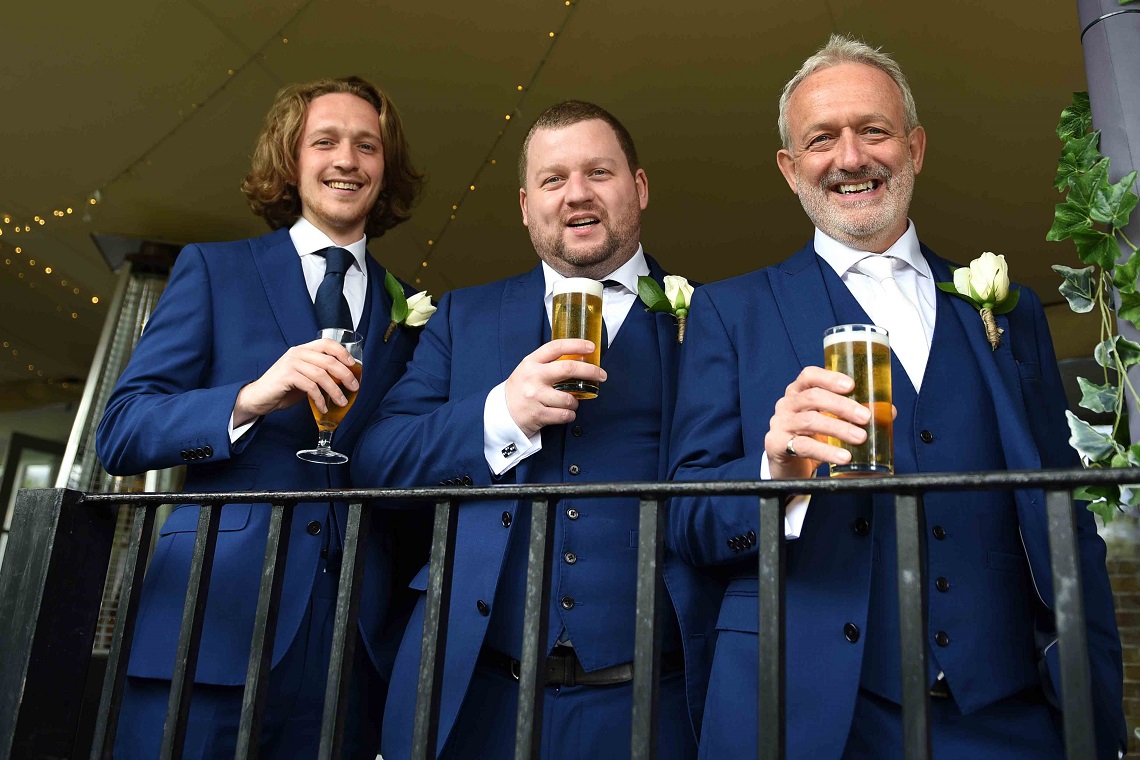 As I made my way outside, I got a glimpse of the perfectly manicured gardens, and was greeted by the very excited and smartly dressed groom, Mike. We made our introductions and he proudly ticked me from his tick sheet.  I was very impressed, by his organisation, and I was chuffed to be number 3 on his list, I think the oyster man was no 2…..
I had a lovely chat with Mike and even taught him some breathing techniques to help him with any nerves.  He then introduced me to his sons and best men Matthew and Ben, and I must say I was very impressed at how thorough and seriously they took their roles, they were a real credit to him.  
Another thing that struck me was the detail and forward-thinking approach that they had put into everything.  There were even fans on the chairs in case the guests got too hot.
After setting up my area, and ensuring that everything was in place, I tested the microphone and carried out my soundcheck, constantly checking that the battery life was sufficient….  and then the guests excitedly started to arrive!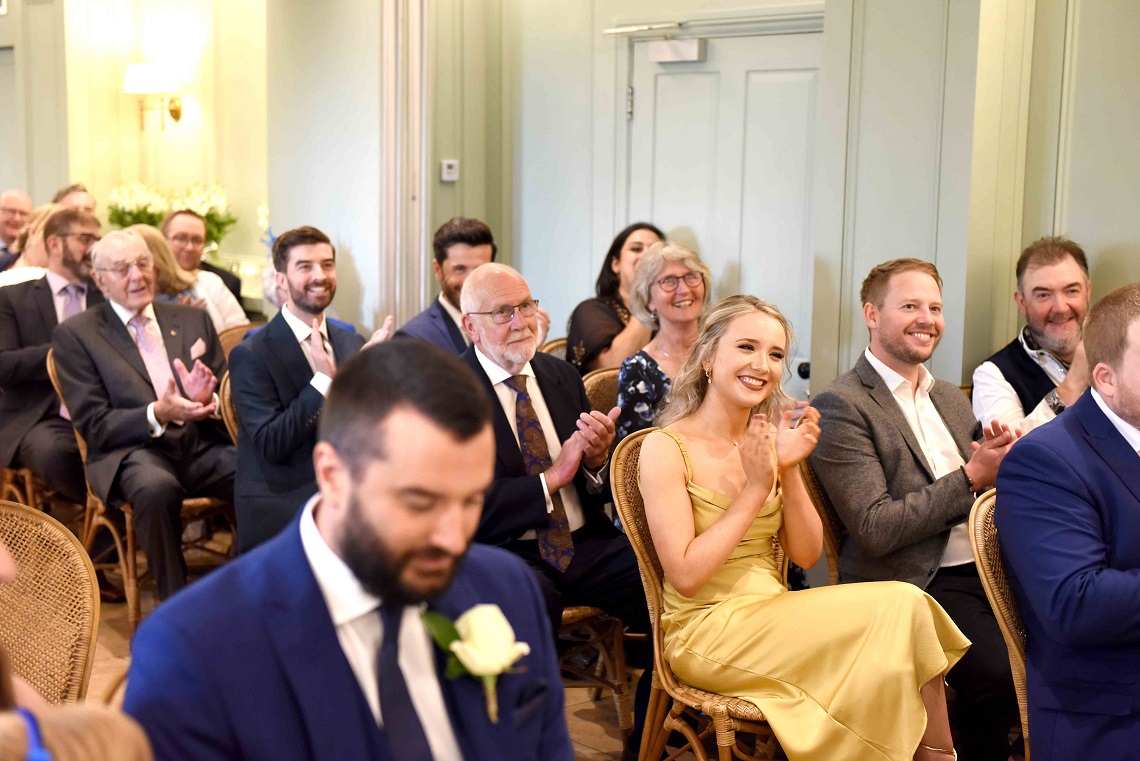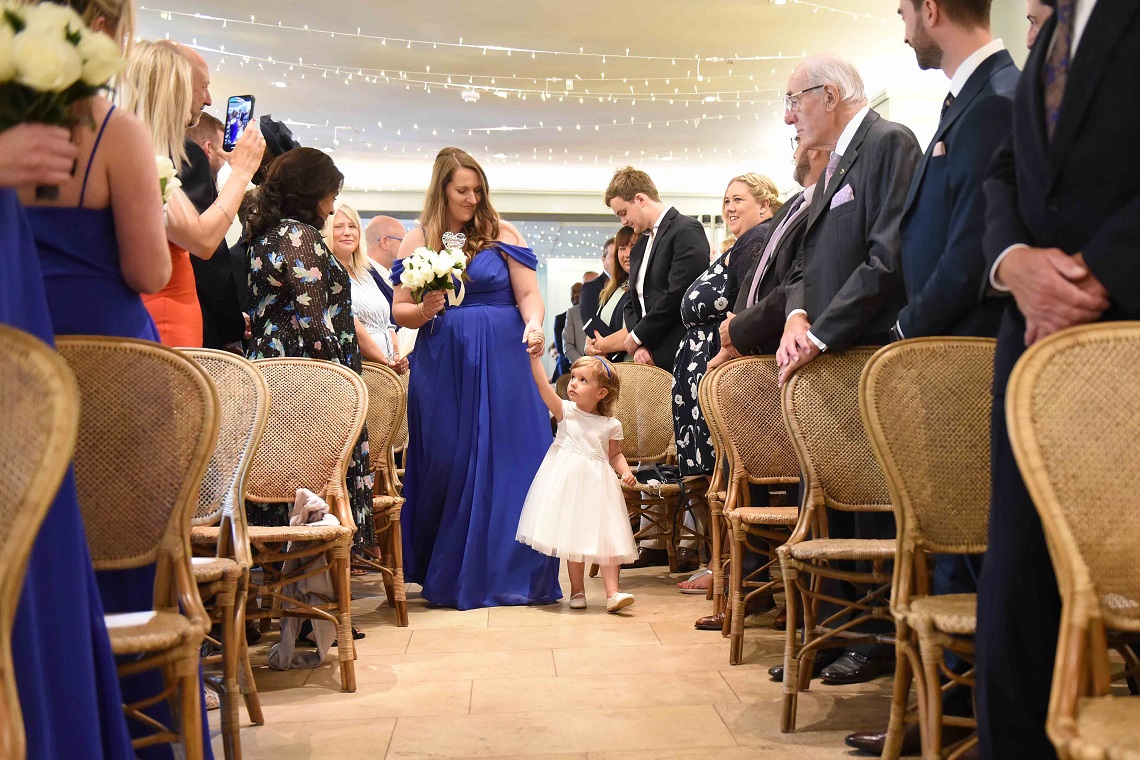 The atmosphere had a real buzz about it, and everyone was really happy to see each other.
Mike's sister looked amazing, and methodically set her camera into position so that Mike's mum could watch the ceremony as sadly she was unable to travel to join us, and we were all set to go.  The beautiful string quartet started to play, and Matthew and Ben ushered the guests to their seats.
Now, usually, I have to try and find the groom to ensure he is in position, but Mike was already there all ready for the big moment.
I could feel the excitement amongst the guests as I delivered my housekeeping message when I had notification that Gemma and the wedding party had arrived. 
With Mike in position, the music filled the room, and the beautiful bridesmaids gracefully made their way down the aisle.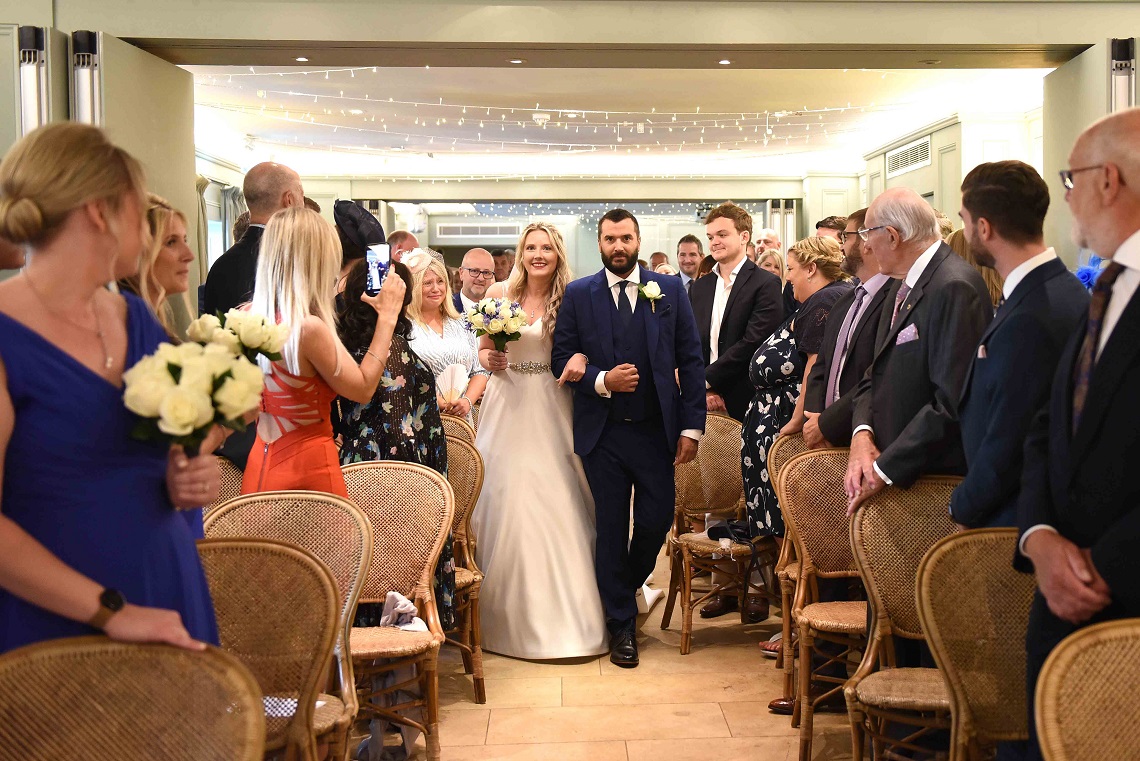 As Gemma glided towards Mike she looked absolutely stunning, breath-taking even, and the smiles on their faces said it all.
As the ceremony began, I invited the guests to give a welcoming and loud round of applause and cheers to make the couple feel at ease, and there was no stopping them.  Literally!
As the ceremony proceeded, I had the honour of relaying Gemma & Mikes story and how even though they had worked for the same company, their paths had never crossed (well that was until they were introduced by their mutual friend, Chris), and we all had a wonderful time hearing about Gemma's unforgettable response to Mike's proposal!  There were roars of laughter!
We heard some beautiful readings by Chris and Karen and together they really did make the day very special.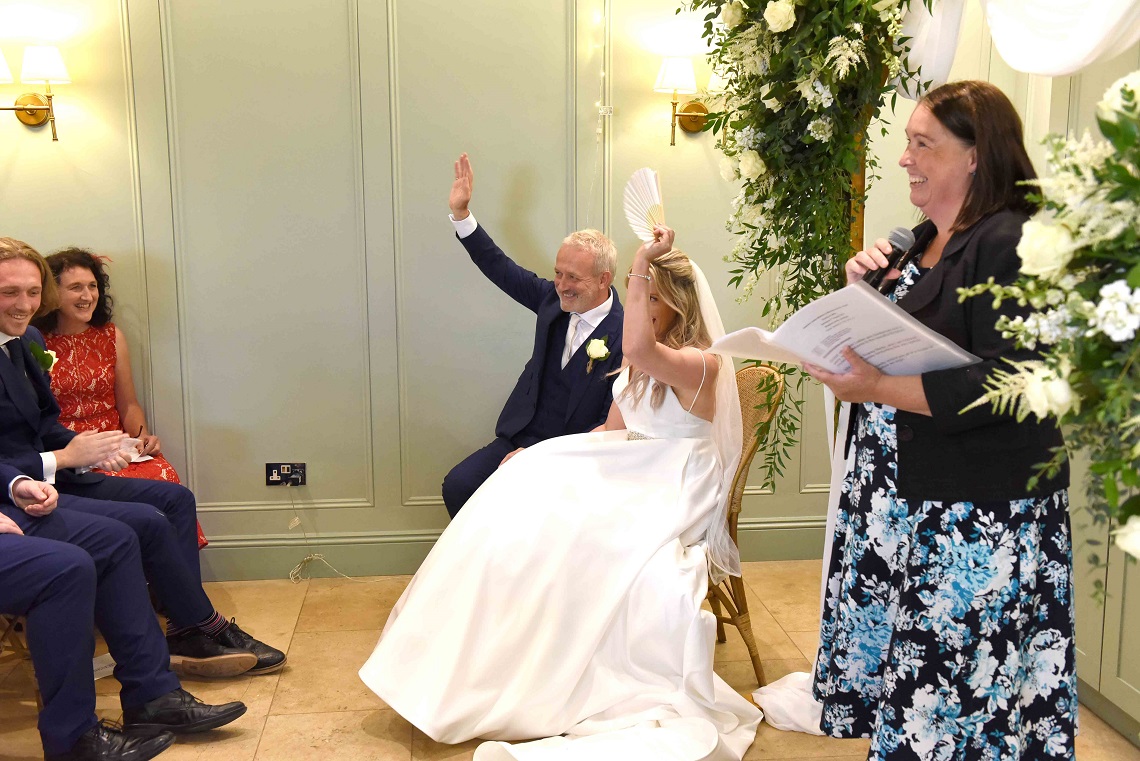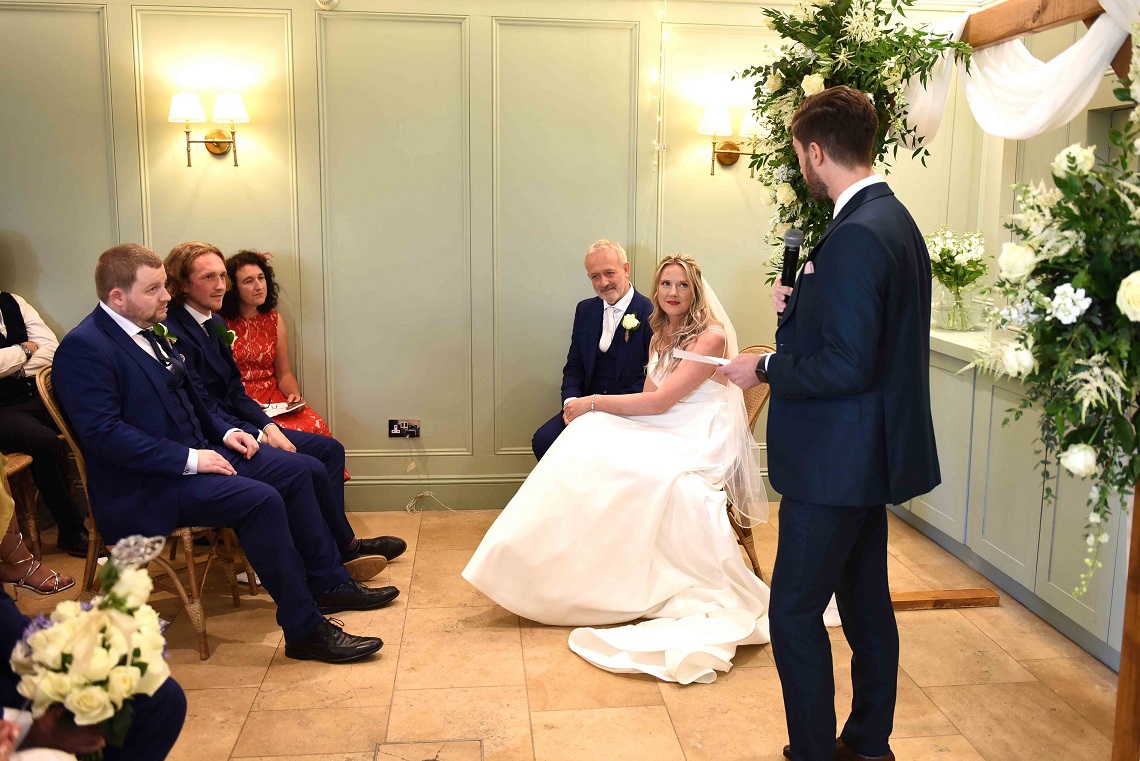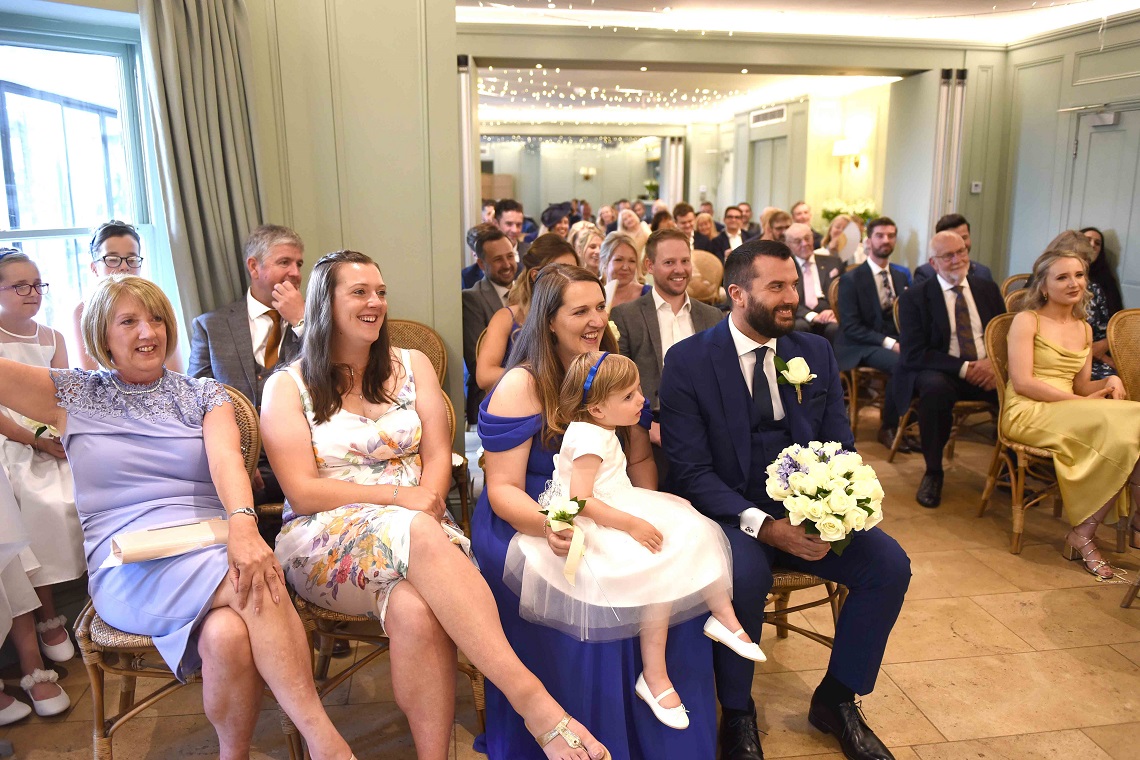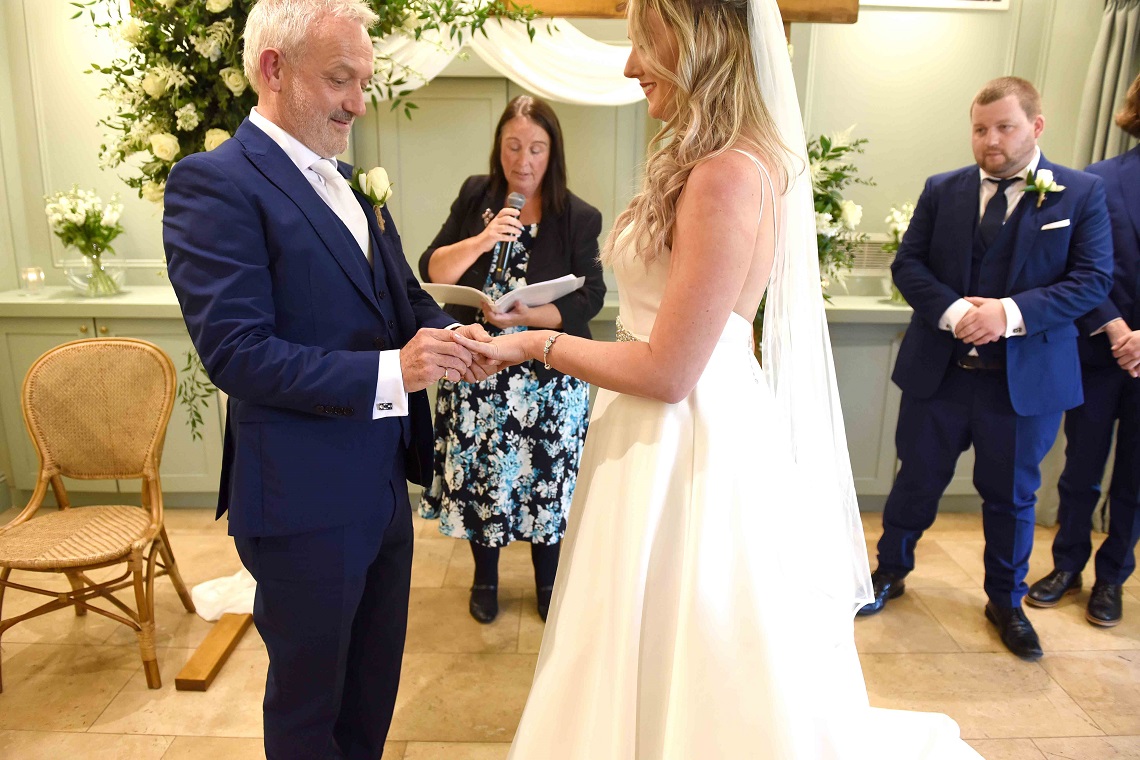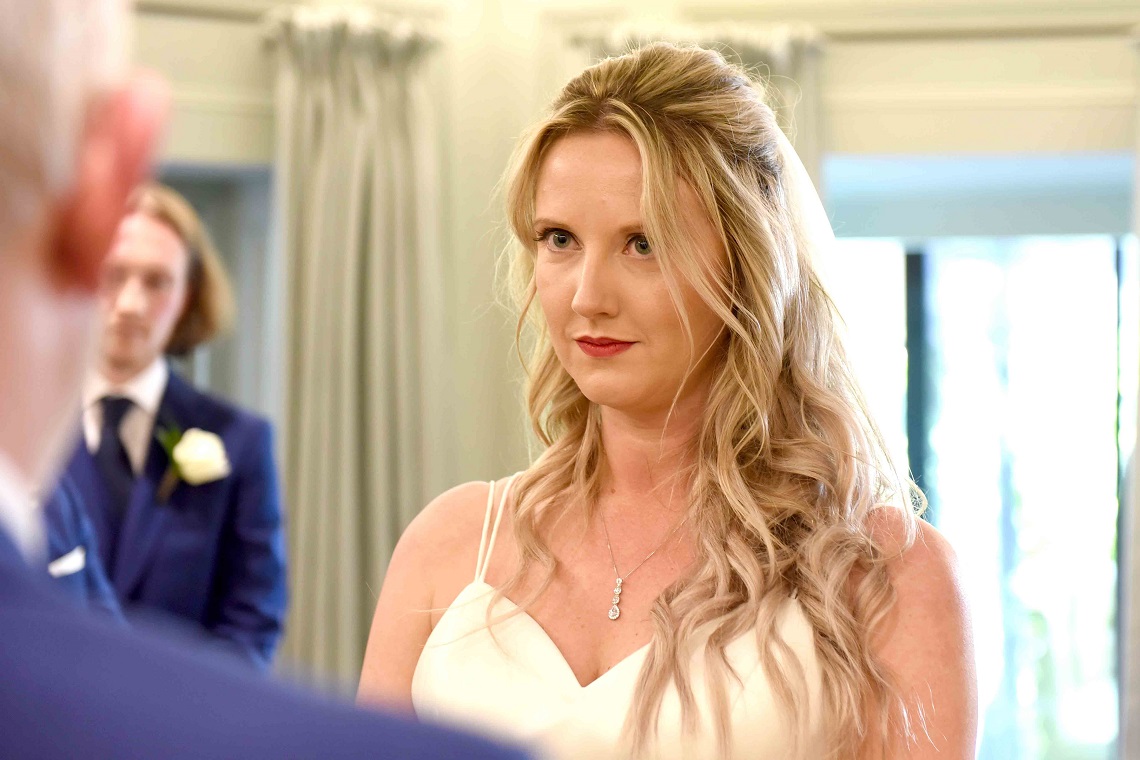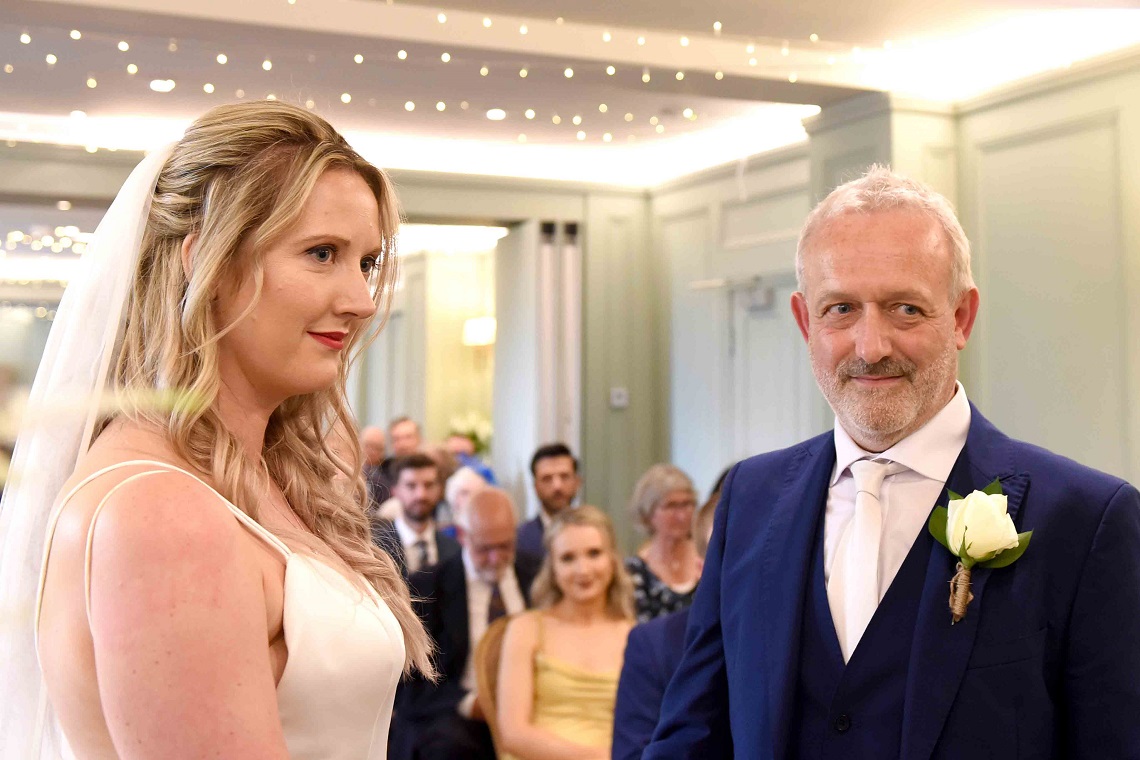 I was very privileged to have been involved in Gemma & Mike's special day and it was beautiful to see them amongst their family and friends, a moment that they had been looking forward to for a very long time.
So, after saying my goodbyes, and starting to drive home, I could see very large dark rain clouds ahead in the distance, but luckily there were blue skies behind me. And I thought to myself, that doesn't matter because at least the sun was shining for Gemma and Mike.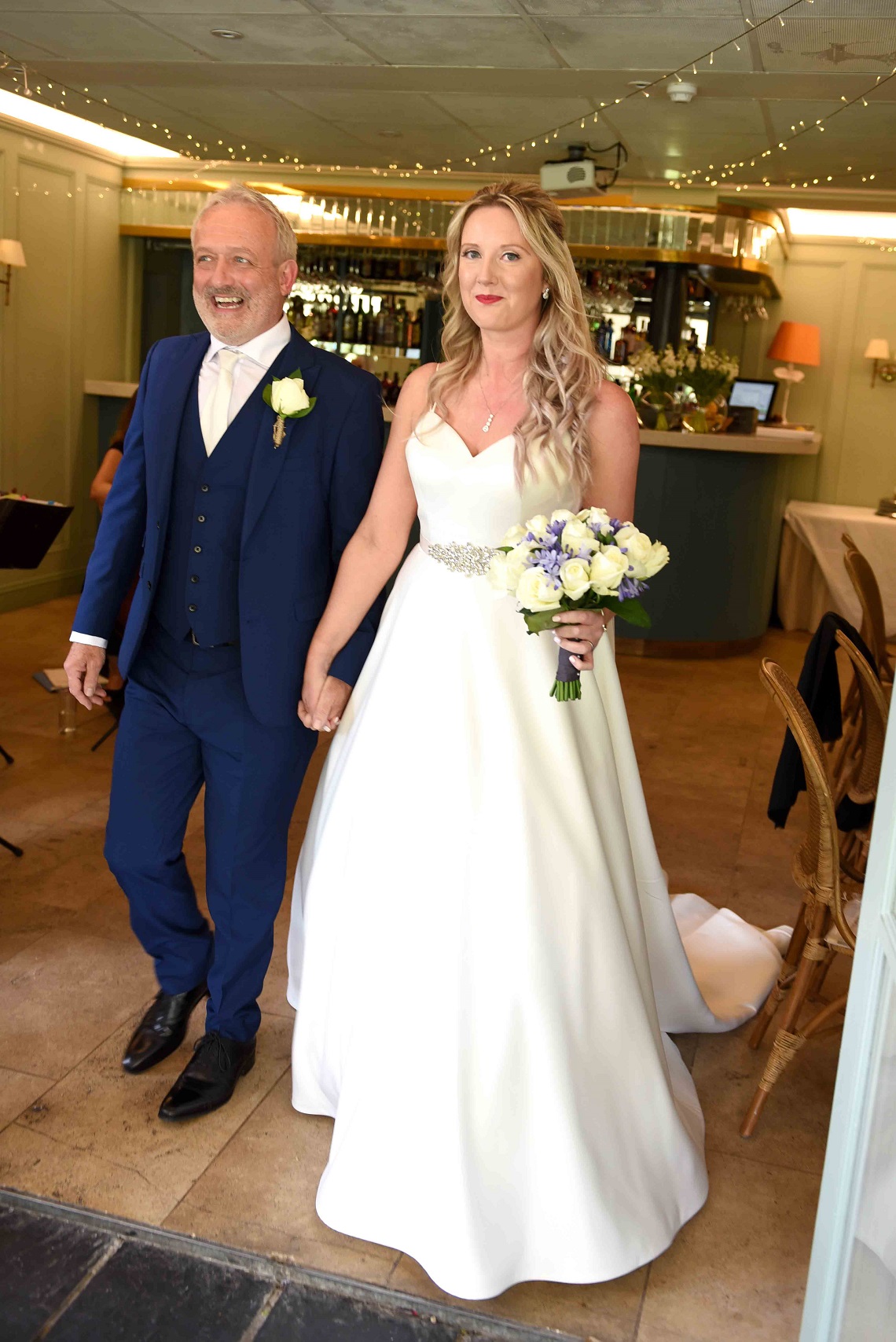 I wish Gemma & Mike lots of luck with their future and thank them for giving me the opportunity to be a part of their memorable day."
------------------------
Dream Team:
Venue: Bingham Riverhouse
Celebrant: Tracey from Knight Ceremonies
Photographer: Richard from Surrey Lane Wedding Photography
 
See more about
Surrey
Ceremonies