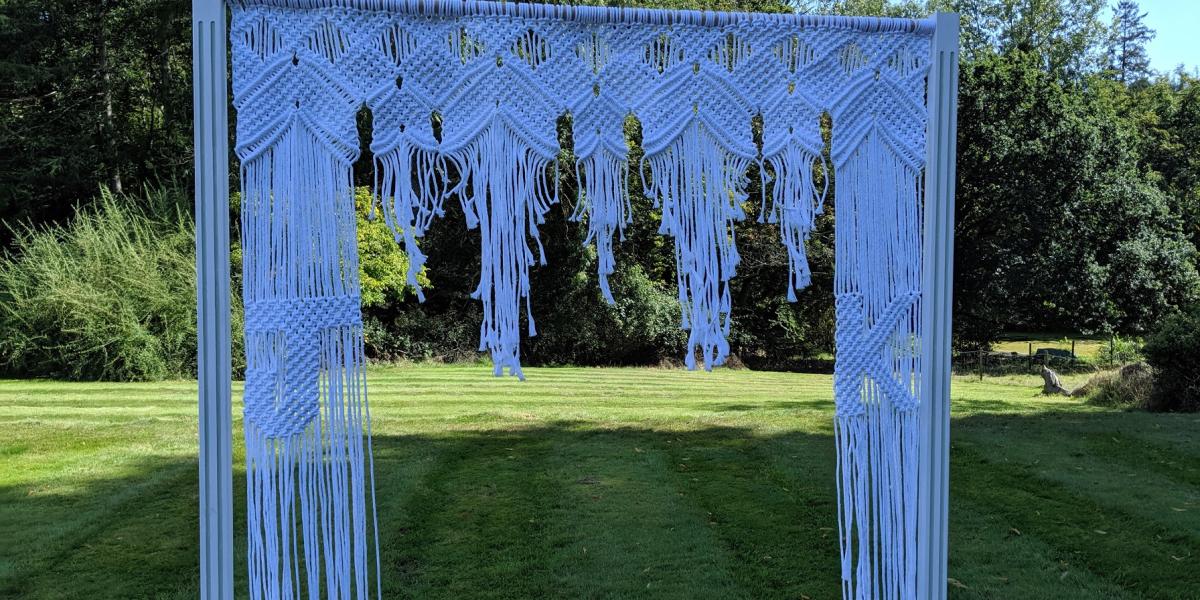 Just a hop skip and a jump from Highclere Castle (of Downton Abbey fame), was where I spent my day yesterday, at my groom's family home in Berkshire.
My couple met back in 2012 through a friend and have been inseparable ever since.  They have built a strong bond over the years and have overcome many obstacles and also enjoyed many triumphs too.
I had had a meeting with the couple and their family several months ago at the groom's parents home and I got to see just how amazing the setting was. Knowing that it would be transformed for their day and all the love and care that were being put into the preparations, made it very special indeed.  The family have three Alpacas in a small paddock too, and they were extremely interested in all that was going on around them!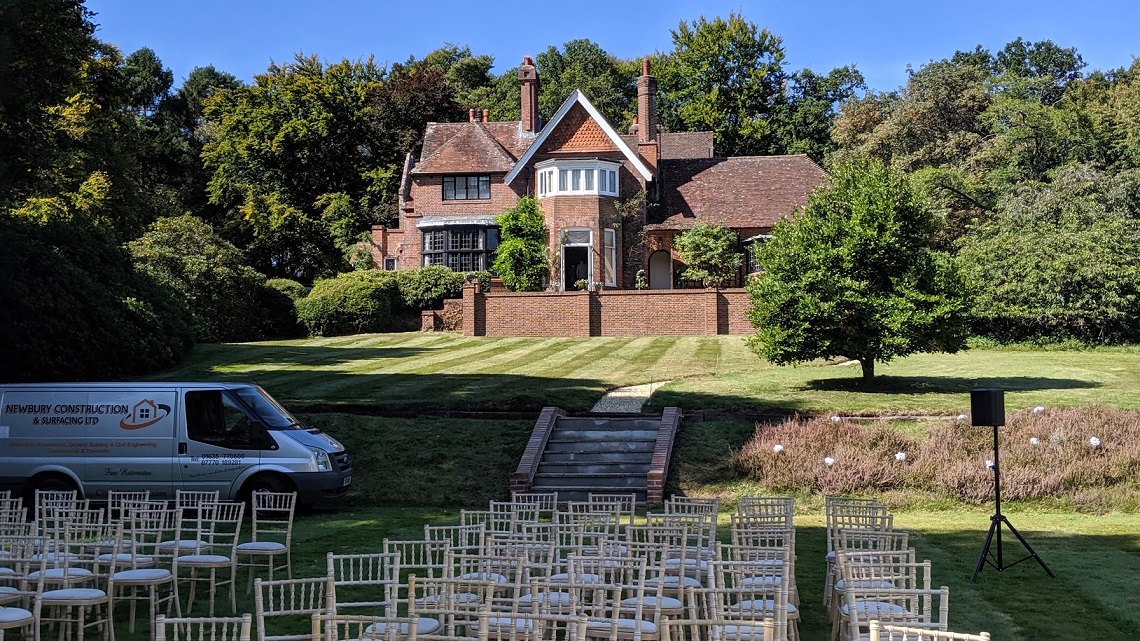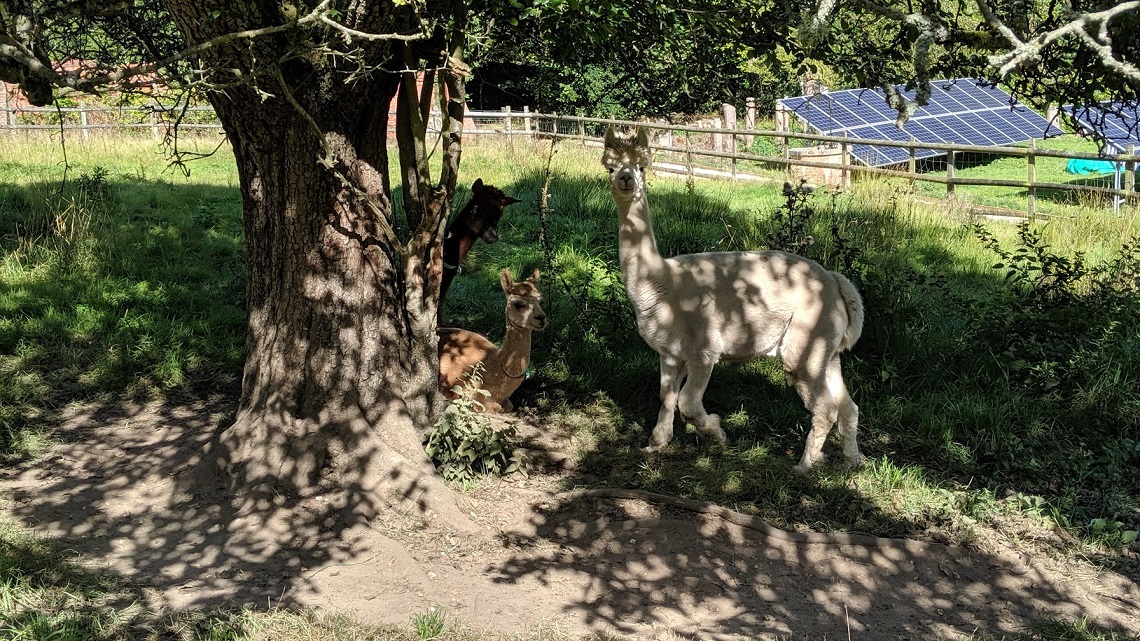 When I arrived and began setting up my equipment, there was a hive of activity, with catering team, DJ, photographers and videographer, all setting up and checking the spaces and making sure they were familiar with everything before the day began.  All of the suppliers on site were so friendly and we all worked seamlessly together.  It was a lovely experience and everything flowed beautifully throughout the afternoon. 
I don't think we could have asked for better weather, with clear blue skies, and a warmth that isn't usually experienced in September, it was just perfect for a wedding day!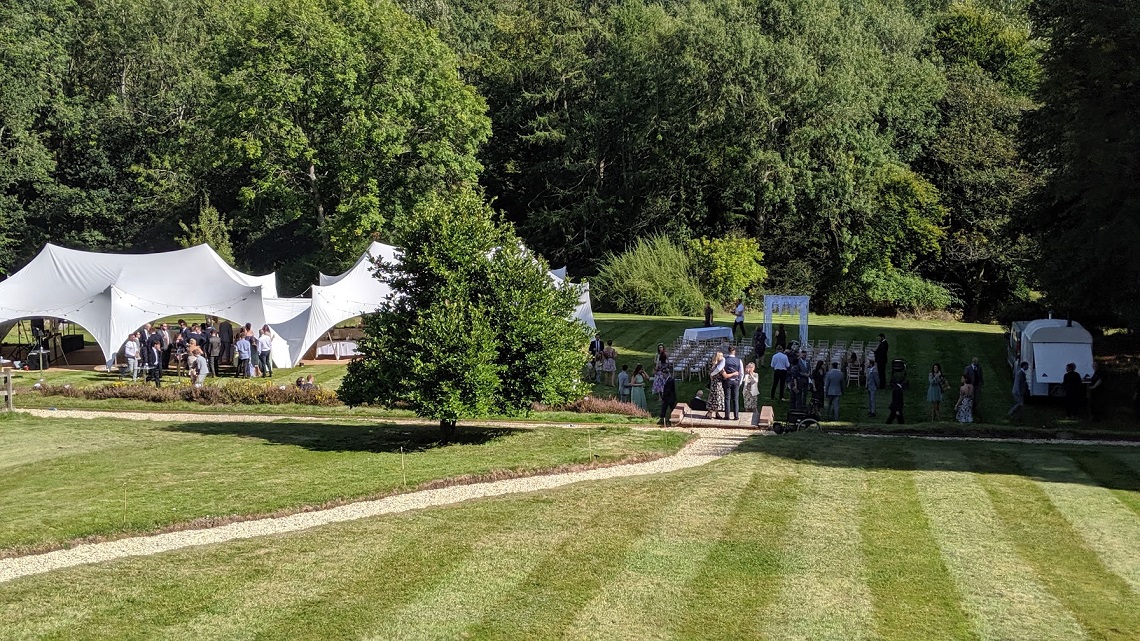 Once set up was complete, I had a run-through of positions, involvement from best men for the ring exchange, and a check-in with the reader too.  Things were all set, and so I headed up to see the bride.  She emerged from her room looking absolutely beautiful, and there were tears from mum and a very emotional and proud dad, and I felt honoured to witness this special moment. 
We then had a little run-through of the order for the procession and made sure dad knew which side he should walk on and what he needed to do once he reached the front (all details that I make sure we cover before the ceremony begins!). 
With everyone feeling excited I headed back to the ceremony area and with everyone seated, I delivered my initial messages (today was to be an unplugged ceremony) and all phones were switched to silent and put away so that everyone could be present and in the moment and enjoy the celebrations together.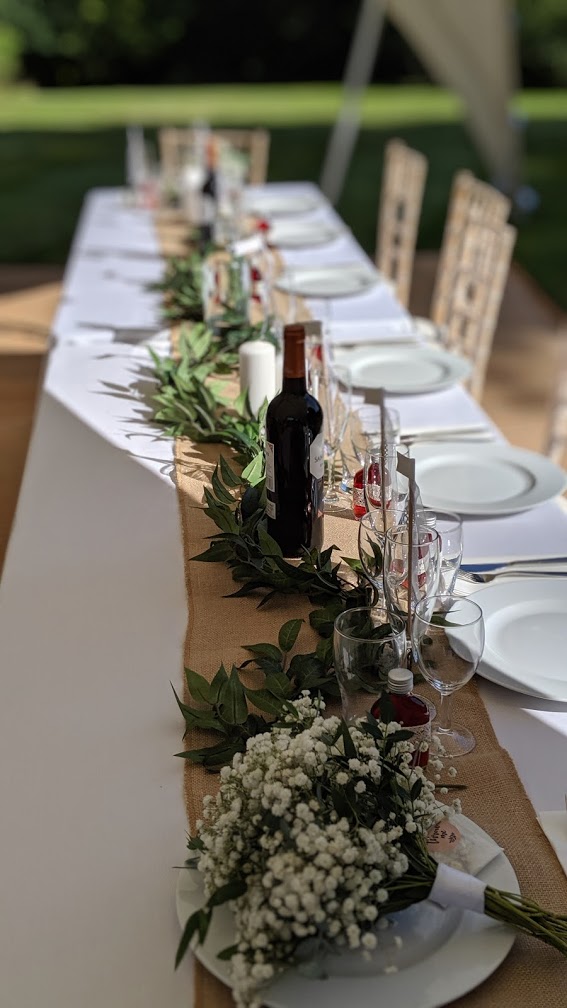 We then welcomed the bridal party with bridesmaids and groomsmen entering first, followed by the bride and her father.  With everyone settled and the couple in position facing their guests (I think this is so lovely to be able to have guests actually SEE the couple and not staring at their backs), we began their personal ceremony.
I thoroughly enjoyed working with these two lovely people, and as is the case with all of my couples, they are so madly in love!  We created a lovely personal ceremony together, with details about their journey so far, and had a lovely reading from one of their good friends which focussed on family, and friendships, and summed up beautifully the atmosphere of the whole wedding.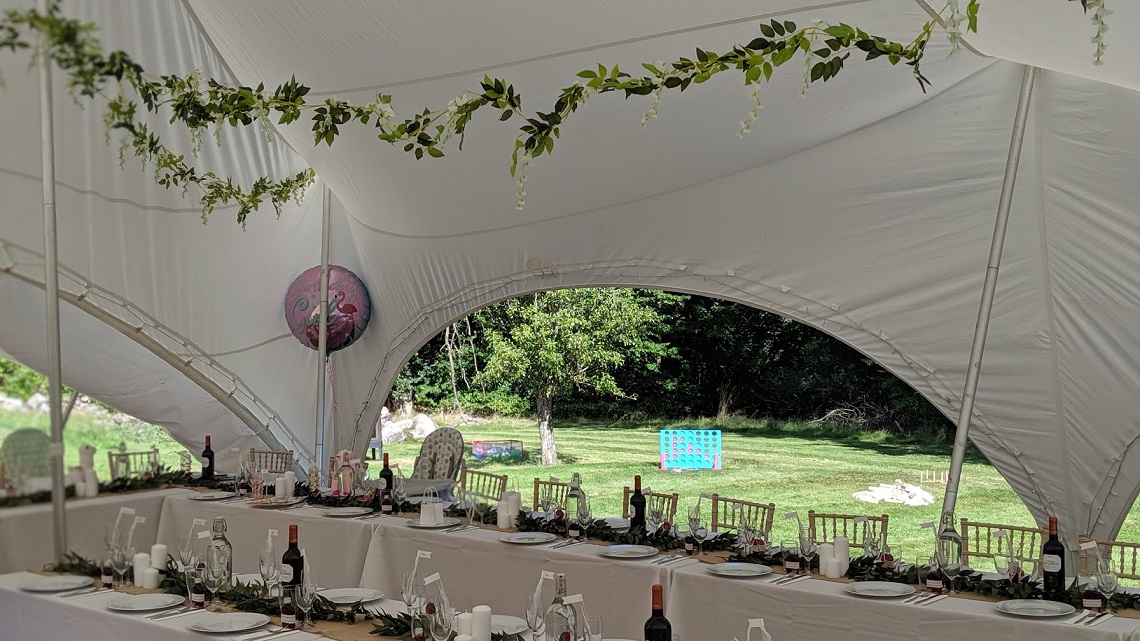 The bride and groom have a great relationship, one based on respect and complete support of one another.  Over the years they have relaxed in one another's company, knowing that they can do so free of judgement, and safe in the knowledge that the other will always be there for them.
"They have been on a journey and have finally reached a lovely stage in their lives with jobs that they love, a house that they now call home . . . a home that saw them becoming an engaged pair!"
My couple chose to write their own vows and kept these a secret from one another until the day itself, so it was lovely to hear these spoken and to see the reaction from their family and friends was quite emotional.  I always think that when a couple says how they really feel about one another, in front of those they care about, it instantly becomes a more personal ceremony. 
Sharing such deep-rooted feelings and thoughts is an intimate thing to do, and I see the most fabulous connection taking place between them and their guests as they speak to one another.  People feel a part of what is going on and are clearly humbled to be a witness to this part of the celebrations.
"It is about balance – Jonny suggested double barrelling their surname as he felt neither should lose anything in this process"
With vows shared and rings exchanged (with the help of two of the three best men), the couple signed their commemorative certificate and we then introduced them as the new Mr & Mrs Drake-Summers to much applause and cheering.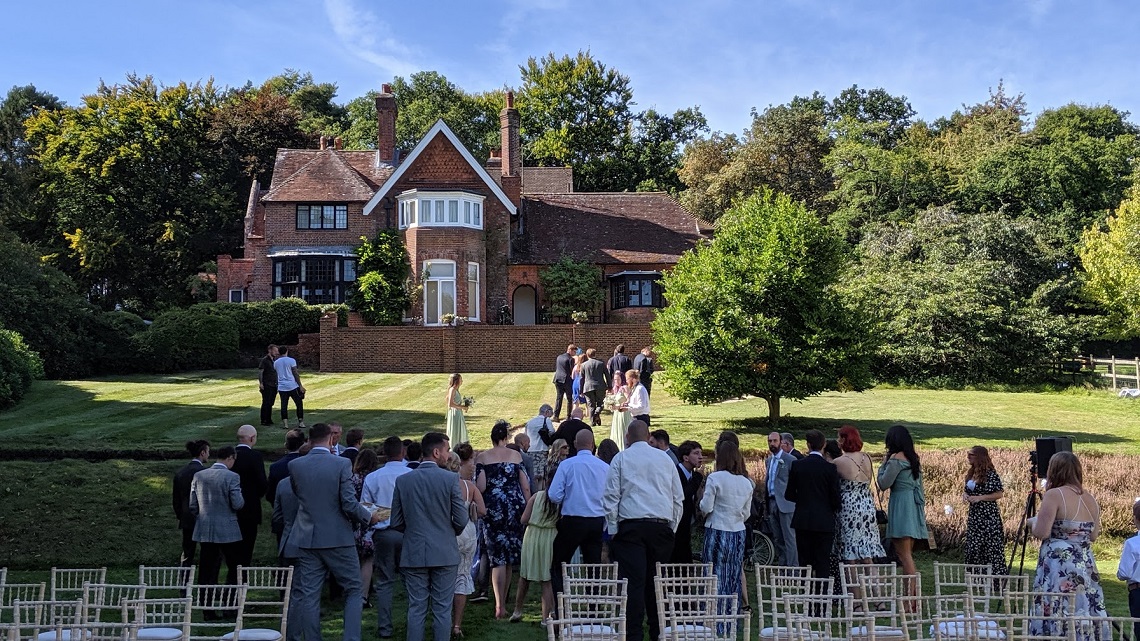 As everyone headed off for a confetti shot towards the main house, I had the privilege to chat to some of the couple's family, and they all thanked me and asked about how long I had known them as it felt like I was a family friend!  High praise indeed, and I must admit, they certainly all made me feel very welcome and like I was a part of the family.
During the drinks reception afterwards, many different groups of friends commented on how lovely it all was and all were clearly impressed with the bride's creative skills (she made the macrame ceremony backdrop!).
It was a wonderful sunny day, spent with amazing people and great suppliers too.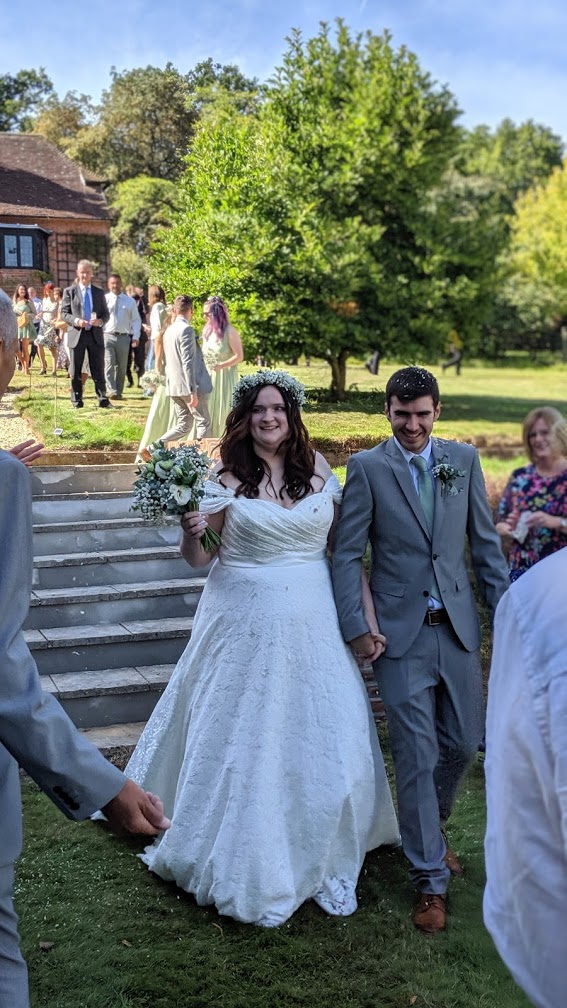 Congrats to the newlyweds and thanks to the Summers family for having us all in your lovely grounds yesterday!
(All images in this blog taken by Jenny Knight)
 
-----------------------------------------------------------------------------
Dream Team:
Celebrant: Jenny at Knight Ceremonies
Photographer: Charlie Bluck
Videographer: Sebastian Biddle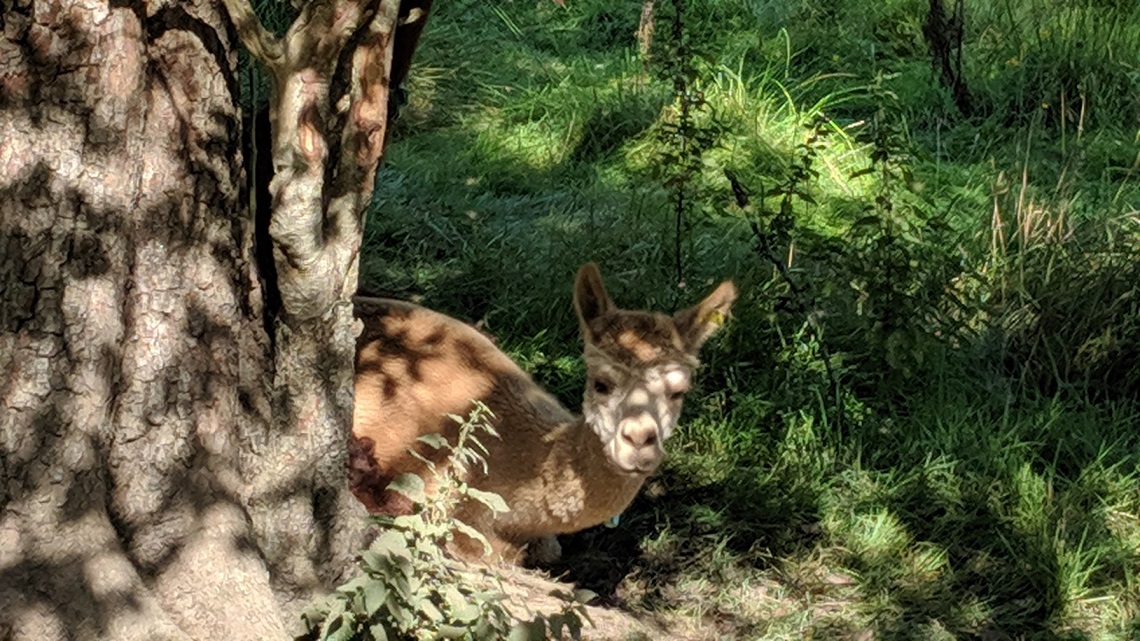 See more about
Berkshire
Ceremonies