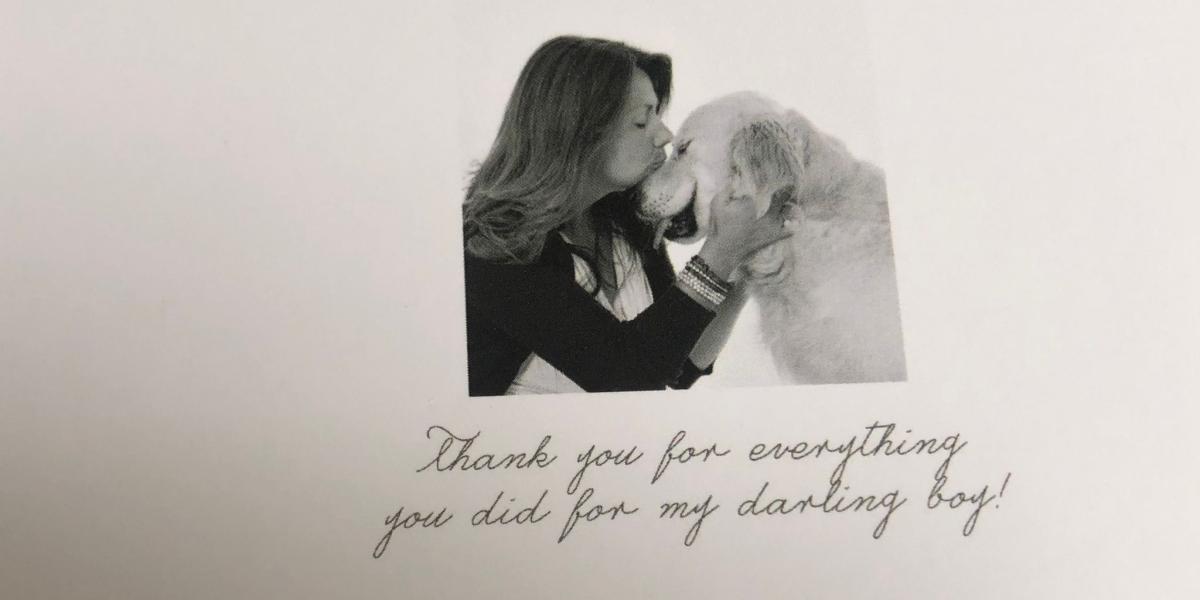 "The Life of Brinkley was celebrated in a special ceremony held at Brinkley's Cottage in Annie's beautiful cottage garden filled with fragrant flowers, where Brinkley had peacefully passed on July 22nd 2022 under the shade of the tree.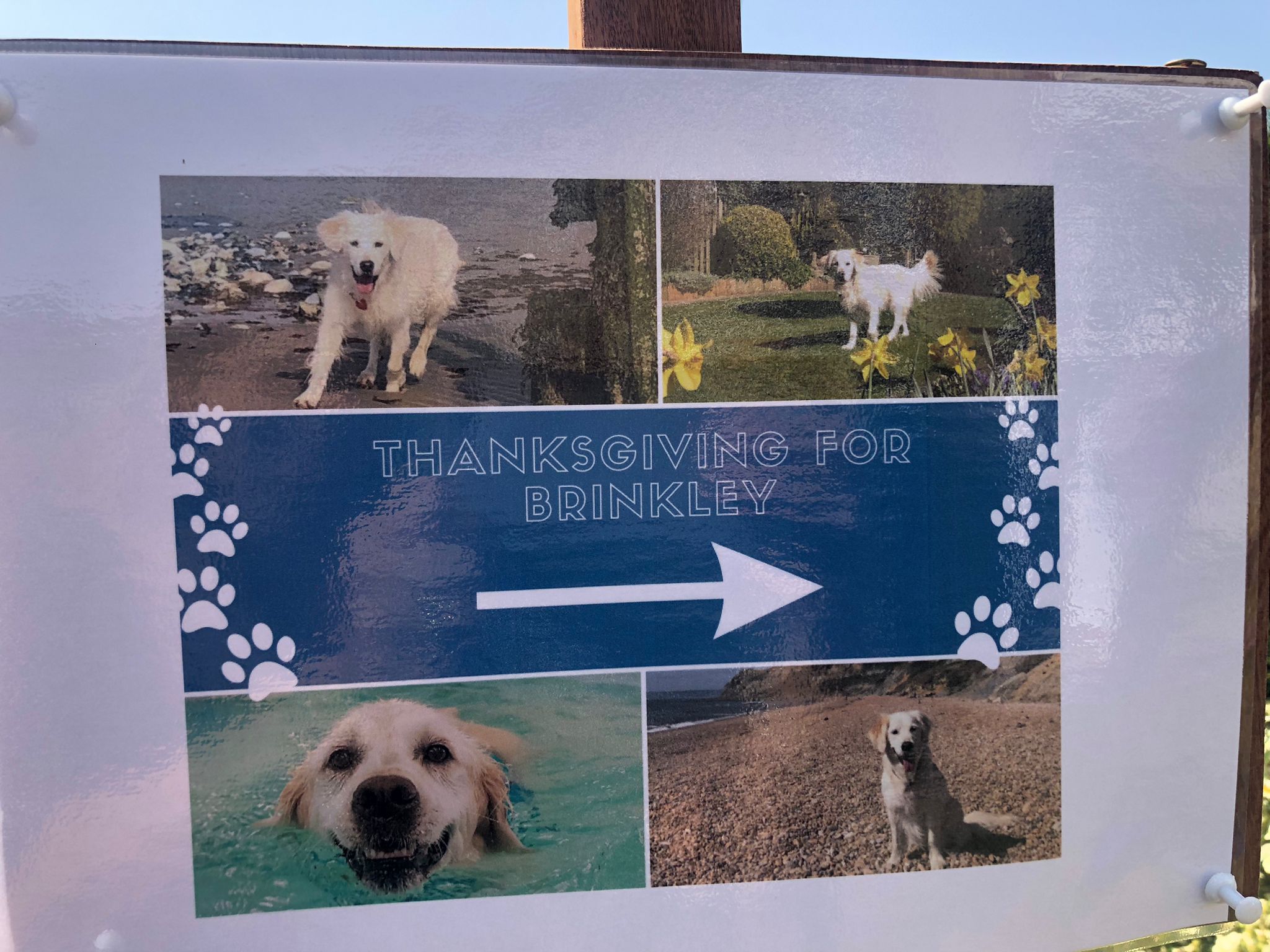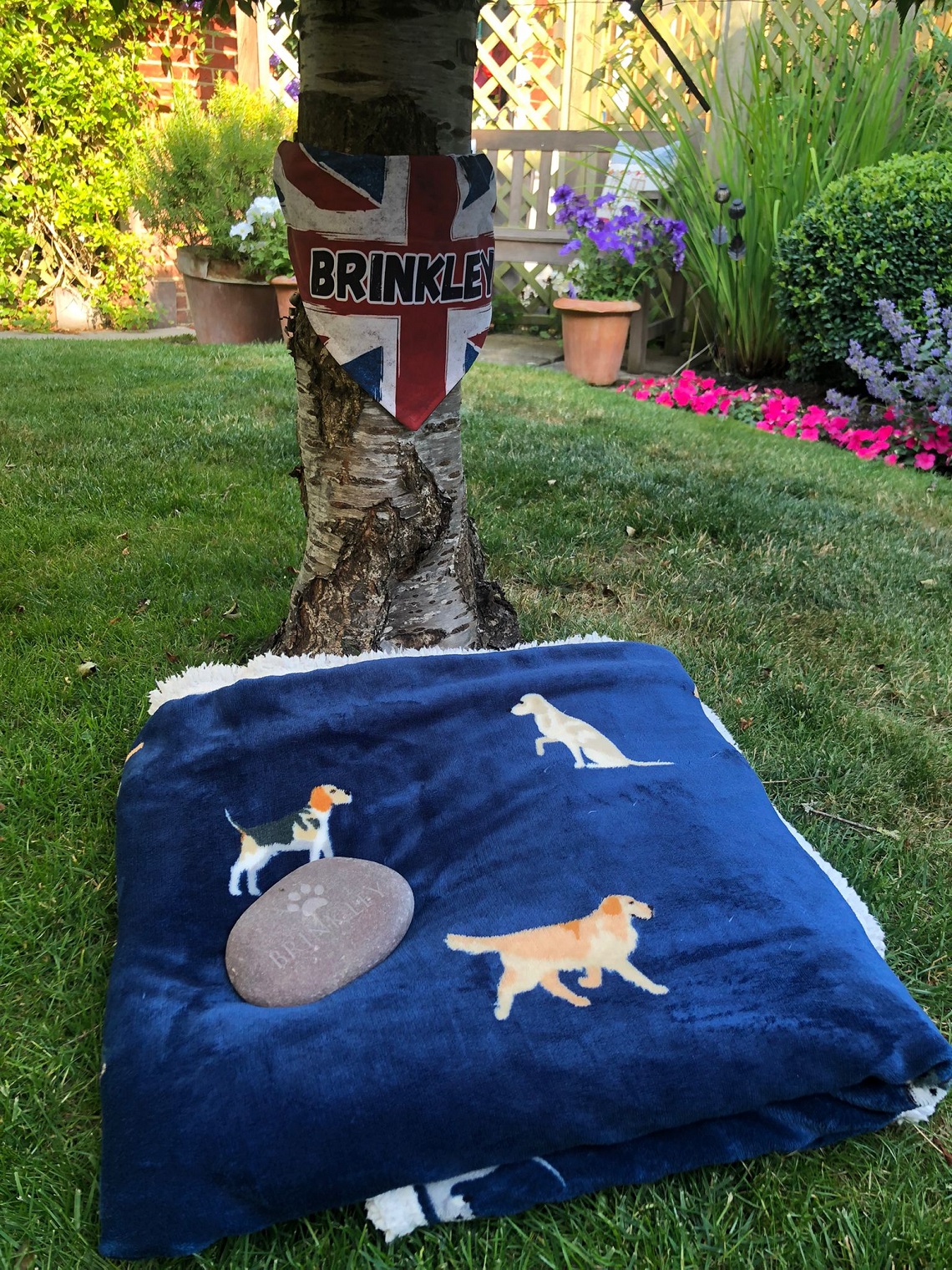 I arrived a little early for the Celebration of Life as the temperature had reached 36 degrees and there was mention of roads melting in the heat, so I left plenty of time. I followed the fabulous photographic signs to Brinkley's thanksgiving and arriving in the road at the back of the cottage  I caught Annie off guard as she was busily watering her garden with her hair in rollers! Annie's Mum and Dad were there to support her and say their goodbyes and they were busy trying to stay cool in the house surrounded by all the cards sent to Annie in honour of Brinkley.
Annie had erected two large gazeboes in the garden adorned with twinkling lights to keep people in the shade. Down one wall of the fence photos of Brinkley adorned the panels and showed Brinkley off in all his glorious beauty and mischievousness.  I set up my table alongside Brinkley's casket with the beautiful inscription 'Always in my heart. Beautiful, loving, kind and cheeky, my inspirational boy!  BRINKLEY 18.07.2008 -22.06.2022. Sleep tight my darling boy, sweet doggy dreams!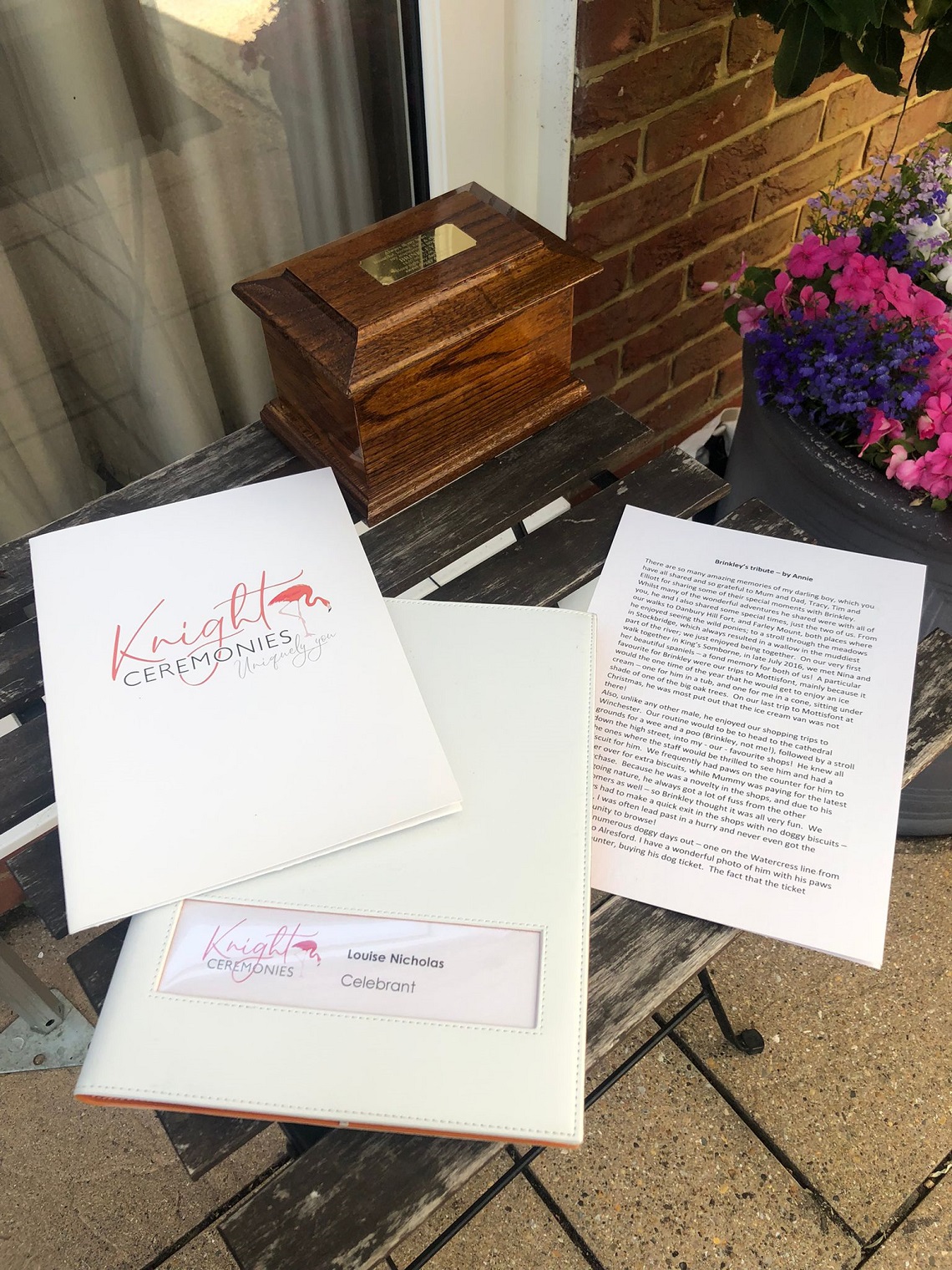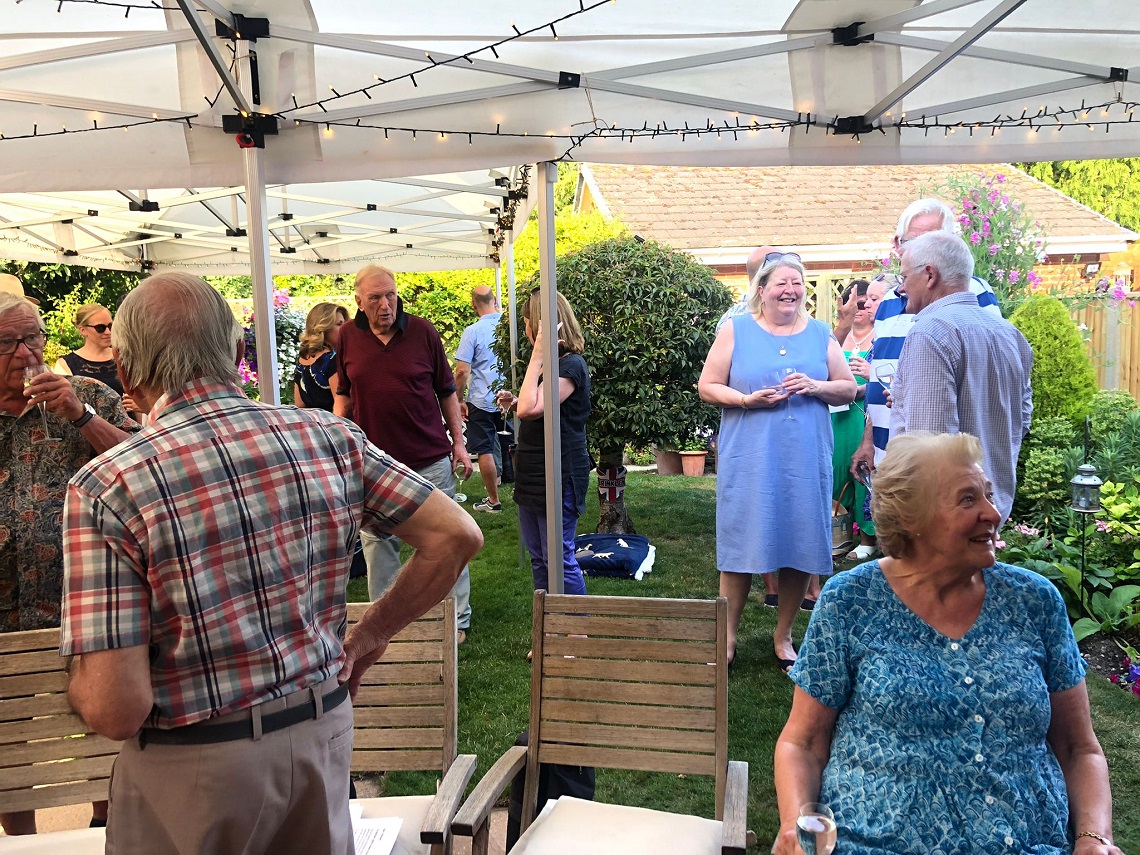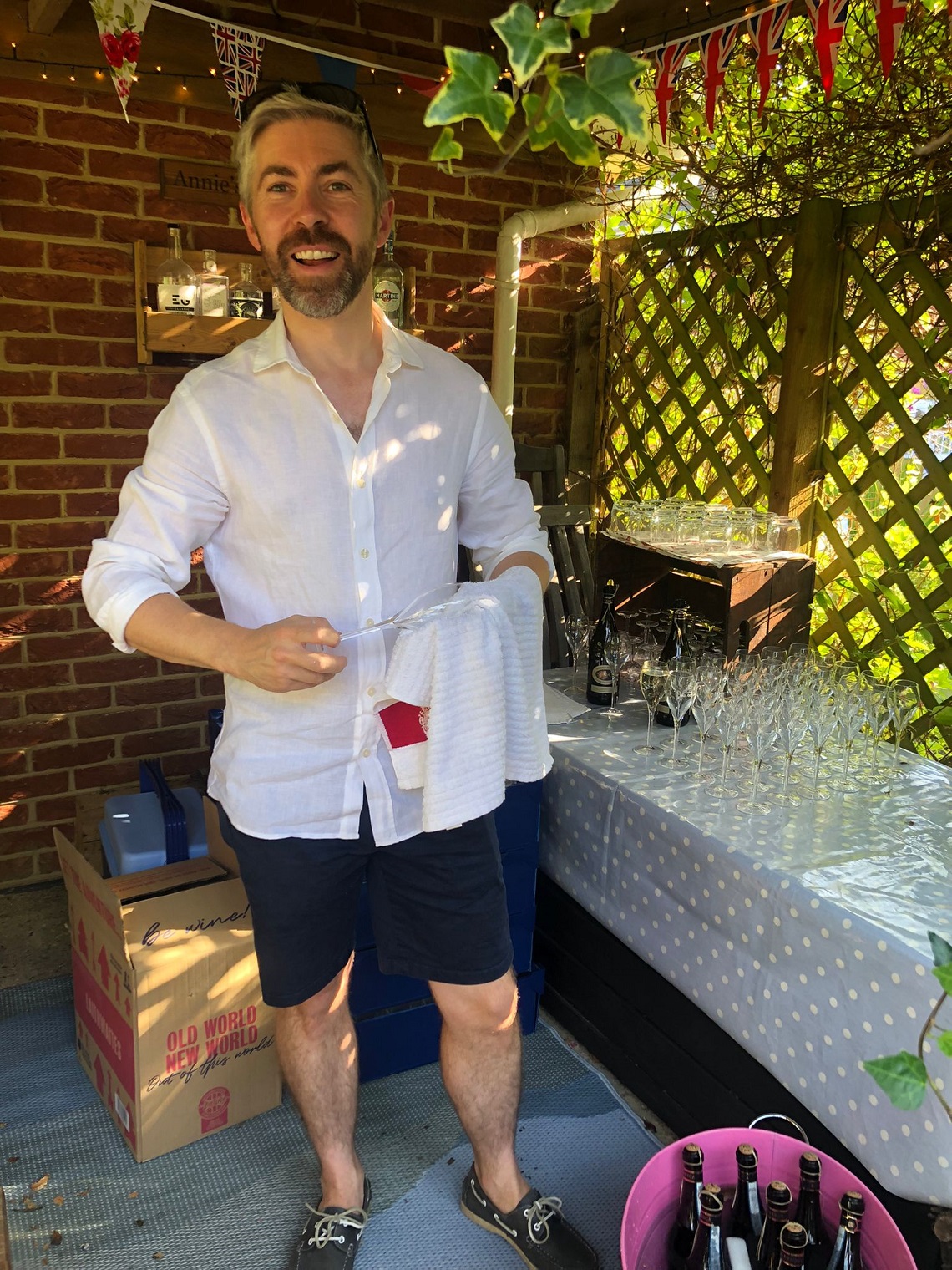 I helped Annie collect the wine from the fridges and put them all in cool boxes in Annie's Gin Garden ready for her friend Tim to distribute liberally in the heat. His job was to keep everybody topped up and hydrated until the ceremony was finished and everyone could then enjoy canapes and nibbles. As Annie changed I chatted with her Mum and Dad about Brinkley and the lovely times they had spent together. The loss was palpable for them all, Brinks had been such a great companion for so many years.
Guests and a few four-legged friends started to arrive through the gate and into the garden and soon the air was filled with chatter, laughter and Tim ran round performing his role as a sommelier to a very high standard. Once everyone was assembled and Annie's goddaughter had woken from her sleep, glasses in hand The Celebration began and what a celebration it was, Brinkley would have woofed with delight and wagged his tail.
 I welcomed everyone to Brinkley's Celebration and thanked everyone for the support Annie had received from them all, the flowers, the gifts, and the wonderful cards paying tribute to 'Brinkle McStinkle'. There were members of Brinkley's oncology team there from Fitzpatrick Referrals, Soft Tissue team members as well as his physio Poppy Morgan, the hydro therapist Pam Stokes from K9, Shelley Doxey from Holistic veterinary care and  Nikki Hoad Brinkley's primary care vet, who had met Brinkley as a tiny puppy of 10 weeks old and was with Annie, Brinkley, and Tracy at the very end. He was a special dog, a fighter with a dogged determination to make the best of his life no matter what was thrown at him health-wise, and Brinkley gained the loving respect of everyone who treated him.
Rainbow Bridge was read along with tributes from Brinkley's Granny Caroline and Grandpa Michael, Aunty Tracy, Tim, and a very heart-wrenching and poignant tribute from Annie. I read an Ode to Brinkley that I had created from all the wonderful stories and memories I had been told. Annie placed Brinkley's ashes in his beautiful casket on his bed under the tree he passed adorned with his jubilee bandana as the sun shone down for a very special dog. He was Annie's ray of sunshine, and the sun honoured his happy and loving nature as the sun started to set over the garden and the twinkling lights began to sparkle like the star in the sky where Brinkley now was over the bridge in Rainbow Heaven.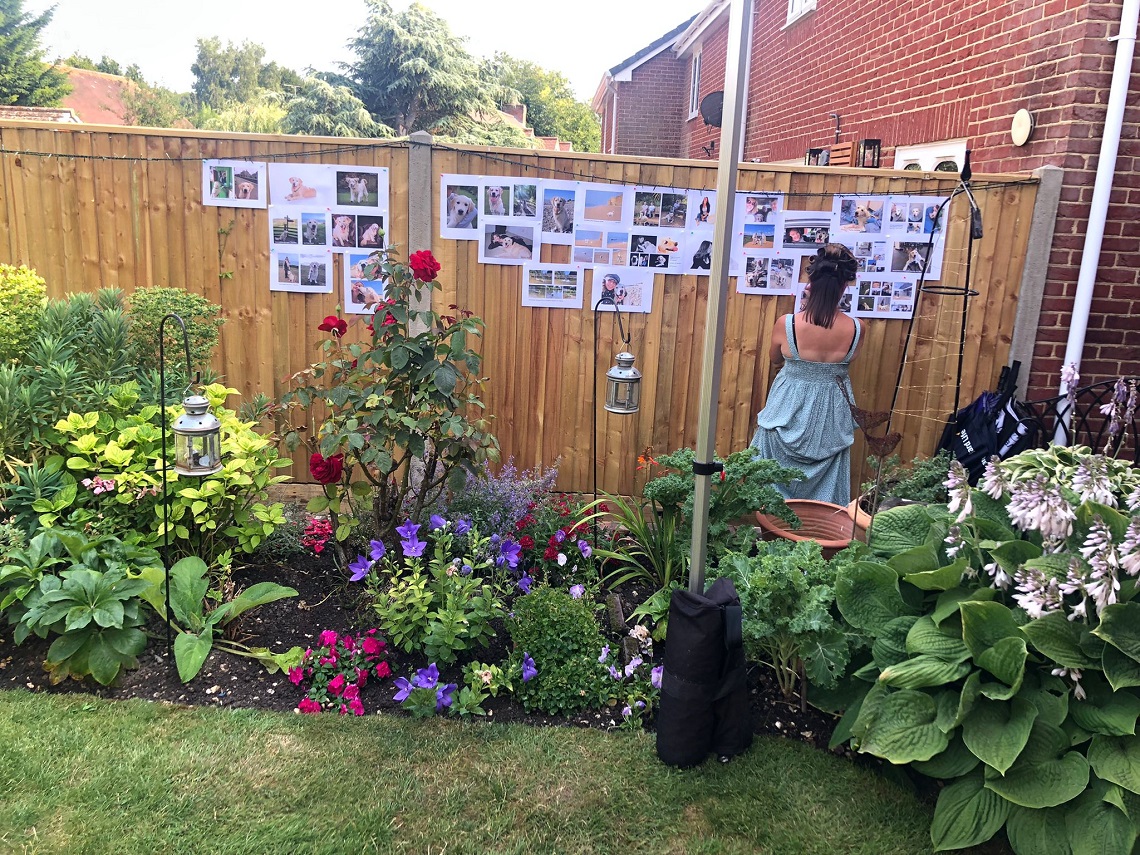 The ceremony finished with a toast to Brinkley and as glasses were raised in the air, Annie wished she had her companion to share a cheesy biscuit with, but she had a heart full of memories, a newly planted butterfly garden in his memory, and how the memories flowed as friends and family remembered Brinkley as they nibbled on wonderful canapes, drank wine, and celebrated into the night. I left them all enjoying the company of each other, surrounding Annie with love and support. Brinkley was definitely a dog in a million and was Annie's best friend, sadly gone but never forgotten.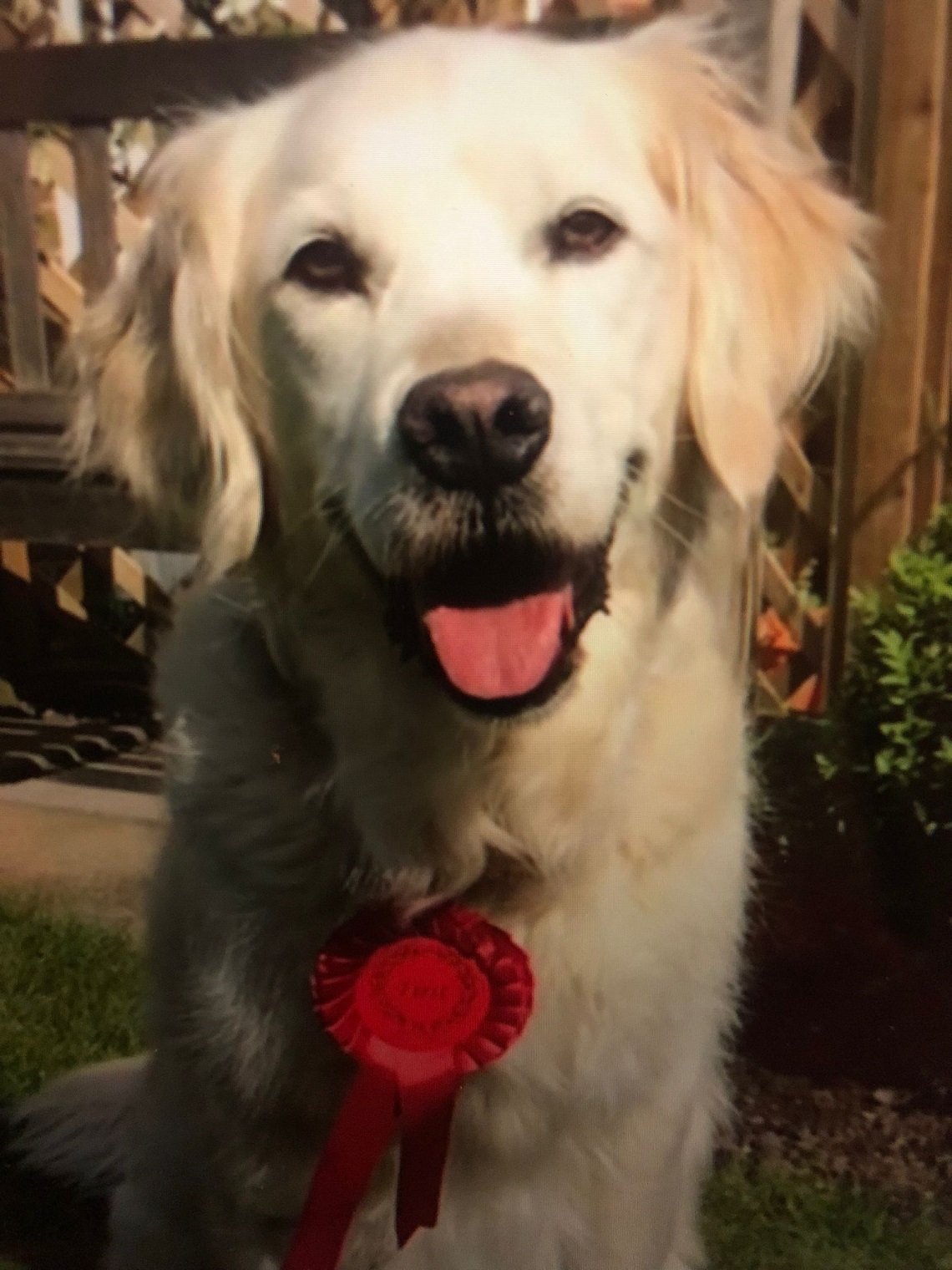 An Ode to Brinkley
Brinkley in 2008 Annie became your mum
Over the years the memories you made were such fun
He answered to many names
Brinkers and Brinks, a few of them he thought a bit tame
As a golden retriever Annie was blessed
Brinks was head and shoulders above the rest
Water was Brinkley's favourite place to wander
A little swim, a splash, and a muddy meander
He went to puppy classes when he was young
Where he stole people's hearts with his soulful eyes and licking tongue
Brinkley loved his food so much
Don't leave it out or Brinkley would wolf it into touch
Walking through Beggarswood
Circuits round the village and fields when they could
Alfie was Brinkley's furry best friend
A fellow Golide like Brinkley for Annie to tend
Sadly cancer Brinkley had
But he didn't let him be sad
He bravely went through all the treatments
Brinkley couldn't have made a braver statement
Brinkers took it all in his stride
Annie's heart was filled with pride
Polyneuropathy also came Brinks way
And a true trooper he was as Annie did pray
Brinkley McStinkle liked to go the pub
It's here he pilfered and was offered lots of yummy grub
Cheesy crackers he loved to munch
He was more than happy to have these for his lunch
Brinkers was known by all of Kings Somborne
And now the village is having to mourn
Brinkley was such a friendly and mischievous character
He made everyone smile with infectious laughter
He was such a special friend to Annie
Their strong bond was quite uncanny
They'll never be another Brinkley
But his memories will remain as we all get wrinkly
Brinkley was loving, beautiful, cheeky, inspirational and kind
And Annie's loss cannot be defined
Remembered in Brinkley's Butterfly Garden
The Angels looking after Brinkley as his guardian
He truly was a dog in a million
Annie's side kick her real life pillion
She loved him beyond words that can be expressed
And for his life Annie was incredibly blessed
Brinkley was Annie's best friend
Someone on whom she could always depend
He's now across the rainbow bridge in doggie heaven
And Annie's heart is feeling leaden
But they had such great fun
Annie was amazing as Brinkley's mum.
Brinkley you were a special Goldie
With a rosette for being the most gorgeous, golden oldie.
Here's to Brinkley who we will never forget
The memories made we'll forever be in his debt.
As a golden retriever Annie was blessed
Brinks was head and shoulders above the rest
So Brinkley you will be sorely missed
But every night Annie will blow you a kiss
You will always be in her heart
The one you melted from the very start."
BRINKLEY 18.07.2008 – 22.06.2022
Louise x"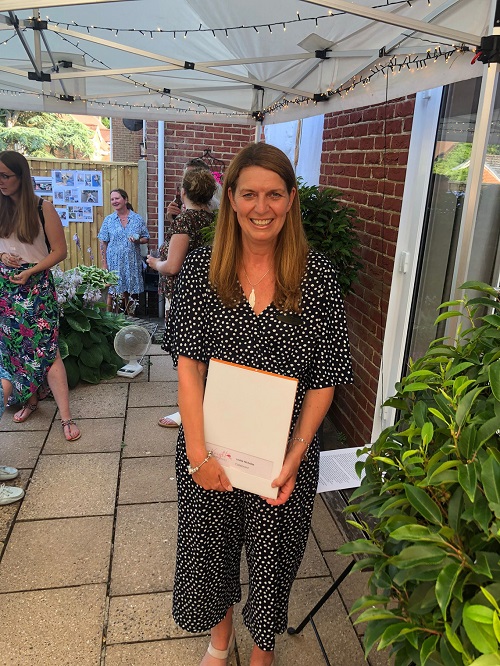 See more about
Surrey
Ceremonies