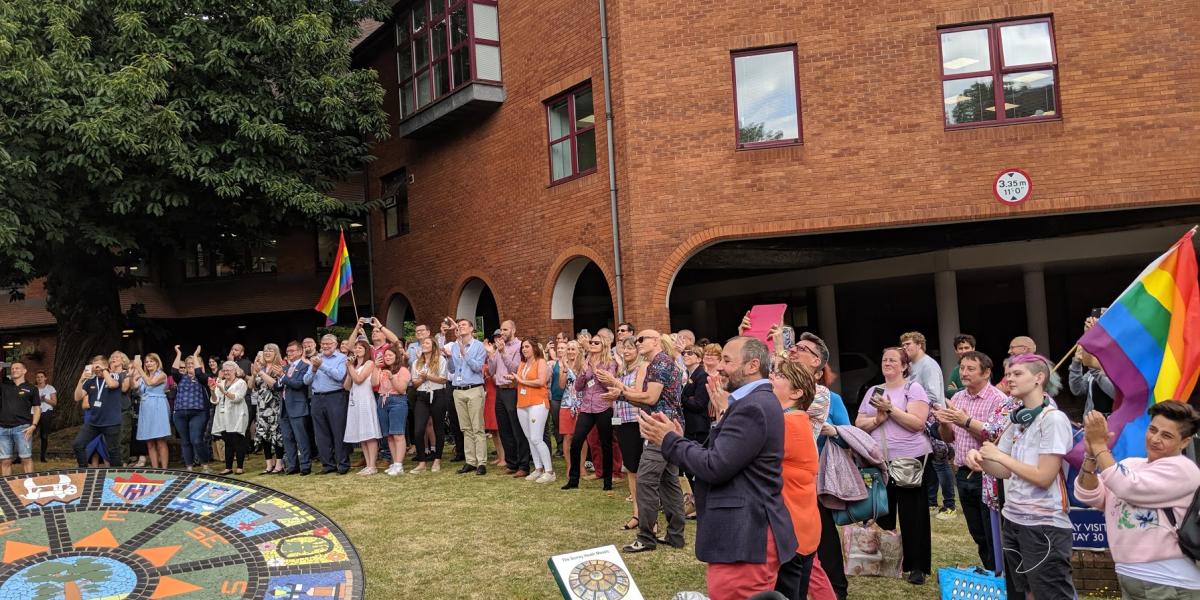 So around a fortnight ago, I was asked to join a small but powerful group of amazing local people to discuss a potential local pride flag-raising ceremony, and I accepted with real excitement!
This group, made up of Sarah Jane Croke and Morgan Rise (both local councillors), and the amazing Finan-Cooke family, set some wheels in motion and proposed this local event to the borough council and the Chief Executive (the lovely Karen Whelan) agreed and then everything began to happen, and happen very quickly!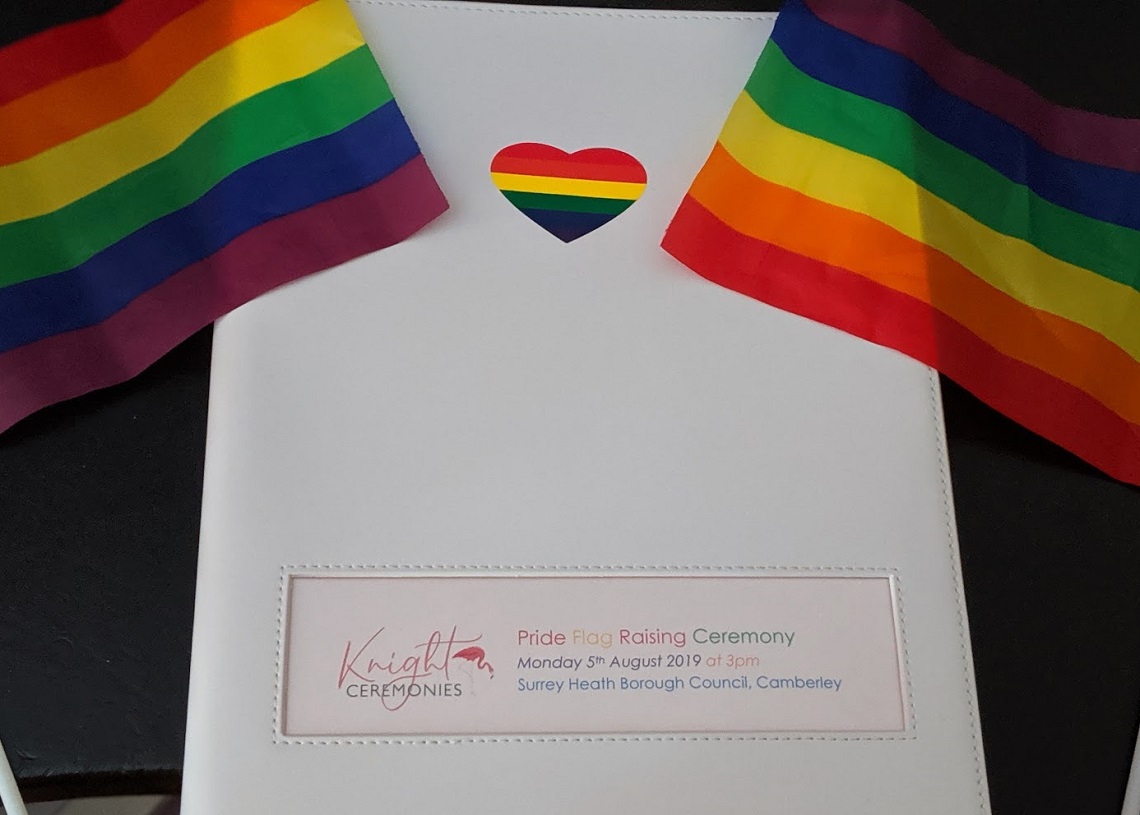 I agreed to lead the ceremony and to create something that acknowledged what an achievement it was to have this local event added to the calendar, to show support and acceptance to our friends in the community, and to engage everyone in this historic event - the first EVER pride flag raising in Surrey Heath!
We had some lovely words from Karen Whelan (Chief Executive of Surrey Heath Borough Council), from Morgan Rise (local councillor), and from Charlie Watts the organiser of the Pride Surrey Event in Woking this weekend.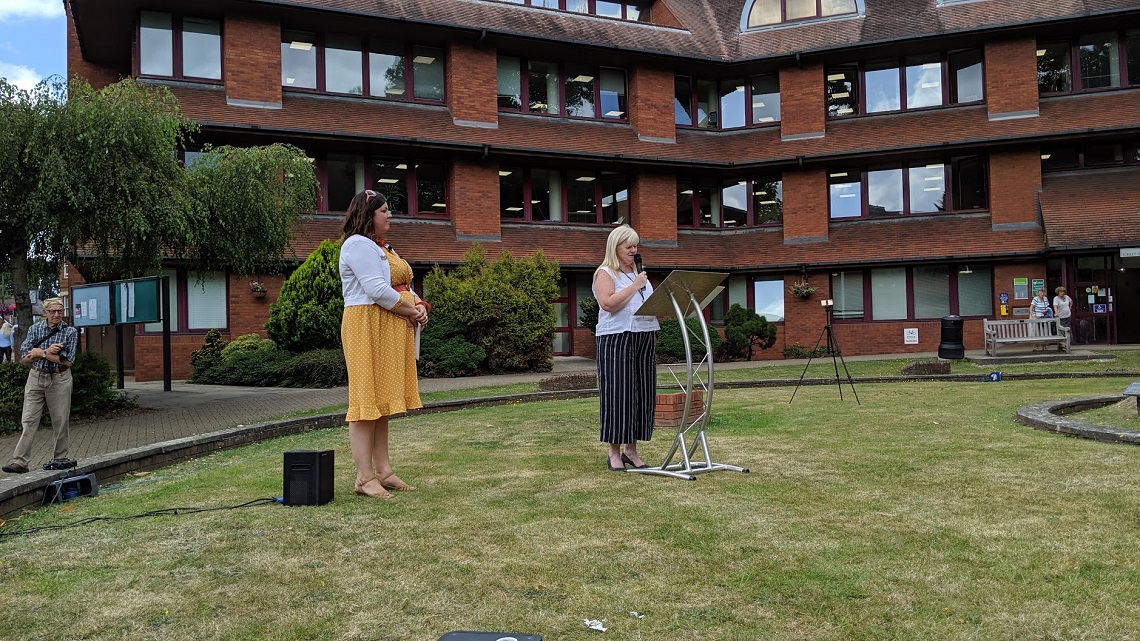 As a result of the many discussions about the ceremony, lots of other amazing activities have been organised too, including a social media campaign that quite frankly has been incredible, and has been put into action in such a short space of time.
This team of amazing local people really have achieved something very special indeed and I am proud of them, and proud to have been a small part of this legacy event.
"Today we are saying WELCOME, whoever you are and however you identify. Today is a historic moment, as we hold our first-ever Pride flag-raising ceremony here in Surrey Heath."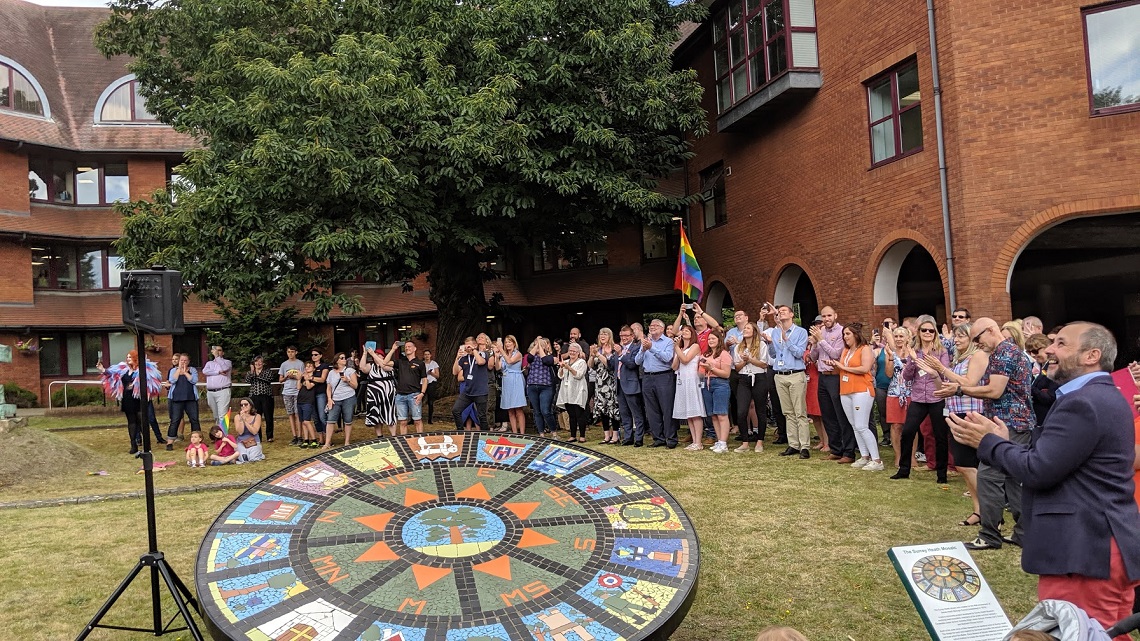 Today was not only about raising a flag, but about promoting local community groups, a new social media forum, about letting members know that there are a range of safe spaces being organised in the local area where they can be themselves, and be relaxed with the ones they love without concern.
We had members of the community from the council, the police force, local action groups, support groups, families, friends, and a local drag Queen (the lovely Heather - thank you for coming!), all out in force to show their support  Over 150 people came and it was brilliant!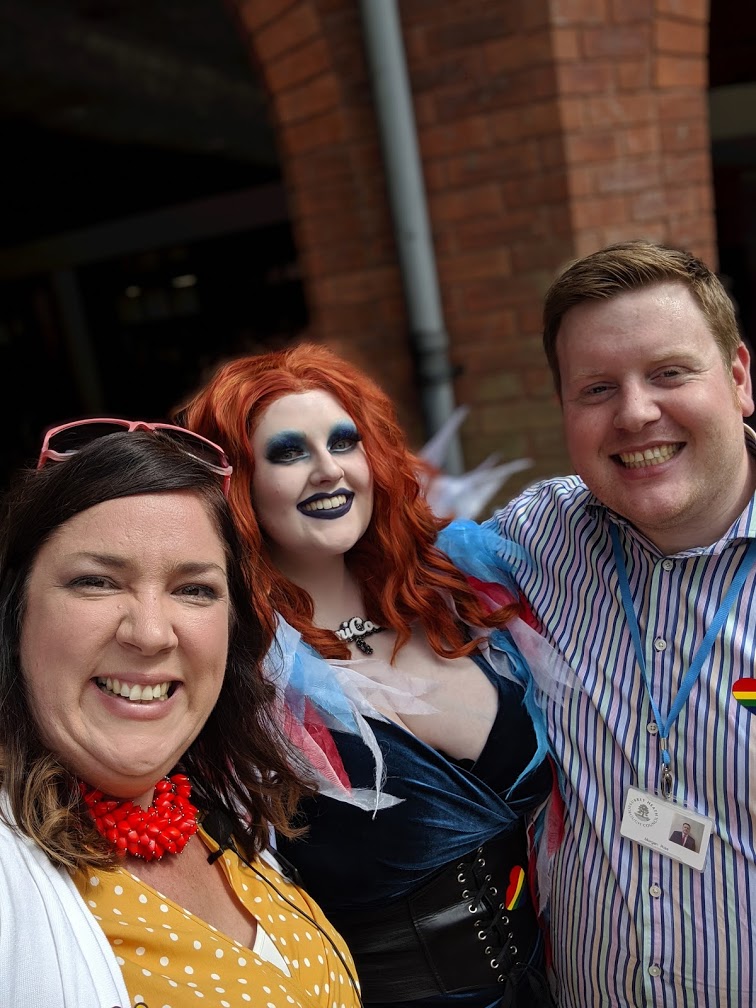 Today we talked about how this was a real stake in the ground, a way of saying this is just the beginning. What we all did today became more than just about raising a flag, it became a way of bringing people together, taking positive action, making progress and a real step towards a more accepting future.
"We are all here today, not to make a stand but to make a start. A start to a journey that will affect change, create opportunities, and increase awareness. Today is about visibility and representation for our local LGBTQI community. 
Future generations within the community will look back and recognise that it all started right here. . . ."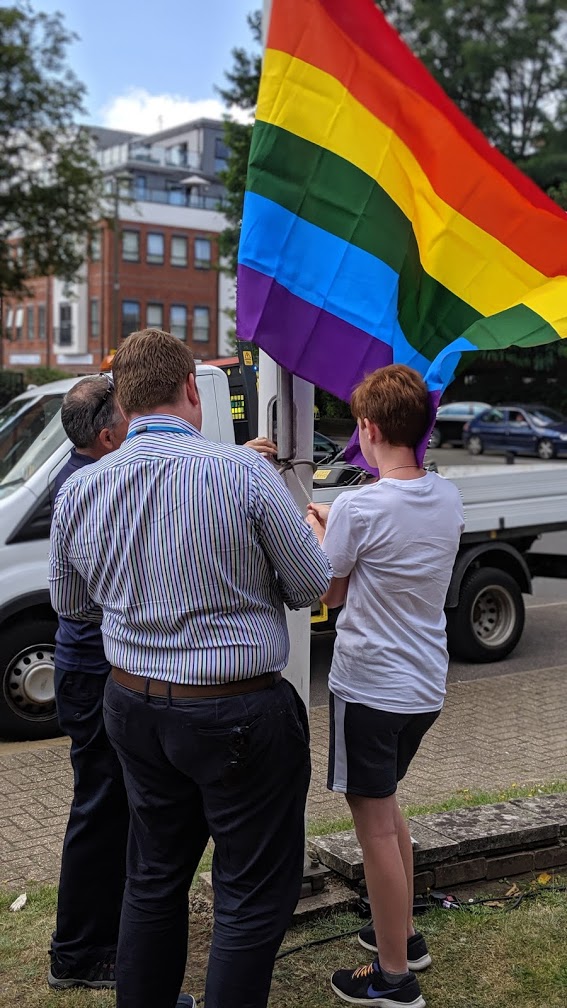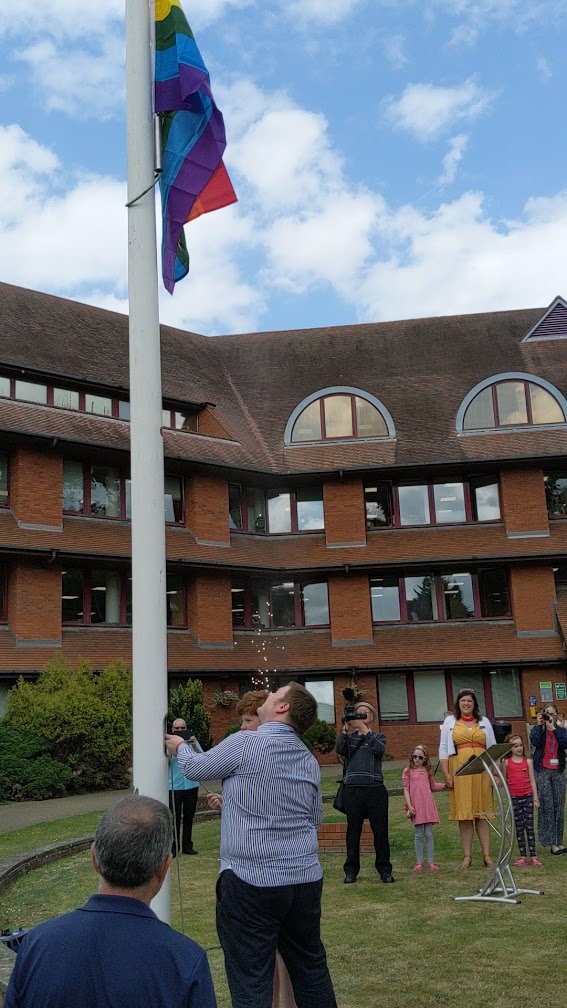 I would like to thank and congratulate Sarah Jane Croke, Morgan Rise, Kel, Lisa and Dara (and their family) for being so instrumental in affecting change and kick-starting what we hope will become an annual event, and for instigating so many more amazing activities as a result of this collaboration.
Well done Morgan and Dara for raising that flag with pride today.  When incredible people come together, truly amazing things happen.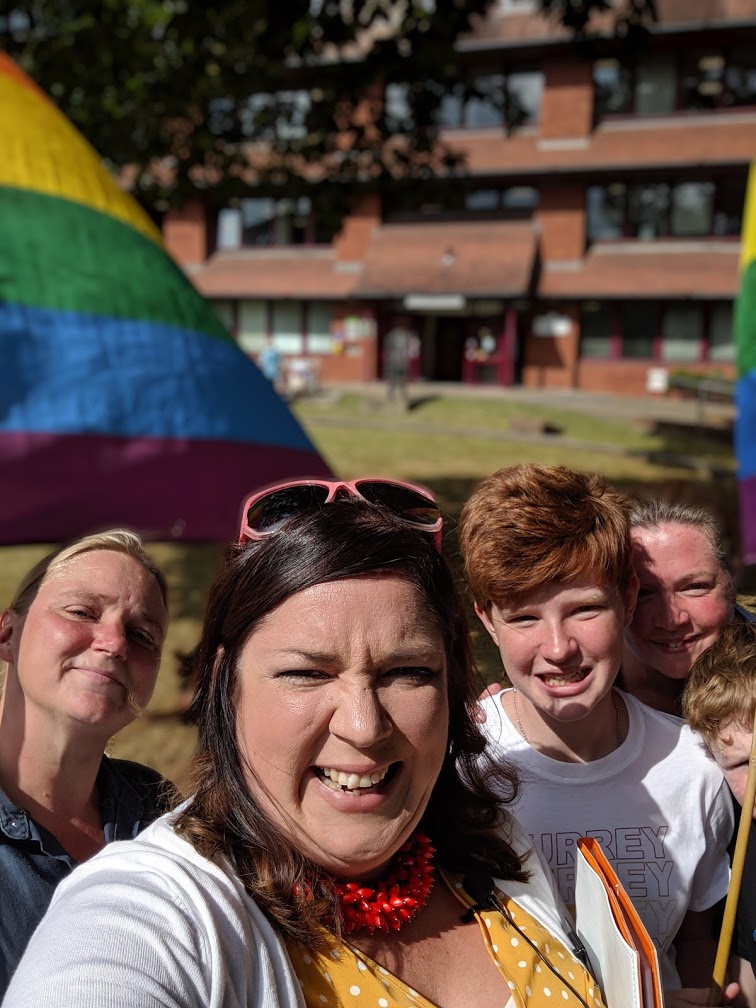 I'll remember today as being a great way to give something back to the community, an afternoon where my family came out to support it too, about lots of lovely local people showing their support and of course seeing that rainbow flag flying high and representing diversity, respect and support.
What an incredible afternoon!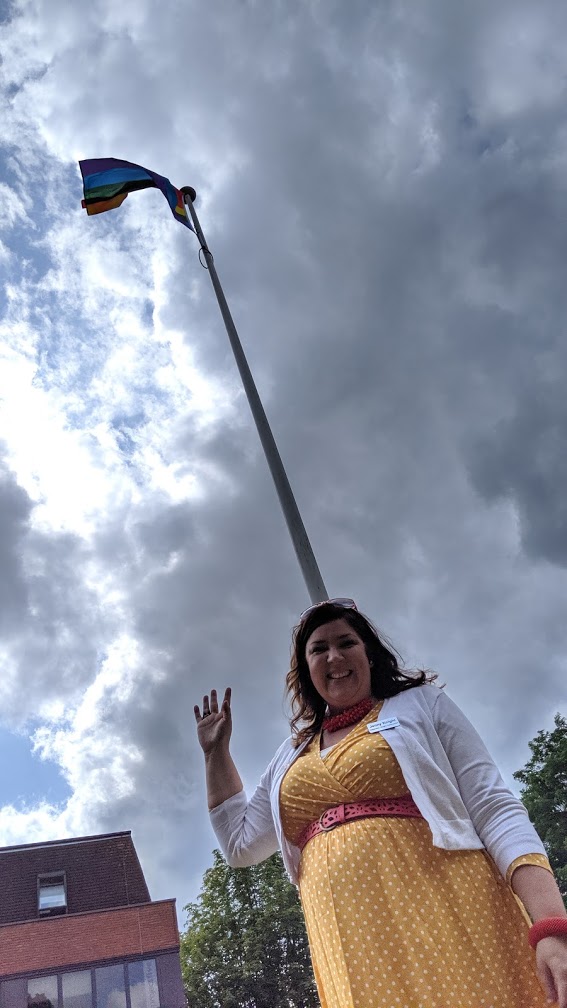 --------------------------------------
See more about
Surrey
Ceremonies