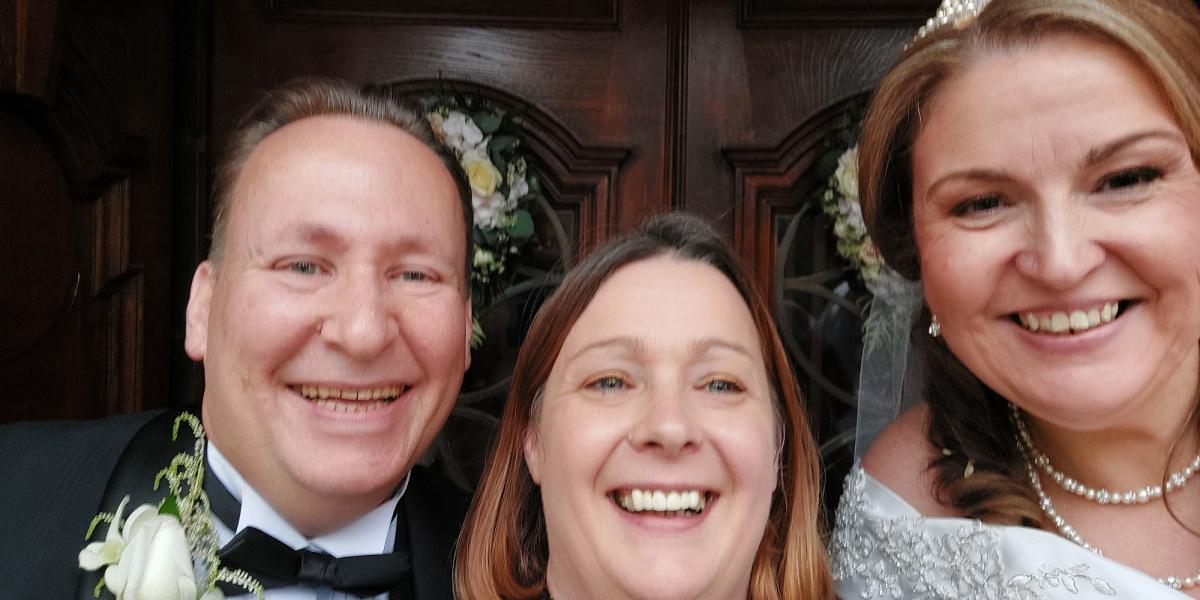 Here is a lovely account of my colleague Lorna's recent couple's wedding day. . . . 
"It has been a long journey for my lovely couple Dawn and Michael, who eventually got to share their happiness with their dearest and closest friends and family on Saturday 23rd October 2021.  I have had the pleasure of getting to know them over nearly the last two years and it was a privilege to be able to finally bring their ceremony together for them.  
Through my calls and meetings with Dawn and Michael, it was clear that they wanted to make their ceremony something really special, and we brought together some really beautiful elements to complement this. 
The scene was set at the stunning Roseate Hotel in Reading, a flurry of different suppliers were setting up when I arrived at a little before 11am, getting ready for Michael and Dawn's afternoon.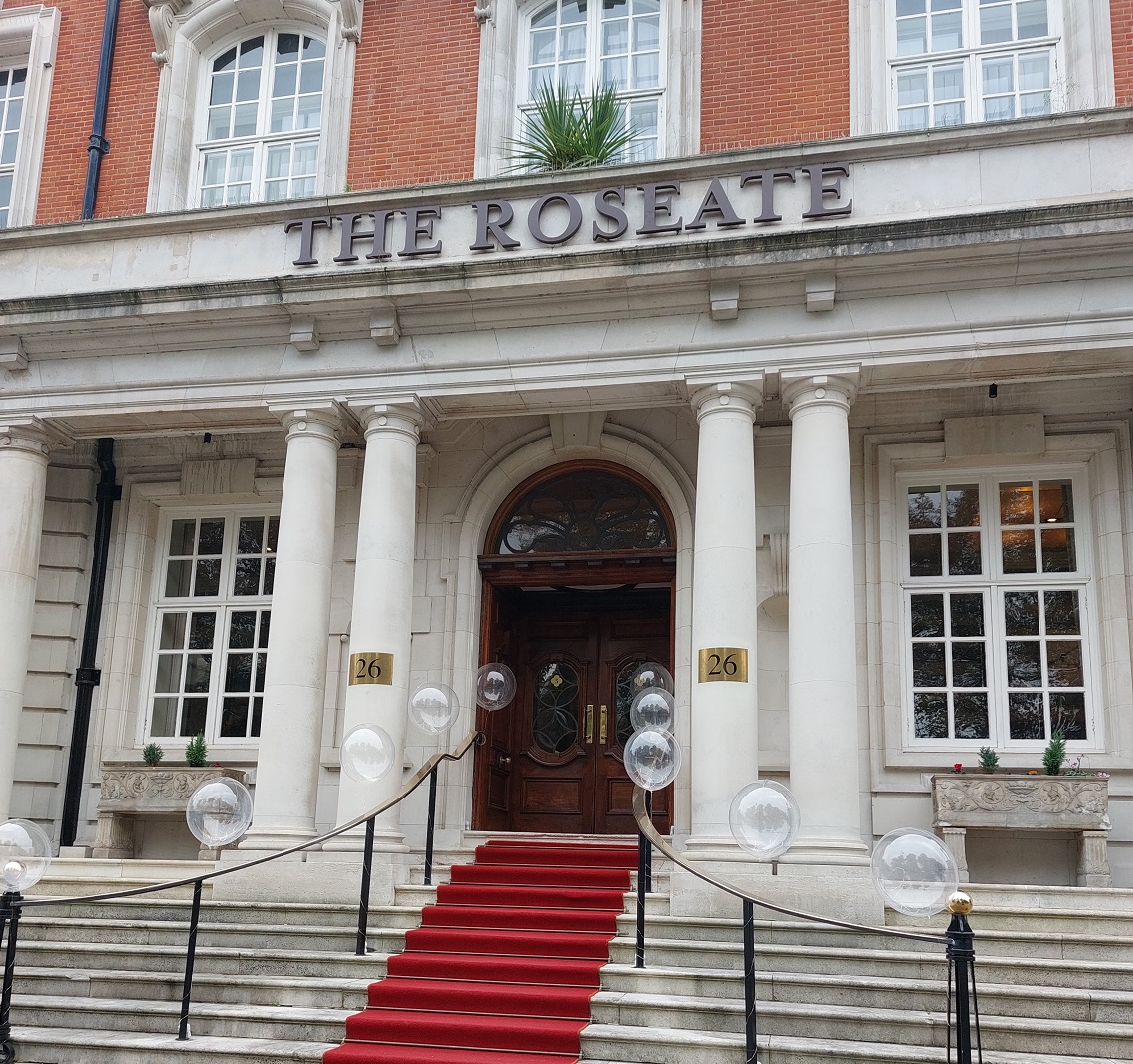 Beth the wedding co-ordinator was in the midst of all of the balloons when I introduced myself, we went through to the ceremony room to run through the day.  An air of romance and love was the theme, beautiful flowers in soft colours were laden on the mantle piece and candles covered the hearth.  The chairs were softened by the covers that adorned them and on each chair an order of service with tissues (which were very much required for later in the service). 
We also made sure that we had all the ceremony extras, the specially engraved candle and holder, the breaking of the glass, readings and also the music.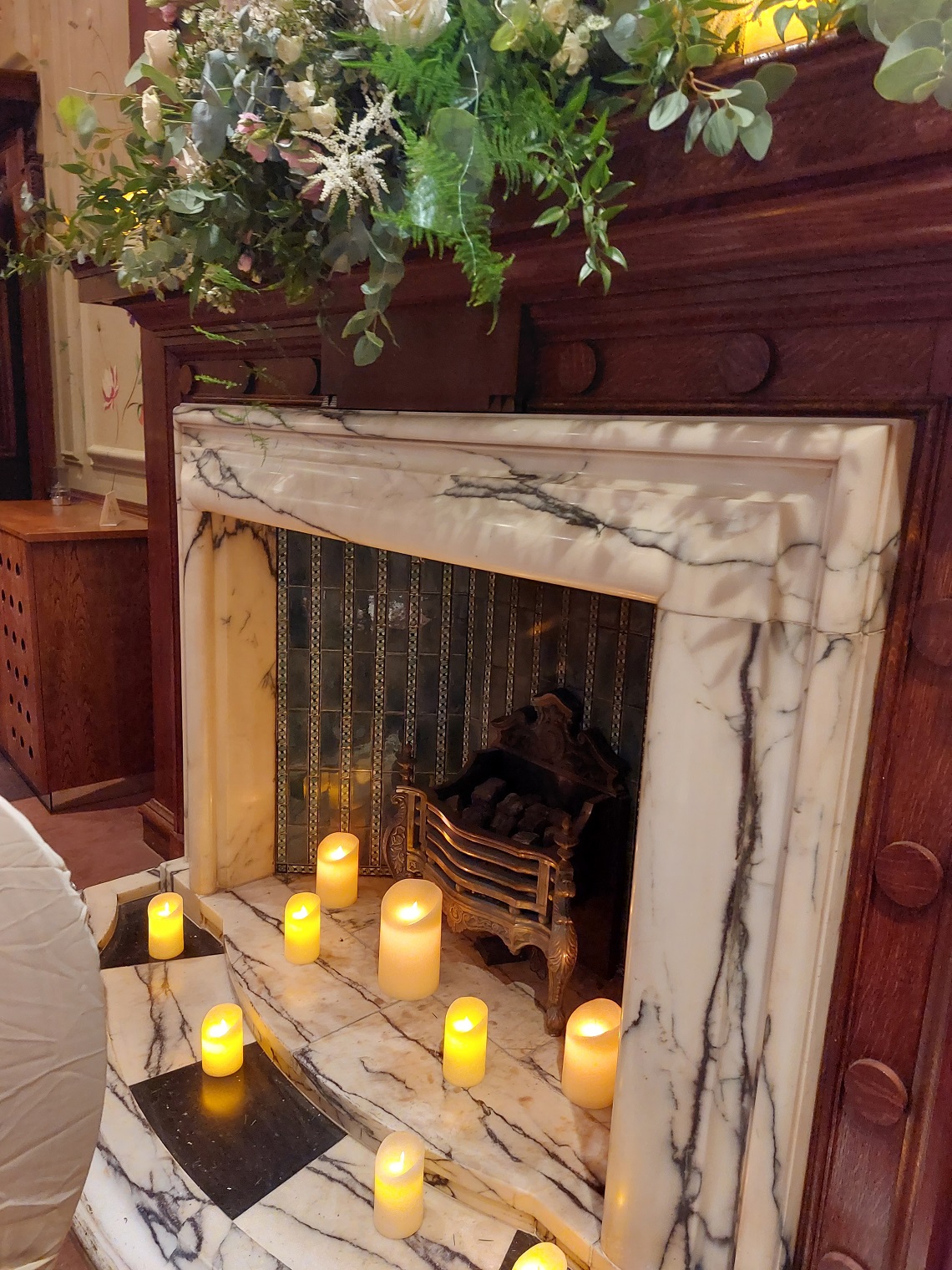 I messaged Dawn to say that I had arrived and for her to let me know when she was ready for me, as I know every bridal room is a busy with hairdressers, make up, photographers and delivery of flowers, I did not want to intrude at a vital moment.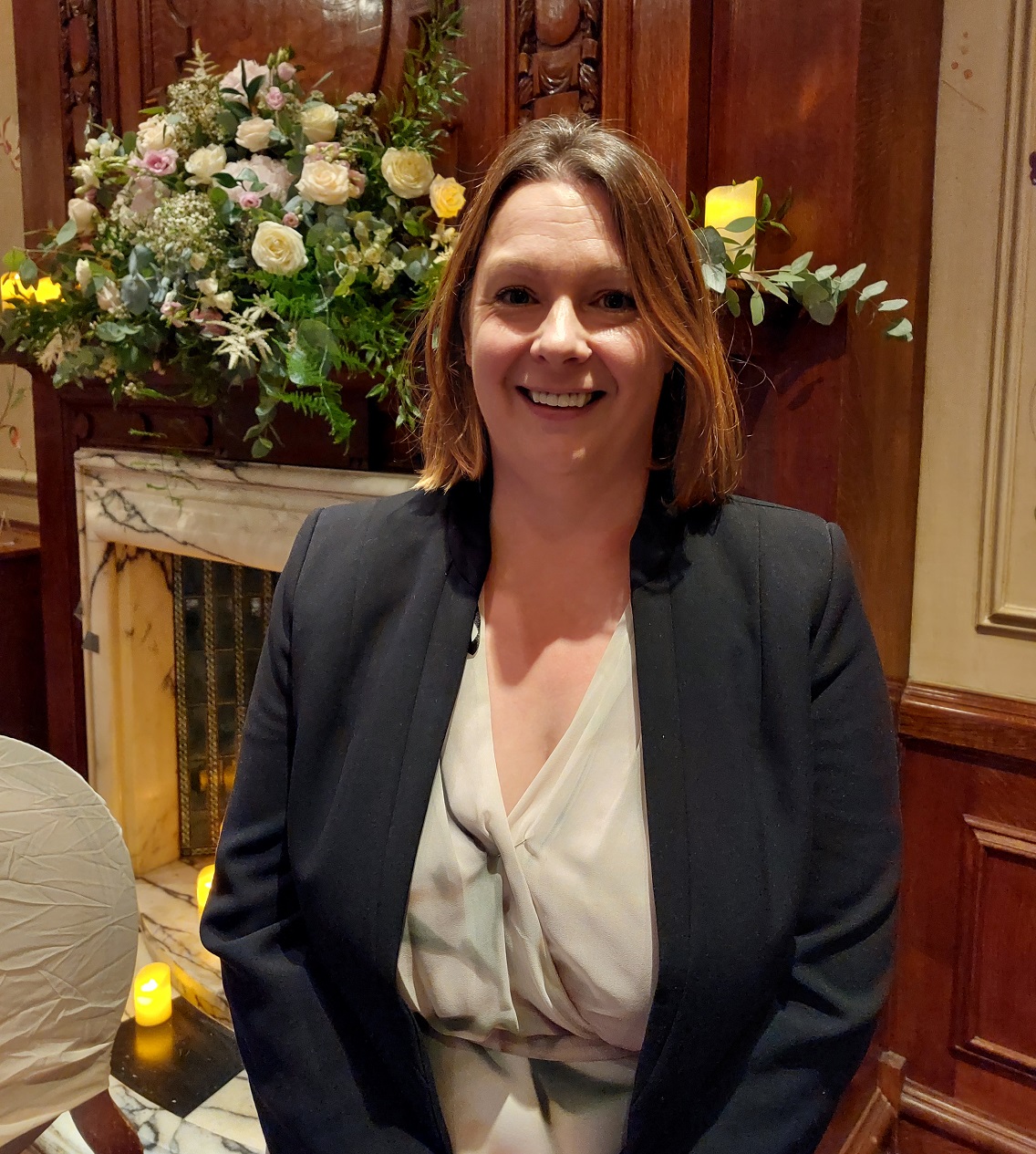 The Bridal suite was amazing, and Dawn with her bridesmaids Amy-Jane and Andrea were getting ready.  The room was a hive of activity and the photographers Sam and Debbie were there to capture these precious memories.   I ran through the ceremony with Dawn, as there was a lot of detail and she had a special moment for Michael before she walked down the aisle that I just wanted to ensure that all was in place.  Then her bridal bouquet arrived and my it stopped the room for a moment, the floor length floral masterpiece took all of our breaths away. Luckily I was able to catch the florist to see the best way to take the flowers from Dawn as she reached the top of the aisle as I felt a little daunted. 
Michael and his grooms men and pageboy were in a different room, all looking very dapper and ready to go, although Josh believed that a couple of them were taking too long to do their hair! I ran through the ceremony apart from the surprise parts of course! Josh was very attentively looking after the rings and you could just see the excitement as he prepared for this all important job.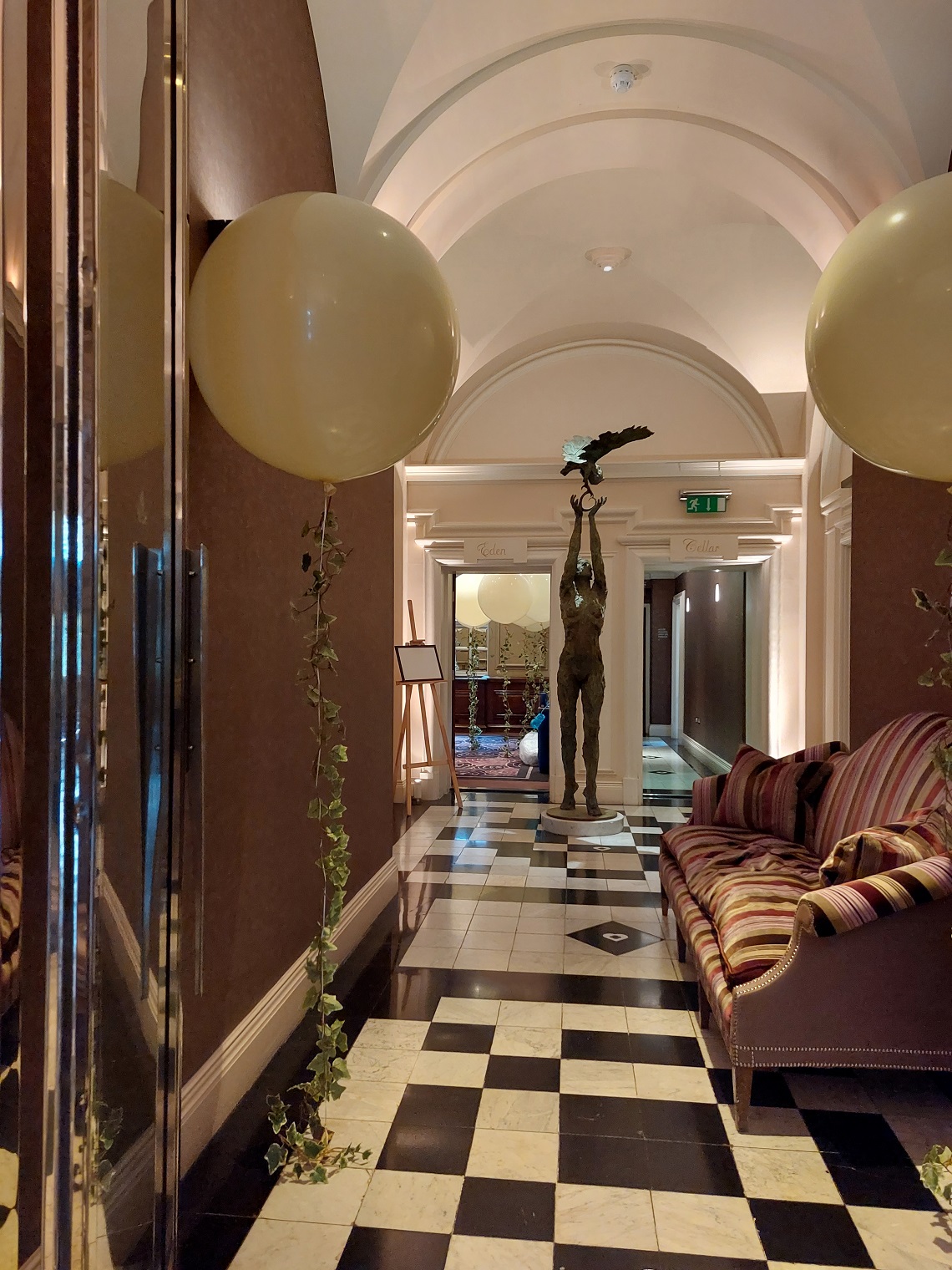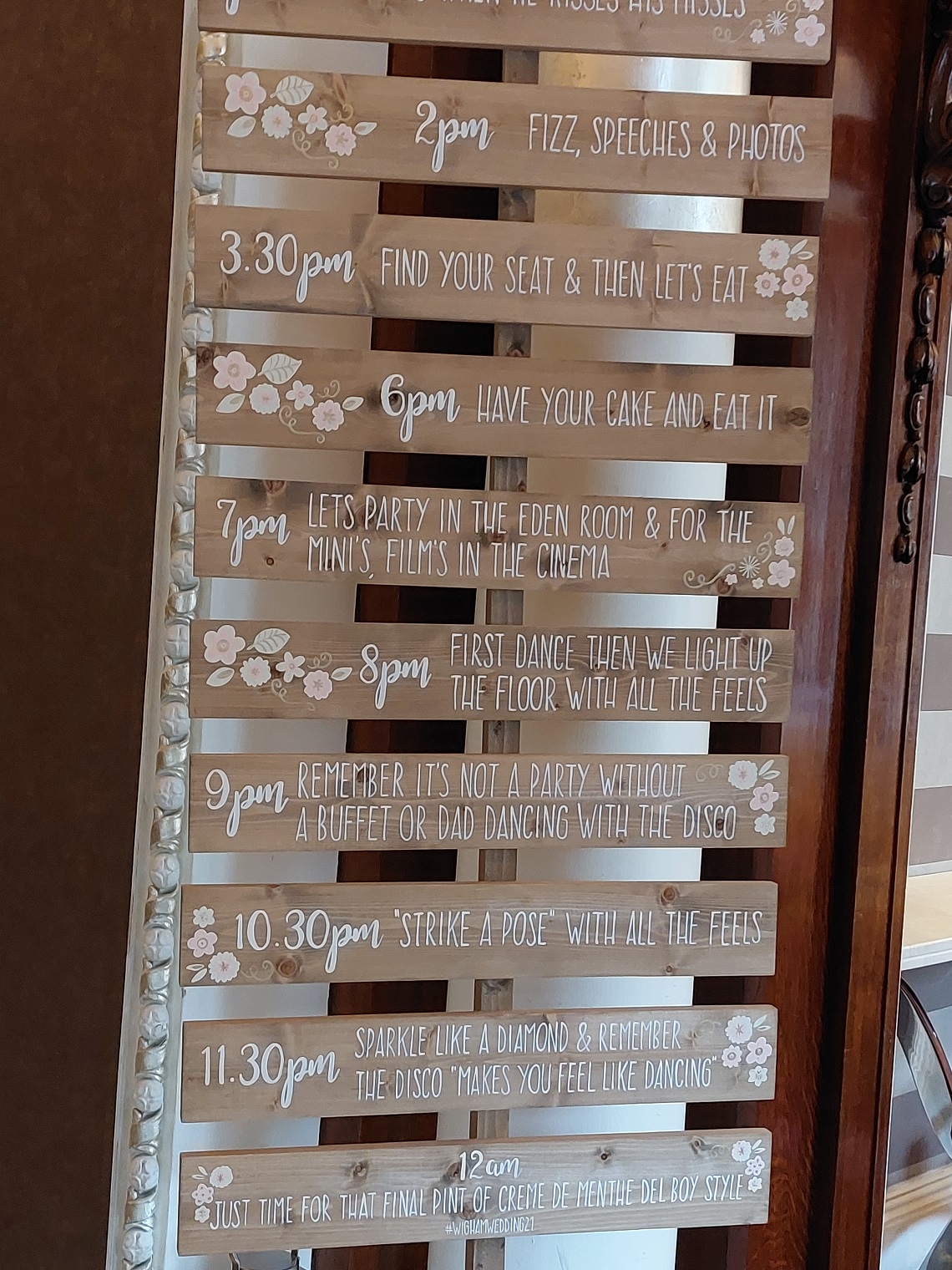 As we approached the 1pm start, guests started to gather for this intimate ceremony and the groom and his entourage arrived as well chatting as we waited.  Beth got the music started and I ran through this a final time with her as this was key to Dawn and Michael for their ceremony. 
News from upstairs came down that there had been a slight hitch with the bridesmaid dresses and they would be delayed, so I invited the guests to take a wander outside the front of the hotel but not too far to get some air before the ceremony.
Just before 1.30pm the scene was set and the ceremony was set to start.  Unlike other ceremonies we had a different beginning.  Michael was going to be walked down the aisle by his sons Ben and Daniel, to his own piece of music.  So I started my housekeeping message with no-one at the top of the aisle with me and then got everybody to stand as we started Ordinary World by Duran Duran.  They reached the top of the aisle and I had to quickly catch Michael before he tried to blend in with the front row and bring him to the centre. 
Next piece of music was for the bridesmaids and their husbands, and pageboy Josh to  Across The Stars Jones, composed by John Williams, played by Claire and The Claire Jones Strings and as they reached the top they went to their respective sides and I asked everyone to sit down.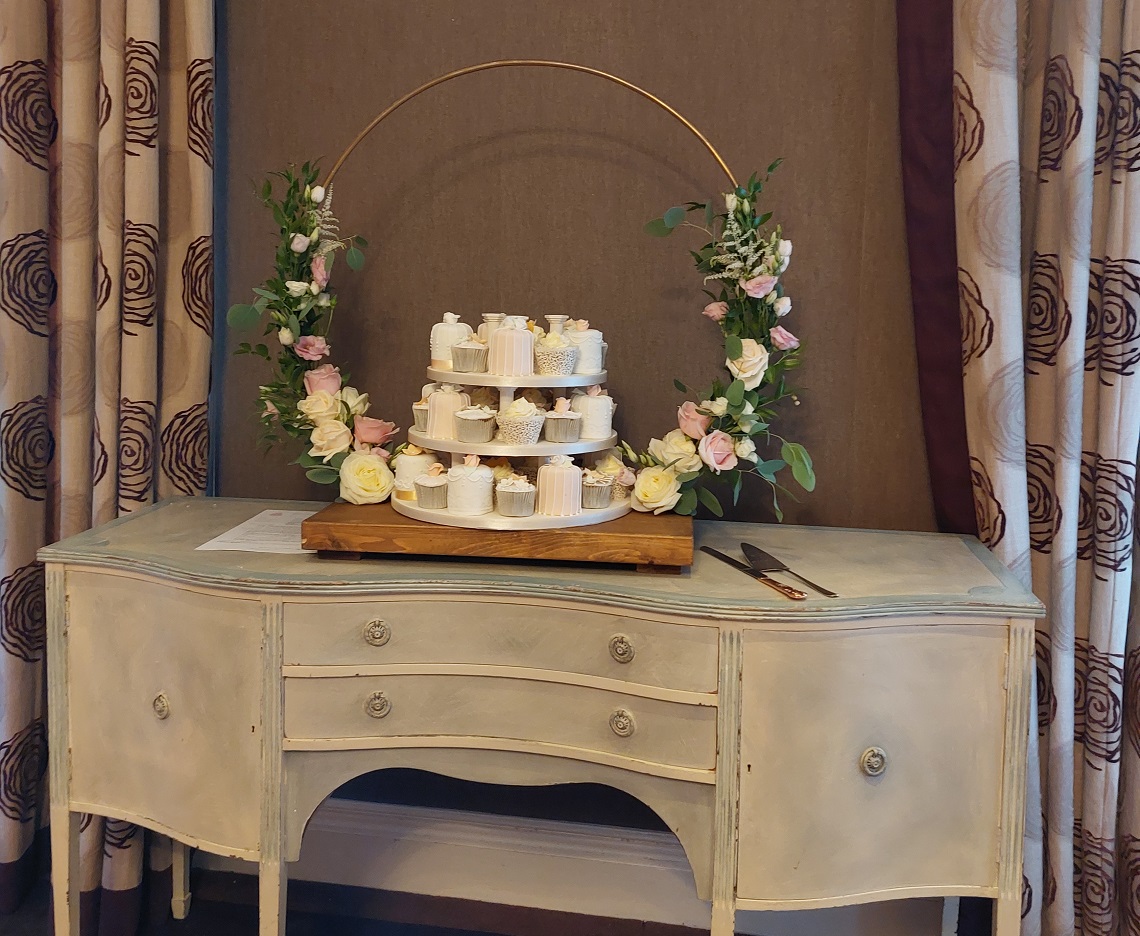 Dawn wanted to do something very special for Michael and it became a very emotional point in this ceremony, as she put a musical interlude into the ceremony which was A New Day Has Come Composed by Aldo Nova, Stephen Moccio  and Sung By Celine Dion, which was Wendy's message to Peter Pan.  
In this time Dawn had given me prior to the ceremony a gift for Michael that she wanted him to open at this point and he would know what the meaning was.  It was an emotional moment for Michael especially and you could feel it through the room also.  Giving Michael a moment to recover, it was time to welcome our beautiful bride.
I asked everyone to please be upstanding as we started the Che Valiers De Sangreal (Knights of Justice) Composed and Performed by Hans Zimmer.  This piece of music was to be played in full and we waited for a little bit before Dawn who was accompanied by George came down the aisle.  As they arrived at the top of the aisle I very carefully took the flowers and placed them on the table  behind where Dawn and Michael would be standing.   Instead of facing their guests they decided at the last minute to support each other and face each other.  I checked that they were ok and so we began. 
Another poignant moment was the acknowledgement of loved ones and colleagues who had passed on or could not be with them on this day, a candle was specially inscribed with these words:
"We light a flame as a symbol of reflection.  Sadly, for many reasons, there are friends & family who cannot join us today, for although they may not be with us when we say I Do.  They are forever in our hearts as we say our vows & they are not forgotten.  Dawn & Michael"
As words were spoken For Good, Composed by Stephen Schwartz and Performed by Callabro was played quietly in the background and then as the candle was lit the volume was increased as we took a moment then faded.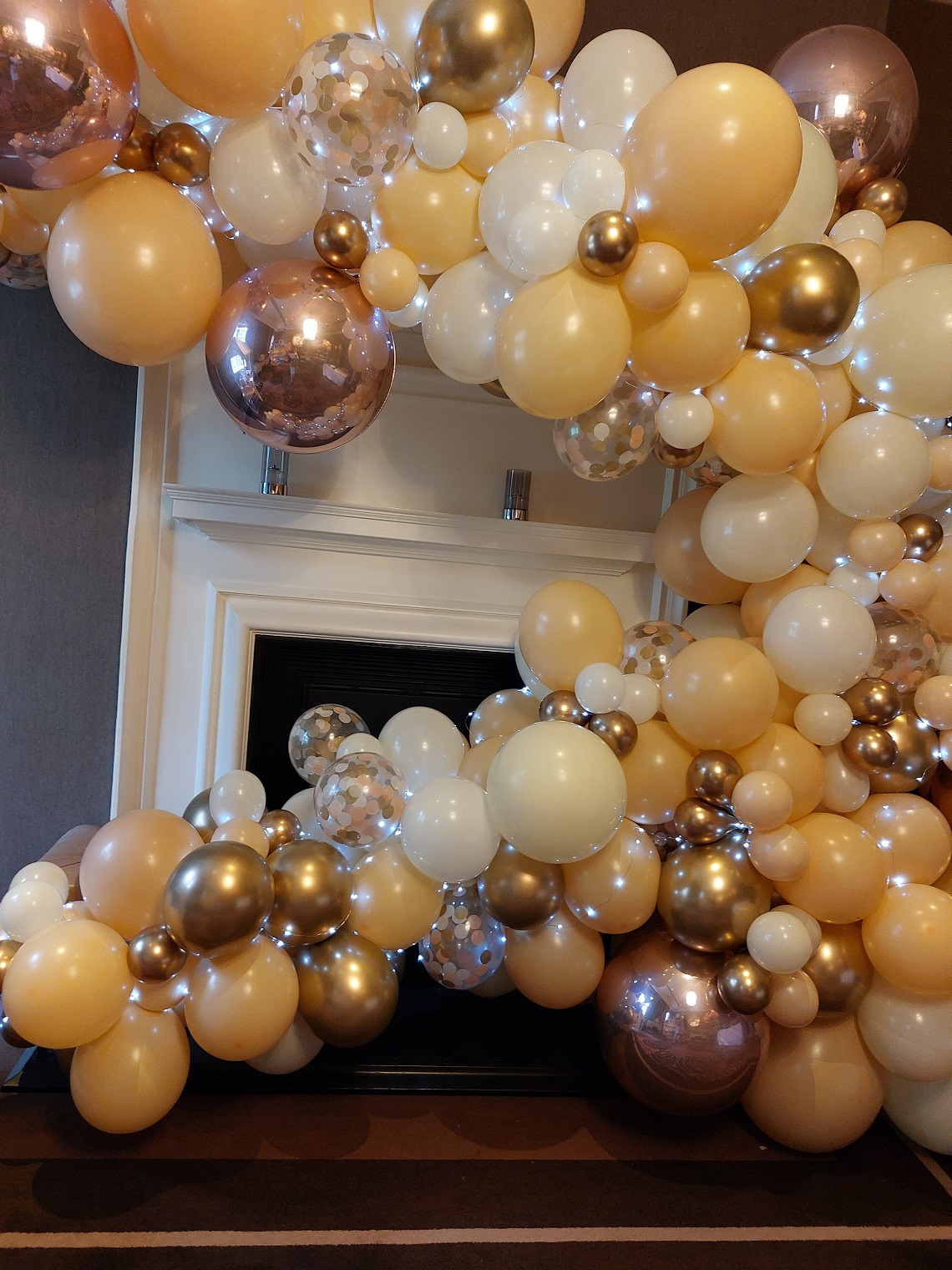 We had beautiful readings from Amy-Jane, who read "Us too from Winnie the Pooh", and also Iain read "The Lovely Dinosaur" by Edward Monkton.  We also had promises from their guests which resulted in hearty and resounding "we do's" so we know that Michael and Dawn have an amazing support and friendship network around them.
Mid ceremony Michael's phone went off, which caused great laughter from Dawn as this too happened in their legal signing on the 24th October 2020!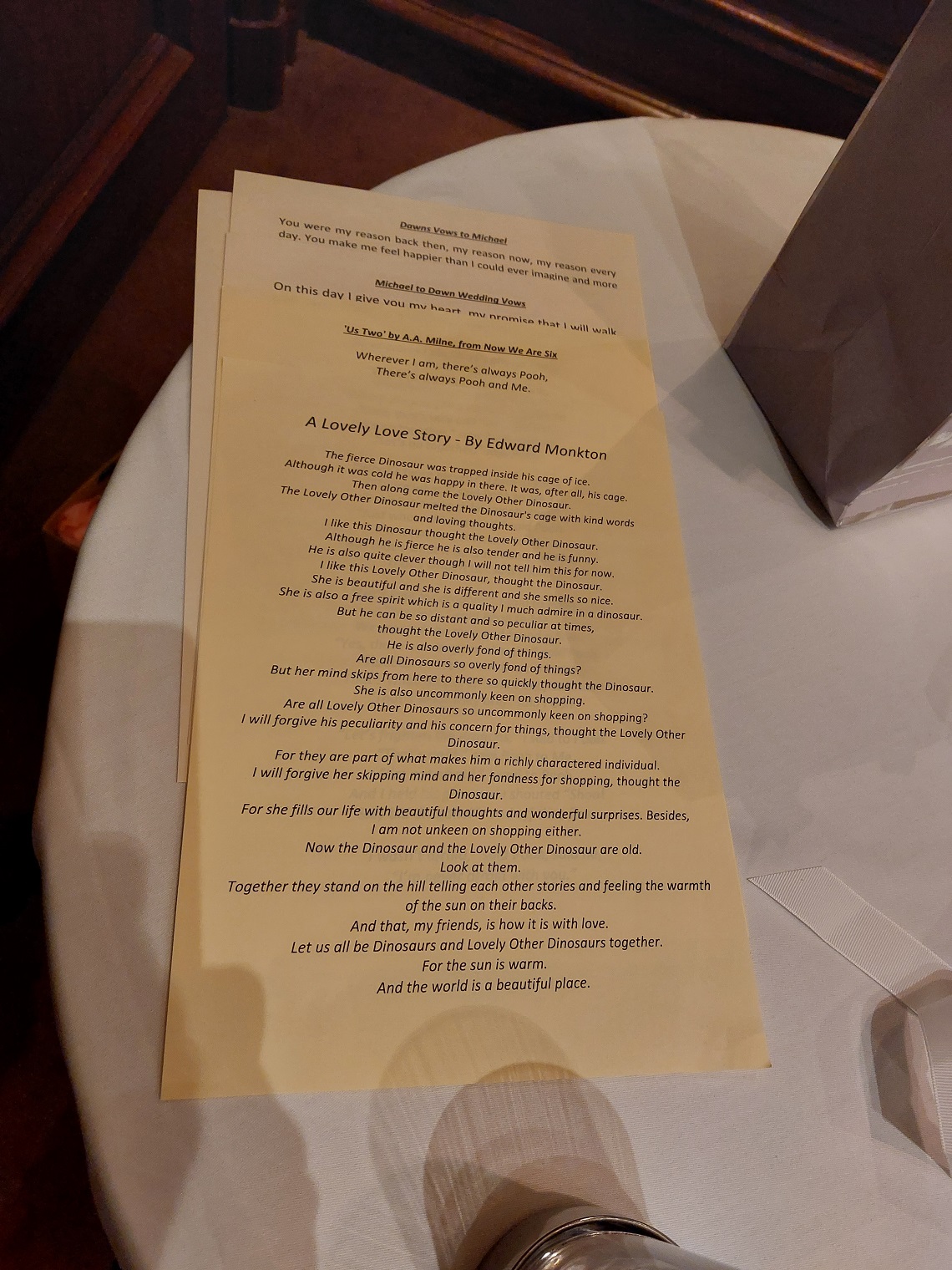 Dawn and Michael's jobs are extremely demanding and their love and support for each other shines through and in Dawn's own words….
"There are not many people who are strong or wise enough to understand the effects of the job we do has on us, and to remember that the world is not always bright and sunny, sometimes it is a quiet and dark place where someone just needs to take your hand and teach you to fly"
They also wrote their own vows to each other and it is definitely not an easy task standing in front of your loved ones sharing these true and personal feelings for each other.  Michael and Dawn took it in turns to make everyone in the room disappear from their minds at this point and take themselves to their own place.  Whilst everyone else in the room was again grateful for the tissues as the sentiment and emotion took over this gathering. 
Josh did an amazing job when it came to the rings and had the pocket watch to the ready when he brough Dawn's ring to Michael and then after a little jiggling of the catch and help from his dad Iain managed to retrieve Michaels ring for Dawn! There was loud cheers and applause as they were pronounced husband and wife. Michael sealed the commitment with a kiss with Dawn and then there was a roar of applause from their guests again.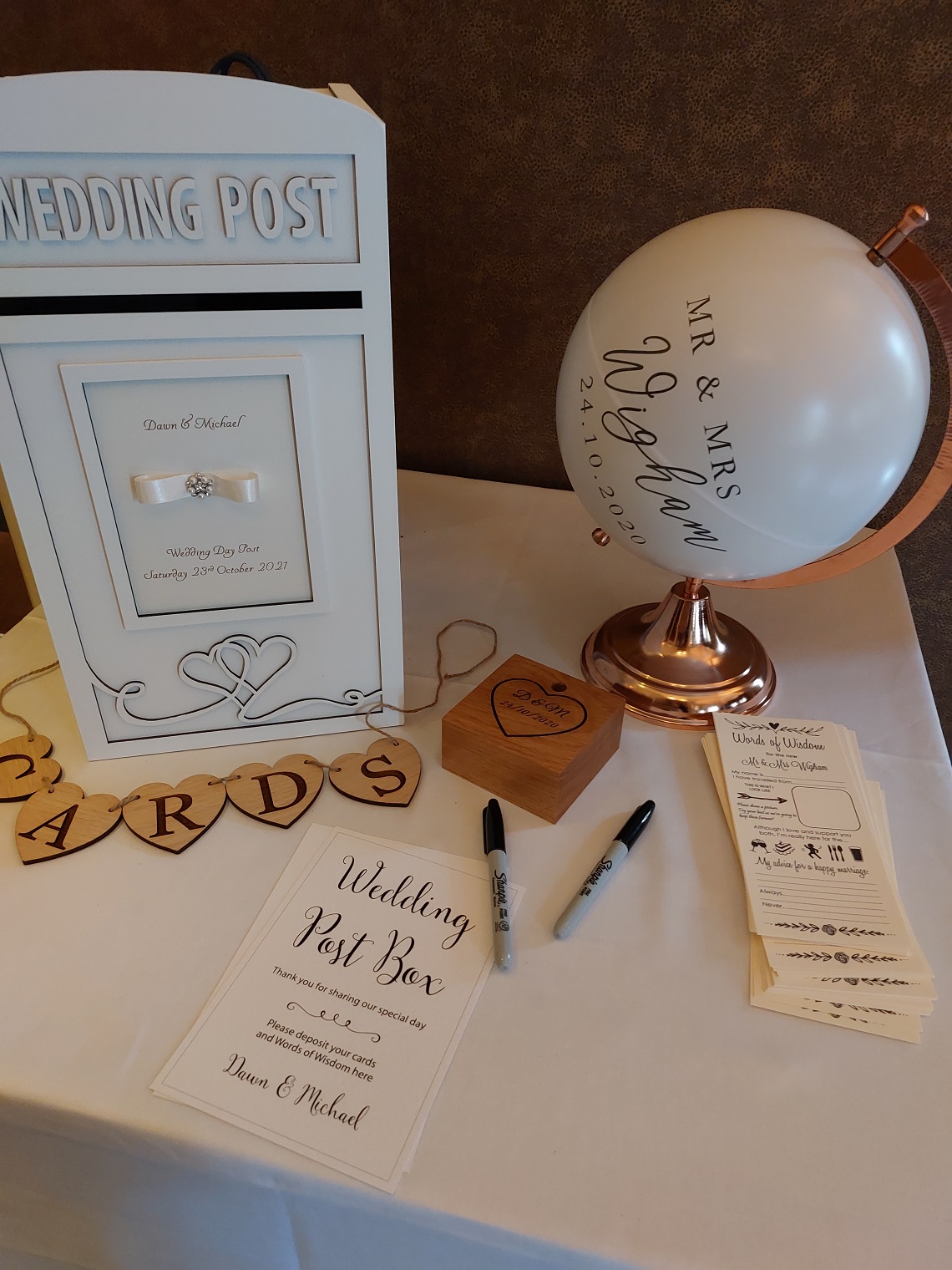 After this our lovely couple also gave a nod to Dawn's grandmother who had to hid her religion and they shared with us a Jewish tradition of the breaking of the glass near to the end of the ceremony. The glass was beautifully engraved to mark the occasion and the silk bag held the glass before Michael took the step to "break the glass" ever so cautiously so that he tried again… this time it definitely worked!
We cleared this and Dawn and Michael signed their commemorative certificate with their witnesses as well as taking a breather…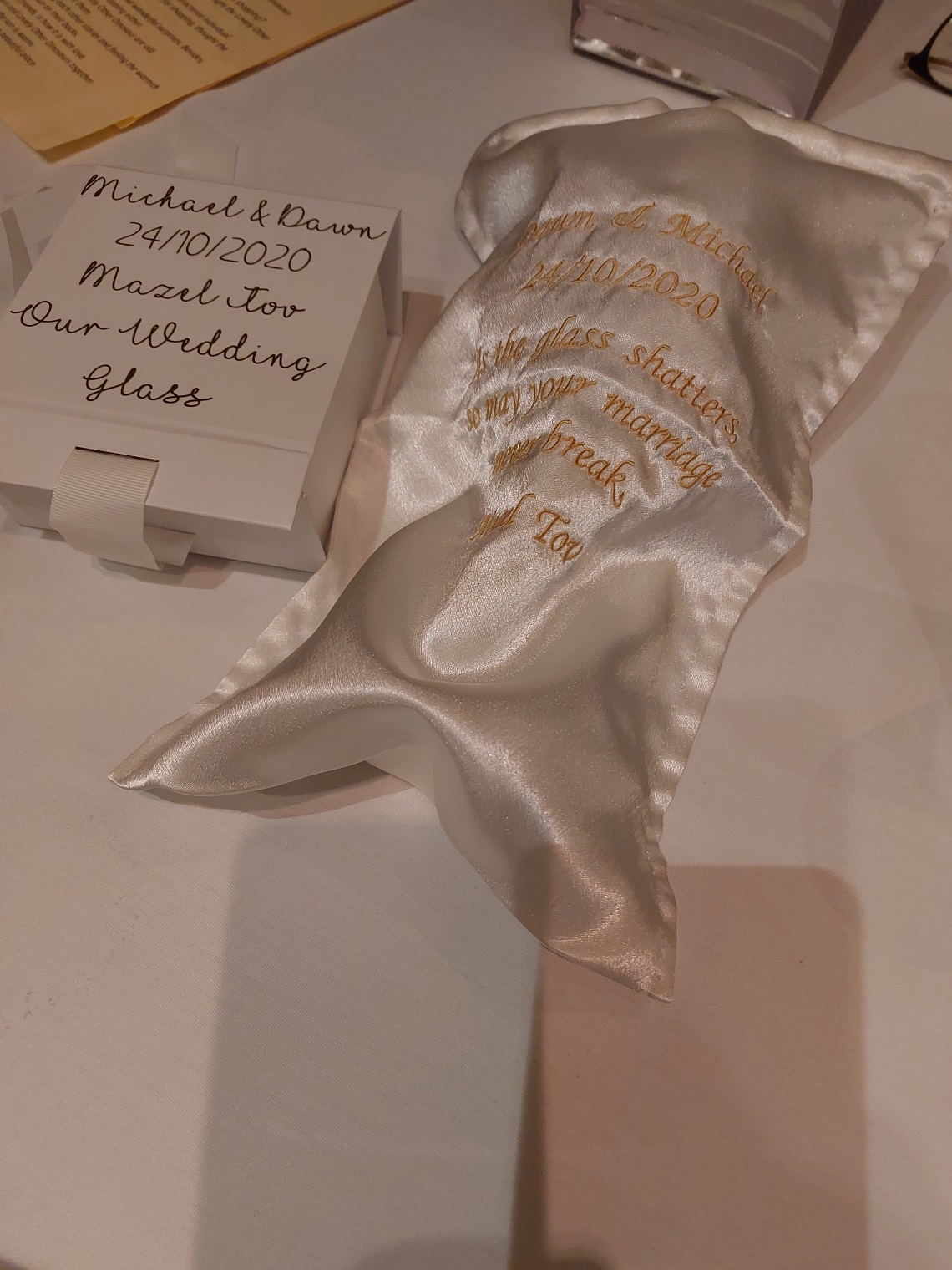 I brought Michael and Dawn to the front and cautiously gave Dawn back her bouquet to walk back down the aisle as I asked their guests to be upstanding and welcome the very lovely Mr and Mrs Wigham to the music of  Love of a Princess  from Braveheart  and then the celebrations of this amazing couple really began!
Wishing Michael and Dawn all the happiness in the world, and cannot wait to hear the next chapter in their journey together……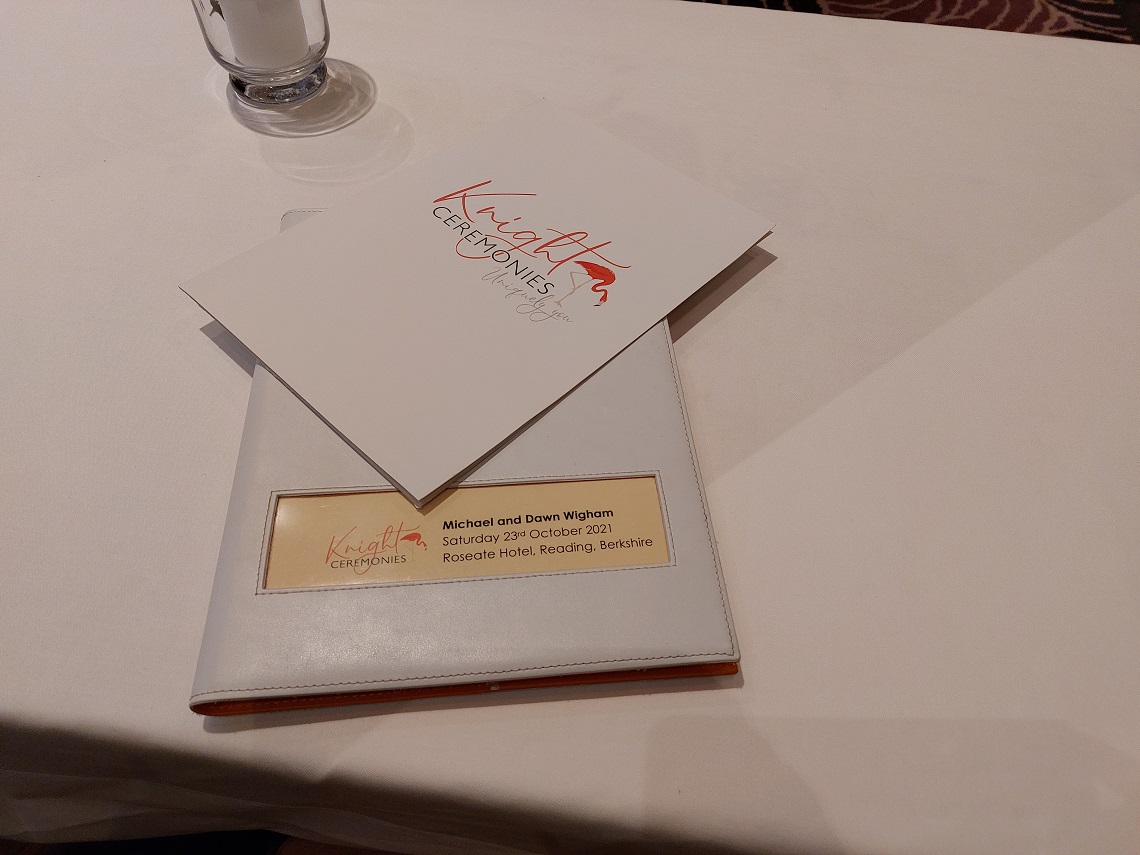 (Photos taken on Blog Lorna McIntyre - we look forward to seeing the official photos soon!)
--------------------------------------------------------
Dream Team:
Venue – Roseate Hotel, Reading
Celebrant – Lorna McIntyre, Knight Ceremonies
Wedding Co-ordinator - Beth A Weddings
Photography - Sam Gavins Photography
Videography - Press Play Video
Photographer – Justine Burton – Berties Photography
Hairstylist - Eden Lounge Saloon
Make Up Artist – RJ Beaty
Band - All the Feels Collective
Balloons - Bubble Gum Balloons
Decorations - Forever &  a Day
Flowers - Seventh Heaven Events Flowers
Chair Covers - Folly and Kim
See more about
Berkshire
Ceremonies