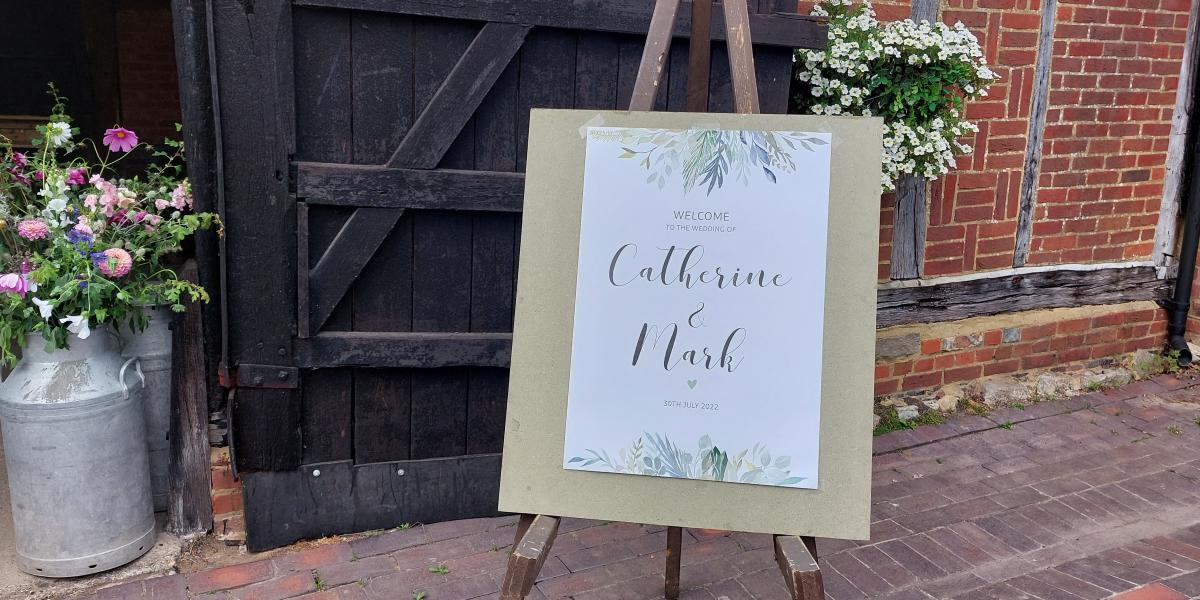 Here is a Blog from my team member Lorna following her recent wedding at the lovely Gildings Barn.
"Catherine, Mark, and their blended family definitely leave you with a warm glow in your heart.  There is a real sense of ease with them both, which made our conversations and meetings a real joy in the preparation for their wedding day ceremony script.  
The couple's choice of venue, Gildings Barn near Dorking in Surrey, is in the most beautiful setting and we met there about six weeks before the wedding so that they could visualise how the ceremony would run.  We first looked at the indoor space; although an outdoor ceremony was opted for; British weather can be a little temperamental so having a backup is very important!  The wedding party was to have three in each group coming up the aisle, so we did a practice walk and soon realised that we needed a little extra space for comfort!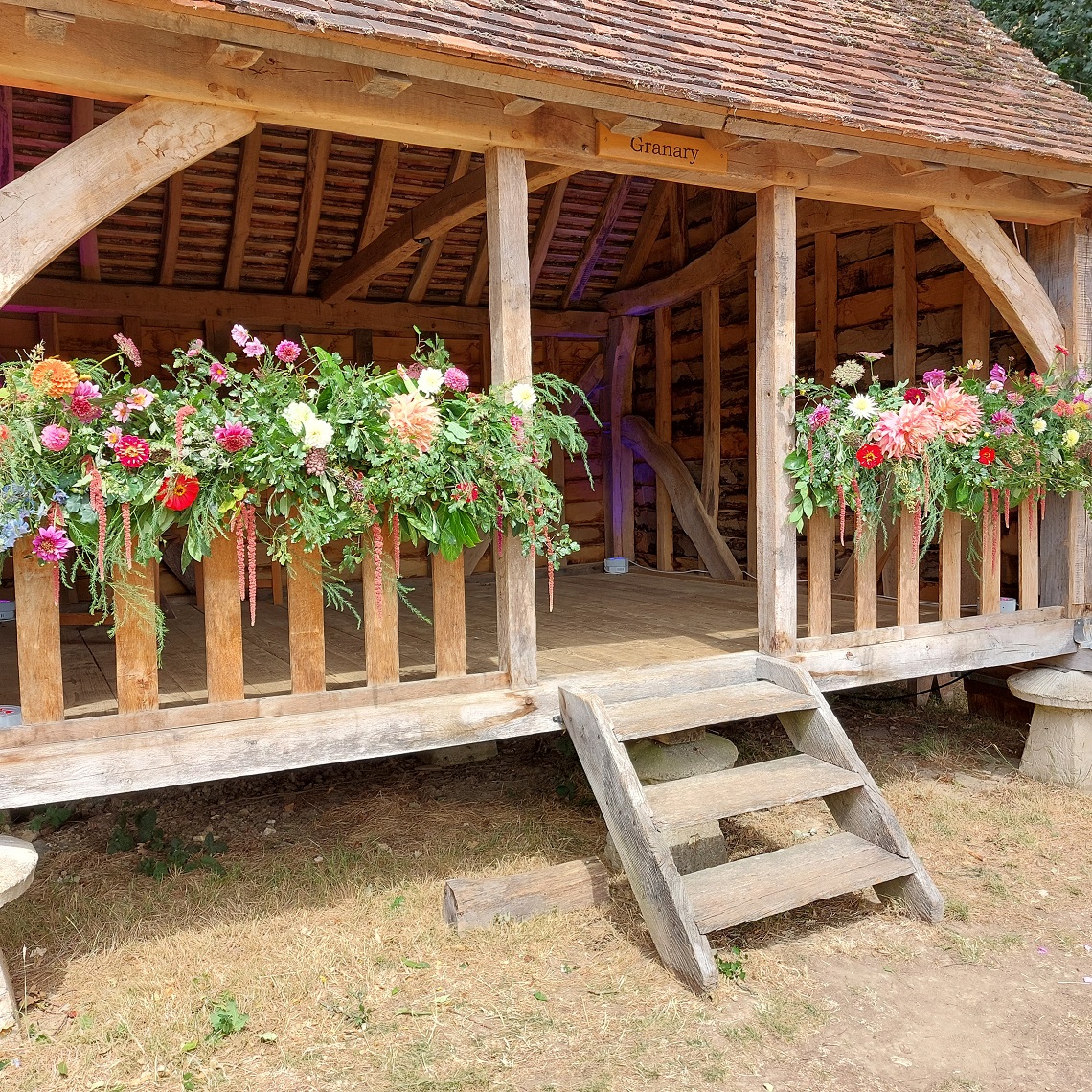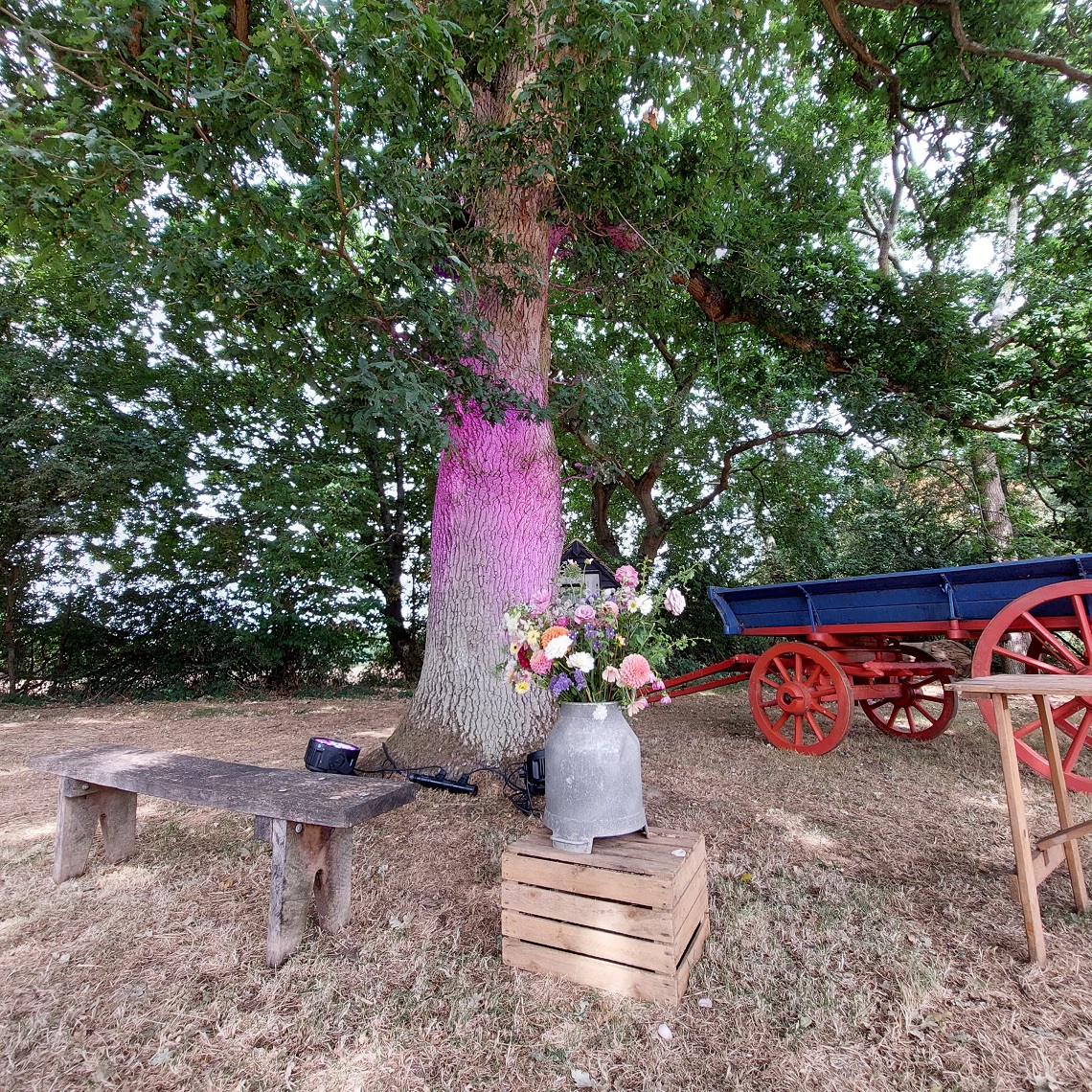 You can never tell what is around the next corner and this was the case for Catherine and Mark.  A few weeks before their wedding, very sadly Catherine's father passed away.  Having a postponement was a momentary thought, but knowing her dad would not have wanted the couple's special moment to pass, they decided to carry on with the original date of 30th July 2022.  We made amendments to the script and included a nod to the memories of those special people who could not be there on the day.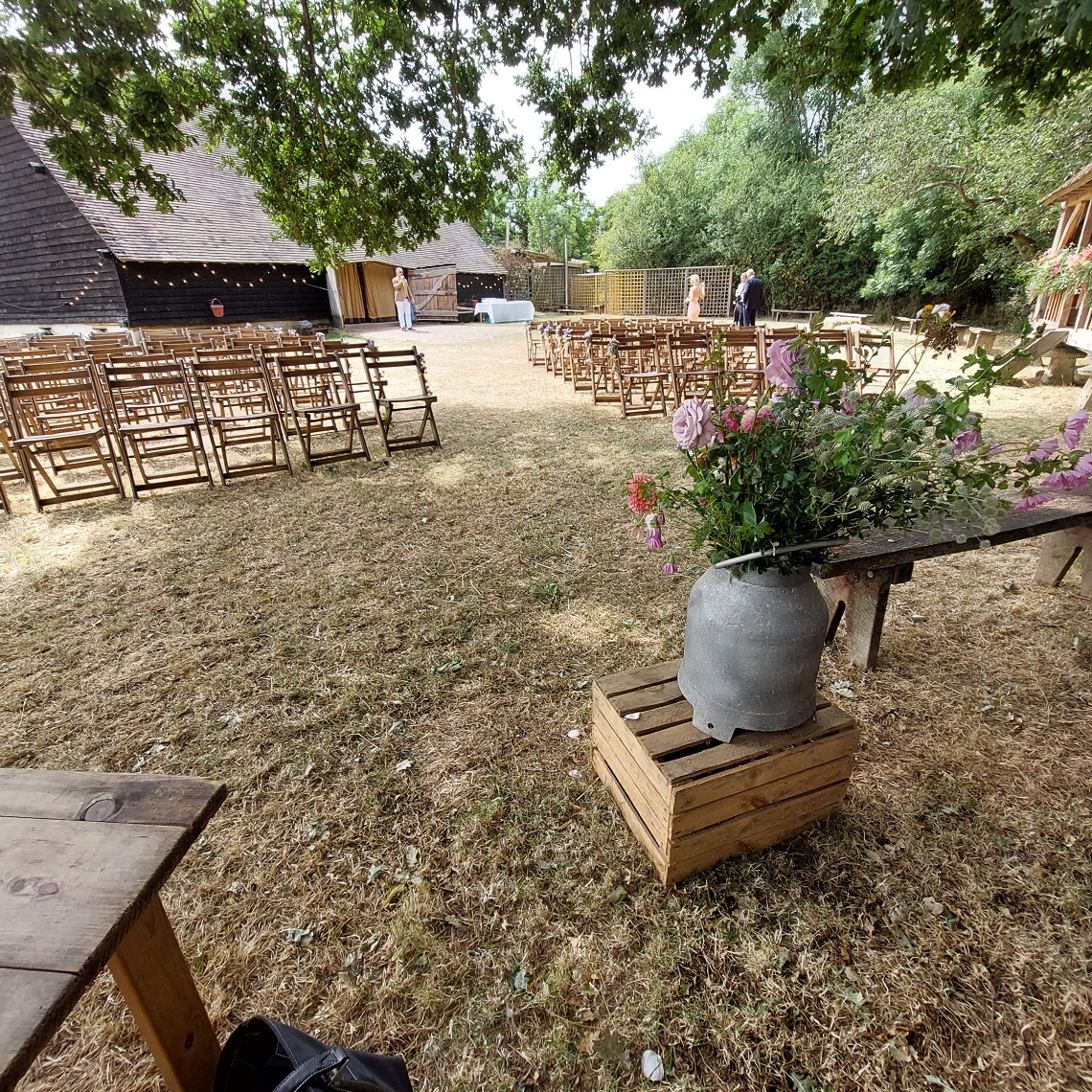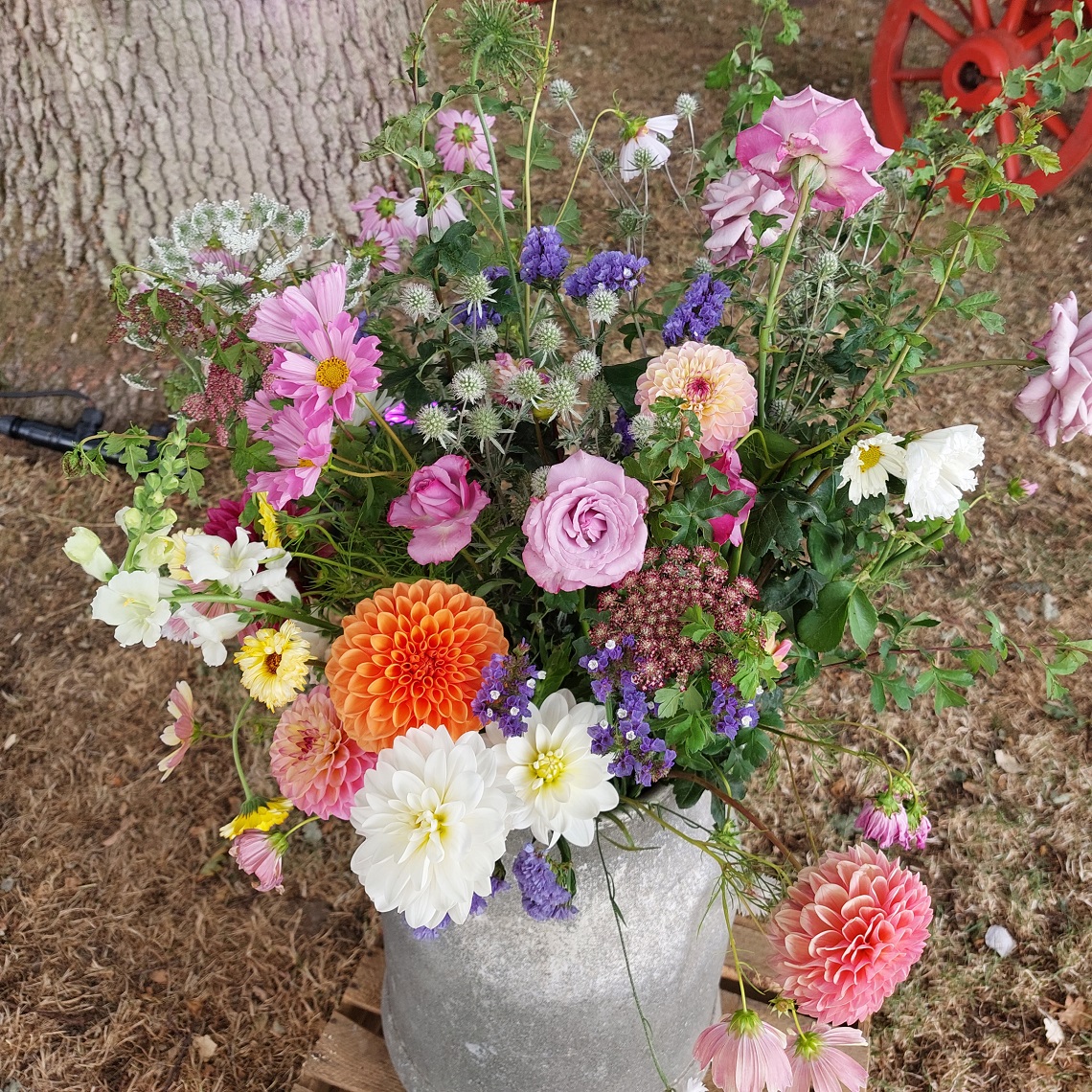 On the morning of the wedding, I was delighted to wake to sunshine, but not to the 40-degree heat that occurred a few weeks prior! It was perfect for this lovely pair, with just the right amount of sunshine, cloud, and breeze to make a wonderful wedding day.  
I made my way to this gorgeous spot in Surrey, arriving at 12 pm, I was surprised to see so many guests already there.  Mark had his sister at the Barn's doors as a welcoming committee, whilst Mark who seemed to be cool, calm and collected, was chatting to guests that had already arrived.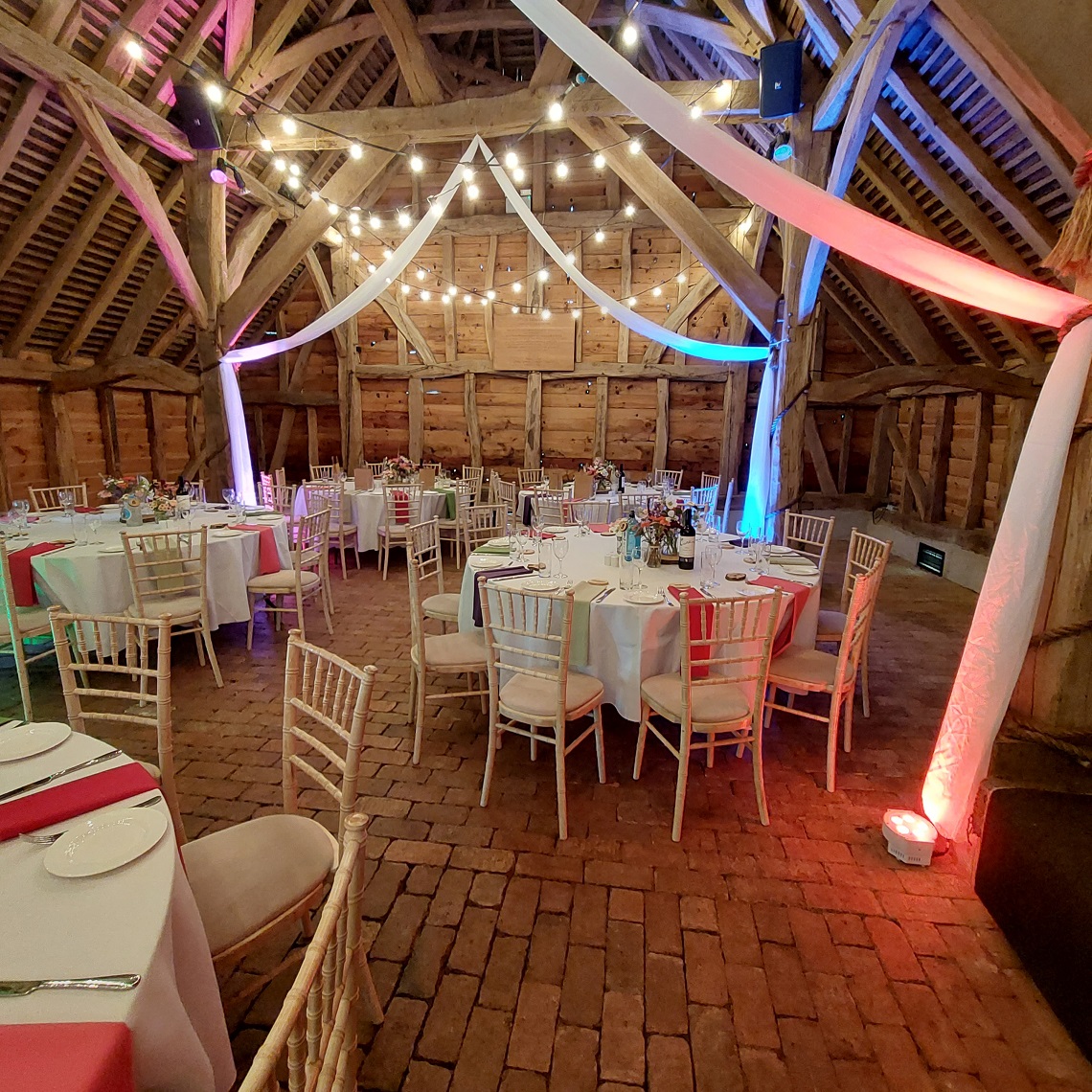 Alyson from the venue took me into the main barn where the coloured up-lighters, flowers and rustic charm gave the room a very uplifting, bright yet heart-warming feel.  This spot would be the beginning of the wedding party journey, up the aisle which would settle in the beautiful space under the uplit oak tree, surrounded by family and friends. 
I did a sound check with the lapel microphone, as did Jim who had his spotlight moment when he would be playing throughout the signing of the certificate.  He was also going to be in charge of music with William for the key moments of the ceremony.   So we had a quick run-through of what would happen.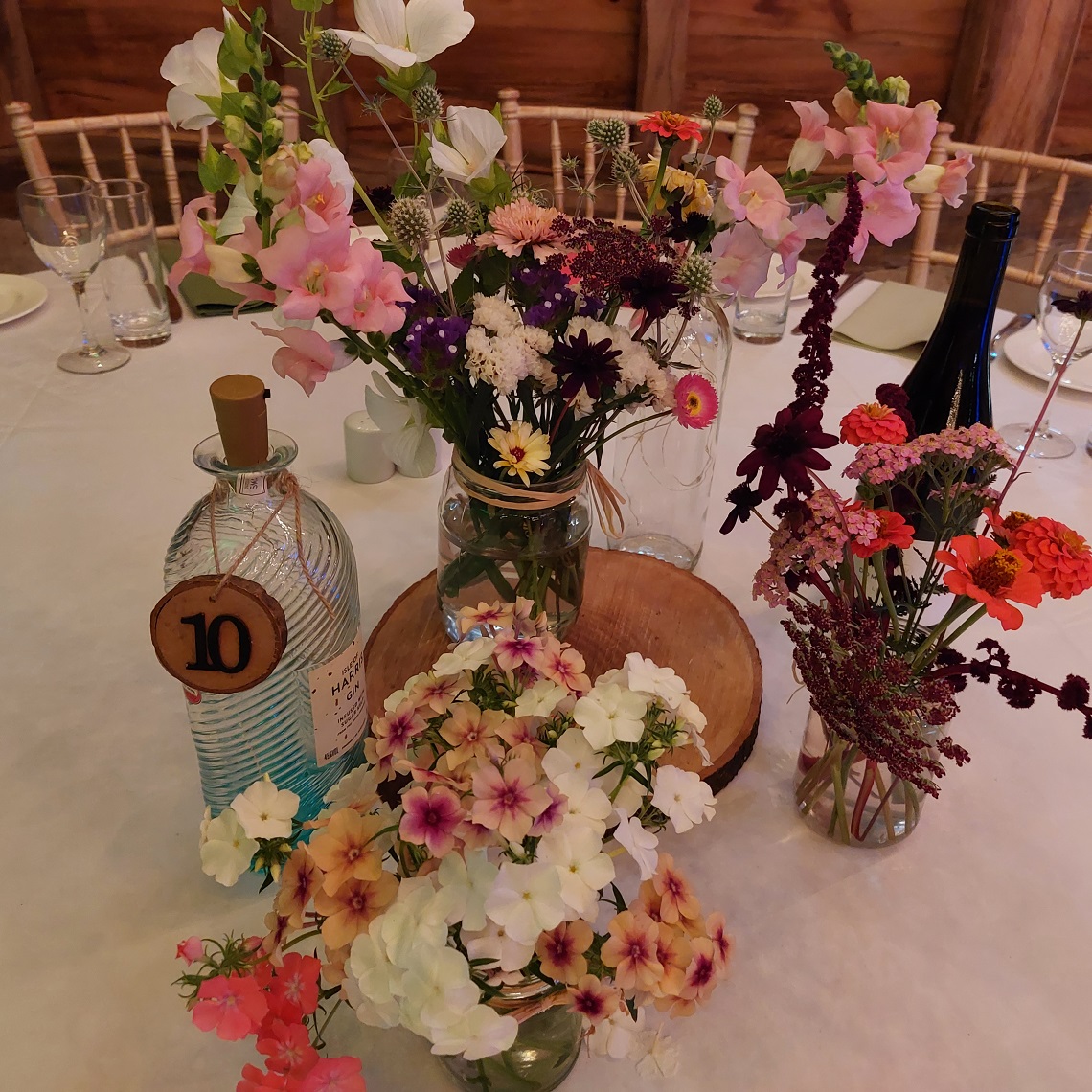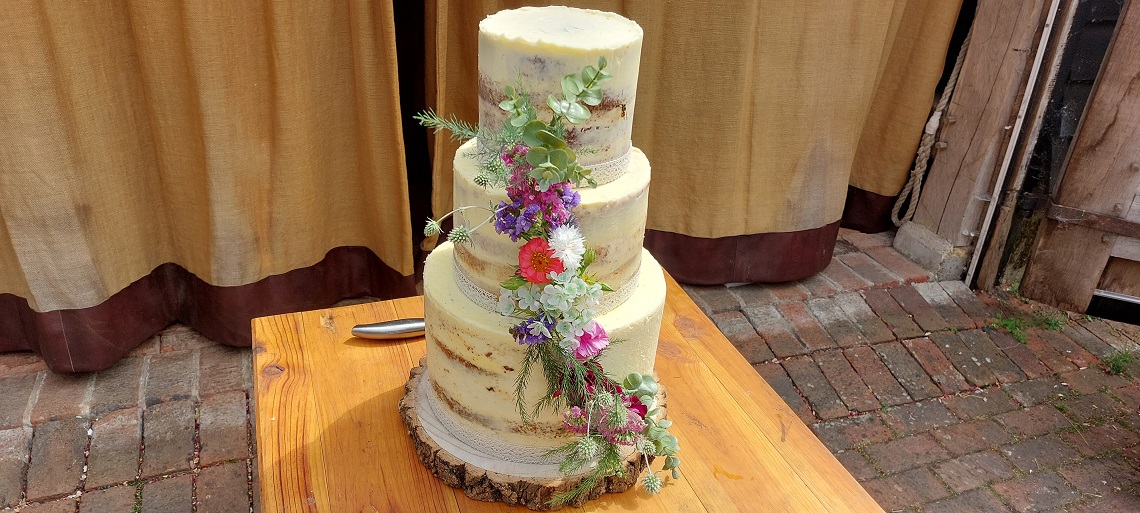 Andy the photographer was very much at ease as he moved seamlessly amongst the guests and through the venue, you could easily forget he was there as he captured the moments before the ceremony. I cannot wait to see the memories he caught for Catherine and Mark of the day for them which marks a new chapter in their lives together as husband and wife.  
Time was approaching 1.10 pm and thoughts towards the ceremony start was approaching.  At the front of the barn, a few gathered awaiting the bridal car to come into view.  Ensuring all knew what was happening as they walked up the aisle, especially Alan and Paul who were walking Catherine down the aisle.  Joseph was eagerly ready for his moment, and Ethan was a little conflicted as to whether he wanted to stay with dad or come to mum! They both soon came through and the scene was set! Mark was ready, we had the rings the front row was reserved for the bridal party walking down the aisle and the moment was here.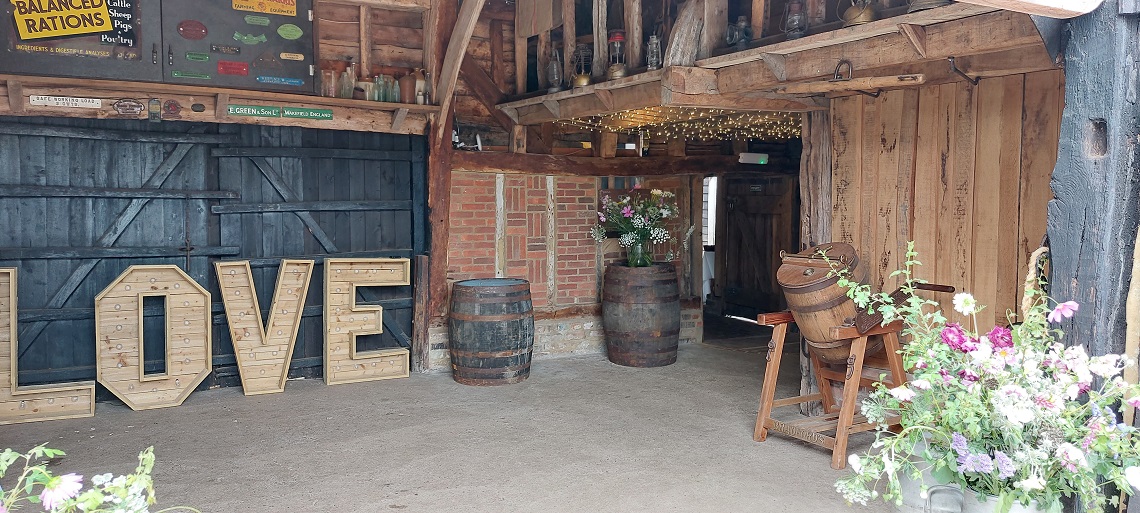 All were seated as I got the guests' attention and did my introductions, phones now silent, and Mark very quietly introduced! We had everyone stand for our bridal party.  We first welcomed Catherine's mum Denise with sisters Anna and Charlotte, followed by Katie, Joseph and Ethan and then Catherine escorted by step dad Alan and half brother Paul.  
We were honoured to have a very special joint reading by Anna (Mark's Sister) and Charlotte (Catherine's Sister) "I'm Sticking with You" a book by Smitri Halls and Steve Small….. here is just a small excerpt:
"Who helps me be the best I can be?
Who shares their very last chocolate with me?
Me without you? It just doesn't work.
Me without you? I'd just go berserk.
So lump it or like it, YOU'RE stuck with me.
For better or worse, it's the way it should be.
Whether we're losing or whether we win,
We'll be there together
Through thick and thin."
The ceremony was full of memories and hopes and dreams for their future as a family together and in some of their own words "marriage is a symbol of lasting love and letting the person be the most and best that they can be".  In their vows the importance of their little blended family unit was clear as they promised to cherish it.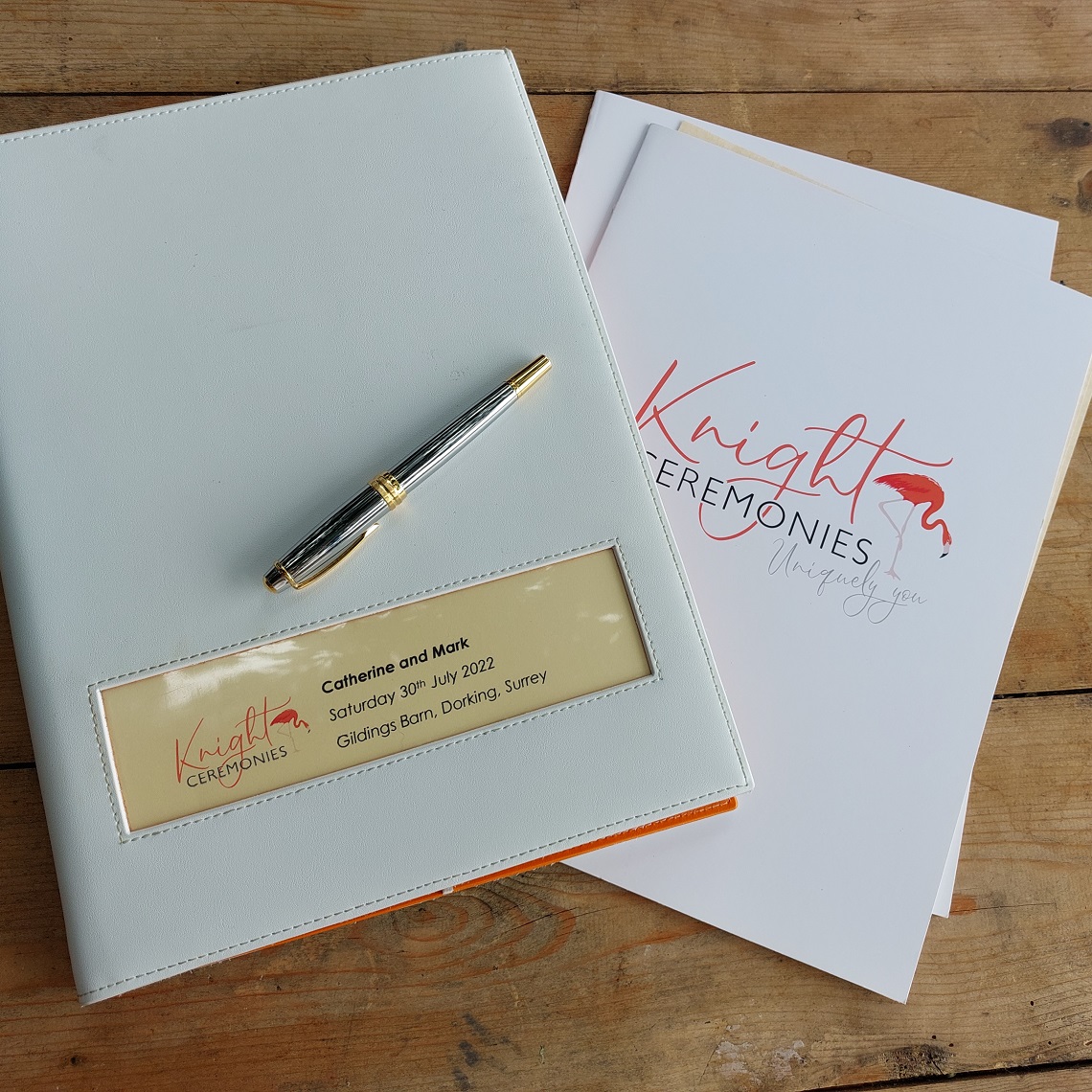 Family and friends made their own promises to Catherine and Mark,  witnessed this couple's story, vows and exchange of rings on the most beautiful of days, and finally the signing of the certificate with their children. Katie signing and Joseph and Ethan wanting to very much independently put their fingerprint on them! (Please be rest assured guidance was there for this 5 and 3 year old!)  Jim also sang as family and friends watched this lovely moment of family.
Mark and Catherine, then gathered their thoughts and walked back down the aisle as husband and wife amongst whoops and cheers and happiness, onto what would be an afternoon and evening of huge celebration of togetherness with family and friends.  
I wish Catherine and Mark all the happiness together now and in the future and I look forward to following their journey together.
Lorna 
x"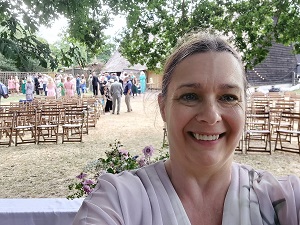 (All images in this blog were taken by Lorna.  We look forward to seeing the official images soon.)
-----------------------------
Dream Team:
Venue:  Gildings Barn, Newdigate, Dorking, Surrey
Photographer:   Andy Huntly Photography
Celebrant:    Lorna from Knight Ceremonies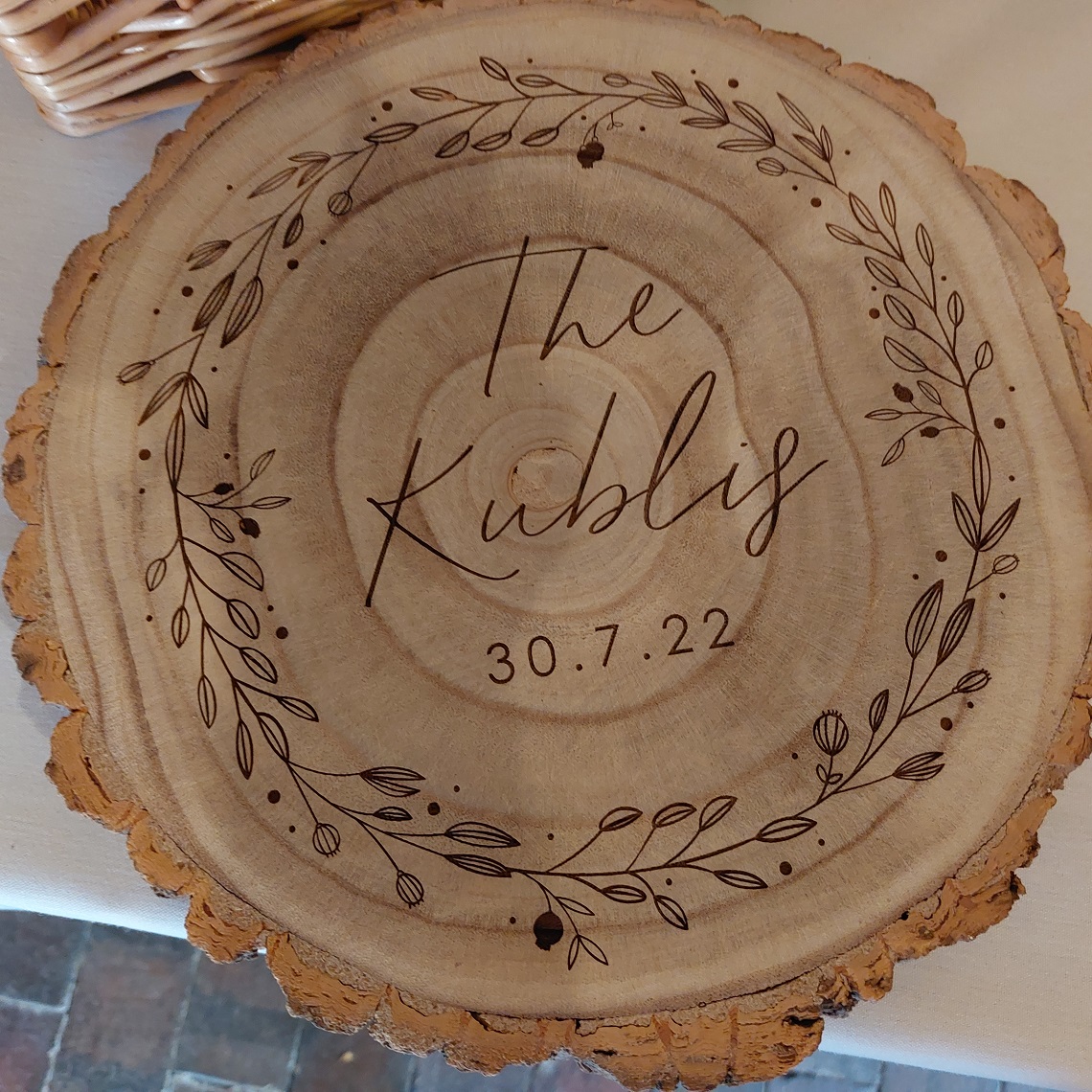 See more about
Surrey
Ceremonies