About Me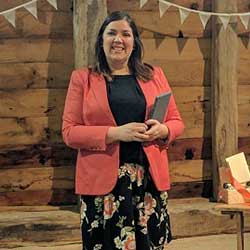 Hello . . . 
Hi, I am Jenny Knight, owner of Knight Ceremonies and I am an established, creative, and fun celebrant!  I live on the Surrey, Hampshire and Berkshire borders so you'll often find me operating in these areas, but I also travel too and I love a destination wedding!
I am inspired by fabulous scenery, unusual architecture (Gaudi's work is a particular favourite), good wine, BBQ's, and live music.  I am still a huge fan of SATC and at a push, I could probably remember the words from most episodes!
I love being outdoors in the fresh air (which is handy as most of my ceremonies are outside!), paddling and swimming in the sea, and hearing the laughter of all of my family around me.  I got married in 2010 to a great man (he is my tech hero!), and we love walks in the vast woods behind our home (the smell of the pine trees is intoxicating!), city breaks, and being parents to our fun-loving 8-year-old twin girls!
Inclusivity
My team welcome all couples and we are very active within the LGBTQI+ community.
Hop over to read move about our work and our commitment to our friends in the community here.
Meet us . . .
You can read my bio and meet my team of lovely celebrants on our recent blog posts.
So, now that you know a little about me, I hope you feel more at ease reaching out and sharing details about you and your big day plans.  I'd love to hear from you!
"I'm looking for love. Real love. Ridiculous, inconvenient, consuming, can't-live-without-each-other love."
(Carrie Bradshaw)
Our Journey
Together
During our journey together, I make sure that your ceremony is not only unique to you but that it has as much of your input as you wish. On your wedding day, I love to connect with you and your guests so that everyone feels a part of the day and not just a spectator to it. Together we make it unforgettable Here's some of what happens when we work together:
You find your dream venue / ask us for a recommendation
Contact us to hold your preferred date
Contact Registration office - Intent to marry
Begin creating your unique and personal ceremony!