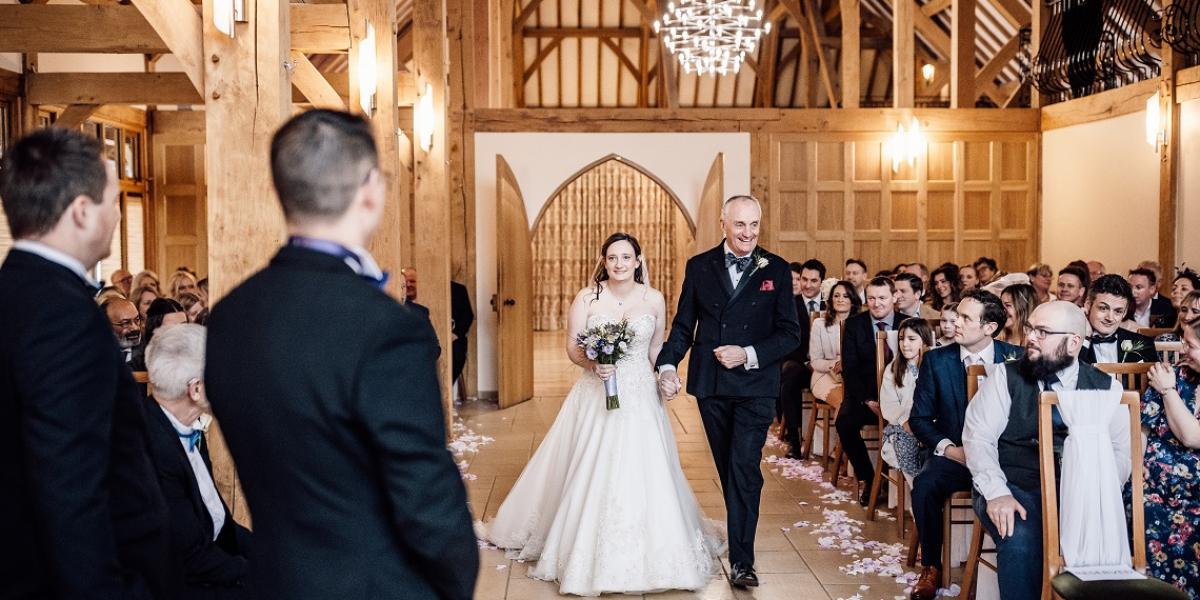 Here is our latest blog which is written by Teona!
"It has been a bit of a journey for our couple Charlotte and John, due to Covid they had a series of planned and cancelled dates but finally they were able to share their wedding day celebration with all their family and friends and to truly celebrate their marriage at the lovely Rivervale Barn on 6th March 2022.
I met this lovely couple just a few short months ago, we had a long Zoom chat about their journey and talked through all the aspects of how they would like their day to be.  It was clear to me that they very much wanted an upbeat, relaxed, and fun ceremony where both family and friends could really feel involved and included. After a few chats we then had a meeting at the venue it was great to meet face to face and chat through the final preparations to make it perfect for their day.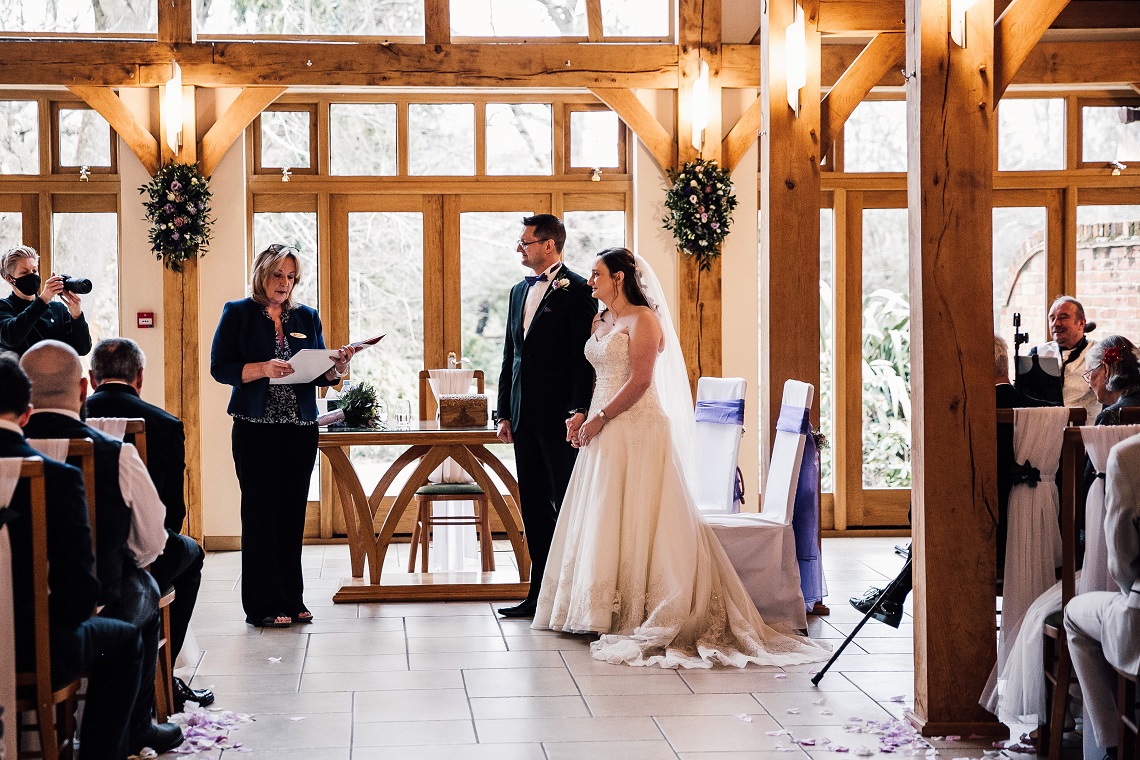 The day arrived and on driving into the venue I was struck once again at just how beautiful it was, the gardens surrounding the venue are stunning with a little stream running through, perfect.  The original plan was to have an outdoor wedding in The Spinney but due to weather conditions, we had to move to the Ceremony Barn which is inside, but it didn't matter at all as the room was beautiful with a calm and welcoming atmosphere.  
On my arrival I was introduced to Event Managers, Ash and Lindsay were both so friendly, professional, and helpful and had everything organised. I also met up with the super talented Lauren Mitchell who was busy doing all of the pre-wedding shots and the amazing Saxophone player Tim Fulker who provided the music which was fabulous.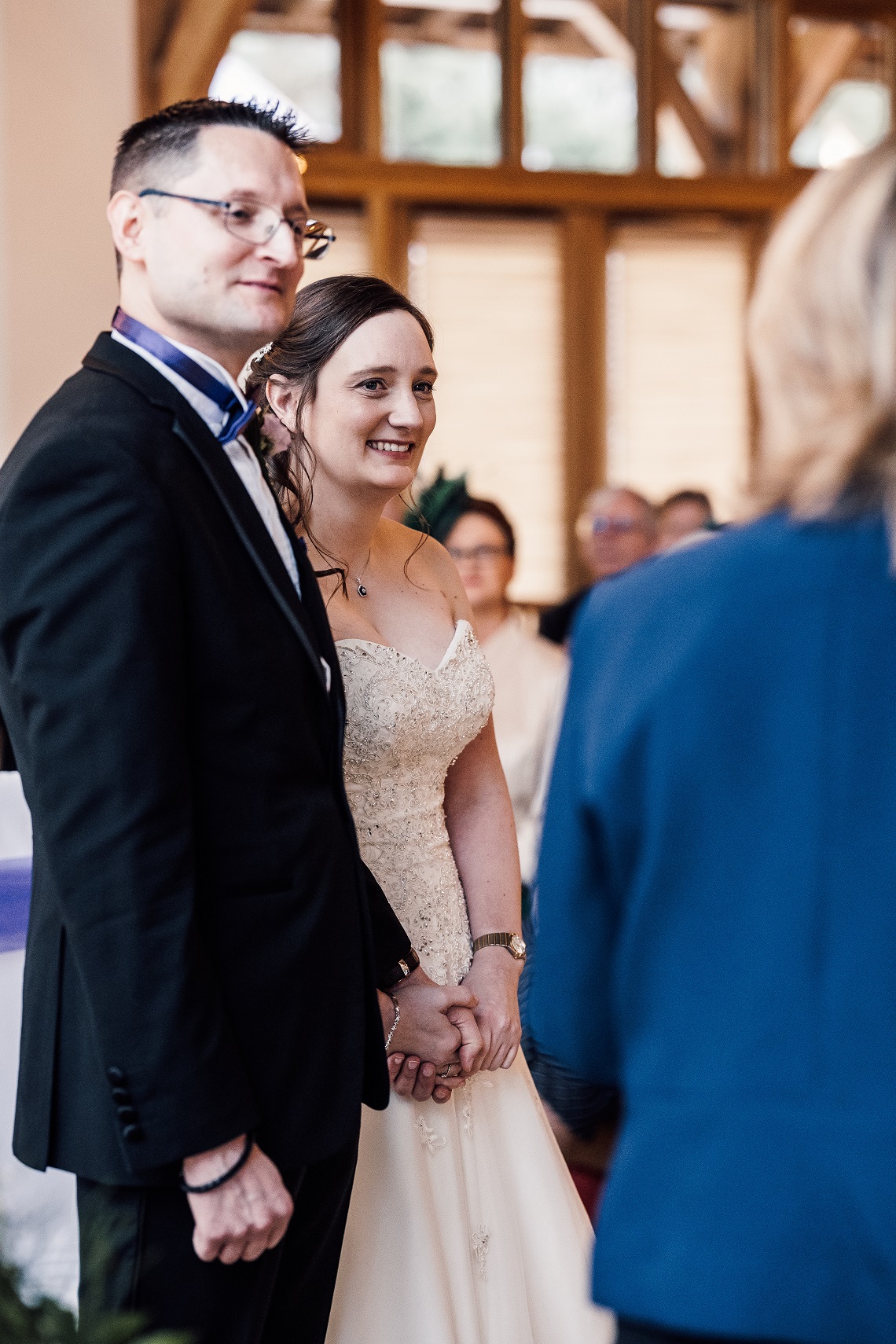 John, his Best Man and Groomsman were there to welcome guests all looking very handsome and remarkably calm. I then popped in to see Charlotte who was with her Mum and Bridesmaid Pippa all enjoying their time together and looking beautiful with no wedding jitters on show. It was then time for some last-minute chats with Groom John and best man Mac and Andrew.
With all the guests seated, the atmosphere in the room was brilliant with everyone chatting and laughing and looking forward to a great day.   Last-minute housekeeping messages were delivered and with everyone in position, the room suddenly filled with the wonderful sound of the Saxophone.  The doors then opened and the bridal party entered followed by Charlotte looking beautiful and escorted by her proud father Paul.
This is always an emotional moment I always find I get teary-eyed watching the groom's face when he sees his bride!
We shared details in the ceremony of the couple's love story and I could see the guests smiling, laughing, and nodding at some of their stories. 
We had two readings – the first by John's sister Mary which was all about family and friendship, and the second was by Charlotte's brother Frazer and was called 'Falling in Love is like owning a dog'.  Both readings were very apt for our couple and were read so well by both Mary and Frazer.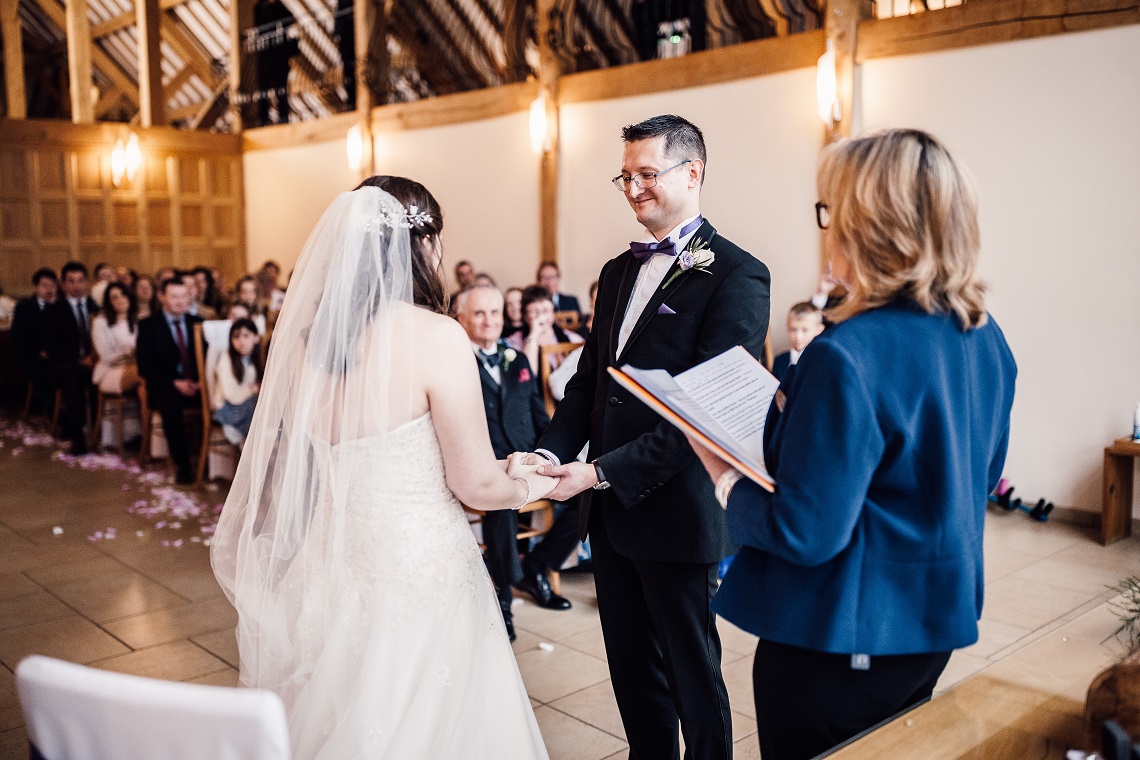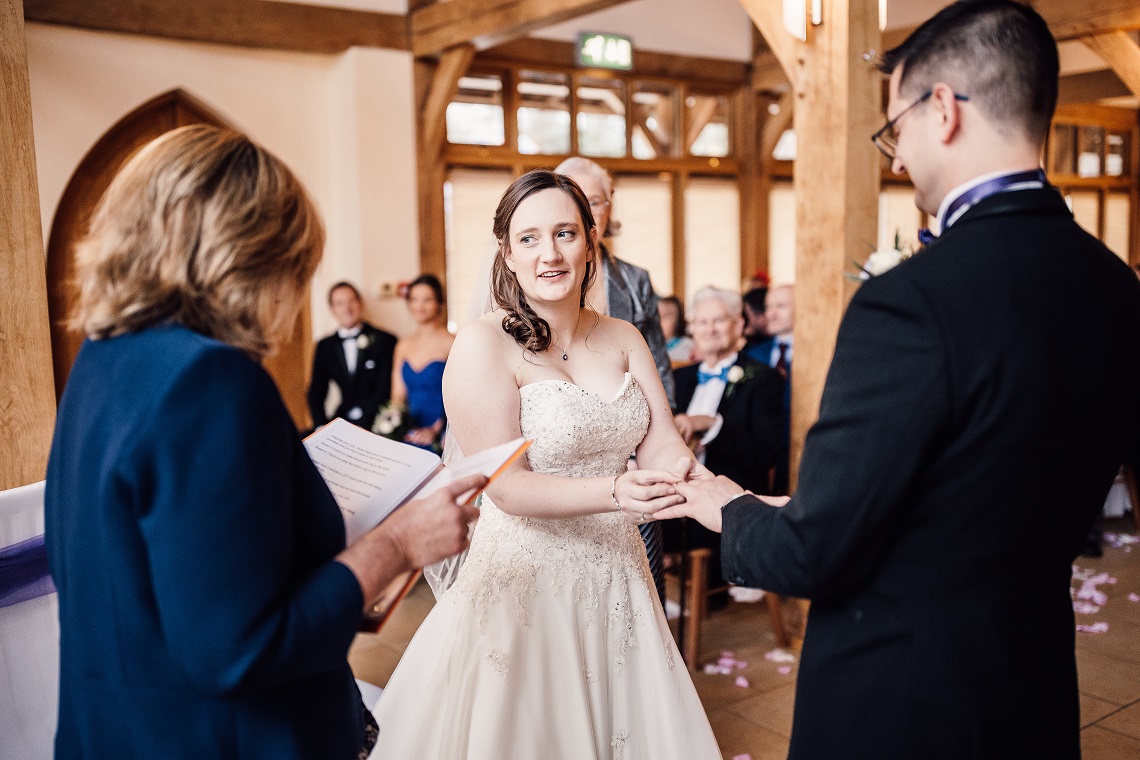 During the second reading, our little flower girl was getting restless and promptly tottered over to the bride and sat on her knee, followed by Lexi the dog who wasn't going to be left out!  It was a wonderful moment and summed up the day perfectly which was relaxed, warm and full of love.
With the couple's wishes that family and friends be very much included, they involved family member Cindy and Bridesmaid Pippa, and it was lovely to see them getting emotional and it was uplifting and fun for us all.  
With vows shared and rings exchanged it was now time for the all-important kiss (to loud applause) these two were escorted back down the aisle by their adorable little dog Lexi, tail wagging nineteen to the dozen, who had been waiting patiently to be reunited with them both.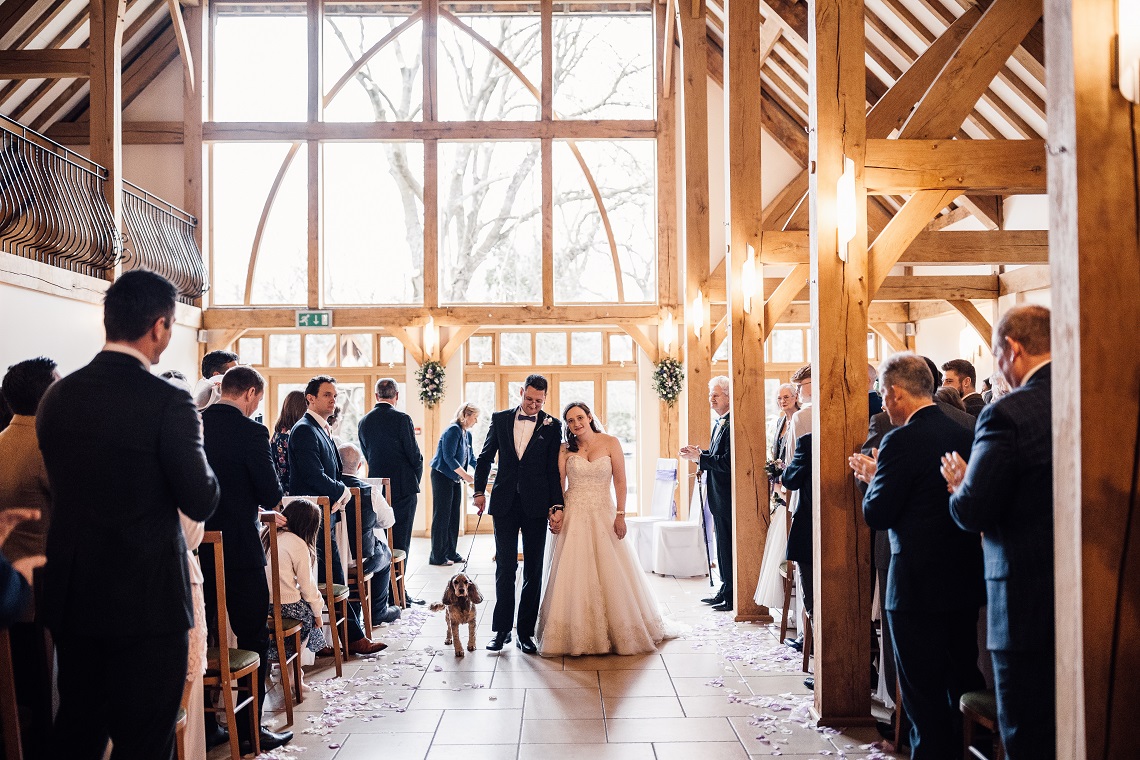 It has been an honour and a pleasure to have officiated this lovely couple's marriage, I wish them all the happiness in the world and thank them for allowing me to be part of their day!
Teona x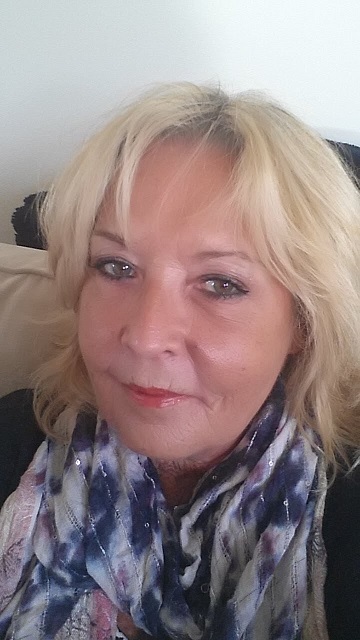 ---------------------------
Venue: Ash and Lyndsay at Rivervale Barn
Celebrant: Teona from Knight Ceremonies
Photographer: Lauren Mitchell
Saxophonist: Tim Fulker
See more about
Hampshire
Ceremonies